Matthias Meilland is the 5th generation in the most famous rose family in the world; the house of Meilland. He talks about black roses and which ones are the blackest.
About Meilland
The House of Meilland has more than 200 employees in France alone and its research team is dedicated to the creation of rose varieties for cut flowers (fresh flowers) and varieties for gardens and landscapes. They have a garden roses production company (grafted and cutting) and a mail-order company that sells rosebushes, plants, bulbs, and seeds. From catalogs and via the Internet.
Trial Stations around the World
Meilland has 5 trial stations throughout Europe, with more than 600 employees including 30 agronomists and technicians. 14 hectares greenhouses and 240 hectares field. 20,000 m³ cold storage for storage plants. Meilland has a system to test garden rose varieties and cut flowers on every continent and taking into account all types of climates. With agents or partners in more than 62 countries.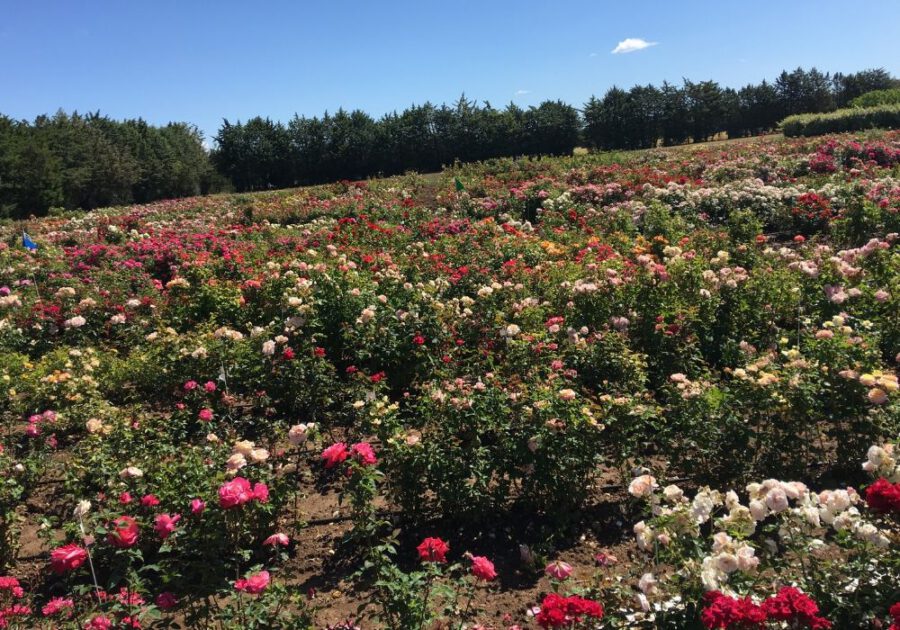 Meilland rose fields in South France
Meilland has also nurseries in other parts of the world: France, Spain, the Netherlands, and the United States (California).
Matthias Meilland explains a bit about the color black in roses
"The Black Baccara is one of the darkest roses in the world, cutting it from the plant it will stay black. But real black doesn't exist in roses. You miss the genes for real black. Look at the new variety Black Gold, the outer petals are darkened, almost black, which is something you normally do not want, but with this variety it works. It is part of the research. This also happened with the Black Baccara, looking for new red roses, this variety came by, and we knew it was going to be a huge succes."
You can read the article about the introduction in April 2020 of this rose here: 'Meilland Novelty – Rose Black Gold® Meiniffyck'.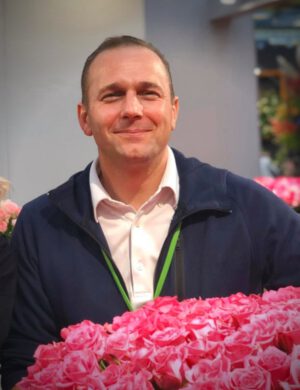 Matthias Meilland
Black Baccara
Introduced in 2000, The Rose Black Baccara is truly unique and still in production as a cut flower at Arend Roses. Exotic, mysterious, and spectacular. Due to the dark red, velvety petals, this rose appears almost black. This theatrical beauty is one of the darkest roses in the world and is perfect for arrangements that require an eye-catcher with a sense of drama. The bud is full and blooms wide open, with the petals curling slightly. As a result, they catch the light in a special way and the velvet-like appearance and texture of the rose come into its own even better. Read more about black roses here: 'Black Roses - Do They Exist Naturally?'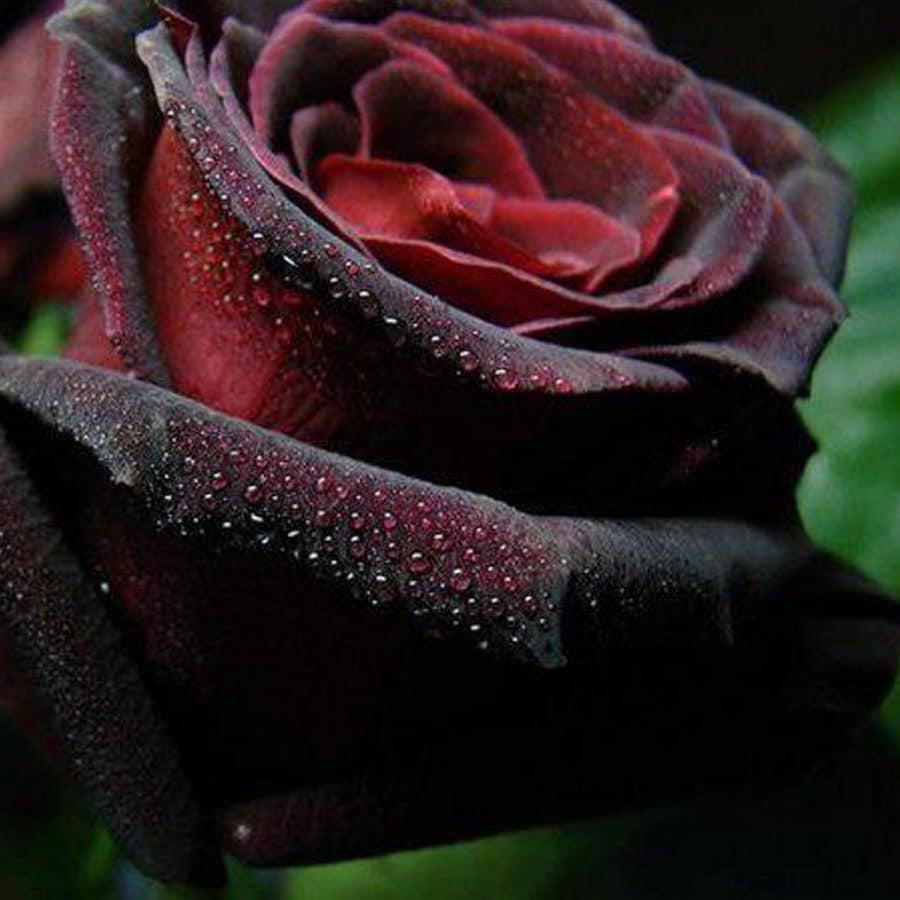 The Black Baccara Rose from Meilland
Papa Meilland and Papa Meilland Jubilee
Papa Meilland is also a wonderful rose, made as a garden plant, and available in very limited numbers as a cut flower from grower Tambuzi in Kenya. In 1963, Antoine Meilland had the honor of baptizing a large fragrant red rose that everyone has known since under the name of Papa Meilland®. Fifty years later, his great-grandchildren decided to give him a new rose, more resistant and more floriferous, of a velvety red with a powerful perfume mixing accents of geranium, carnation and white peach. It was a great novelty that will enchant its fragrance captivating the gardens of the world in order to celebrate the Papa Meilland® Jubilee. It is very difficult to spot the difference between the two, as they are both very dark, but a bit lighter though than the Black Baccara. But with much more scent.
Matthias Meilland:
"The Jubilee had better production and was more resistant. So we chose this one instead of the original Papa Meilland. With same velvety petals in very dark colors. But still more for garden planting than for the cut flower industry. Although nowadays scent is becoming more important for some designers, who knows how much will be planted in the future for the cut flower industry."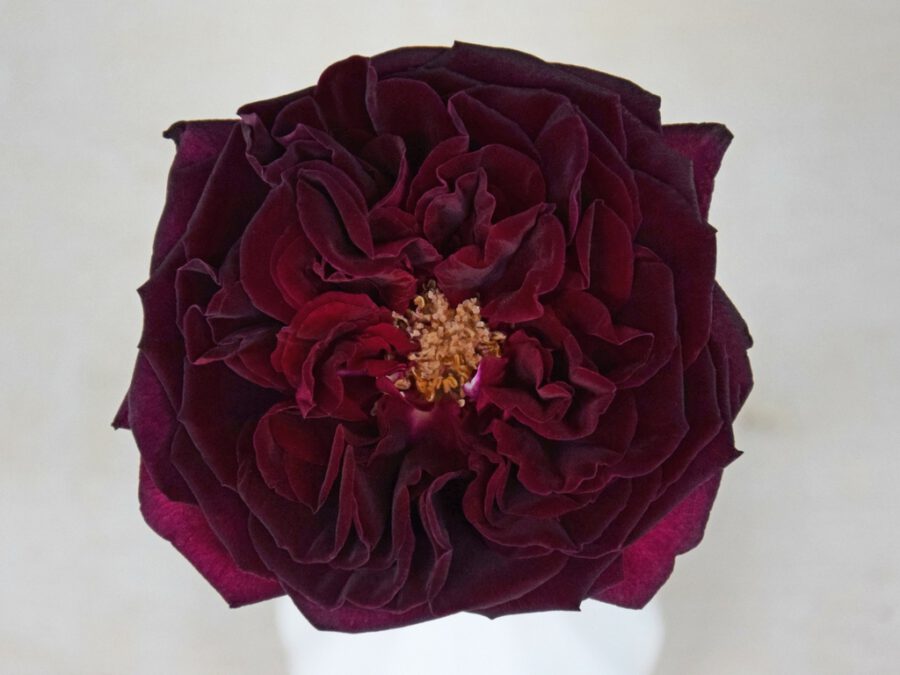 Papa Meilland® rose