55 years of combined experience within the flower industry
From floral retailers to front-line farmers, New Bloom Solutions partners with clients at every segment of the floral industry supply chain to help transform their organizations, embed innovation into all that they do, and build businesses that thrive.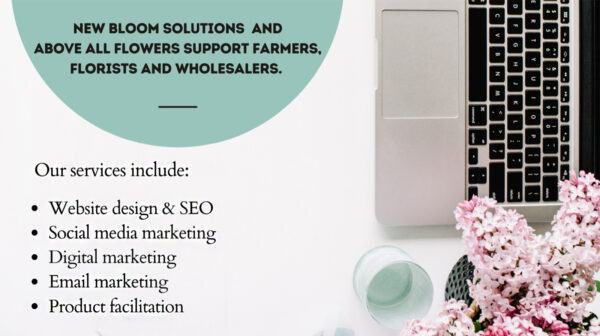 Customized, Performance-based Growth Strategies
We take a consistent approach to floral industry consulting, website design, SEO, product procurement, social media, industry mentoring, and operational advancements so that we can quickly deliver customized, performance-based growth strategies - throughout all sectors of the industry. Using our fast network of industry experts, we are able to help you leverage our connection in order to achieve your goals. As a results-driven partner, our clients depend on New Bloom Solutions to execute through the complex, important challenges our industry is facing - to empower sustainable, long-term successes.

Partnership With Above All Flowers
Our partnership with Above All Flowers allows us not only to help in achieving your technology and marketing goals but to help expand your product offering and customer base. We work with all sectors of the industry which allows us to offer you integrated solutions. It is not about outsiders dictating how you should run your already successful business. The world is changing rapidly and our goals are for everyone to win. Providing value as well as unique products are our specialty.
Maintain Your Floral Leadership Position
This is a people-centered business and finding the right people to partner with is key to everyone's success. AAF and NBS help facilitate your needs to achieve your plan of maintaining the floral leadership position you have in your market areas. Together we strive to fulfill orders with consistent quality products all year long, especially at peak demand times. Our strategy is for the final consumer's satisfaction through the supply of superior products. It is also important that everyone in the chain is profitable and that this strategy ensures economic stability for all involved from the farmworkers all the way to the consumer. AAF facilitates the movement of all floral products. We focus on the best quality of products produced worldwide. The more eye-catching they are, the more we are interested. Often these items are merged to create a very interesting retail item or idea.
Connect Between Buyer and Seller
New Bloom Solutions and Above All Flower are strong believers that the floral trade must make the connection between buyer and seller much closer and more cost-efficient. We also feel that providing technology, logistical assistance, business solutions, and consulting along with product sourcing and marketing facilitation will put our clients ahead of their competition. We want to separate the average Floral, Plant, and Hard Goods providers from the exceptional providers.
New Bloom Solutions and Above All Flowers' Approved Innovations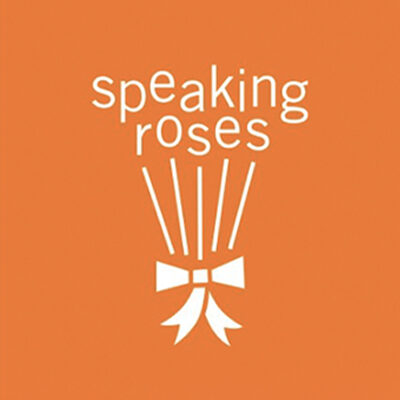 The Speaking Roses product is a new way to express yourself, a new way to communicate, and a better way to share personalized messages! New Bloom Solutions and Above All Flowers are proud to be the exclusive distributors of the Speaking Roses Innovation.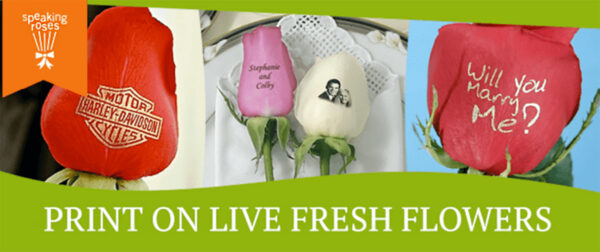 We have created and patented the ability to print photos, monograms, logos, pictures, signatures, and icons on both silk and live fresh flowers, making flowers the new vehicle for any message. Speaking Roses has created, patented, and developed a unique flower printer to screen personalized messages and images on fresh, live flowers. This new, stimulating way of expression is combined with human emotions and the glamour of flowers for memorable occasions. It fuses the greeting card market and the promotional industry. Speaking Roses has been awarded and received international recognition at the 2005 International Horti Fair Floral Show in Holland, and was voted best product by the Promotional Products Association International. Watch the video below and see how this product can not only add personalization on any flower, it can also help you increase your profit margin by 200%-500%+ per stem. Unleash your imagination and increase your profit with Speaking Roses. Visit Speaking Roses for more information.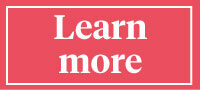 PIN IT, SHAKE IT, THROW IT. FixedFlower offers a perfectly fixed boutonniere. Watch this amazing video and experience yourself. New Bloom Solutions is a big fan of Fixed Flowers. The story behind this amazing invention goes back to when Matthew Williams was on his way to his 10th-grade prom and got stabbed by the boutonnière pin and shocked him greatly. 30 years later he came up with a solution and it was amazing and innovative. Watch this video and see for yourself how fantastic and strong this product is. Book now at FixedFlowers
Approved Farms

We grow our own Proteas in different parts of the world. Giving us the ability to design and create unique bouquets and arrangements for different markets as requested by our customers. We can ship proteas year-round from different parts of the world to give you stability and consistency, making us a great asset. Visit Splendor Proteas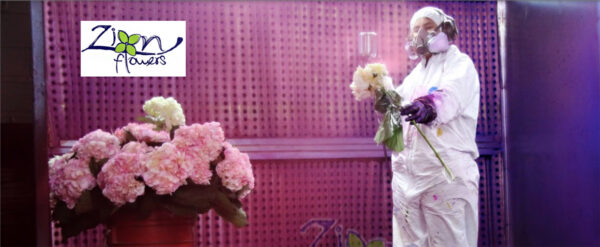 Zion Flowers is a family-owned and operated farm located in the beautiful towns in La Ceja and La Union in Antioquia, Colombia. For 15 years, we have grown flowers on our farms. Our specialty lies in selling hydrangeas of various colors and sizes. We also export the most beautiful flowers with an extensive selection of varieties, grades, and shapes to the city of Miami and throughout the USA. We export to Canada, Europe, and Asia as well.

Visit Zion Flowers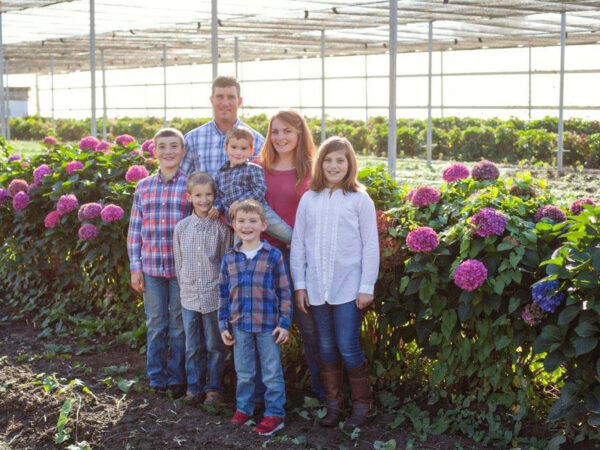 Hello and welcome to our flower farm! We are Bruce and Claire Hammelman, second-generation flower farmers, multi-generation 'farmers'. We operate the flower farm alongside our children and many great employees. We take pride in our agricultural lifestyle and love to share with visitors what we do. The farm is the birthplace of the products we sell. Nestled between the large Cascade Mountains and the coastal range, Oregon's Willamette Valley offers fertile croplands that lend themselves to a wide variety of crop production. The local community of Mt. Angel was founded in the 1880s by farming German immigrants and, proudly, our family was one of them. While our farming heritage reaches back many generations, the flower operation commenced in 1989, growing a handful of select dry flower varieties. The first crops of flowers were hung in barns originally built for poultry production; fear of the weight of the flowers bringing down the structure prompted the building of a drying facility. Today, we raise about 40 different varieties of flowers on 55 acres that are all dried, sorted, and packed for shipping by many long-term and loyal employees. Additionally, the operation expanded to include fresh sales of peonies, rose hips, and later red twig dogwood in the early 1990s. Our crop selection continues to change and expand every year, much of which is based on feedback from our valued customers, so check back to see what we're growing in the future. Can't find what you're looking for, give us a call and we can try to help. Visit Hammelmans
The BloomShow

Discover the Power of Floral Innovation and join us every month as we go live on YouTube for "The BloomShow" through which we continue to Innovate, Connect and Inspire with amazing people from all sectors of the floral industry through the community. For upcoming BloomShows, follow and subscribe us to our YouTube channel.
Contact New Bloom Solutions
If you have any queries about our services, please reach out to us at New Bloom Solutions. Schedule a quick Chat with us. We are here to help. New Bloom Solutions Sahid Nahim Phone: +1 305 975 2725