Tom de Houwer and Bloom Up
Tom wants to completely transform your mindset as a designer.
Immersive Masterclass Course
Tom De Houwer has condensed decades of research, discovery, and experience that he delivers to you in 6 days within the luxury of a private, relaxing location amongst other designers from around the world. Bloom Up from Tom De Houwer not only focuses on floral development but personal development as well, where he focuses on the individual behind the craftsmanship of the artist, the creator.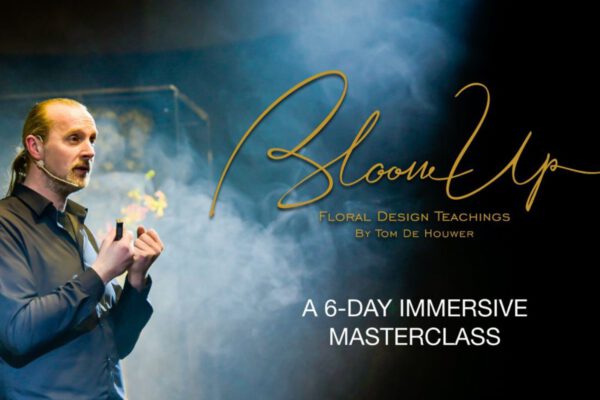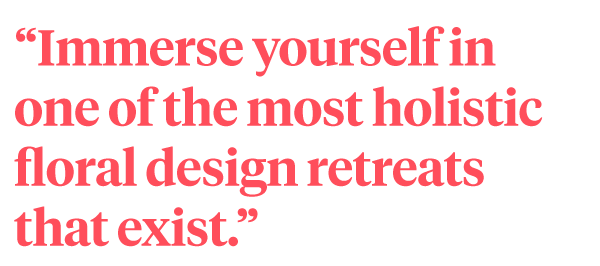 Students Testimonials
Below you'll find what other designers have to say about Bloom Up from Tom De Houwer.
Chris van Niekerk
"Tom's unconventional holistic approach in his teaching is essentially relevant to reach your highest creative potential. His profound insight and knowledge of the often seemingly elusive creative energy that exists in all of us, is solid and real because it comes from a place of his own lived experience as an artist. His humble curiosity to keep learning himself and his unwavering courage to dare to be different remains an enormous source of inspiration. I have been in the creative flower/plant/design industry for many years without a clear understanding of the meaning and direction of where I was going. Tom gave me much more than flower material and techniques as tools to practice floral design. He gave me the priceless material of self-awareness and mindfulness to shape not only my career but my entire life as art."
By Chris van Niekerk, Professional Botanical Artist
Tuba Belgin Oskan
"The moment I heard about Bloom Up from Tom de Houwer's Masterclass Course, I felt that there would be something interesting and different from other floral design courses. The moment I was in the room I was surprised to see that the main subject of the whole Masterclass (for me) would be MYSELF. I had a chance to meet Tom a few years ago and I knew then that his Course would be "out of the box" but I never thought that he would summarize his own path fulfilling his dreams this well and offer us a detailed methodology."
By
Tuba Belgin Oskan
, Floral Design Artist

Kathleen Wuyts
"I started Tom's Masterclass as 'a little green one.' Tom gave me the opportunity to participate as a student amongst professional florists and I am very grateful for that. It was for me a very educational week in so many ways: knowing myself better, fine-tuning skills and techniques, and working with others in team dynamics. I was taken in by other participants and told their stories, and with that, I discovered my own. Thanks to them, and to Tom, of course, I am 100% sure that I can reach my goals. For me, it was an incredible & great experience."
By Kathleen Wuyts, Floral Design Artist
Deborah Provenziani
"It has been one of a kind experience... we have been sharing and working on so many more skills rather than few techniques and at the end we all found ourselves enriched by our values, by our inner strength, creativity and our love for beauty. Finally, I could not be more grateful for the emotion I felt, the soul mates, and the respect I found. I now know the way I want to Bloom Up."
By
Deborah Provenziani
, Floral Design Artist