Newsletters are a valuable marketing resource and it's time to start writing them as such. Especially now, as Thursd is highlighting newsletters from the flower industry. Below you'll find this week's newsletter from the industry you don't want to miss: the Alexandra Farms Newsletter.
Newsletters in Floriculture You Don't Want to Miss - The Alexandra Farms Newsletter
Alexandra Farms sends out monthly newsletters. With many beautiful garden rose varieties, including the 'David Austin Wedding Rose Collection', as well as many other garden rose varieties, Alexandra Farms is a true boutique rose grower.  The subject of the Alexandra Farms newsletters are all about roses. The roses are grown in Colombia, and sold all around the globe. You can subscribe to the Alexandra Farms Newsletter
here
.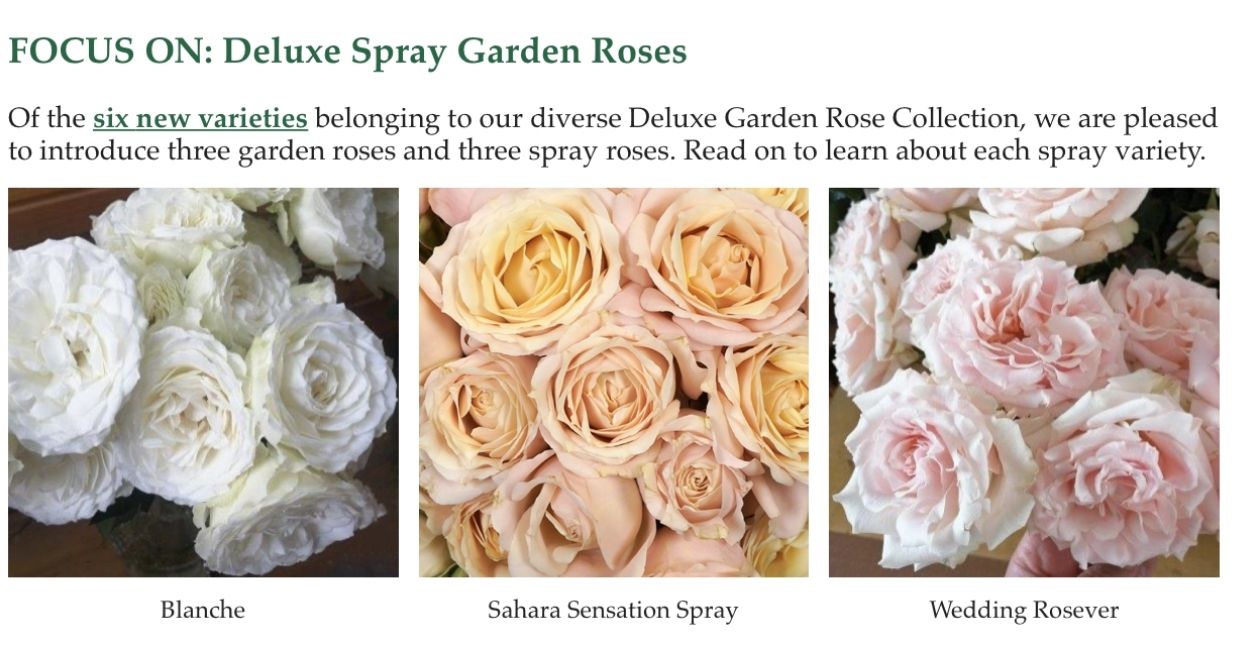 Exciting News in the Alexandra Farms Newsletter
As you can see the topics of the Alexandra Farms newsletters iare very interesting topics, such as:
Six new varieties belonging to the Deluxe Garden Rose Collection,
Watch: Cascading Bridal Bouquet Tutorial with J. Schwanke, and
Design spotlight: Stunning Floralwear Featuring Garden Roses.
Alexandra Farms currently sells to select importers and wholesalers in the USA, Canada, France, England, Belgium, France, Germany, Switzerland, Japan, and more. Some stories are worth knowing. That means not just because they are interesting, but because it broadens the perspective of each florist and designer. Those stories are shared in the newsletters and on the Alexandra Farms website.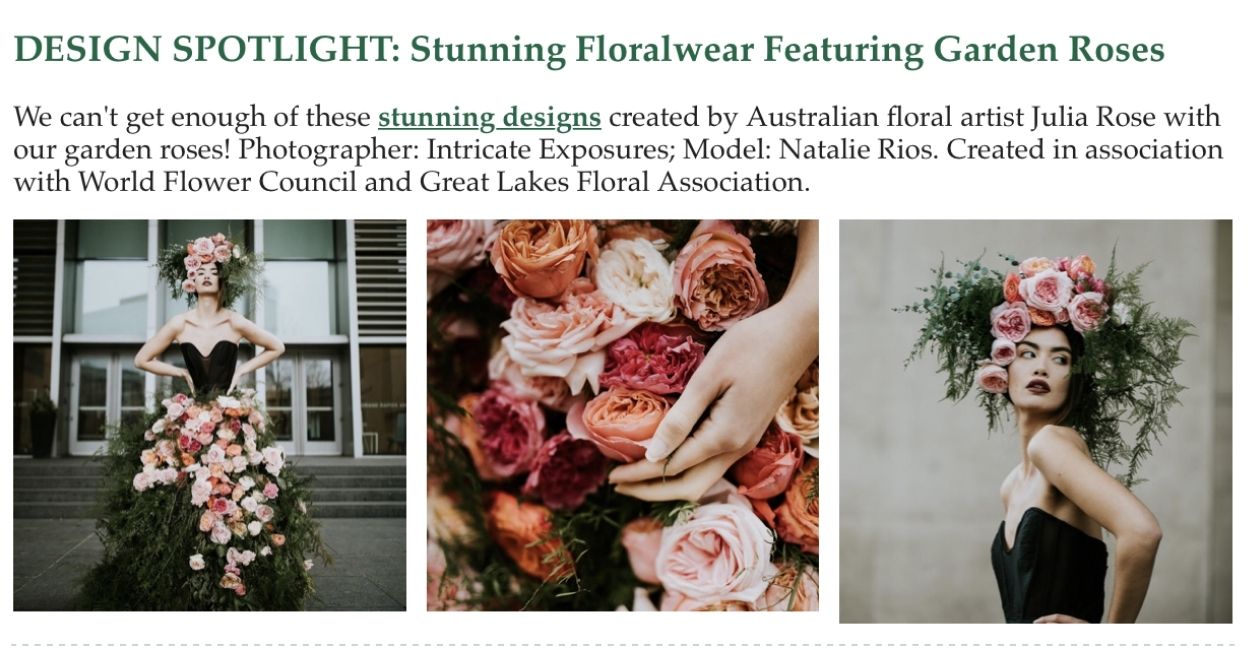 About Alexandra Farms
Alexandra Farms
was started by Jose R. Azout in 2005 and is named after his daughter Alexandra Lydia Azout. Alexandra Farms grows an assortment of roses of many different colors, shapes, and sizes that were bred in France, Germany, Spain, the Netherlands, and Denmark. These 31 varieties make up the 
Alexandra Farms Deluxe Garden Rose Collection
. As the largest of four licensed David Austin® growers in the world and the only one in Colombia, they are thrilled to offer 15 of the most romantic English garden roses in our 
David Austin Wedding Rose Collection
. Eight unique varieties of garden roses that were bred for the Emperor of Japan make up their 
Princess Japanese Garden Rose Collection
. The 
Wabara Garden Rose Collection
 is a branded line of three very special Japanese garden roses developed by breeder Keiji Kunieda.
Your Newsletter on Thursd?
Email marketing is a killer. Especially in floriculture. You have so much beauty to share! Do you already create an awesome newsletter? And would you like to showcase your newsletter on Thursd? Submit your newsletter to the weekly column 'Newsletters in floriculture you don't want to miss' on Thursd. by sending an e-mail to
[email protected]
.
More Newsletters Featured on Thursd