Nicu Bocancea from Bucharest wanted to show us a hand-tied bouquet with these sunny colors to bring joy and happiness, peace and health for Christmas. The Thursd Floral Color of the year - Scorched Earth - is a lovely match.
Nicu Bocancea
Nicu Bocancea made fame lately with his 50-day manifest. For the occasion of the 50th anniversary of the flower shop, that his parents started, and to give credit to them, Nicu and his team used floral arrangements to draw attention to serious irregularities in the public space. They launched a Manifest for Beauty and Normalcy on the streets of Bucharest, Romania. You can read more about it in these three articles:
Manifest by Nicu Bocancea for Normalcy and Beauty
,
Manifest for Normalcy and Beauty Has Gone Viral – Part 2
, and
Manifest for Normalcy and Beauty Has Gone Viral – Part 3.
Through this Manifest, Nicu draws attention to several issues in sustainability, so in his opinion, the name Scorched Earth for the color of the year and in this way using floral designers' voice for this topic, is a great idea.
Floraria Iris
, the flower business of Nicu's family brings joy and happiness to Christmas for many years already. These are the
locations
they have in Bucharest. And this time of the year is, even in these COVID times, one of the busiest.  They still took the time to show us the possibilities of sunny colors for Christmas. To create a hand-tied bouquet like this takes great skills and passion. If you see how many flowers he used here, it's amazing.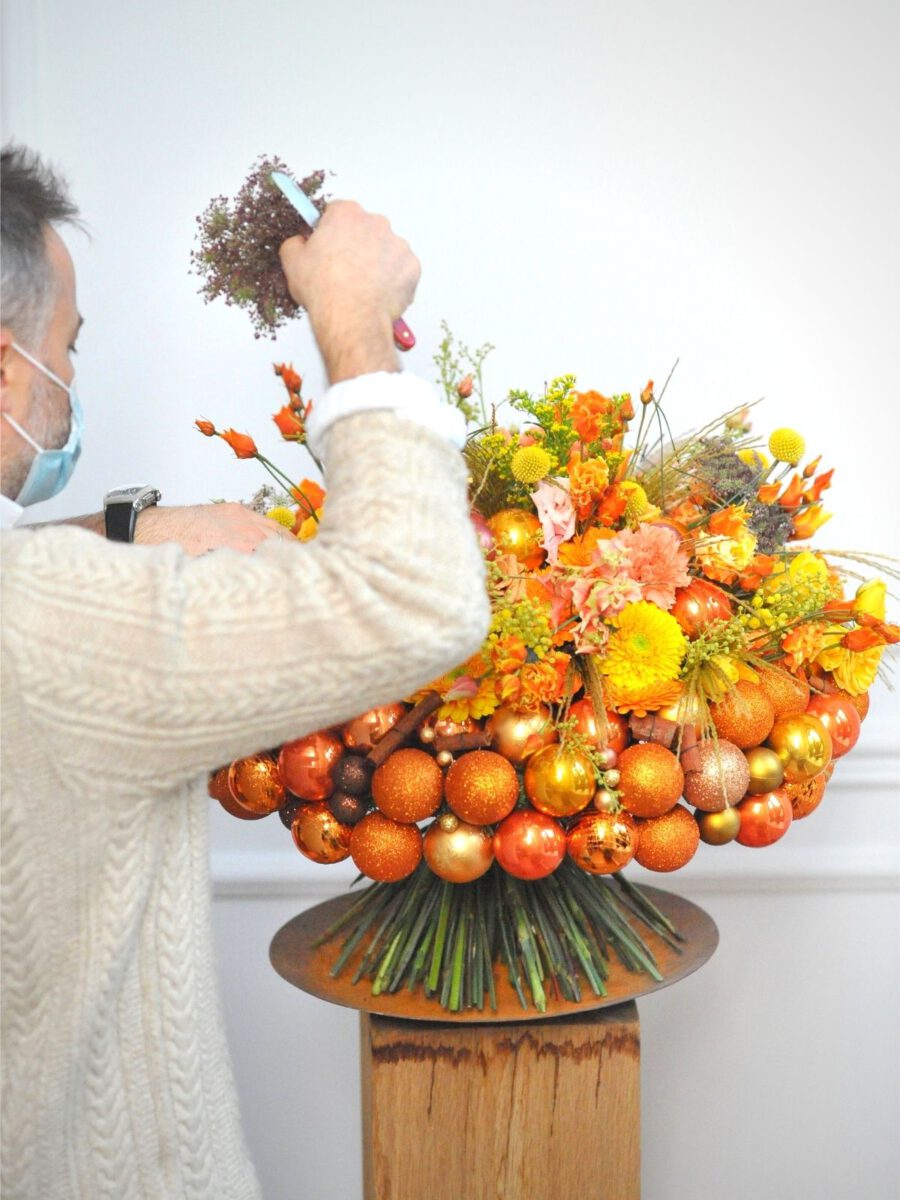 The Contrast between a Mix of Summer Flowers and Christmas Mood
For 
Holstein Flowers, 
he used gerponi yellow. A bright yellow color matching the spray roses and mimosa.
Montana Lisianthus
is a nice addition in color to this bouquet, the blush tint of the dyed flowers makes the whole softer.
Marginpar
has a great assortment of flowers to make this a fabulous piece. The daucus jumps out of the color palette and makes it stronger. Limonium China summer, craspedia, solidago, daucus Carola Dara, miscanthus Red Cloud, dianthus Hermes. The fluffy grasses add joy to the colors and the Christmas balls make it festive.