Flowers and Plants Used To Sent Out a Message
Floral artists from Iris, the family shop of Nicu Bocancea, used floral arrangements to draw attention to serious irregularities in the public space and launched a Manifest for Beauty and Normalcy on the streets of Bucharest.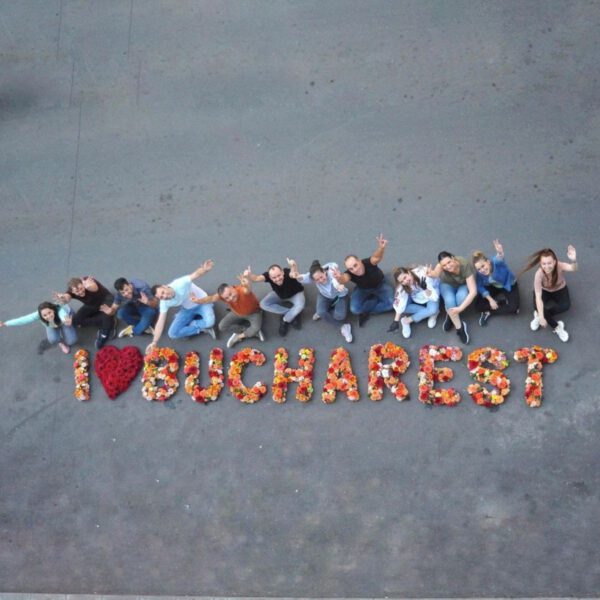 I truly believe the floral designers in Bucharest were sending out an incredibly strong message this way. Nicu Bocancea presented for 50 days, so every day, a design on the streets of Bucharest. Why 50? Because his family shop exists for 50 years this year.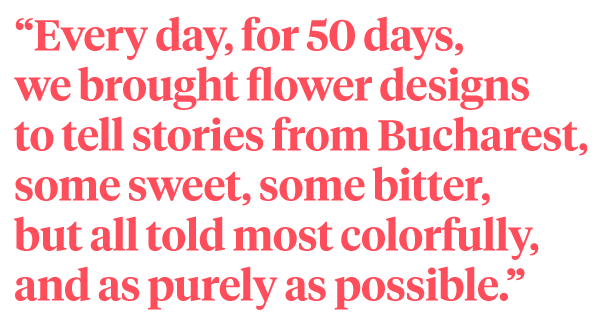 Follow Nicu on Facebook and follow the coming articles about Nicu Bocancea's manifest on Thursd to capture the complete story. This week Thursd publishes part 3, or number 36 to 50 of the Manifest. This Manifest has a great last post: the birthday of Iris, the flower shop of Nicu's family. You can read, and see the first part and the second part of his manifest here.
Nicu Bocancea - International Floral Designer
Nicu:
"Every day, for 50 days, we brought flower designs to tell stories from Bucharest, some sweet, some bitter, but all told most colorfully and as purely as possible. Stories to talk about what should be normal. Stories about beauty. Always with the help of floral constructions. At every step, we've found things to signal or to straighten, and flowers are the most beautiful tool to do it. My parents have been working with flowers and out of love for flowers since 1970, so for a fixed 50 years. They went through communism, Revolution, post-Revolution, democracy, and pandemic, surrounded by flowers. Always trying to beautify and brighten the lives of Romanians. They did that through their flowers and the dedication with which they developed the family business, Iris Florist. So this was our chance to celebrate through Manifest! "
Episode #36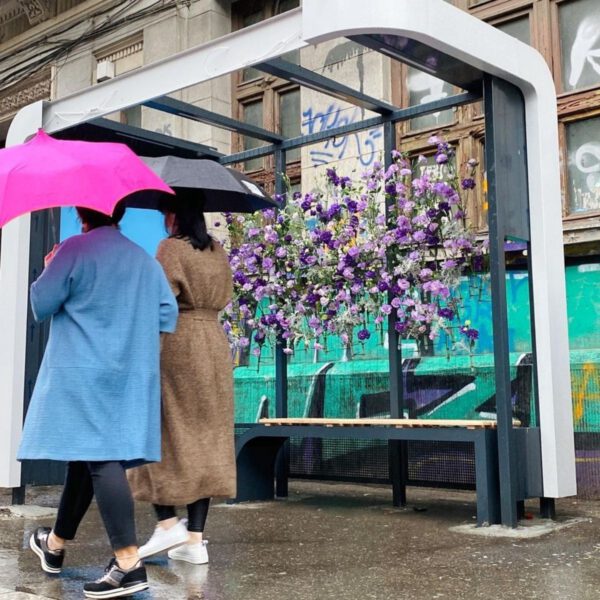 A lot of people get to them, but no one really wants that. They are the necessary steps to the desired destination. No one makes a goal of getting here, they just take advantage of them to get to the next place faster. You guessed it: it's the bus stops. The florists from @florariairis set out to make a bus station a destination in itself, a place where you want to arrive and stay as long as possible. Without looking at the clock, without the discomfort of the weather, just with your eyes on the purple flowers arranged so romantically by the florists. It is important to enjoy the road, not just the destination! We may have such pleasant surprises! # amr14 # Floraridin1970 #echiparacheta @ Bucharest, Romania
Episode #37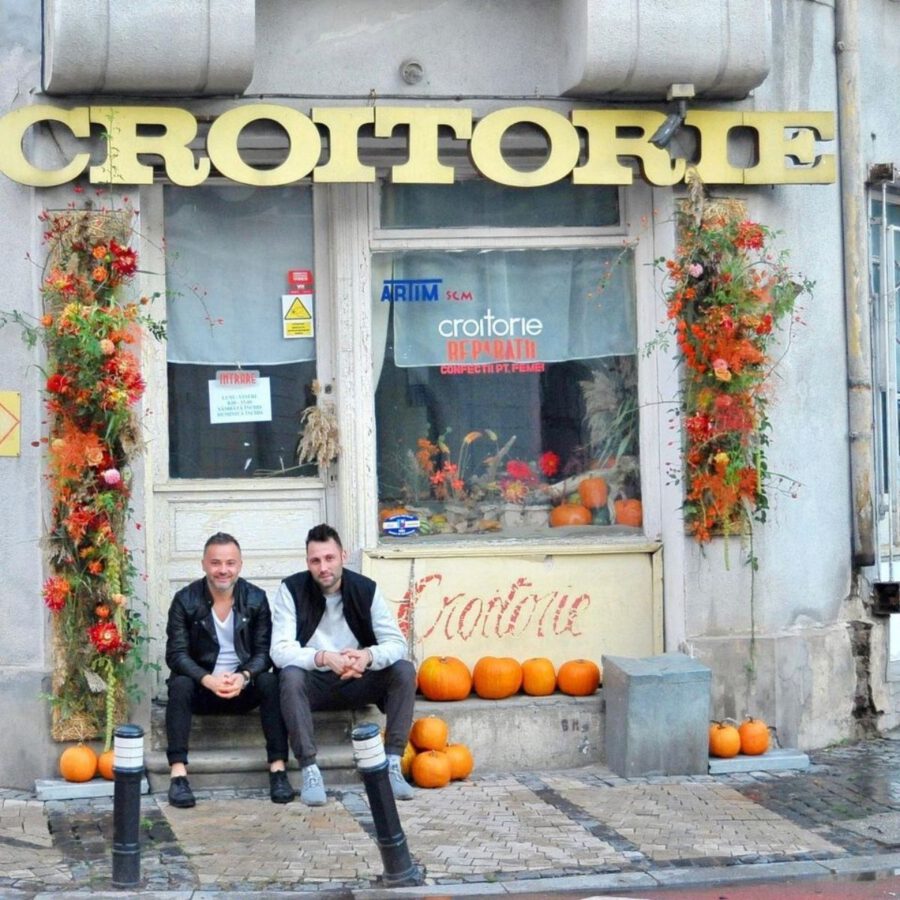 Once learned, you have a job until the end of your life, regardless of the times or the stages you go through. It is true that sometimes technology can bring efficiency, volume, lower costs in any field, but the passion, dedication, and soul involvement with which a person does his job can not be replaced by anything. We respect the craftsmen and the perseverance with which they carry on the tradition of their profession, from generation to generation. @florariairis awarded with a floral construction the entrance of the Tailoring Workshop, from the Amzei area, from Bucharest, unjustly little visited in the last months, in the hope that it will attract passers-by and convince them to enter. Let's appreciate our craftsmen, while we still have them, let's put our things in their hands and we will receive in return a job well done and with a soul! # amr13 # Floraridin1970 #echiparacheta #florariairis
Episode #38
We often buy more than we need. A recent study shows that 12% of purchased food ends up in the trash, and a Romanian throws away 129 kilograms of food per year. Besides food waste, in Romania, we have malnutrition, but also 15% of the obese population. Florists from @florariairis crowded into a refrigerator, where they usually forget all kinds of food, countless flowers whose beauty can not be ignored. Let's think realistically when we make the shopping list and take only the products that we are sure we will consume! This way we save food for those who really need it, but also our health and the health of the planet! # amr12 # Floraridin1970 #echiparacheta #florariairis @ Floraria iris Dorobanti
Episode #39
It's not just people who are sad. If we go for a walk, on the streets of Bucharest, we see from place to place abandoned buildings that seem to cry waiting for the spark of warmth and life. The florists from @florariairis took their ladder and the most beautiful flowers from the workshop and started looking for a place that deserves some cheering up. On one of the streets in the center of the Capital, they found a house that seemed to be waiting for a splash of color and a few threads of life, to smile. Flowers have this magical ability to transform anything it touches into something beautiful! Let's enjoy them and use them whenever we feel they can bring the emotion that someone or something needs! amr11 # Floraridin1970 #echiparacheta #florariairis
Episode #40
Sunday, in the hands of mild autumn and rust, with hope in their souls, good thoughts and encouraged by their smiles, children help us to see color next to any gray, which lifts us up when real life overwhelms us. It always directs our gaze forward, even if we, the adults, sometimes let it down or prefer to direct it backward, to more times. quiet and safer. The florists from @florariairis took their favorite "toys" and went to one of the children's parks in Bucharest. They played what they played and a cheerful frame came out, with many swings, slides, and multicolored flowers. Let's enjoy all the opportunities that bring us into the pure and optimistic state of childhood! Happy Sunday, people! #amr10 #Floraridin1970 #teamaracheta Bucharest, Romania
Episode #41
Knock knock, is anyone home? It's me, autumn, and I want to bring a little of my abundance and beauty to every man! Absorbed by problems and daily flight, some people no longer have the time or patience to look for the beauty around them. There are neighborhoods where autumn is quite hidden in parks and stays away from blocks of flats and their inhabitants. The florists from @florariairis brought a surprise guest to the doors of one of the blocks of flats in a neighborhood in Bucharest: a beautiful piece of autumn, crouched in a multicolored pumpkin. Everything, for a smile and a better day! #amr9 #Floraridin1970 #echiparacheta #florariairis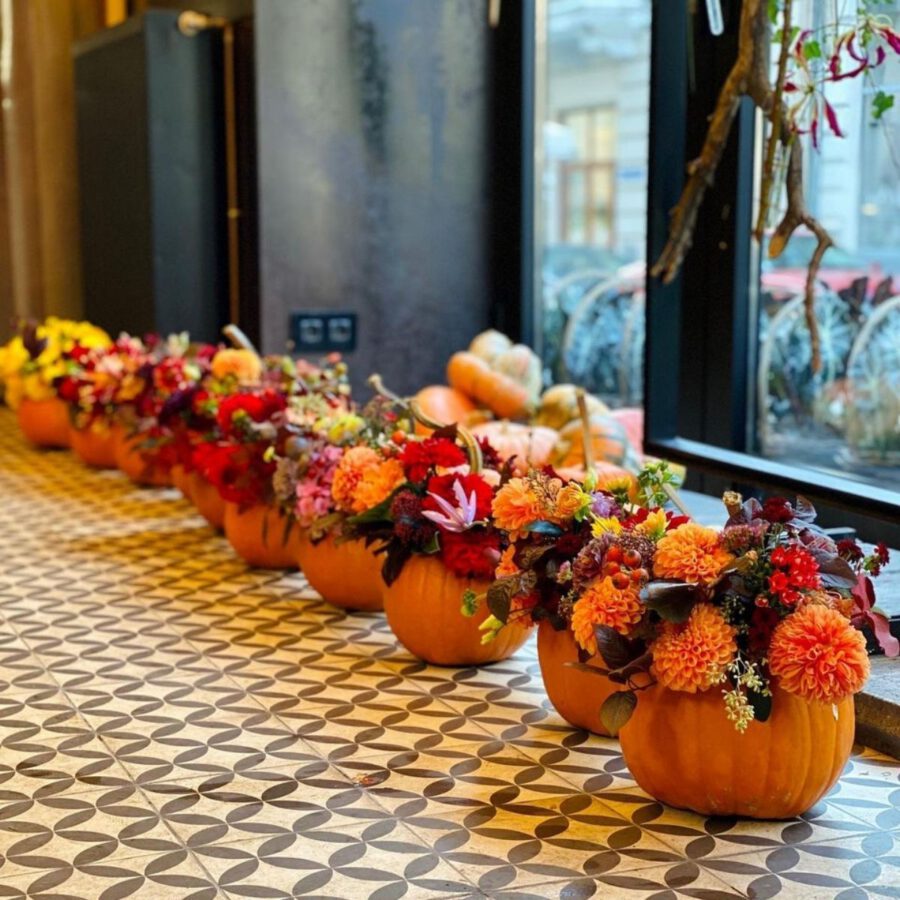 Episode #42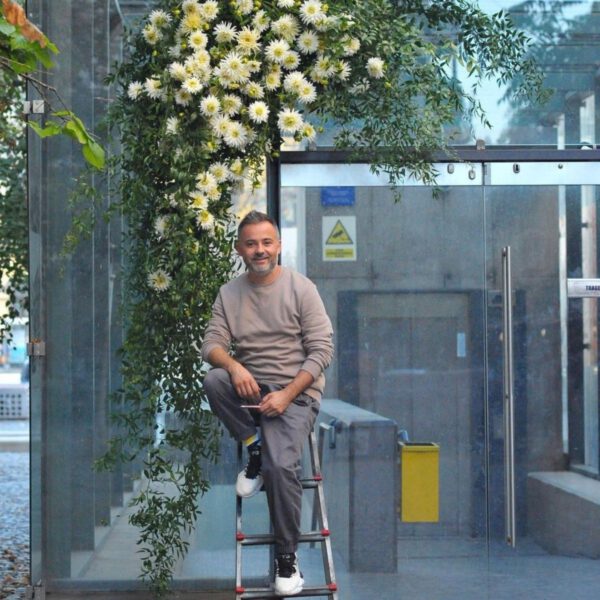 The traffic in Bucharest is a story on everyone's lips, one that is lacking joyful accents, but always told with colorful expressions. If the search for a parking space also appears in the scheme of the day, the story lengthens and acquires, most of the time, dramatic accents. The florists from @florariairis set out to find a solution for the daily drama to somehow turn, miraculously, into silence. They filled their arms with white, autumn flowers, and made a floral construction through which they signaled an underground parking lot in the center of Bucharest that can be, for a better day, a solution for drivers in a hurry or for passers-by who love beauty. A beautiful image can change our day and our mood. Let's look around carefully and find solutions to brighten our hours spent in traffic! # amr8 # Floraridin1970 #echiparacheta #florariairis
Episode #43
There are places where you feel the hearts of flowers begin to beat. They are magical, they are here, in our country, and they belong to hardworking and ambitious people who feel the soul and hear the voices of the flowers. The florists from @florariairis visited one of the rose greenhouses in Calugareni and "befriended" the rosebuds with an imposing floral construction of white, mature roses. Beauty, delicacy, and a stretch of bright green meant to bring happiness, escape, color, and emotions to people and the universe in which they live in. All were met with the imagination of florists and the distinct purity of roses. The result is harmony! Let's encourage local flower growers, appreciate them, and look for them whenever we want local beauty intertwined with passion and national spirit. Let there be flowers! # amr7 # Floraridin1970 #echiparacheta #florariairis #serecalugaren
Episode #44
Hurry often makes us say "come on, I don't have time". "I'm breaking the rule just now and that's it" or "I have good visibility anyway, I don't understand why it should be a continuous line here" ". Well, the road signs and traffic rules have their purpose and must be respected, regardless of how we assess the situation and the congested traffic. The florists from @florariairis have chosen to emphasize the rule with the most beautiful and colorful "tools" of autumn. If the paint on the road was covered with flowers, would drivers still choose to drive over it to save time? #amr6 #Floraridin1970 #teamaracheta echiparacheta University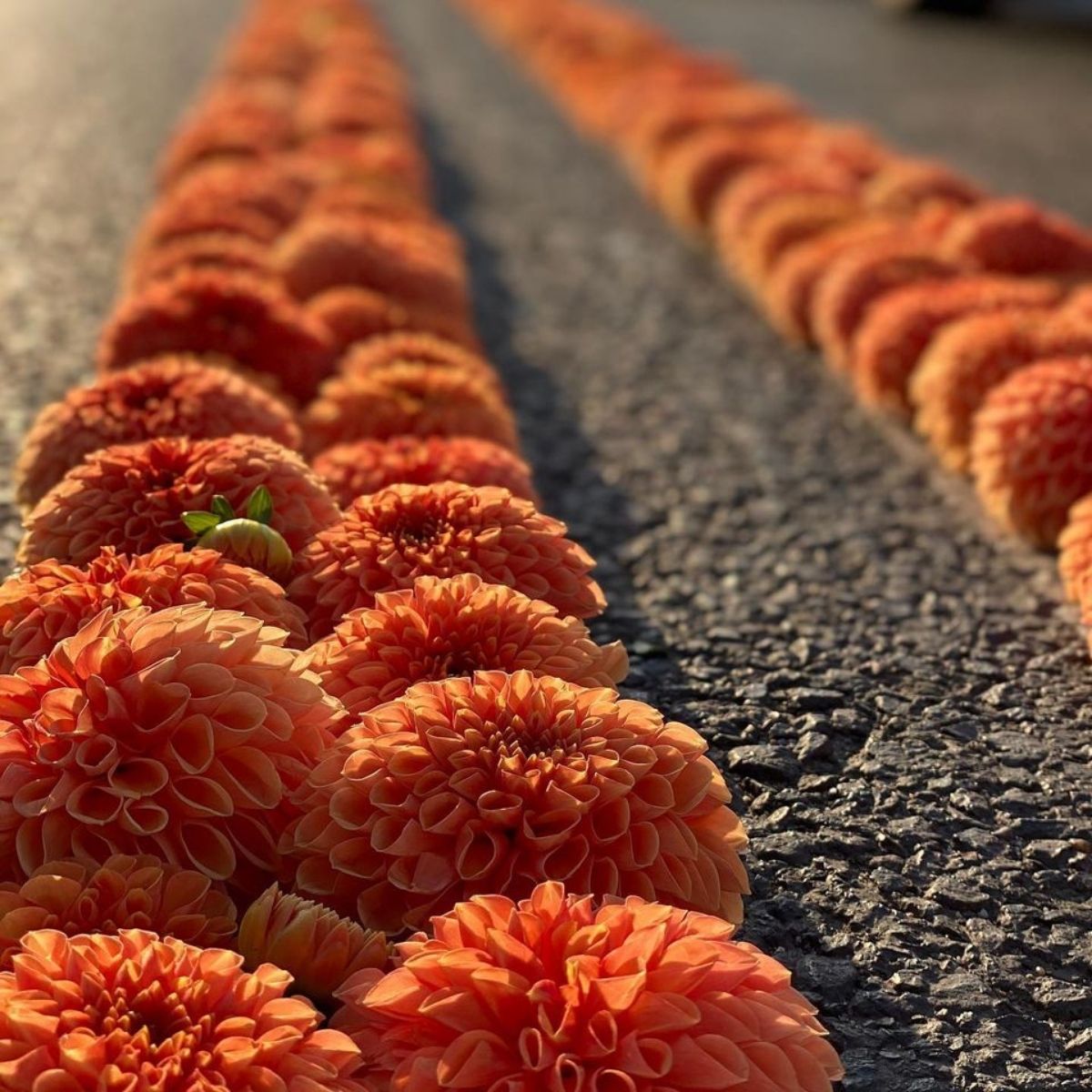 Episode #45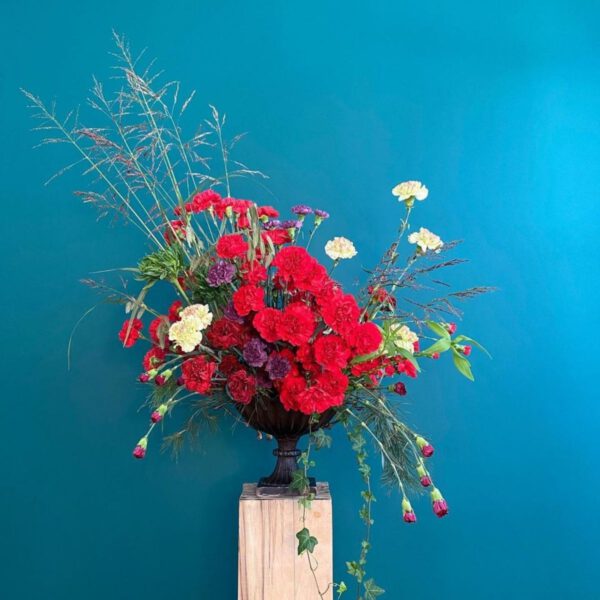 How lucky and blessed are those who have the talent to be able to express through art, be it music, painting, or poetry, the emotions and passions that overwhelm them! During a visit to the National Museum of Art of Romania, I reviewed some of the works of the great Romanian painter Stefan Luchian and I felt his adoration for flowers. The florists from @florariairis put in front of the works of the great painter the very inspiration that is the basis of their genesis: a vase with red flowers. We also declare our shy and modest love for flowers and, as long as we are inspired and strong, we promise to express what we feel for them. We hope that our emotions in front of the flowers and in working with them will reach real intensity, up to you! #flowerslovers # amr5 # Floraridin1970 #echiparacheta #florariairis @ National Museum of Art of Romania
Episode #46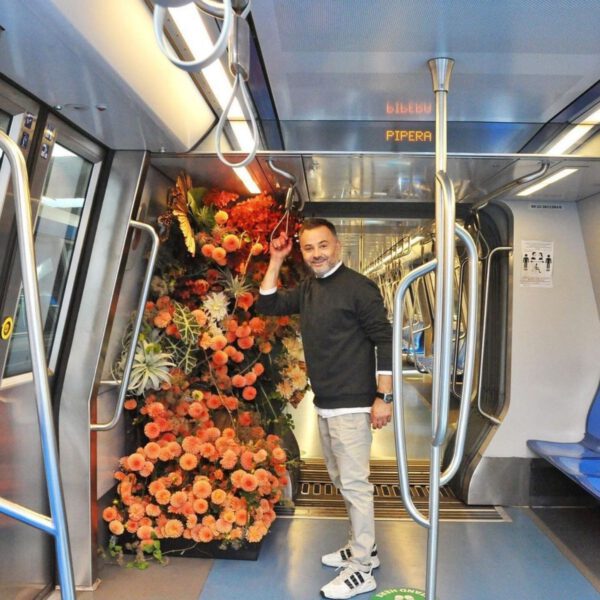 It has been over 30 years since Bucharest quickly transited and leads daily, through its 63 stations, approximately 700,000 people where they need to reach. It is the Bucharest Metro and sometimes we like it, other times we don't like to climb into it, but, most of the time, we need it, to get to our destination quickly and well. The florists from @florariairis created, with the help of an imposing floral construction, a colorful and beautiful corner in one of the Bucharest subway cars. We need positive energy around us, in our path, before our eyes! Let's look up from our phones and look around, some days can bring us, when and where we least expect, floral surprises with smiles on the package! # amr4 # Floraridin1970 #echiparacheta @ Metro Piața Unirii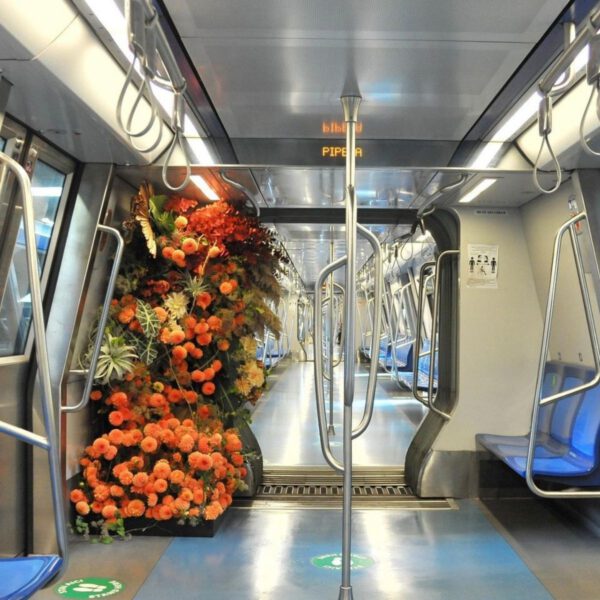 Episode #47
We are all thinking of a life "as before", family weekends when we make lists of dream destinations, the freedom to go on a business trip without worries, the travel luggage to which I may not have walked for months. The florists from @florariairis have built an access gate made of reeds and autumn chrysanthemums, in Otopeni Airport, for those who have the courage, work, plan, life that allows them to travel, but also for those who travel only with their souls. No one stops us from "flying" at least with the thought of a natural "tomorrow", as we knew it. Let it be clear, health, color, and good for everyone! # amr3 # Floraridin1970 #echiparacheta @ Aeroport Otopeni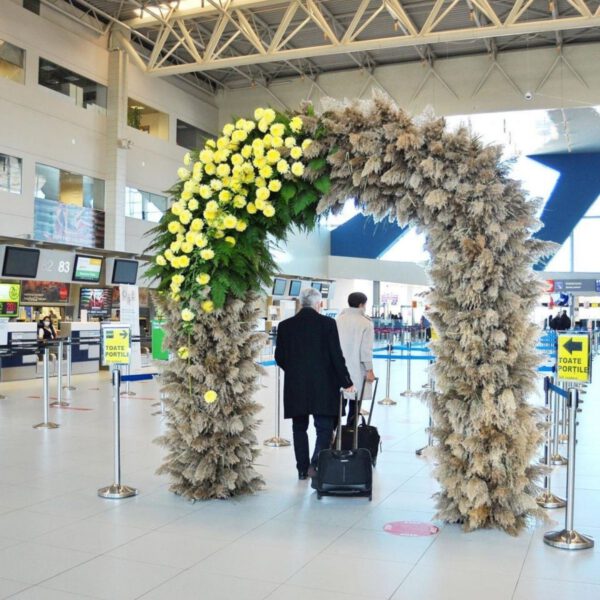 Episode #48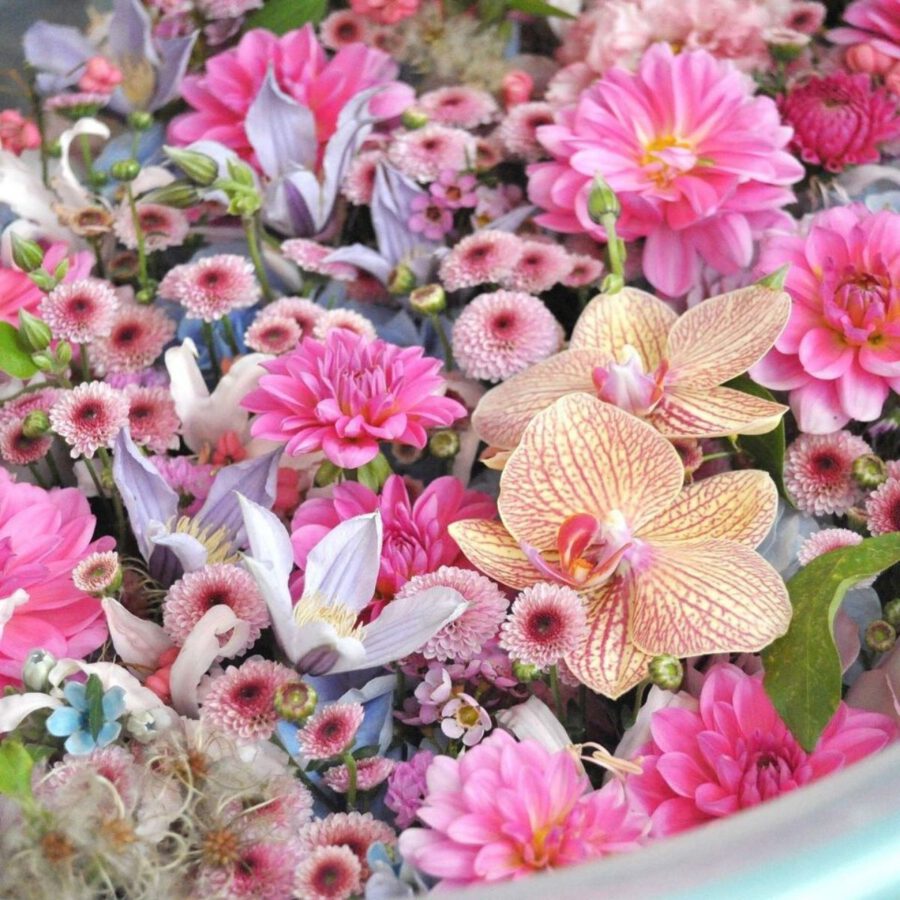 The first cry, the first touch, the first breath of air, the first encounter with the world represents only the beginning of an adventurous journey called life. Newborns are our present and future, and their start in life must be a smooth, beautiful, colorful, safe, and healthy one for a better journey. The last few months have brought atypical situations, fathers have witnessed the first hours of their babies' lives online, and in some cases, mothers have been separated from their babies immediately after birth. The florists from @florariairis and the Premature Association created a colorful "welcome" for the newborns of today's times with the help of the beauty of flowers. We must look forward to tomorrow and take care of them, the children of the present, so that they may have the power to create a bright future for themselves, for us, for their descendants! # amr2 # Floraridin1970 #echiparacheta @ Bucharest, Romania
Episode #49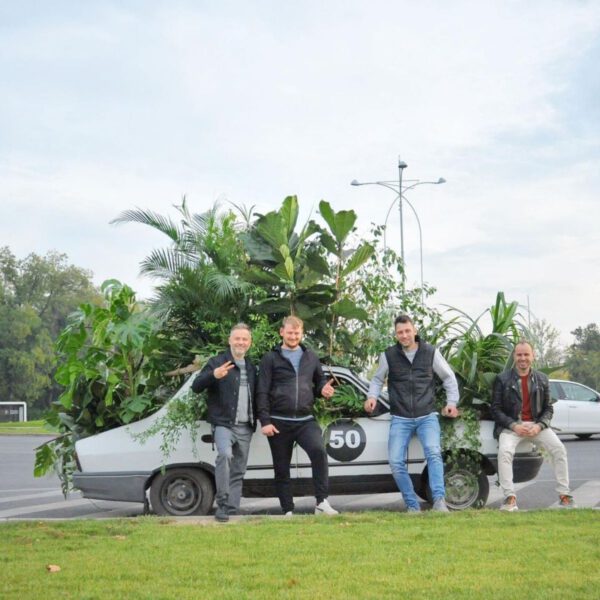 We have been florists since 1970. The variety, openness, perspectives of today's flower industry could not be suspected even in our optimistic dreams of that time. But there is something that has not changed at all since then and is still the basis of our profession: the love for flowers and plants and the desire to convey emotions of all kinds with their help. We took the 4-wheel symbol of the '70s from Romania and we tried to "enrich" it with what animates and motivates us, also from those times. Our florists @florariairis have filled Dacia with plants, life, and care for the environment in an attempt to give Bucharest and its inhabitants the only car that produces oxygen, not just consumes it. Let's take care to fill the world around us with beauty and to replace, where it is in our power, the evil with the good, the ugly with the beautiful, the gray with the vivid green, the pollution with oxygen. The world will be a better, healthier, and more beautiful place with the help of each of us! # amr1 # Floraridin1970 #echiparacheta @ Piata Presei Libere
Episode #50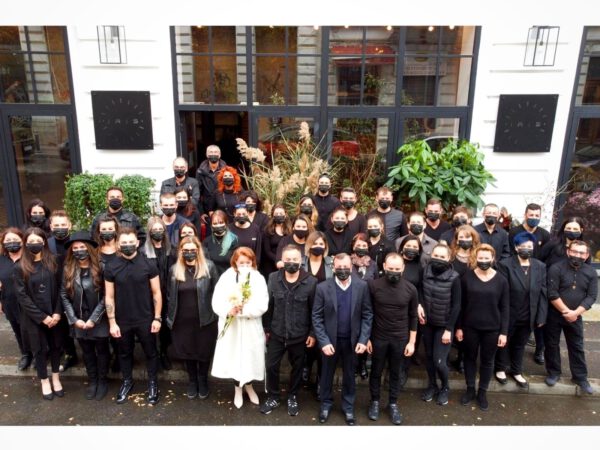 We have reached the end of the Manifest for normality and beauty. We are at episode number 50, a holiday episode that marks the birthday of what today is called Iris. In each of these last 50 days, we tried to give voice to the flowers. To tell them, through beauty, chromatics, and construction, that the meeting between them creates stories from Bucharest: about people, about values, about rules and irregularities, about what matters most to us. I left the most important manifest till the end. We want to present to you the essential arrangement, in the most beautiful way, without this, nothing of what we have today would exist: the bouquet of souls. This is us, the Iris family, for 50 years in love with flowers and plants, and the most precious fortune is that we have each other. And all of us, only together, with dedication, passion, and involvement, we can write the future. Each soul in this photo has written a part of this history of beauty that lasts for 50 years. We thank each individual for making the Iris story possible. Today, we are happy and grateful. Grateful that we have the most beautiful job in the world, that we work in the most colorful and fragrant "office" and with the most beautiful work tools. That we have such a united and talented team, and that we have you: the people who love flowers. Without you, we would have no one to talk about what we love. Thank you! #VaIubim # Floraridin1970 #echiparacheta #florariairis @ Floraria Iris