Flowers and Plants Used To Sent Out a Message
Floral artists from Iris, the family shop of Nicu Bocancea, used floral arrangements to draw attention to serious irregularities in the public space and launched a Manifest for Beauty and Normalcy on the streets of Bucharest. I truly believe the floral designers in Bucharest are sending out an incredibly strong message this way. Nicu Bocancea will present for 50 days, so every day, a design on the streets of Bucharest. Why 50? Because his shop exists for 50 years this year.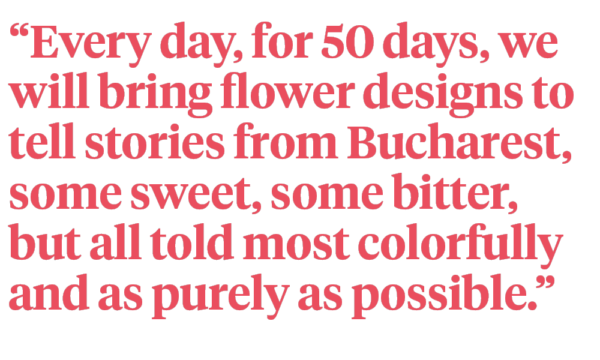 Follow Nicu on Facebook and follow the coming articles about Nicu Bocancea's manifest on Thursd to capture the complete story. This week Thursd publishes part 2, or number 21 to 35 of the Manifest. 15 more amazing designs from his Manifest. You can read, and see the the first part of his manifest with 20 designs here.
Nicu Bocancea - International Floral Designer
Nicu:
"Every day, for 50 days, we will bring flower designs to tell stories from Bucharest, some sweet, some bitter, but all told most colorfully and purely possible, with the help of floral constructions. At every step, we find things to signal or to straighten, and flowers are the most beautiful tool to do it. My parents have been working with flowers and out of love for them since 1970, that is, for a fixed 50 years. They went through communism, Revolution, post-Revolution, democracy, and pandemic, surrounded by flowers and trying, through their florists and the dedication with which they developed the family business, Iris Florist, to beautify and brighten the lives of Romanians."
Manifest Has Gone Viral
Obviously, this Manifest has gone viral, the episodes of the flower manifest had tens of thousands of reactions of appreciation, distribution, and support online both in Romania and abroad because beyond the beauty of the flowers they had a strong message, with social impact, drawing attention to some problems that we encounter daily or that we witness helplessly! The result was that public authorities paved a pit marked with flowers, and the rest of the people became aware of small things in the public space: for example, a properly used pedestrian crossing can save our lives, or that protective masks and cysts should not be thrown on down! I decided to give you the info on the following 15 Manifests. It's unbelievable that Nicu has the courage in these difficult times to come up with this, so I want to shout out to the whole world:
#Manifest For Normalcy and Beauty 21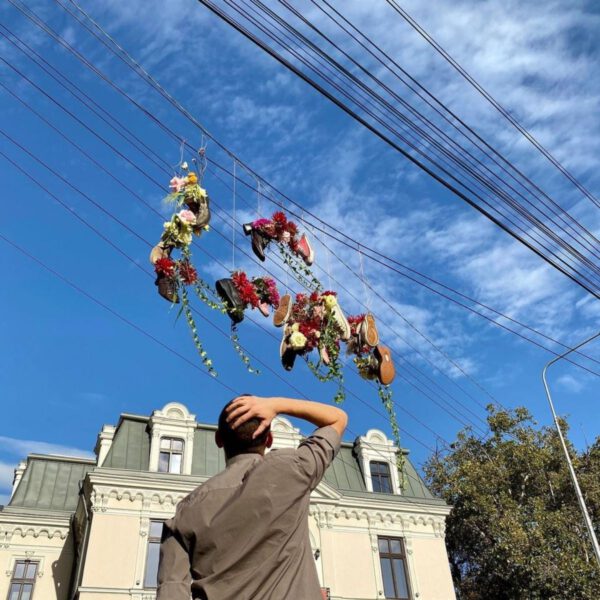 We take Bucharest on foot, with flowers in our arms. We want to climb them, beautiful, colorful, spectacular, as close to the sky as possible. We look up and see how, on the way to the sky, among the high voltage poles, the electrical wires are crowded. We need brave legs or crazy ideas, to get to them, to try to turn them into a beautiful picture for those looking up. Going into the first store, we take a few pairs of shoes, decorate them with flowers and try to build the most colorful and charming accessories for the tangled threads above us. It was a challenge, with many legs😊. What do you think, did we succeed? @florariairis
#Manifest For Normalcy and Beauty 22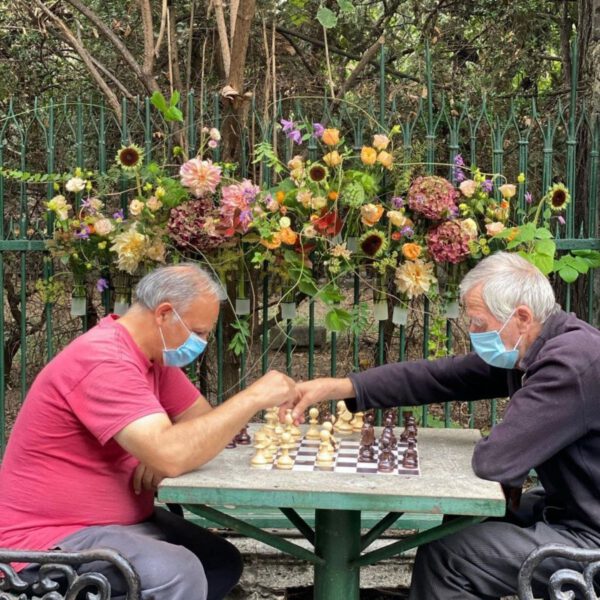 The chess players from Cismigiu, full of passion and joy of socializing, meet in large numbers, with the same enthusiasm every day, for years. I am already a registered trademark of Bucharest. The place of their passion in Cismigiu Park was named Aleea Sahistilor due to the rumors around their chess games. @florariairis rewarded them with a floral construction, right at the crime scene, for their perseverance and for the joy with which they carry the tradition of playing chess in the park from generation to generation, as it happens with the passion for flowers from the Iris family.
#Manifest for Normalcy and Beauty 23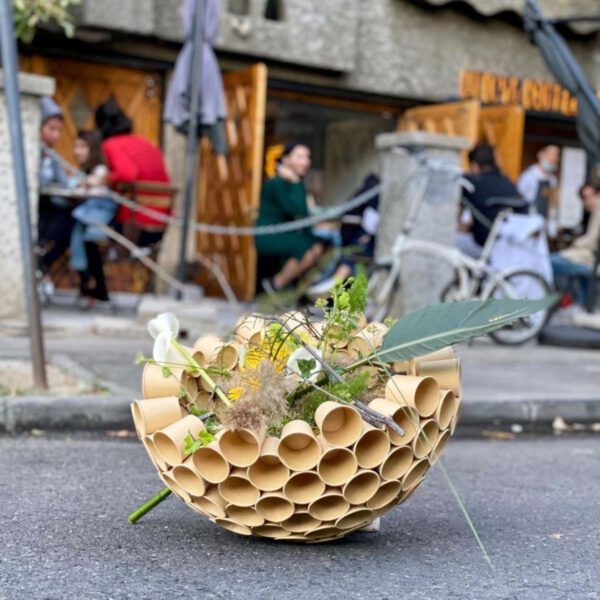 Today is International Coffee Day! It is 1000 years since it was documented worldwide and 353 years since the first coffee in Bucharest was reported in documents. We owe a lot to this liqueur that accompanies us in our ritual every morning, offers us the pretext of meeting old friends or invites us to a short afternoon break with its perfume. @florariairis created a floral construction around coffee glasses. Drink as much coffee as possible together, our dear ones! If you will drink coffee with us today, send us a picture, let's celebrate together!
#Manifest for Normalcy and Beauty 24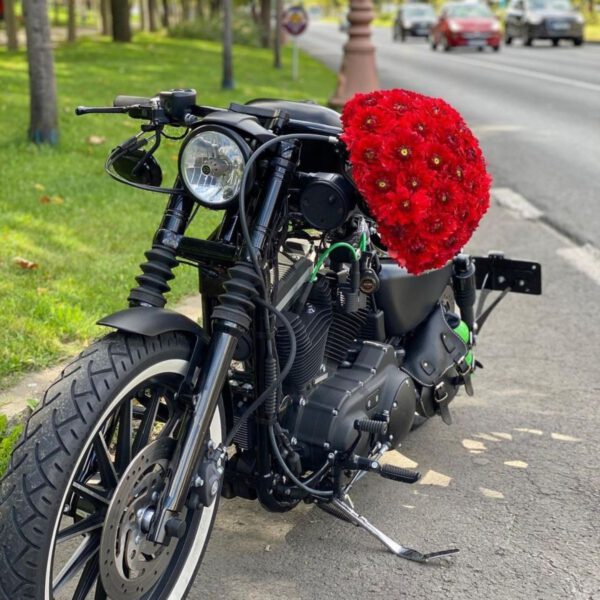 It's like flying on the two wheels of motorcycles, dressed in black overalls and with their heads hidden under helmets. They seem to be intangible and always so strong. It often happens that they are not seen in traffic, that they are not allowed to cross, or that they are suddenly cut off. They have 2 wheels less than most cars in traffic, but they have the same rights. @florariairis and #echiparacheta chose to signal the presence on two wheels with a red flower construction instead of a helmet. After all, even the toughest men love flowers and need to be taken into account both in traffic and in life! Let's respect them!
#Manifest for Normalcy and Beauty 25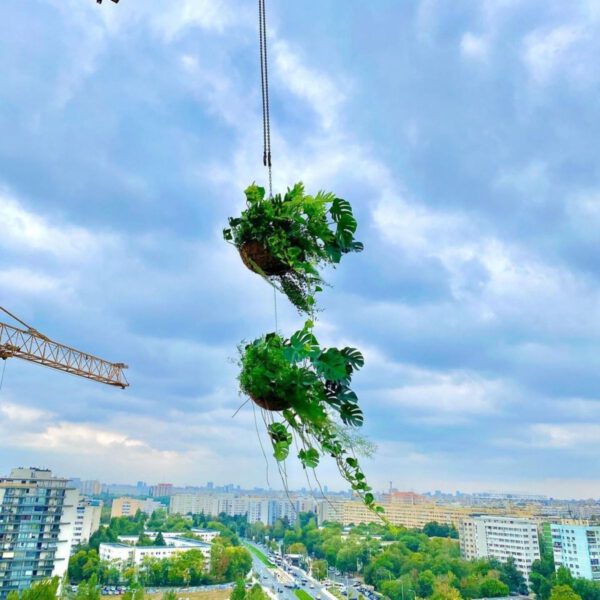 The Iris Florist manifesto for normalcy and beauty, through which we chose to give a voice to the flowers in order to send social messages about the rules and irregularities around us, has reached half. 25 manifestos during which we laughed, cried, worried, had fun, though, and above all, we realized once again how much we love plants and how strong they are. . The sky is the limit in the universe of flowers and plants! @florariairis and the crane Vasile Daraban dared to break down the barriers of space and brought the flowers and plants as close as possible to the Sun. We love them and thank you for loving them too!
#Manifest for Normalcy and Beauty 26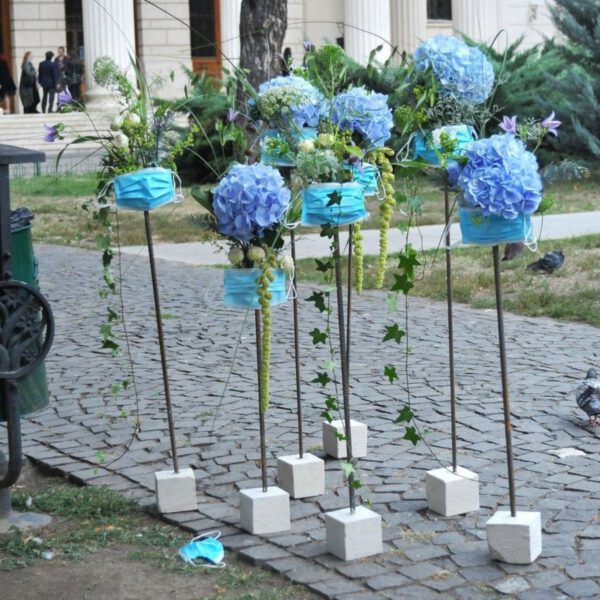 Protective masks, indispensable accessories today, can be found everywhere you can see. They are worn according to the rules, but many are thrown on the floor, careless and careless. @florariairis tried to use protective masks in the most beautiful context, in addition to some floral constructions, arranged in the vicinity of the Romanian Athenaeum. Let's throw the masks in the trash after we use them! The city needs healthy and respectful people, not masks on foot!
#Manifest for Normalcy and Beauty 27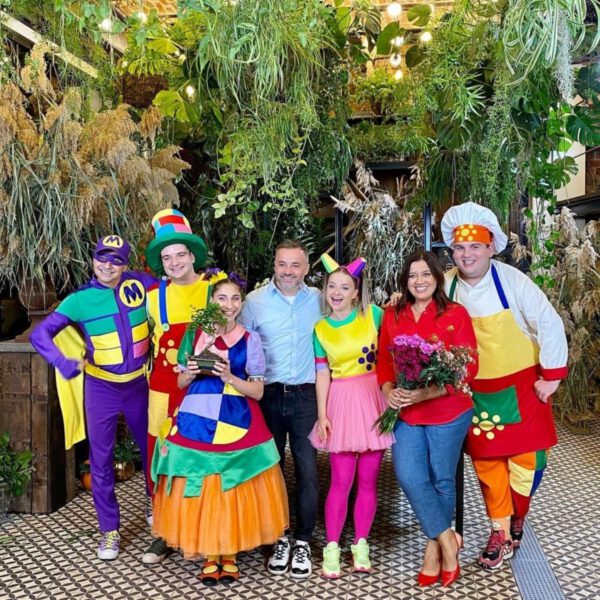 Today we celebrate Education Day. Children deserve the best, and we, adults, owe it to them to learn their beauty and to be an example of empathy and generosity. @florariairis teamed up with @gasca_zurli and arranged a beautiful and cheerful playground for girls and boys from AsociatiaCONIL, which has been organizing projects and programs for children with disabilities in Romania for over a decade. In addition to toys, the children enjoyed flowers and arrangements with pumpkins of all colors. Let's have fun with our children and make the world a more beautiful and better place for them!
#Manifest for Normalcy and Beauty 28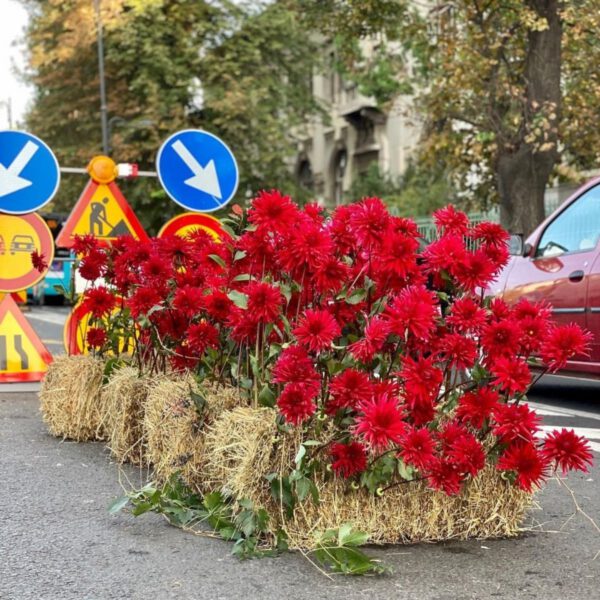 Road in our way = upset and source of stress, congestion, horns, unforeseen delays. @cosmin_avramita and the florists from Iris @florariairis tried, through a beautiful floral construction, to highlight the beautiful part of the situation. Road to work = solving a problem, covering potholes, avoiding accidents, canceling risks. Let's look at the good side of things, be tolerant and patient, and follow the rules! Flowers help us see the beauty in everything!
#Manifest for Normalcy and Beauty 29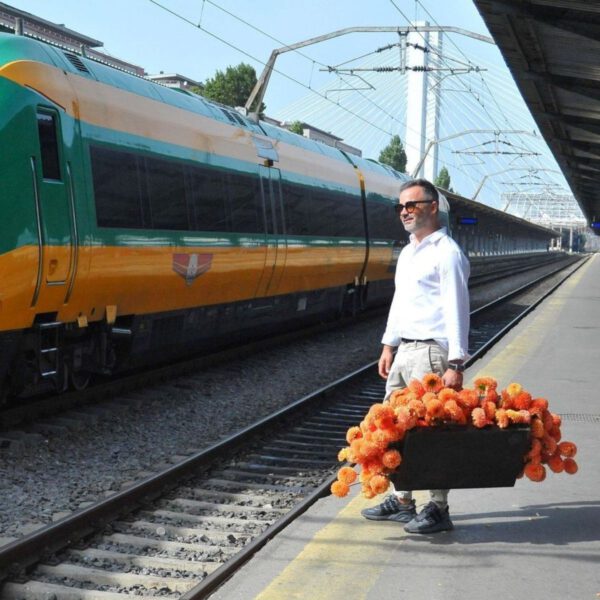 North Station platform, a place of intense emotions, a place of meeting or farewell, place of parting or reunion, a beginning or an end of the journey. What if we set off on any journey with the most flourishing baggage, with the most beautiful expectations, with patience and joy, no matter how long or short our road will be? The florists from @florariairis transform the traveler's tanned suitcase into a show of color and beauty. Goodbye, dear friends, wherever your dreams take you!
#Manifest for Normalcy and Beauty 30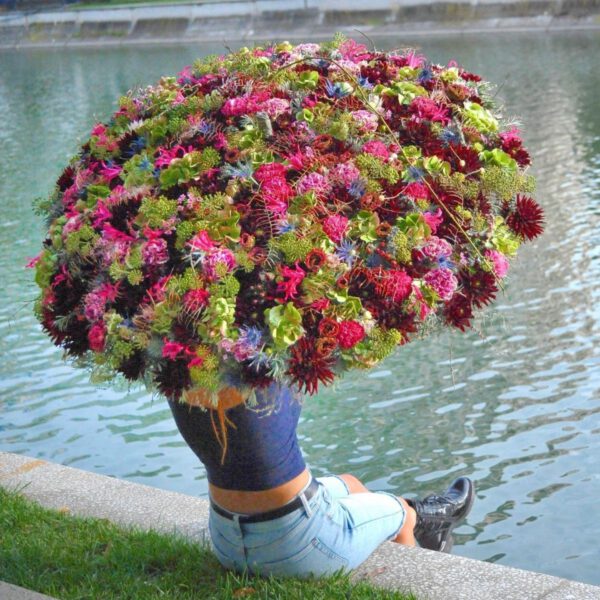 Today there is a 70% chance of rain in Bucharest, dark sky, and a city that, usually, on such a day, we see grayer than when the sun shines. But, let's smile, this is autumn! @florariairis tried to add color, optimism, and beauty to the rainy atmosphere in the city and decorated an umbrella. Whoever meets her on his roads on Dambovita Quay is asked to smile and, if necessary, to use it!
#Manifest for Normalcy and Beauty 31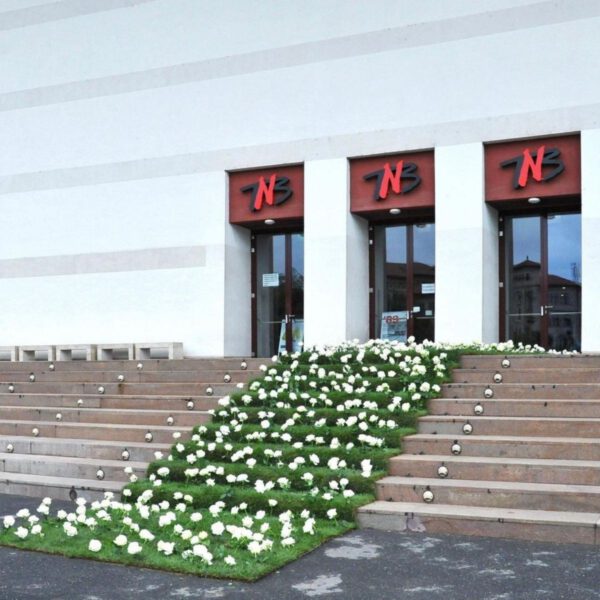 We need art and beauty in our lives! Regardless of times and restrictions, we must not forget how well cultural activities do to our souls and minds, be they theater performances, movies, concerts, or book launches. We show our respect and appreciation for the actors, directors, singers, screenwriters, sound engineers, technicians, and all the people who, in normal times, turn our time spent in Bucharest into a real feast for the spirit. Until they will be able to give, as usual, a bouquet of flowers to the actors at the end of the theater performances, the florists from Iris @florariairis covered the entrance stairs of the Bucharest National Theater with a lively and warm lawn carpet, sprinkled with roses white. We are waiting for you "at home", dear artists, as soon as possible!
#Manifest for Normalcy and Beauty 32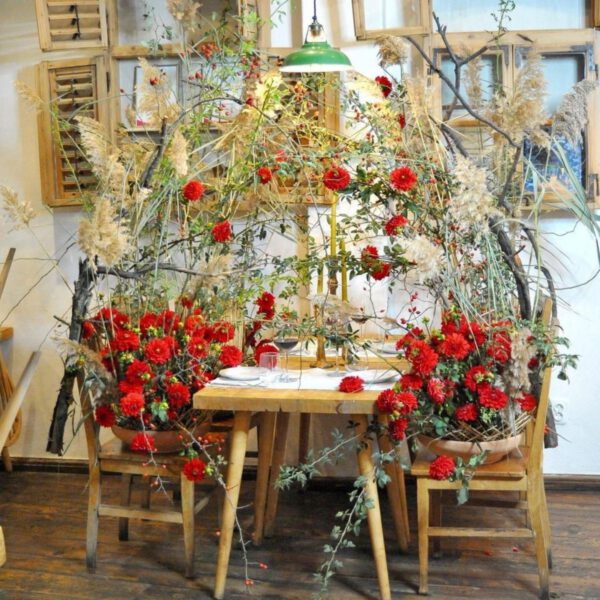 Not only do we miss some places during this period. We are sure that there are places that miss the people who once inspired them. There are many, decorated, chic, full of charm and, unfortunately, with the lock on the door. @florariairis tried to make them not feel deserted and abandoned and they arranged a small table in a restaurant with everything that is more beautiful in nature. Red flowers, branches, and other riches of nature have kept "life" in this closed place for a long time. It will be just as beautiful, maybe even more beautiful when you return, with an extra longing for the wearer. It is said that just by thinking about something or a place, we keep it alive. But they also spend their days in the dark and return to the city at noon with their loved ones. Until then, let's arrange a story table with ours, at home! Carefree Saturday, people!
#Manifest for Normalcy and Beauty 33
Museums are open and a joy for the mind and soul! It's Sunday, let's enjoy what the times and rules still allow us! We went to the Village Museum in Bucharest: clean, free, quiet, beautiful, and painted autumn. Iris Florist and @muzeulsatului want to invite you to a cultural outing, in nature and safety. Maybe you can refuse them, but their floral construction from orange dahlias and rusty leaves, picked from the museum courtyard, we dare say is irresistible, like nature in October.
#Manifest for Normalcy and Beauty 34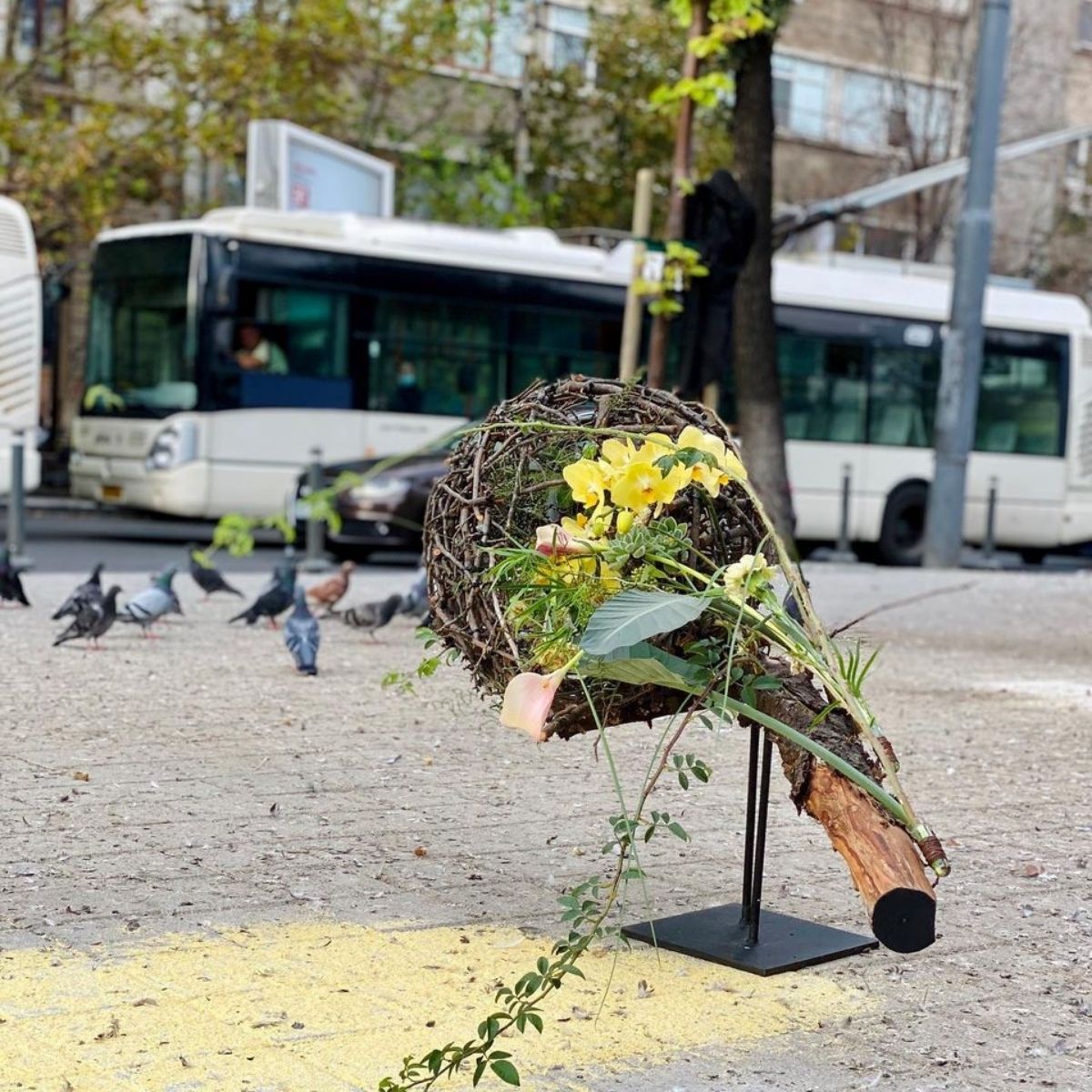 For many years, every day, regardless of the weather or the unforeseen that may occur with age, Mr. Mihail Gavril always takes the same two bags that he fills with freshwater and food and goes to take care of the pigeons in Rosetti Square. "They are the angels of God, I'm sure of it," he often tells curious people who look at him and the pigeons that appear punctually, without exception, at the encounter with affection and care. @cosmin_avramita and the florists from @florariairis wanted to give a creative helping hand to Mr. Gavril and to surprise his winged friends with an oasis, created especially for them, from twigs and flowers. Every living thing around has a role or a meaning, if we could see it, accept it, or complete it generously, everything would be harmony!
#Manifest for Normalcy and Beauty 35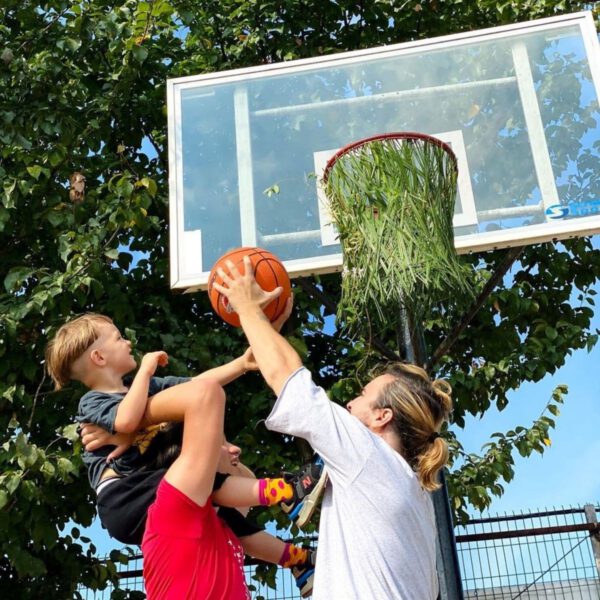 Basketball, football, or volleyball courts have been more empty in recent months, waiting for the times when friends will meet at the time of movement and socializing. Stadiums, gyms or competitions were animated more by music on the tape than by fans. Times of longing, longing for sports, and normalcy. The florists from Iris @florariairis brought to life a basketball hoop from the Tei Student Complex, in order to seduce their more picturesque followers. Noel Filip, the youngest of the basketball players on the field in Tei, shows us all, at the age of 4, that the future looks and sounds good! Thanks, kid! It's still beautiful outside, let's go to the park, let's go to sports, let's go-to exercise! Follow what Nicu has to say on his socials. You can read, and see the the first part of his manifest with 20 designs here. Encourage each other, inspire each other, and take care