Flowers and Plants Used To Sent Out a Message
Floral artists from Iris, the family shop of Nicu Bocancea, used floral arrangements to draw attention to serious irregularities in the public space and launched a Manifest for Beauty and Normalcy on the streets of Bucharest. I truly believe the floral designers in Bucharest are sending out an incredibly strong message this way. Nicu Bocancea will present for 50 days, so every day, a design on the streets of Bucharest. Why 50? Because his shop exists for 50 years this year.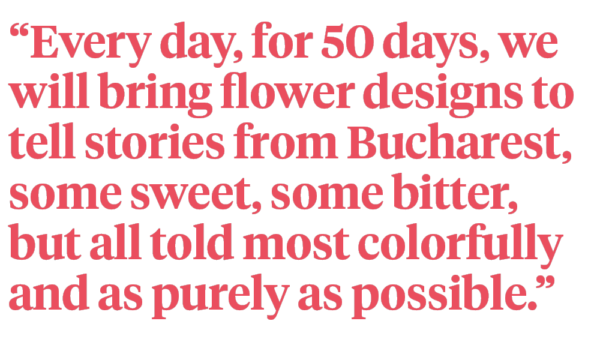 Already 35 days now, Nicu and his team brought flowers to the streets to get attention for his cause. Still, 15 to come out of 50. 50 years of work, 50 days of stories. Follow Nicu on Facebook and follow the coming articles about Nicu Bocancea's manifest on Thursd to capture the complete story. This first presents pictures from the first 20 days of his Manifest.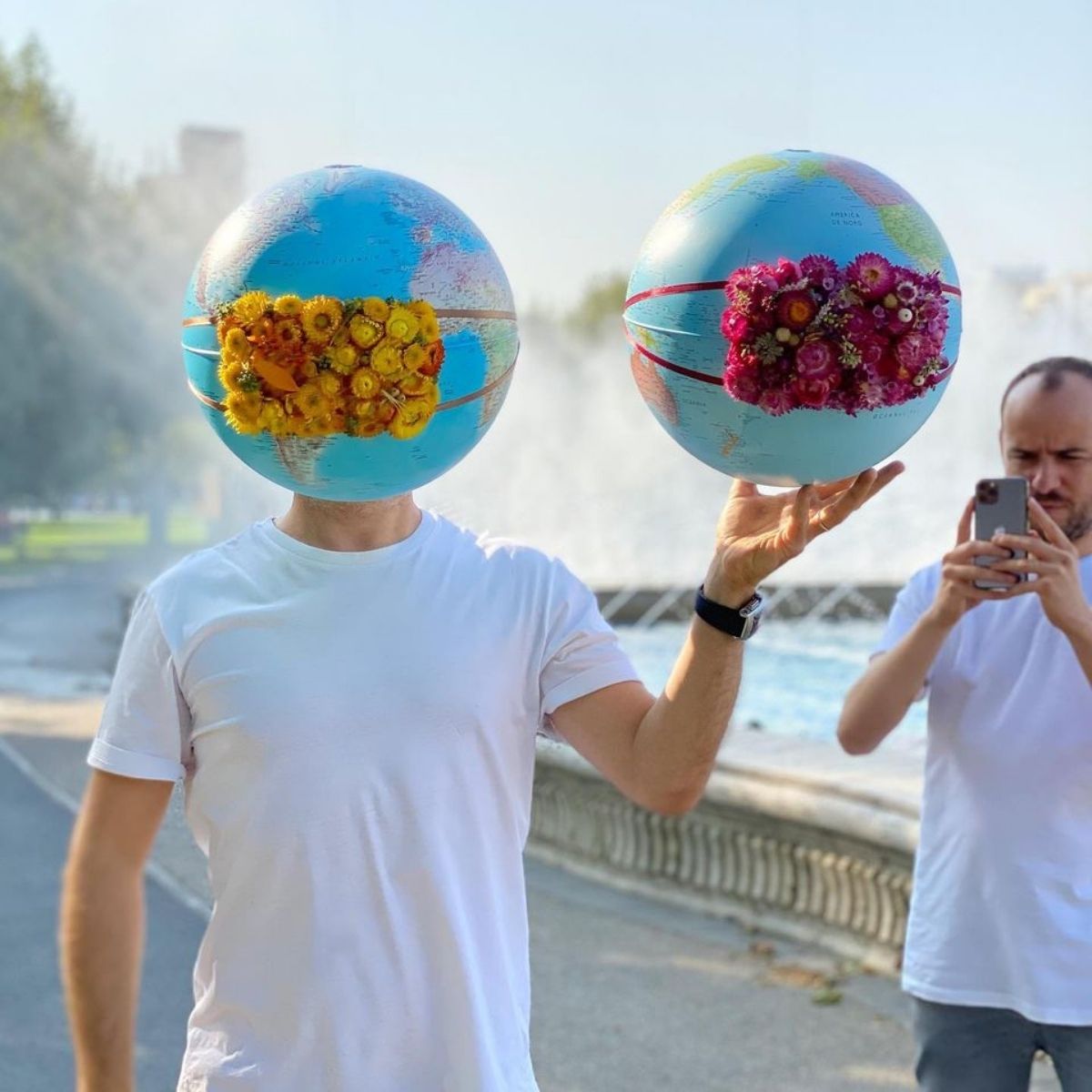 Nicu Bocancea, an International Floral Designer, a Master in his Profession
I met Nicu the first time at IPM in Essen, I think about 5 or 6 years ago. Till then I did not know him, and I guess most didn't. He was one of the designers there working with and promoting G-Fresh flowers from exporter DGI. He definitely caught my eye with his work. His work was really something special there, and it for sure still is today. With his Manifest, he is calling all of us to act! To change! To love!
Drawing Attention
He covered with flowers an asphalt pit in which all the passing cars were stuck, he collected 1000 cigarette butts, thrown on the street and turned them into a spectacular floral construction, he decorated the stairs with grass and roses. The National Theater in Bucharest, to draw attention to the fact that we need culture, changed the face of the gray bench at kilometer 0 of Bucharest, which is returned to the citizens in the form of a green oasis!
The "baggage of worries and uncertainties" of this beginning of the school year was transformed into cheerful backpacks, full of dreams and positive energy for schoolchildren, on the first day of school he created a flower gate at the entrance to a school.
A tram was decorated with flowers to bring smiles to passengers, as well as a garbage truck, in the hope that it will be viewed in traffic with more understanding and appreciation.
The excess plastic was signaled by a bouquet of flowers that were based on a few petals abandoned on the floor in an attempt to turn this reality into something beautiful. Moreover, the florists tried to use protective masks in the most beautiful context, in addition to some floral constructions, arranged in the vicinity of the Romanian Athenaeum.
Nicu:
"Every day, for 50 days, we will bring flower designs to tell stories from Bucharest, some sweet, some bitter, but all told most colorfully and as purely as possible. Stories to talk about what should be normal. Stories about beauty. Always with the help of floral constructions. At every step, we find things to signal or to straighten, and flowers are the most beautiful tool to do it. My parents have been working with flowers and out of love for them since 1970, that is, for a fixed 50 years. They went through communism, Revolution, post-Revolution, democracy, and pandemic, surrounded by flowers. Always trying to beautify and brighten the lives of Romanians. They did that through their flowers and the dedication with which they developed the family business, Iris Florist."
#Manifest Has Gone Viral
Obviously, this #Manifest has gone viral, the episodes of the flower manifest had tens of thousands of reactions of appreciation, distribution, and support online both in Romania and abroad because beyond the beauty of the flowers they had a strong message, with social impact, drawing attention to some problems that we encounter daily or that we witness helplessly! The result was that public authorities paved a pit marked with flowers, and the rest of the people became aware of small things in the public space: for example, a properly used pedestrian crossing can save our lives, or that protective masks and cysts should not be thrown on down!
Basketball, football, or volleyball courts have been more empty in recent months, waiting for the times when friends will meet at the time of movement and socializing. Stadiums, gyms or competitions were animated more by music on the tape than by fans. Times of longing, longing for sports, and normalcy. The florists from Iris @florariairis brought to life a basketball hoop from the Tei Student Complex, in order to seduce their more picturesque followers. Noel Filip, the youngest of the basketball players on the field in Tei, shows us all, at the age of 4, that the future looks and sounds good! Thanks, kid! It's still beautiful outside, let's go to the park, let's go to sports, let's go-to exercise!
Follow what Nicu has to say on his socials. You can read part-2 with manifests 21-35 here. Encourage each other, inspire each other, and take care