While there are many advantages of working from home, work-at-home employees don't get to mingle with other workers in person, which can be a lonesome experience. Therefore, any employees who work at home are sure to feel happy and part of the team when they receive a bouquet of flowers on their doorsteps.
Put Thought Into the Flowers
Flowers are often ideal gifts to give for employee recognition. But in addition to sending flowers to thank employees for jobs well done, you could send them to work-at-home employees to celebrate occasions in their personal lives, such as weddings, birthdays, and anniversaries. There are countless types of flowers that you could send to your workers – and it's important that you put thought into the flowers that you choose. For instance, one type of flower may be more suited to men while another may be more suitable for women.
You should also consider individual employees' tastes. To help you select the right flowers to give your work-at-home employees, here are five that are perfect choices.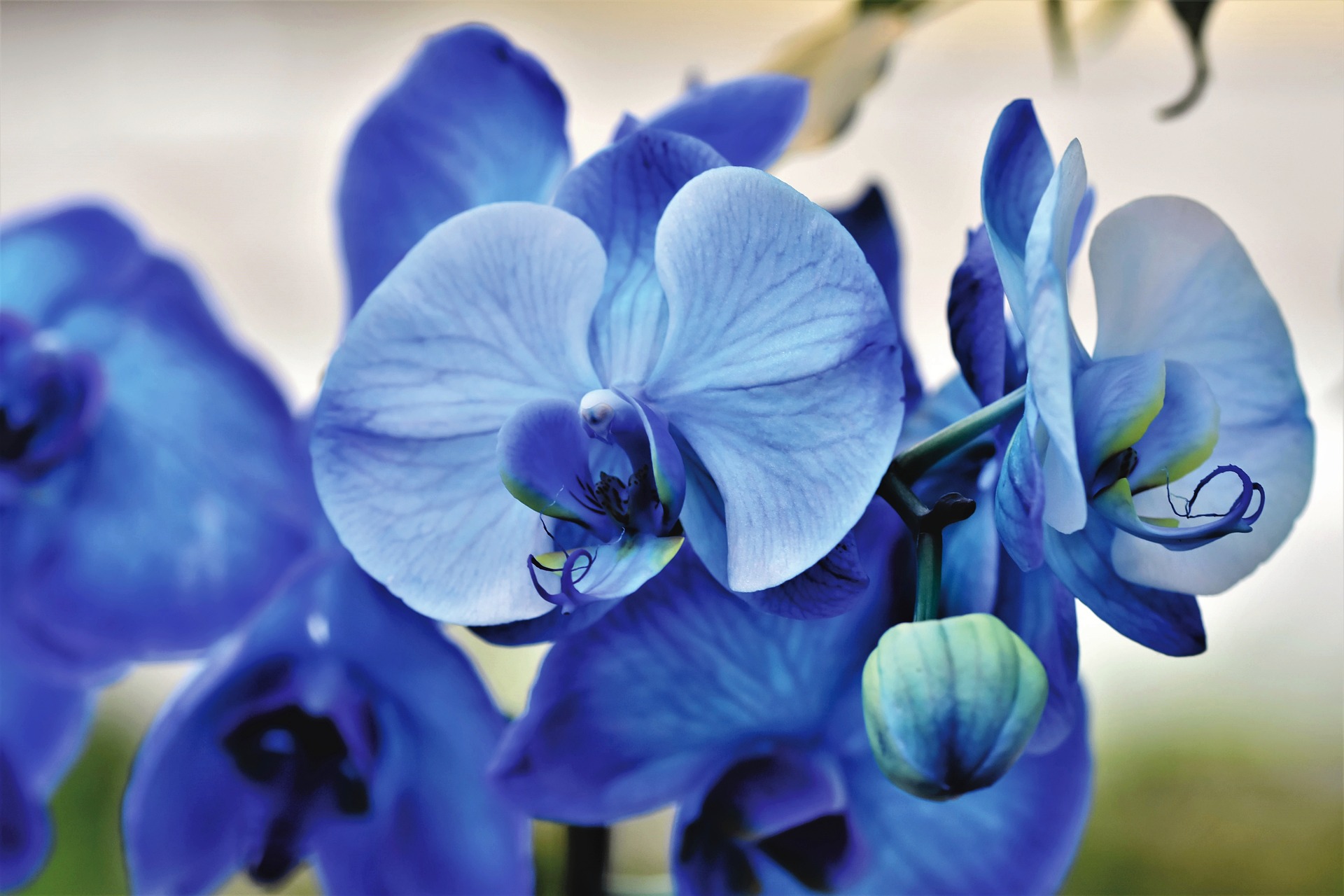 1. Orchids
There are many creative ways to show appreciation virtually to work-at-home employees. For instance, simply calling to say thank you can go a long way. You could also send gifts like chocolates or vouchers. But if you really want to brighten up someone's day, flowers make the ideal choice. And an orchid is undoubtedly one of the best options. After all, orchids are bright, distinctive, and beautiful.
Orchids are popular choices for giving to men, as they can symbolize pride and maturity, but women are sure to also enjoy receiving these flowers. And with around 28,000 different orchid species in existence, you have plenty of different types to choose from.
Orchids come in a variety of colors, too. So, you can choose from white, red, pink, green, blue, purple, yellow, or orange. While orchids require a little more care than other flowers, a potted orchid can last for years if it's looked after correctly – just like employees will stick with companies for years to come when they are looked after.
So, make sure you look after your employees by recognizing their achievements and sending gifts like flowers for jobs well done.
2. Irises
The iris is another good choice for both men and women. Furthermore, irises symbolize admiration, so they can be ideal for giving to employees that you want to recognize and thank. Irises also symbolize faith and hope.
While most people think of purple irises when thinking about this flower, irises actually come in many different colors, including bright colors like yellow, pink, and orange, and less vibrant colors like white, brown, and black.
3. Tulips
Nothing spreads cheer like tulips. The flowers radiate happiness, especially ones with yellow hues, so they're sure to be warmly received by work-at-home employees. Tulips come in a variety of warm colors, like pink and red, as well as yellow. Though, you should take specific employees' tastes into account, so you may prefer to buy a stylish white tulip.
There are actually around 75 species of tulip, so spend some time looking for ones that are suitable for individual employees.
4. Peruvian Lilies
If you're looking for something more unique and tropical, consider giving work-at-home employees Peruvian lilies, or Alstroemeria, to give the flowers their proper name.
Not only are Peruvian lilies beautiful and available in a variety of colors, including red, pink, orange, purple, salmon, white, and yellow. They also signify wealth and prosperity, which would be suitable symbolism for a hard-working employee.
5. Hydrangeas
When giving flowers for employee recognition, you can't beat blue hydrangeas. They symbolize gratitude and are associated with sincerity. Though, you don't have to stick to blue hydrangeas. The flowers are also available in pink, green, and white.
The only drawback of buying cut hydrangea flowers is that they dehydrate easily, which means they can wilt quickly because of the flowers' large surface area. But as long as you purchase hydrangeas from a reputable florist, you can ensure they arrive on your work-at-home employees' doorsteps in prime condition and last for at least a few days.
Flowers to Avoid
It's worth noting that there are some types of flowers that you should avoid sending to employees. For example, you shouldn't send bouquets of red roses, as they have romantic connotations. Yellow roses and roses of other hues are fine, though. Just avoid red roses, which are famously associated with romance. You should also avoid sending flowers that are typically sent to funerals, such as gladioli and carnations.
Other Considerations
We briefly touched upon how some types of flowers are more suitable, in general, for people of different genders. But it's important that we reiterate that you need to make sure you consider the work-at-home employee's gender before buying a bouquet of flowers. Most flowers are suitable for women, but it's best to stick to orchids, irises, hydrangeas, dahlias, anemones, chrysanthemums, and snapdragons when sending flowers to men. Also, flowers with saturated shades are always a good choice for male recipients.
Furthermore, avoid sending male work-at-home employees bouquets of flowers that come with bows and ribbons, as they're more suitable for women in general. Though, you should also always take an individual's taste and style into account.
Consider the size of the bouquet you send, too. If you send a giant bouquet, you could inadvertently make an employee think the flowers have romantic connotations. Though, small bouquets won't demonstrate just how much you appreciate an employee. So, it's best to stick with mid-sized bouquets of flowers.
You could even send potted plants that flower rather than bouquets of cut flowers, as a potted plant will last for a lot longer. With the right care, many potted flowers can last for years.
Summing Up
Some of the best types of flowers to send work-at-home employees are orchids, irises, tulips, Peruvian lilies, and hydrangeas. But there are plenty of other flowers that make suitable gifts for employees. By considering the taste of the specific person you're sending flowers to and putting a lot of thought into the bouquet you select, you can make the exact right choice.