This spring, trends across industries reflect the importance of holistic well-being. In interior design, the term 'comfort' and the idea of incorporating carefully selected objects that hold our attention at home, prevail.
A Year for Inspiring, Artistic Trends
"I'd say that 2021 will be a year of attributing meaning to carefully selected pieces- the year of the craftsperson, the artist, the artisan", says Robert McKinley from Studio McKinley. When it comes to fashion, the increase of home-office definitely impacted trends, 'resourcefulness' became a fundamental part of the creative process of designers around the world, and mood boosters became essentials. And similar to fashion and design, floral designers have also opted for trends that are inspiring and mood-boosting. Inspired by the floral trends for 2021 and honoring
Rosaprima
's latest Spring Collection: Reconnect & Bloom we have selected a myriad of spring floral design tips that invites us to foster well-being and bloom.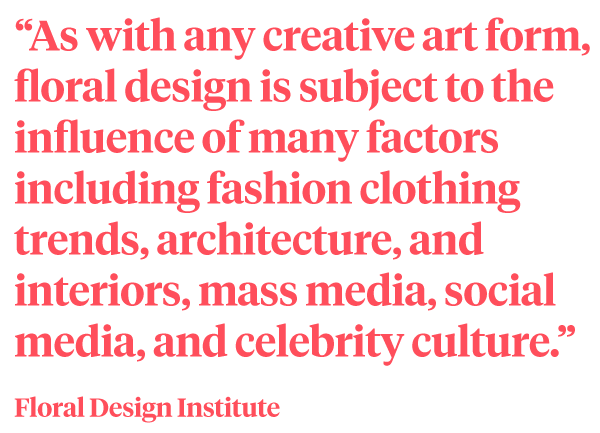 Incorporate Yellow in Your Designs!
This year, one of Pantone's Colors of the Year is Illuminating Yellow, and we absolutely love it for spring. Not only Yellow immediately brightens the spirit, but it is also the ideal pick-me-up. It represents optimism and lightness, lifting your mood even on the cloudiest of days! Join the trend with our yellow rose varieties:
Lighthouse
and High & Exotic.
Reconnect With Nature
We bloom when connecting to nature and after a year of staying inside, we're desperately seeking that 'breath of fresh air'. We know it takes harmony and humility to appreciate beauty and we believe that reconnecting with nature and its healing properties brings us back to our essence. So with soothing tones and refreshing properties, rose Coral Reef and rose Cool Water remind us to stop and smell the roses.
Find Your Statement Pieces
A pop of color, bold statement pieces, and unique decorations are sure to hold our attention and bring a joie de vivre to our spaces. Now that our homes have become increasingly important and present in our routines, it is important to incorporate a design that transmits joyfulness, reminding us to enjoy the little things and bring color into our day-to-day lives! Rose RP Flamingo and
rose Romantic Antike
are bold, beautiful, and ready to make a statement.
Add a Touch of Romance
For every romantic, spring brings about new beginnings… Similarly for us, white is always a spring favorite because it represents purity and freshness. Graceful rose Candlelight, for example, appeals to the senses and brings about a sense of renewal. So which of these trends speak to you most? What do you consider fundamental for your well-being? Which of these trends remind you to reconnect? Which of these trends allows you to bloom?