Rosa Plaza has over fifteen years of experience growing roses in Ethiopia. They have seen the development from small-headed roses to the intermediates and big head roses of today. Their latest acquisition of a greenhouse at a high altitude allows Wim Ammerlaan and his crew to give the Monte Carlo rose a great new start. Literally great, because this rose thrives at height, producing a much bigger head, stronger stem, and a fuller velvety color. It's not a new rose, but it's a fantastic upgrade to a very promising rose, which will surely become a favorite for florists.
Rose Monte Carlo and the Altitude of Debre Zeit.
For many years, breeder Dümmen Orange tested novelty roses at their nursery in Debre Zeit, Ethiopia. This 12 hectares area, only 60 kilometers from the capital Addis Ababa, is located at an altitude of 2,000 meters, which brings opportunities for growing larger roses.
Rosa Plaza bought the greenhouses and their own nursery AQ Roses planted the first roses here in 2021. Now, one year further, the results become clearly visible with these large Monte Carlo roses. The key to this velvety red rose's larger flower and the fuller color is growing at this high altitude.
Rosa Plaza Quality
Wim and Frank Ammerlaan run the business of Rosa Plaza together with sales manager Donald Hermes. It is interesting to hear from Wim and Donald how they approach growing and marketing roses.
Donald Hermes:
"It's an interesting challenge to sell our total production of over 100 million stems each year. Our aim is to supply quality roses 365 days a year, not only focused on the holidays. Keep in mind that the growing season does not correspond one-on-one with the holidays and other special occasions. For instance, around Valentine's and Women's Day production cannot simply be boosted due to lower temperatures in Ethiopia, while during the Summer period production cannot simply be reduced. Luckily, over 50 percent of our production is pre-sold by loyal wholesale customers who trust the Rosa Plaza quality, and all fifteen rose varieties from our Ziway farms are daily auctioned at the clocks of Royal FloraHolland."
Wim Ammerlaan:
"We have already proven over the past years that not just small roses can be grown in the Ziway region. We have found ways to grow bigger heads as well there. In short, we did this by investing in the way we grow the roses by improved irrigation, fertilization, crop protection, and using biopesticides. Now we use our experience at the higher altitude of Debre Zeit to upgrade the Monte Carlo rose."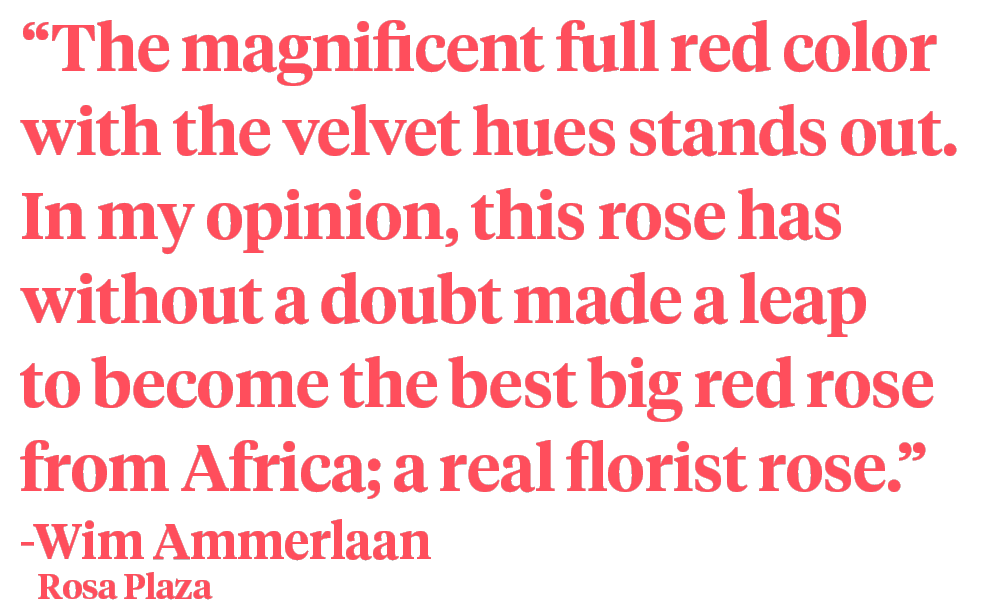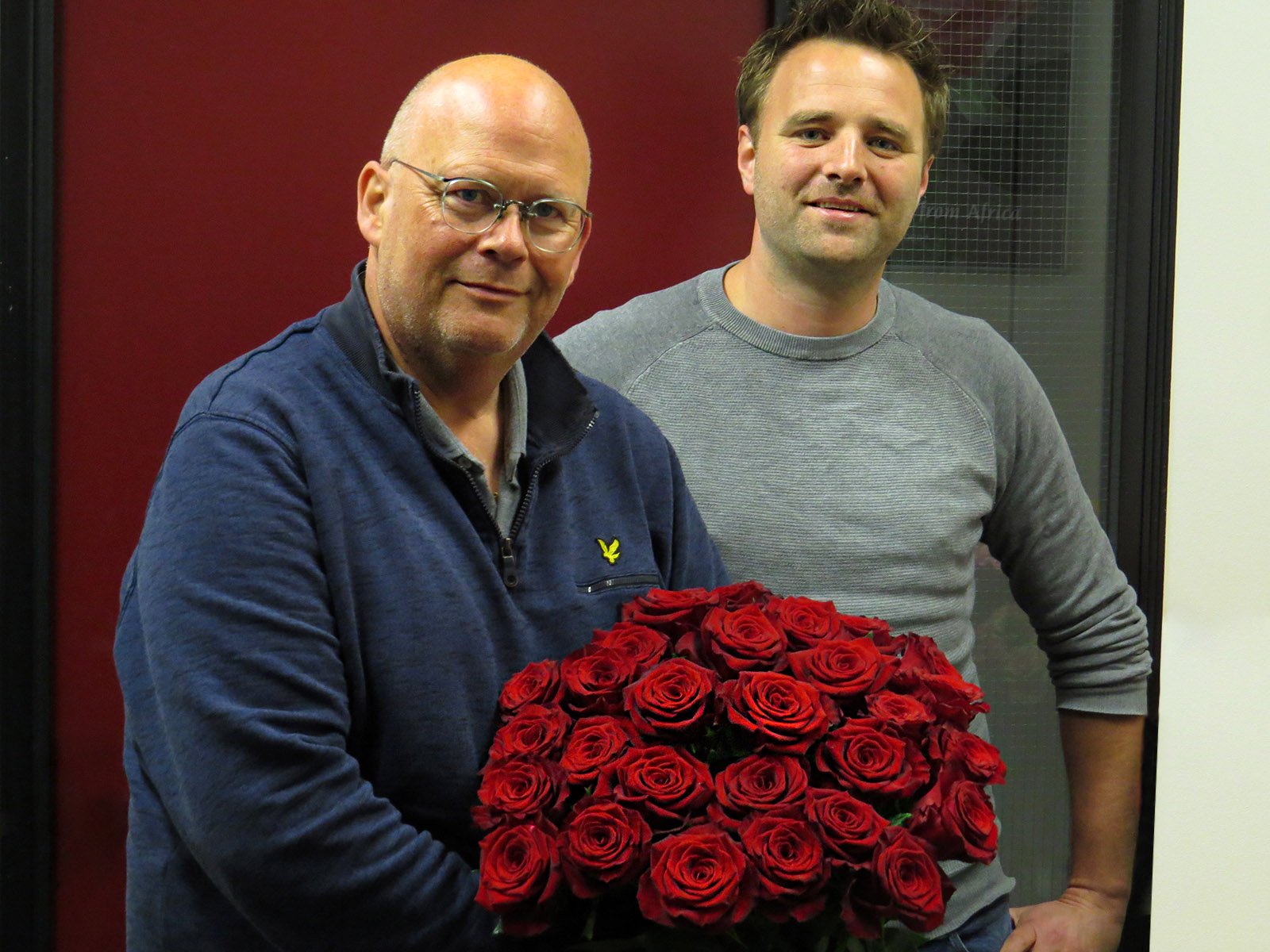 Upgrading the Monte Carlo Rose
Wim Ammerlaan explains the path that Rose Monte Carlo has taken so far, from being underrated to the rave reviews it gets today:
"We have been selling Rose Monte Carlo by breeder Jan Spek Rozen for about eight years now. At that moment the Monte Carlo roses from other growers were not performing very well. Then we learned through trial and error that this rose needs to be a little longer on the plant before cutting. Due to this, the flower is a little riper, yet much stronger. We tested this by placing these products with the customers of our wholesale clients. The reviews were astonishingly positive. It was a confirmation for us that supplying roses a little riper is better for the product's strength, color, and vase life. This lets you start to think: for whom are we actually producing flowers?

We are growing our roses with the end consumer in mind. This means we focus on the customer's experience, who wants to see a rose bloom in a nice full color and enjoy this for a long time. If we can support this by sending a riper flower, then that's OK. We see that we are not the only ones that feel this way. More and more growers better understand the product expectations of end consumers these days."
So how does this work for the Monte Carlo rose? Wim explains:
"Rose Monte Carlo from the Ziway region is beautiful but does not have the specs that we get from the Debre Zeit area. By planting the Monte Carlo rose at the high altitude of our new Debre Zeit farms, we have improved the color, strength, weight, and size of this rose. The head is around 5.5 to 6 cm tall now. It's a much better Monte Carlo than the market ever knew before. The magnificent full red color with the velvet hues stands out. In my opinion, this rose has without a doubt made a leap to become the best big red rose from Africa; a real florist rose."
Donald adds:
"For florists, it is important to mention that the vase life and decorative value are excellent, the beautiful velvety red color stays easily for around 2.5 weeks. Very few roses hold that long."
How to get Monte Carlo Roses?
Due to the good results by the Debre Zeit farm, the production of Rose Monte Carlo has been raised over the last months. As a consequence of this, there is now more available to serve the clock buyers at Royal FloraHolland as well.
Donald Hermes:
"Until now, all of our production of Monte Carlo was pre-sold, taken by our wholesale customers before anyone else could get them. The demand surpassed the supply. We are now able to produce more without compromising on quality. That is why we are able as of the second week of May 2022 to introduce these high-altitude Monte Carlo roses at the clocks of Royal FloraHolland."

Wim Ammerlaan concludes:
"We aim to break through the old image of this rose by auctioning these roses. Everyone can get these fantastic roses now in sizes up to 70 cm. Everyone can see and experience the top qualities of this great African rose."