Roselily is one of those revolutions in floriculture that you see only a few times during your working years as a florist. Being pollen-free and anti-allergic, it is a double showstopper, pleasing both the eyes and the nose. If you haven't met it yet, this is the moment to be introduced to Roselily.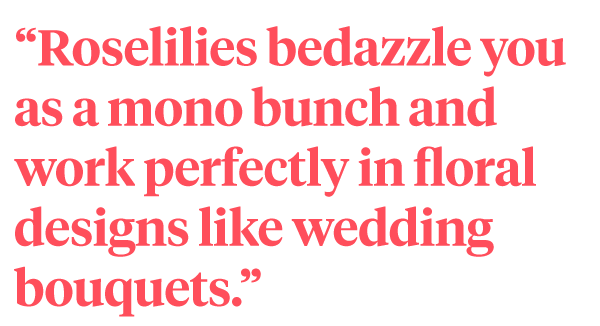 What started as a flaw during the lily breeding process at De Looff Lily Innovation turned out to be a completely new product line with double lilies. It took almost 15 years to get the products ready for the market, where it was named Roselily.
What Went 'Wrong'?
The pollen stamens had formed into leaves. So, instead of the pollen, we got an extra layer of leaves on the flower, making it a double lily. The flower opened like a rose, hence the name Roselily.
No Stains
Roselily is a great flower to work with for any florist or event designer. Unlike regular lilies, this flower has no pollen stamens and will not stain your precious clothes, wedding dress, or table linen.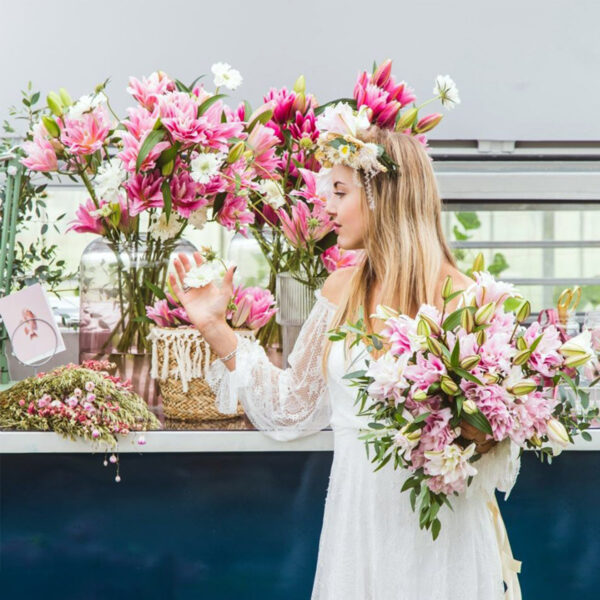 Anti-allergic
Because the flower does not produce pollen, this makes it a perfect anti-allergic flower. This is good news for a growing number of people suffering from pollen allergies. In the US only we speak of 54 million people. Studies by the World Health Organization (WHO) show a growing number of people suffering from allergies worldwide.
Sweet Delicate Smell
Let's face it; most lilies do smell quite a bit, right? Especially the big Orientals. Or they don't smell at all, like the smaller Asiatic. Roselilies have found their niche in between these opposites. The scent is so delicate and sweet that your nose will get drawn to the flower instinctively, like a lovely perfume.
Looking Great
Last, but not least, it's a feast for the eye watching a Roselily bloom. What a magnificent gift that opens up when it gets something to drink. Roselilies bedazzle you as a mono bunch and work perfectly in floral designs like wedding bouquets. The vase life is incredible, so it's there to enjoy for a long time.
Three Top Growers
What started as two varieties in 2011 has developed into a wide range of Roseliles in all shades of white, light pink, and dark pink. The cut flowers and pot plants are grown by three selected growers. One of these, Moerman Lilium, is enthusiastic about them. Already one-third of his production is Roselily. Owner Jaap Moerman comments on this in a recent interview on YouTube:

"This is starting to grow now. We put all effort into this because we believe in this product."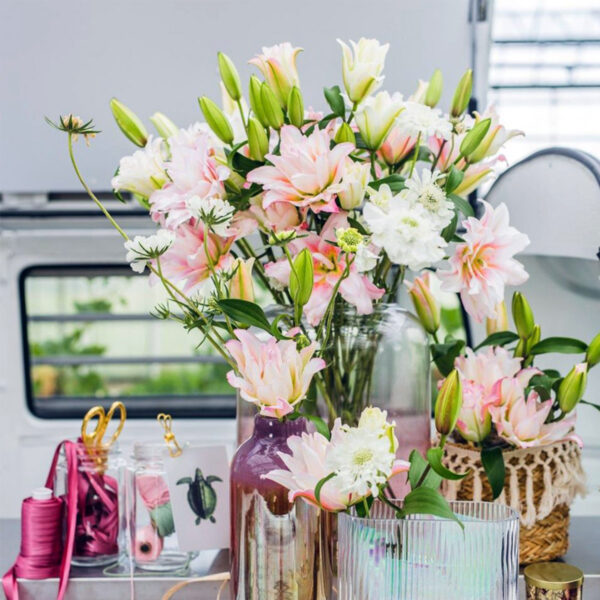 Taking Care
Roselily is an easy flower to look after. Tell your consumers to put the lily stems in a sturdy, clean vase, fill it with water, and add cut flower food. Always cut the stems at an angle before putting the flowers in the vase, just like you do with most flowers. Is the water cloudy? Replace it with fresh water and again cut the bottom of the stems at an angle. Put the vase in a fairly cool spot, not in a draught or next to a fruit bowl.
Four Eye-catchers
The Roselily assortment is growing. Check out the four lovely perfumed beauties Roselily Natascha, Glass Tulip 2020 winner Samantha, Glass Tulp nominee for this year Sara, and Viola.
The Roselily cut flowers grown by Moerman Lilium and the pot plants by Van Schie are marketed by Decorum Company. Decorum is a brand that covers a range of top-quality flowers and plants, the best of what the growers offer. Important to know here, is that only the part of the production, which is of the highest quality, is sold as Decorum.