Russia may not be the first country to think of when you hear about where the world's biggest and best rose growers are located. The reason is perhaps, that these roses are not flying all over the world, but are used for the home market. And very successfully too! Russian growers do deserve credit for their superior quality standards, and the popularity of their varieties. A major part of this success comes from their breeder choice, offering a fit assortment for this particular, yet enormous market.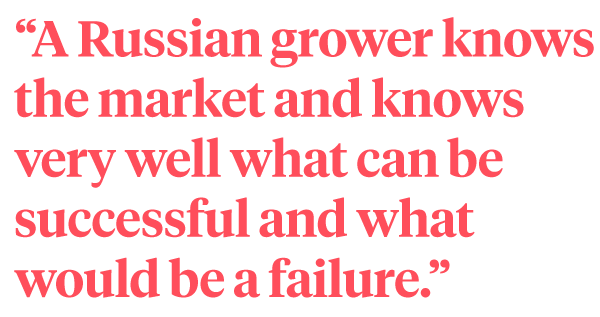 Development of Russian Growers
Worldwide renowned breeder De Ruiter Innovations have a long history of bringing rose plants to Russia, whose growers have excellent knowledge of quality. Who does not know the pretty rose Wow! This has become not only a signature for De Ruiter but even more for the growers, confirming that it is not always necessary to get roses from the other side of the world. Russian production can stand its ground.
Success of Failure
Arjen Vlasman is the Areamangager at De Ruiter Innovations, and the specialist for growers all over Eastern Europe: "A Russian grower knows the home market like no other. And he knows very well what can be successful and what would be a failure. The role of a breeder like De Ruiter is informing these growers about the available varieties, showing the possibilities, and giving the specs. With this, the grower will make his choice for the next years."
The Russian Catalog
Especially for the Russian market, De Ruiter presents this extensive catalog, starting with two varieties of the famous London Party® series.
Rose London Bell®
If you love the London Party® series, this is one to look out for. This variety London Bell® will hit the market this year.
Rose London Eye®
London Eye® is one of the most beloved varieties of the London Party® series. This popular series has been available for a few years now.
Rose Wow!®
A super distinctive orange rose, present in almost every nursery in Eastern Europe. It is still an eye-catcher going strong!
Rose Aisha®
A super white rose. Whiter is not available on the market. And a big button too.
Rose Ever Red®
Ever Red is a popular red rose in the flower business and has now made its debut with growers in Eastern Europe.
Rose Red Knight®
De Ruiter's first red rose introduced. Characterized by its nice wide bud, which has a beautiful color when opened.
Rose Chiri®
With its distinct color, this is a beautiful appearance in your range. The two-tone distinction between the back and front of the leaves makes it very pretty.
Rose B-Tween®
B-Tween is a red and white bicolor rose with its own place in the market, distinguished by its longer lengths. It will slowly show its surprisingly light inner colors, once it opens.
Rose All Star®
Red and white bicolor with its own place in the market, distinguished itself with high production. For lovers of extravagant colors.
Rose All Right®
All Right is a lemon yellow rose, a color you don't see much, and is therefore highly appreciated.
Rose Sunnyside®
A large yellow rose with a beautiful orange-flamed pattern on the outer petals. A rose with enduring attention value.
Rose Moyhe®
This tricolor rose is on the rise. The pictures below show you why. Look at the marvelous transition from the bright inner pink to the warm green-yellow outer leaves.
NEW: Rose Pink Mood®
The rose with the largest bud on the market. Beautiful soft pink color. A perfect warm color for the fashionable Russian consumer, and a great rose for romantic weddings.
NEW: Rose Vaiana®
a new tricolor on the market. A wonderful addition to the weddings and events assortment.
Rose Zelda®
Beautiful light pink velvet color, and a large bud. This rose really is a handful and fits in any romantic floral arrangement.
Rose Cosmiq®
The name says it all. And this in combination with beautiful shiny leaves and very attractive color, makes it a winner.
Rose Hot Shot®
This beautiful purple cerise color you will not find anywhere. This is how cerise is supposed to be.
Are You Excited and Interested?
As a major supplier to Russian growers, De Ruiter has all lines open for your demands.