Spray carnations, with their multiple blooms on every stem, have the power and facility to create a full and abundant appearance that is highly sought after in floral arrangements. In the case of breeder Selecta Cut Flowers, their Solandis assortment featuring some spray carnation varieties has quickly risen to become a very loved collection by flower advocates.
Solandis - Simple Petal Carnations
The name Solandis comes from a very rare species of butterfly, making it a very aligned choice by Selecta Cut Flowers. Solandis is a name that embraces nature, rarity, and delicacy in the world. The collection of spray carnations alike sees nature for what it is and for the gift flowers give us humans daily. Also, a submission from Egypt says the name Solandis means 'delicate flower', embodying exactly what these simple petal carnations resemble.
As an honor to this lovely creature and the resemblance each variety has to the butterfly's wings, Selecta Cut Flowers has made sure to name each of the varieties found in the Solandis collection with the suffix 'fly' at the end. This way, each code will represent a lovely butterfly that will overfly magically between different species, allowing complex combinations and facilitating innovation.
Characteristics That Make Simple Petal Carnations Unique
The simple petal carnations debuted in the Solandis Collection are known for their vibrant colors, long vase life, and distinctive shapes and sizes. Many of the flowers in the collection have been bred specifically to have longer stems and larger blooms, making them ideal for use in high-end floral arrangements and bouquets.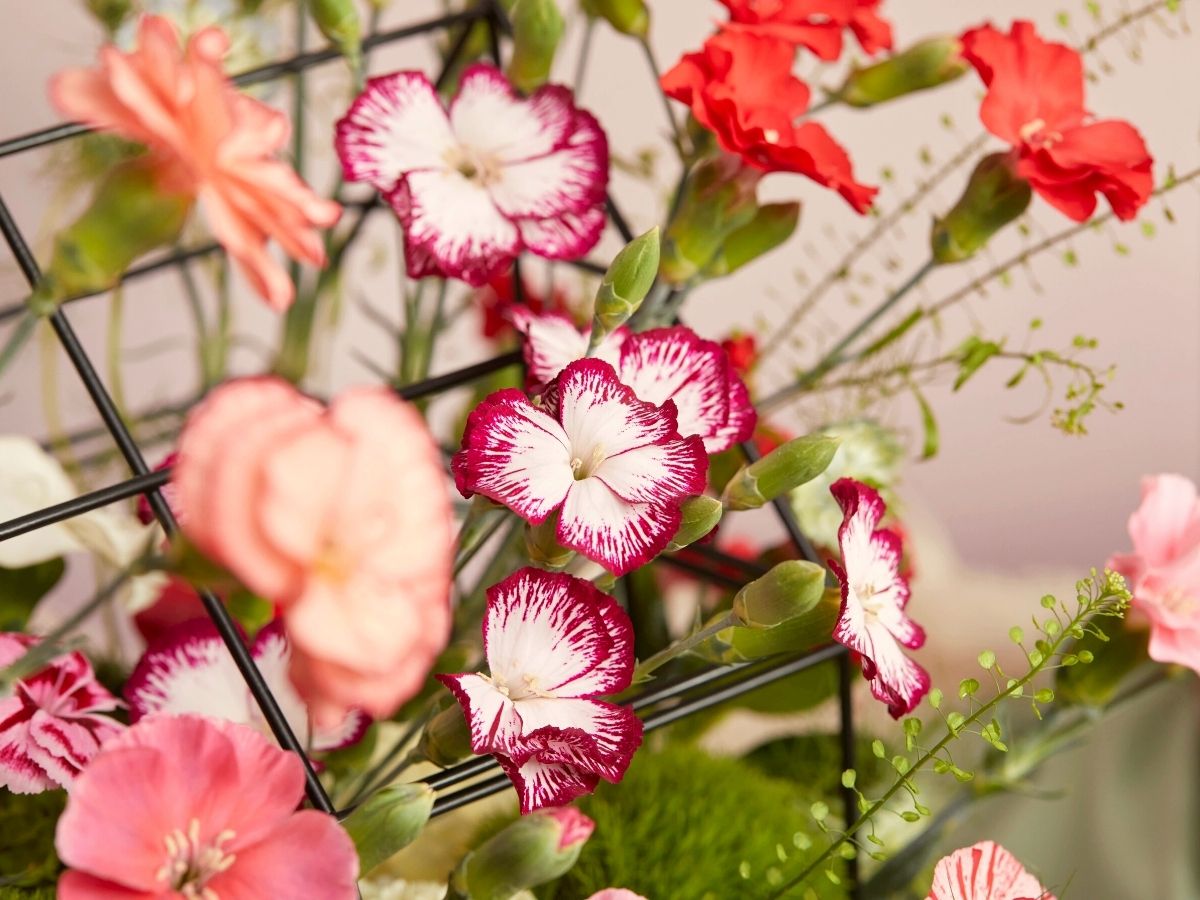 In addition to their aesthetic qualities, these spray carnations alike in the Solandis Collection are also prized for their exceptional vase life and durability, two characteristics that many floral designers and flower lovers in general value a lot. The more time the blooms can stay, the better and more beneficial for everyone who has the experience to create these spray carnations. This is why the spray carnations found in the Solandis collection make them a popular choice for events and occasions where flowers need to look beautiful for an extended period.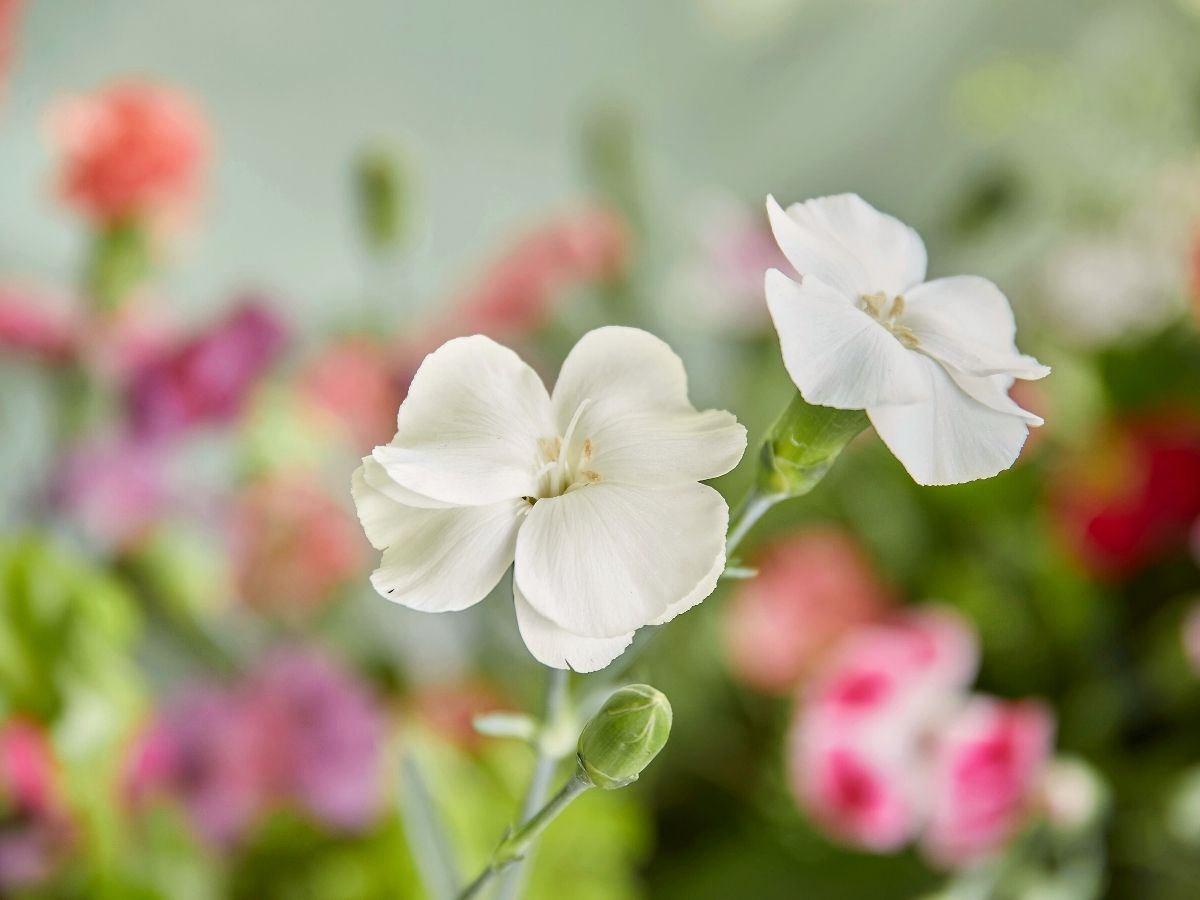 Overall, the Solandis Collection is a premium line of spray carnations that represents the highest standards of quality and beauty.
Solandis Assortment Works Great for Bouquets
If you've always been a fan of smaller-looking flowers, this is for you. Spray carnations work incredibly well when arranging flower bouquets and creations in general. These blooms bring an incredible amount of movement into any arrangement, which is the main and biggest difference from the well-known 'spray carnations' found in the market nowadays. Selecta Cut Flowers' simple petal carnations provide bouquets and floral creations with a more modern touch while making them look extra 'light' and delicate.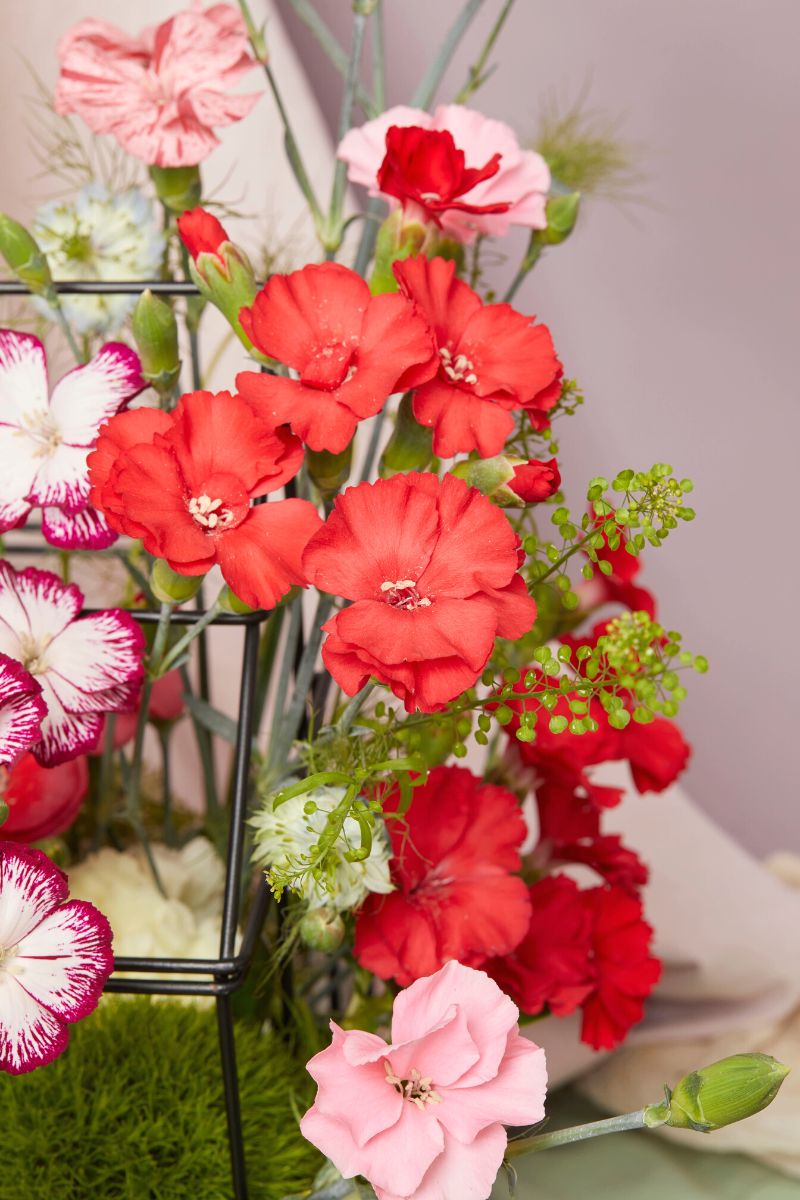 These spray carnations look alikes are also known for their sweet fragrance, which can add an extra element of beauty to a bouquet. They are often used in combination with other flowers to create a visually appealing arrangement, and their small size makes them perfect for filling in gaps and adding texture to a bouquet. Overall, spray carnations are a popular choice for bouquets because of their versatility, longevity, affordability, and beauty.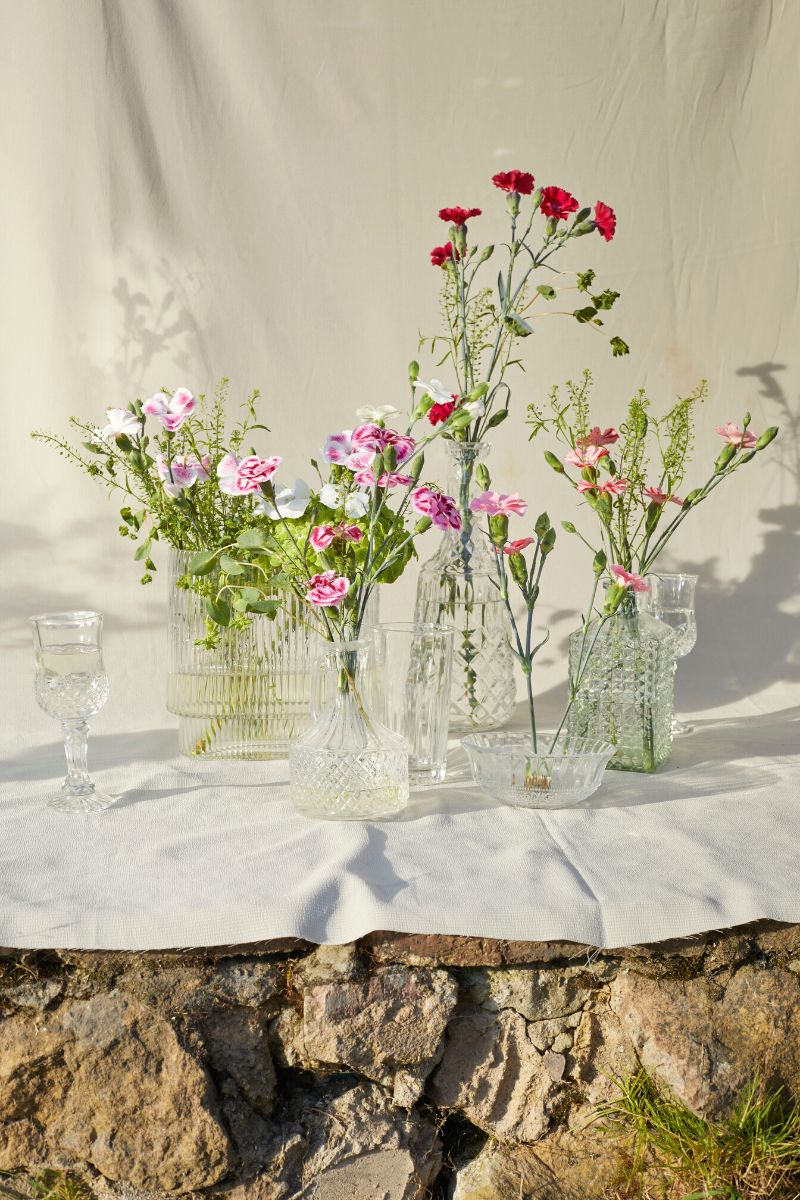 Solandis Sweeties - The Road to Innovation
Have you already seen the sweetness found in the Solandis Sweeties Collection by Selecta Cut Flowers? These flowers show the real innovation behind the assortment and have been the products that according to the company, have made a huge difference in the collection in comparison to what's already been offered to the rest of the market. Solandis Sweeties have added value and differentiation that makes them a real hit and favorite by many floral designers out there. A great color range is also found in these blooms. Could you ask for anything more beautiful?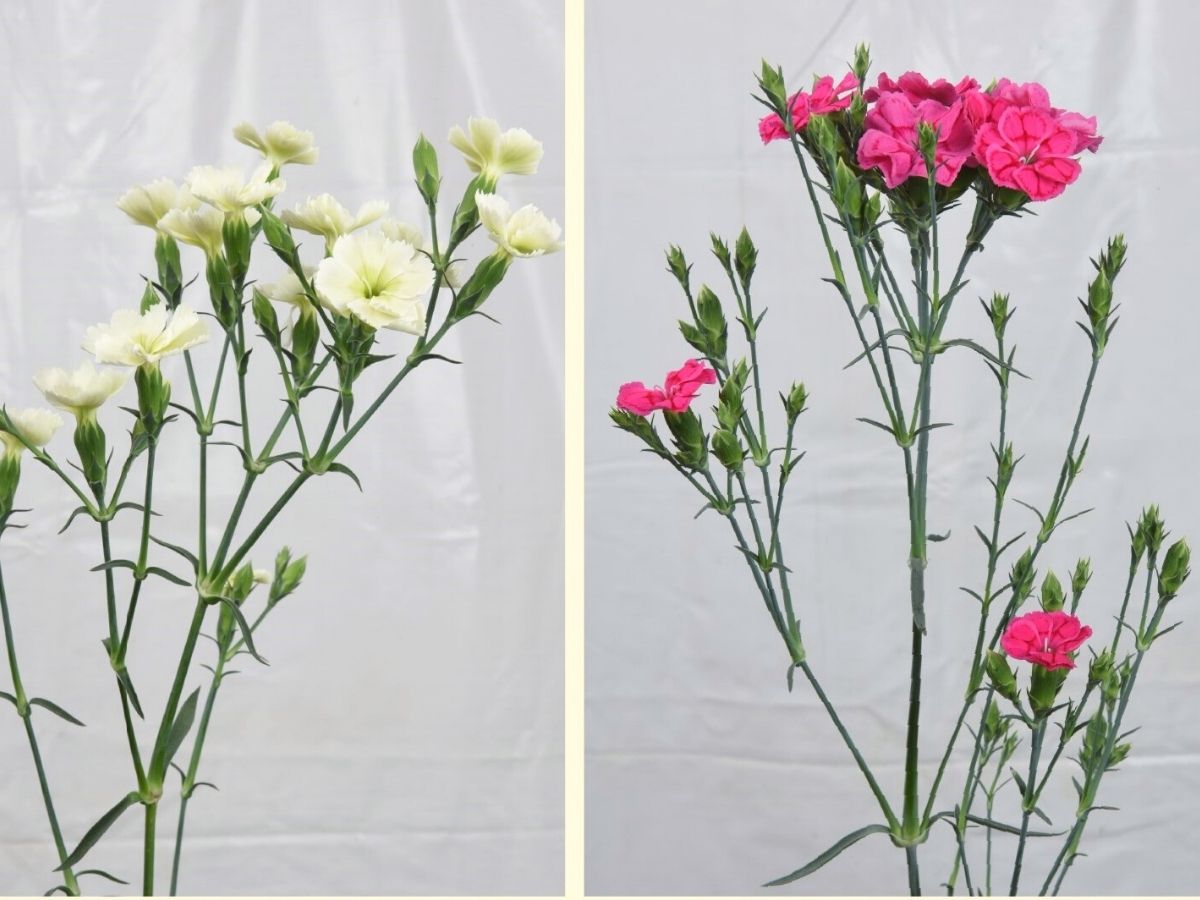 More About Selecta Cut Flowers
The Selecta Group is a world leader in breeding, growing, and marketing innovative plants both ornamental and functional. Its breeding activities comprise bedding and balcony plants, houseplants, perennials, cut flowers, and young vegetable plants.
As a subsidiary founded in 1996, Selecta Cut Flowers is breeding, producing, and marketing vegetatively propagated cut flower plants and has been offering a wide top-quality assortment of carnations, gerberas, gypsophilas, solidagos, and chrysanthemums for the horticultural sector worldwide for Selecta One.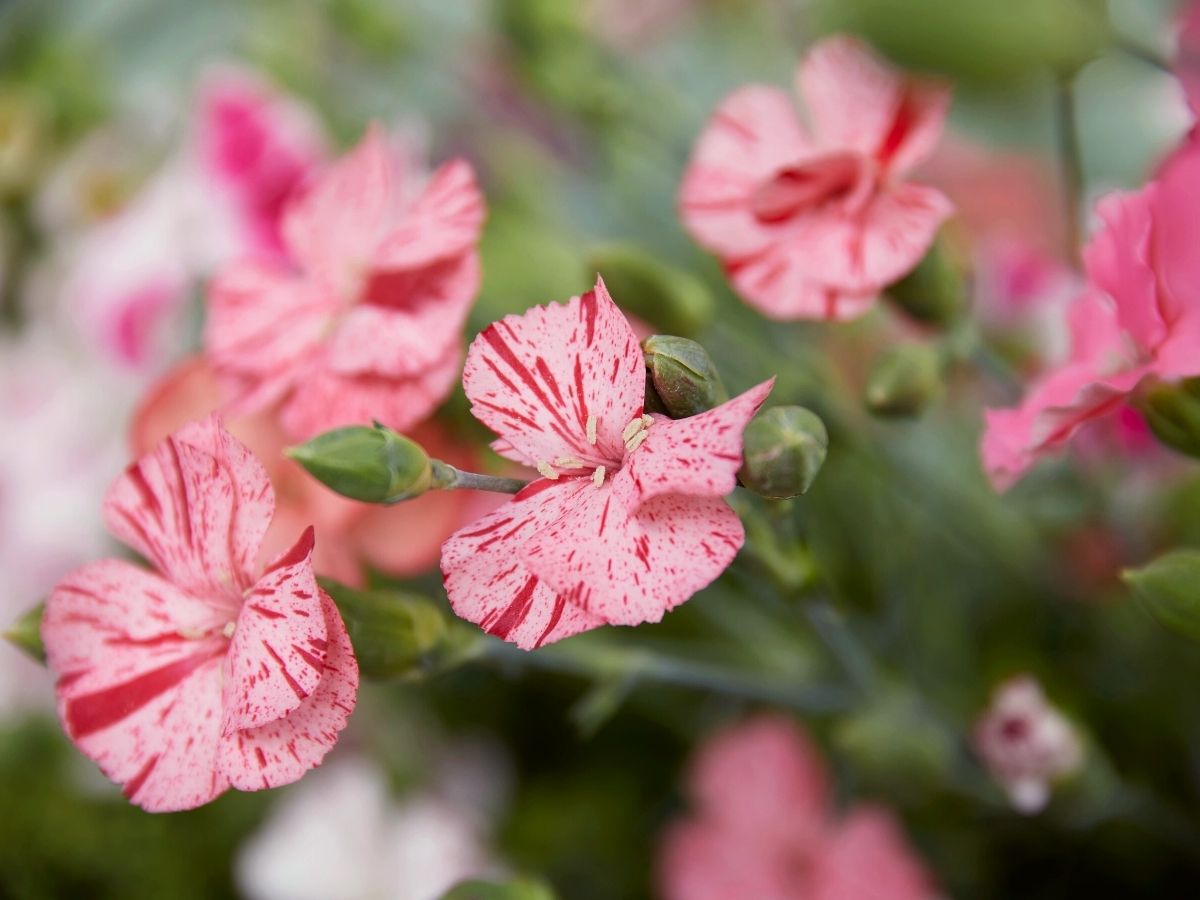 Serving All Relevant Markets Worldwide
Over generations, the Selecta name has become renowned for innovative breeding and outstanding quality in the young plant sector. With production sites and sales offices spanning Europe, Africa, Asia, and America, this breeder serves all relevant markets worldwide.
Their Solandis collection can be fully explored on their website. Spray carnations are here to stay in 2023 and will be seen around in many weddings and bouquet designs for sure!