The best-known brand of mandevillas in the market today is probably Sundaville®. Why are so many growers, traders, and consumers fond of the collection that is bred by MNP / Suntory? And why is the Sundaville® label now bigger than ever? High time for an inquiry about the hottest plant in town.
From Mandevilla to Sundaville®
It's not a big step from a mandevilla, a.k.a. dipladenia, plant to the Sundaville® brand because a Sundaville® is always a mandevilla. However, not every mandevilla is a Sundaville®. That has a history that started more than twenty years ago.
Sundaville® was born in a stimulating and innovative context that is the beating organ of the MNP / Suntory company. Here, the skillful Japanese art of breeding is combined with the wisdom and professionalism of the specialists of MNP in the Netherlands, who select and test the best varieties to be offered to the market through a skillful and effective transformation of these into successful brands.
At MNP / Suntory the main focus is breeding, selection, and effective brand marketing. The central challenge is therefore to conquer the market with a small team of passionate professionals as effectively and originally as possible. By being the first, with a sophisticated marketing vision and a professional dealer network of healthy cuttings, passionate growers making ultimate quality finished plants and wide sales channels.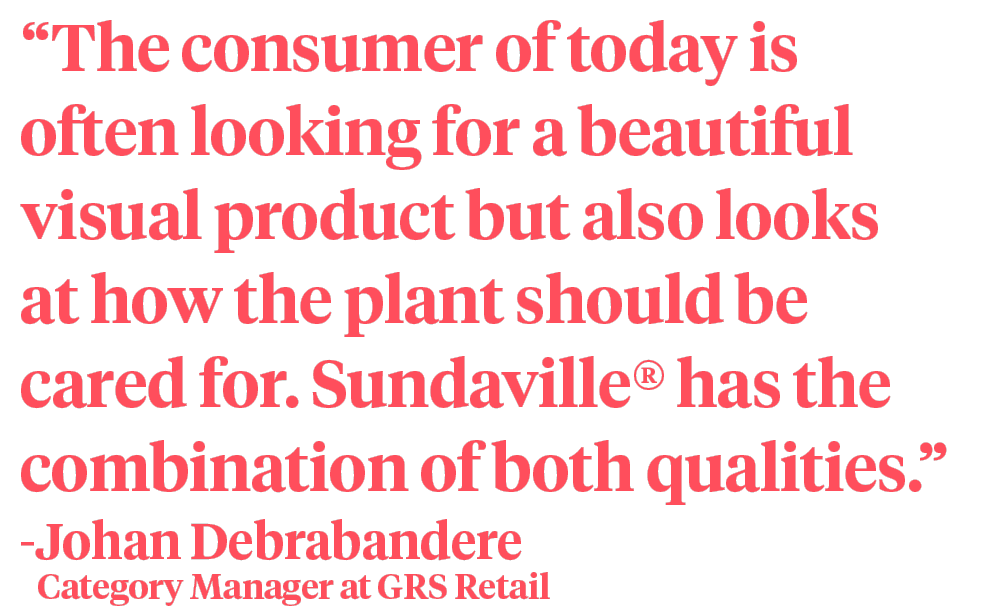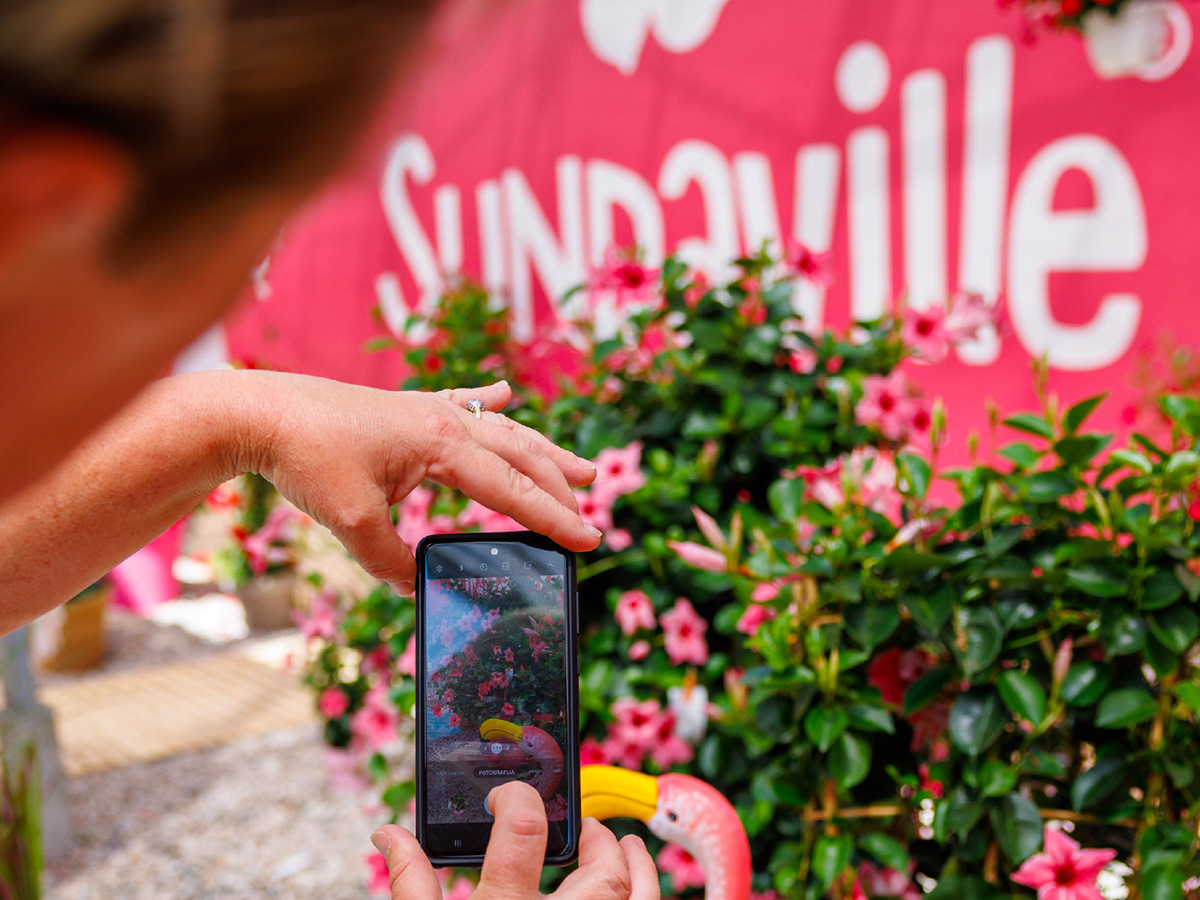 A Sustainable Choice for Growers and Consumers
As a breeder, MNP / Suntory is at the beginning of the chain. We are expected to continuously think ten steps ahead. The choices we make sometimes have an impact years later.

This applies to colors, trends, and application, but also to sustainability and respect for people, nature, and the environment. The modern consumer is looking for convenience and wants value for money. At the same time, he is very aware of his surroundings and the impact humans have on nature and the environment. These issues also play an important role when buying plants. People are looking for a product with a small footprint on the environment and want to know more about the origin of the product.
According to MNP / Suntory Sundaville® is the answer to all questions. She continues to grow and bloom well into autumn, without requiring too much attention. Heat, drought, storms, and prolonged rain; Sundaville® is up against all weather conditions. In view of climate change, this is a welcome feature. During the selection process of new Sundaville® varieties, this breeder assesses on many levels whether the variety is future-proof. They look at the plant's technical properties, but also disease resistance, water use, and heat and cold resistance.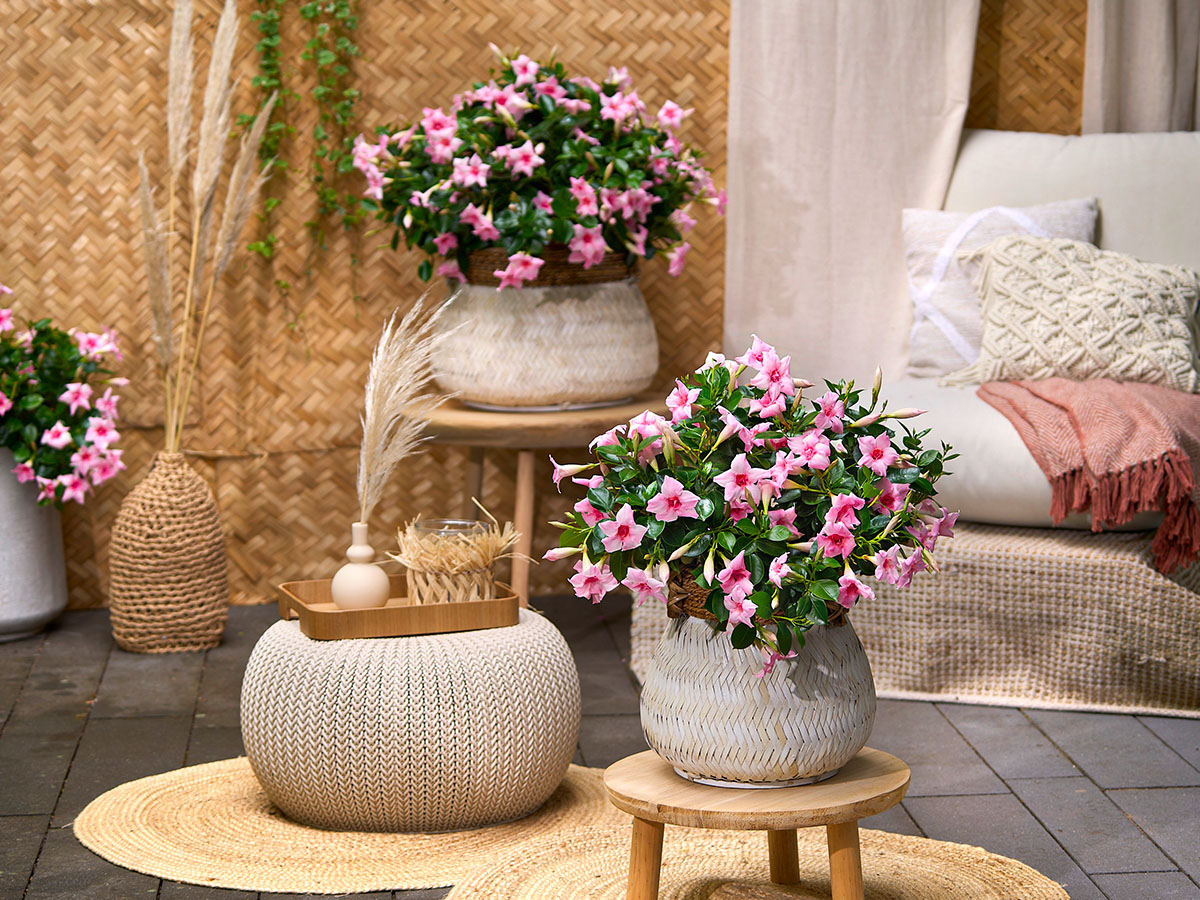 MNP / Suntory sums up the benefits for growers and consumers:
Even less required care by consumers: focus on convenience and enjoyment!
More resistant to rain
More resistant to diseases and plagues
Less use of chemicals during the complete cycle
More resistant to heat and less watering
Stimulate the use of more sustainable labels, pots, and packaging
Investment in growth on lower temperatures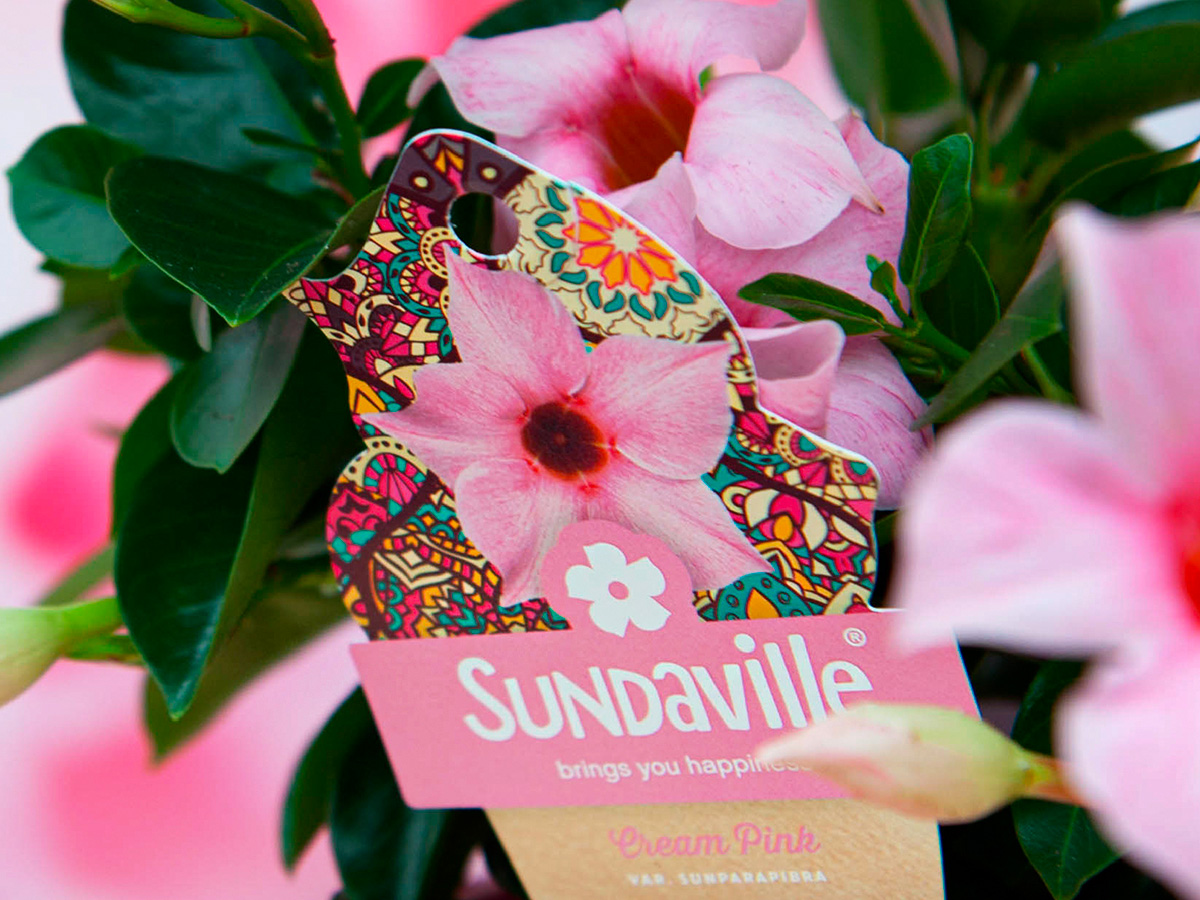 The Sundaville® Types Explained
MNP / Suntory has various product lines of Sundavilles. These are their highlighted Classic, Fashion, and Early types.
The Classic Types
Superior and innovative branching are synonyms of the Classic collection.
Sundaville® Red
She was the first variety introduced on the market over twenty years ago: Sundaville® Red. Classic Red is a variety that does not go unnoticed and above all never gets tired, even after twenty years of a long and successful history! She was the opener and a masterpiece in Europe for years because of her special red color and her versatility.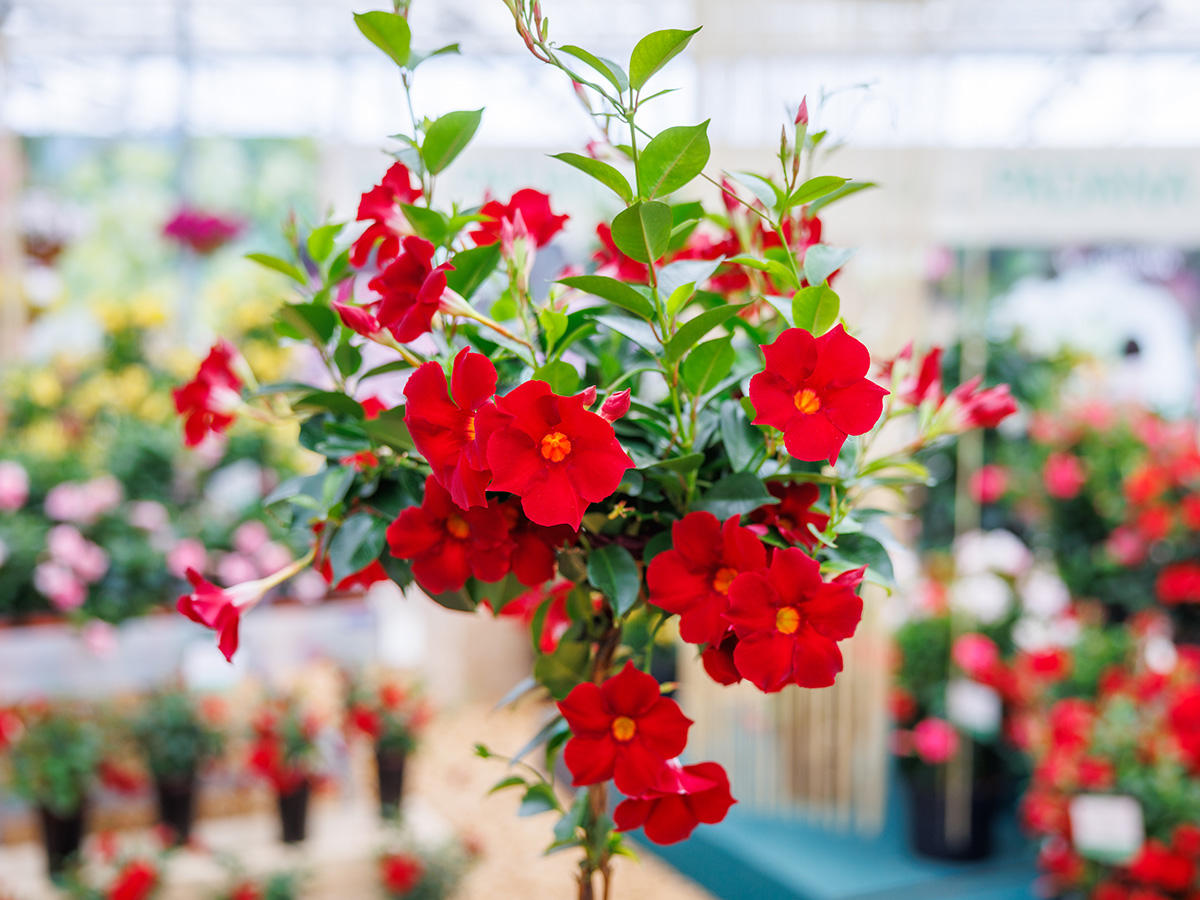 Sundaville® Cream Pink
The Cream Pink variety, as its name suggests, is reminiscent of the taste of ice cream: sweet and invitingly colored! Its petals are made unique by their double shade of pink, ideal for those looking for a color spot that is not too intense but still striking. What is also special about this variety is that it adapts to any type of pot: from the smallest to the largest and to hanging baskets.
Sundaville® Pink
The classic Sundaville® Pink is the most eye-catching variety in this collection. You can recognize her from far distances due to her pink color which is attractive and bright… you can not keep your eyes on her! She is suitable for small and big pots but also hanging baskets due to her extreme adaptability and long branching ability.
Sundaville® White
The Sundaville® White is the variety that will surprise you with her improved white color and flower shape. This classic Sundaville® White improved are strong and healthy plants, suitable for almost every climate, and can be used as a patio plant, in balcony boxes, in hanging baskets, and as bedding plants.

Sundaville® Gold
Rest assured that you have never seen a yellow like this! This classic Sundaville® Gold has a unique color in the mandevilla/dipladenia segment. Bright and shining like the sun at midday, she will light even the darkest of gardens. She grows compact with lots of flowers and her peculiarity, further her special color, is that her heart has different color shades, from deep orange to bright red. She is a very special one!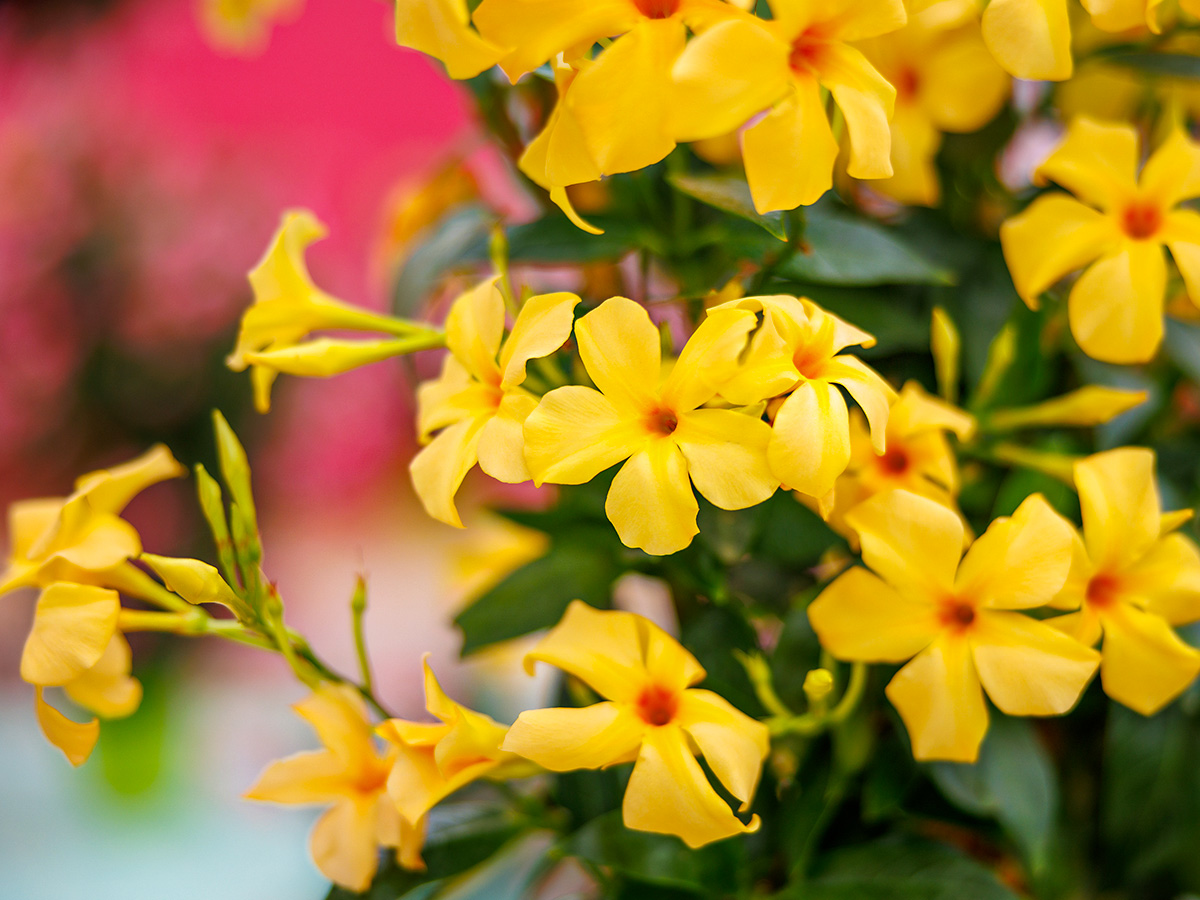 Sundaville® Lemon
She won't give you lemons, but Sundaville® Lemon will shower you with plenty of flowers. And although sour might be in her name, she is just the sweetest. Adding her to your collection of garden plants will create the ultimate summer vibe.
Sundaville® Flamingo Pink
The Sundaville® Flamingo Pink has special pink-colored flowers and flowers optimally until the first frost. She is unique because of the beautiful drawing on the flower. The edges of the flower are flamed light pink. It resembles the feathers of a flamingo, which is also why this species gets its name. Furthermore, the flower has dark pink speckles.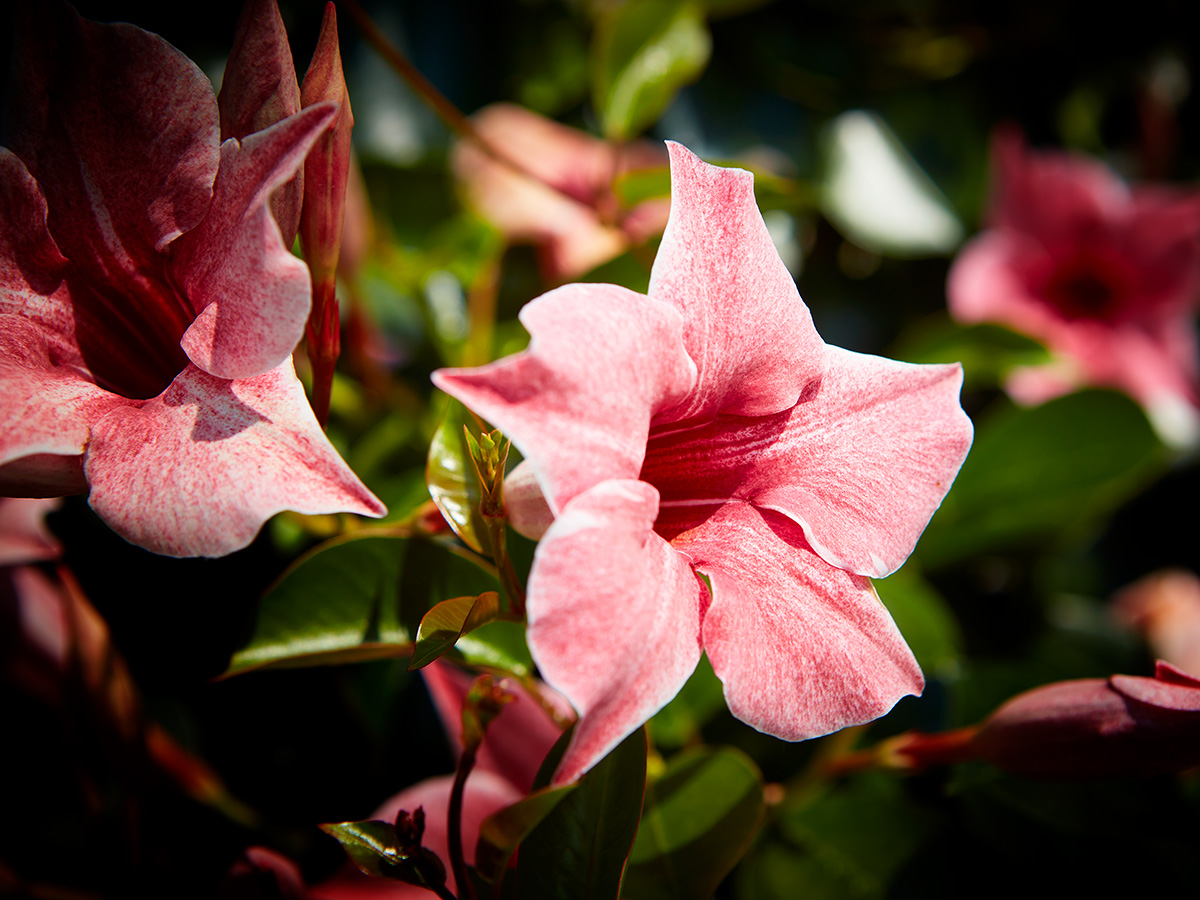 Sundaville® Double Blush Pink
The tropical vibe remains the original Sundaville®, but this time with a surprise in the middle... a second flower! The color may look similar to Cream Pink, but Double Blush Pink has a brighter, more intense coloring, in high contrast to the emerald green leaves. Read more about this variety in the article Sundaville® Double Blush Pink Is the Next Showstopper.
Sundaville® Big White
The classic Big White will conquer you with her amazing pure and candid color white. Elegance and simplicity are her strong points, the high contrast between flower colors and leaves is inestimable and very attractive. Flowers up to 7 cm large and fast flowering make up the perfect picture of a Sundaville® classic!
The Fashion Types
Sundaville® Fashion Pink
Pink is the color of spring and summer, of Sundaville® Fashion Pink. Her color is bright and bubbly, ready to refresh your garden table or your aired balcony. She is a pink lady: a sun worshipper who doesn't call for a lot of water.
Sundaville® Fashion Red
Does someone say brightness? Fashion Red is the answer! The Sundaville® Fashion Red is ready to show you all her potential, with medium-sized flowers and sparkling red petals with a yellow heart. When you see it in your garden, your heart will beat to the rhythm of summer!
Sundaville® Mimi Yellow
The fashionable creamy-yellow Sundaville® Mimi Yellow has cute yellow flowers with distinctive strong dark green foliage. She has good branching, grows very compact, and doesn't make long straggly stems. Where Fashion Red is more hanging, Mimi Yellow is more upright growing.
The Early Types
These are the original and classic plants in the Sundaville® range but early flowering varieties.
Sundaville® Early Scarlet
The unmissable one. The Early Scarlet is the growers' favorite because when she is fully bloomed she is really satisfying. Her attractive red is the brightest and she is not going to lose it during the warmest season and stays glossy all summer long!
Sundaville® Early Pink
Sundaville® Early Pink is the younger sister of the bestseller Early Scarlet. Its bright and radiant pink color is its new distinguishing feature, together with its vigorous and flowery growth.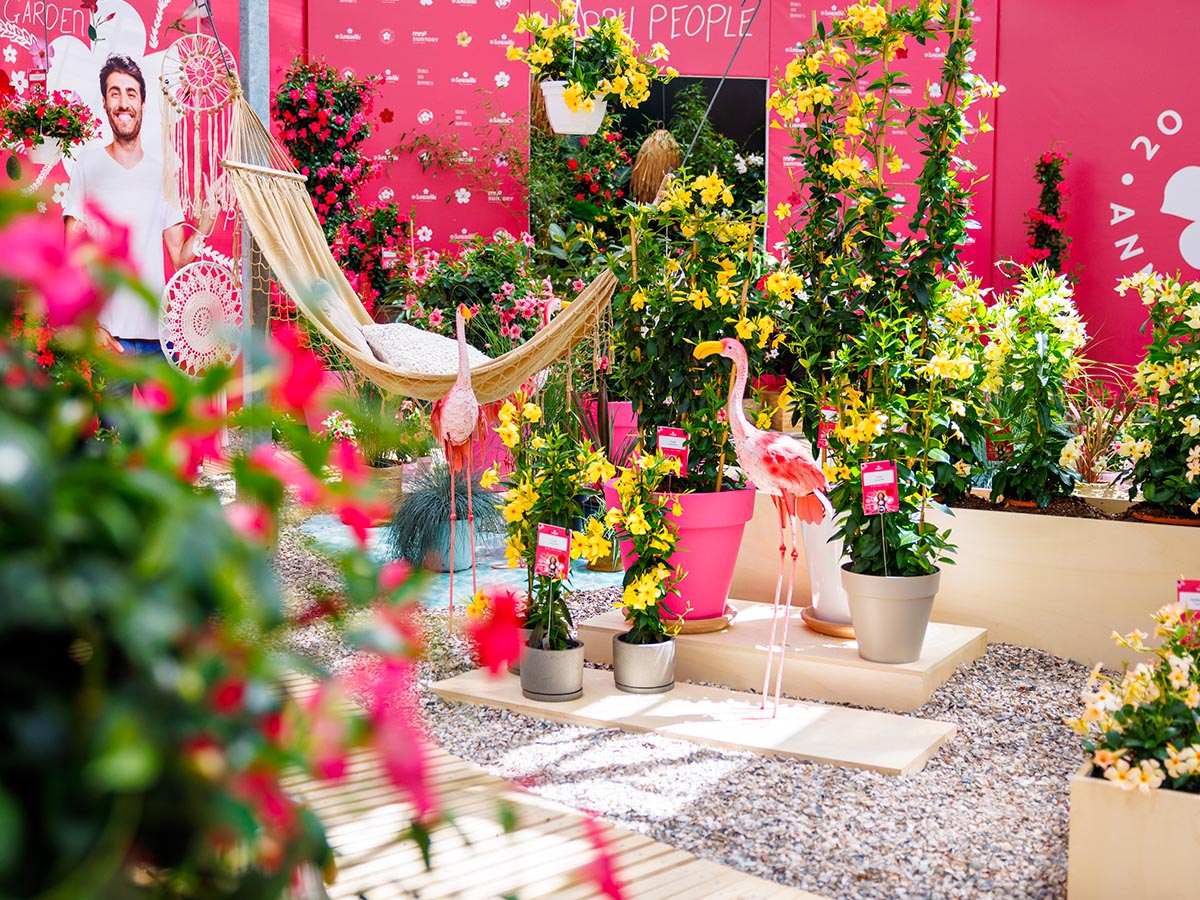 The Grand, Up, and Beauty Types
The full collection spans many more lovely varieties. Be sure to also check out the other series, such as the Grand types, Up types, and Beauty types.
What the Industry Pros Say About Sundaville®
Sundaville® has been a success for over twenty years, partly because MNP / Suntory works with different partners, that are the ambassadors of the brand. What makes Sundaville® so special for them? Let's hear it from three key points in the supply chain.
Erwin Giezen, Head of Marketing, Communications & Trade at MNP / Suntory:
"Sundaville® is the patio plant of the future. Every consumer can take care of a Sundaville®, even if you have no green thumb. She continues to bloom and grow well into autumn and needs very little water. I see the future for Sundaville® as very positive. There are good and ambitious growers who will put the product on the map."
Marjolein Kuyucu-Lodder, International Product Marketeer at breeding partner Florensis:
"We sell Sundaville® to growers all over Europe. The branding of Sundaville® matches perfectly with the sunny and cheerful look of the product. It gives the product just that little bit extra. In collaboration with MNP / Suntory, we created last year our own label within the existing Sundaville® branding. With this, we give our growers a little extra service. In this way, we give the product extra value in the chain and we ensure recognition among consumers."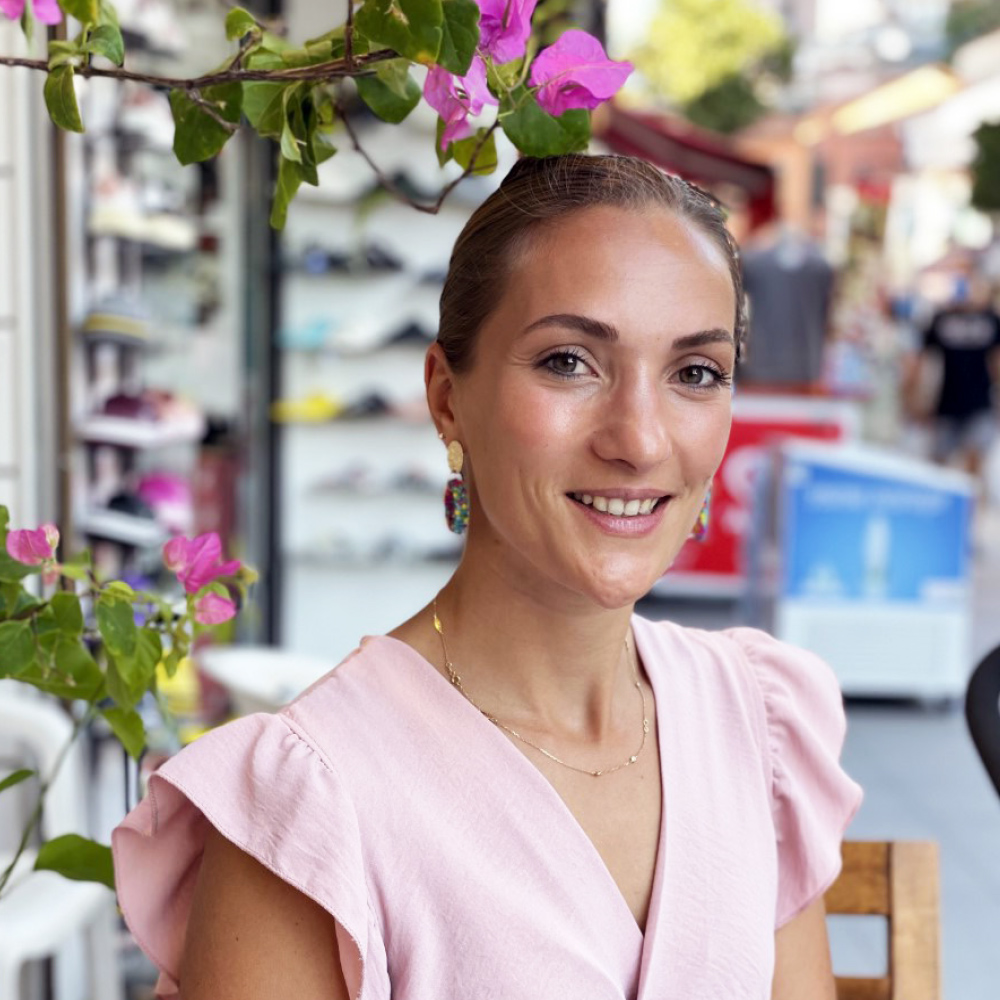 Tim, Nol, and Stef Koene, the three owners of plant nursery Beauty Plants & Mandevillashop.com:
"In 2016 we started growing Sundaville. At the time we were looking for a product that we could grow in the spring and a product that was not too easy to grow. Sundaville® fits our company perfectly, we are very happy that we have chosen this product. We have also very consciously chosen the mandevillas from Sundaville®. Beautiful colors, beautiful collections, and in MNP / Suntory we quickly found a pleasant cooperation partner. We test varieties, use cultivation advice, and of course the marketing and promotion around the brand Sundaville®. Last year we introduced Sundaville® Flamingo Pink together. A real hit! The webshop is growing every year and we owe that in part to the success of Sundaville®."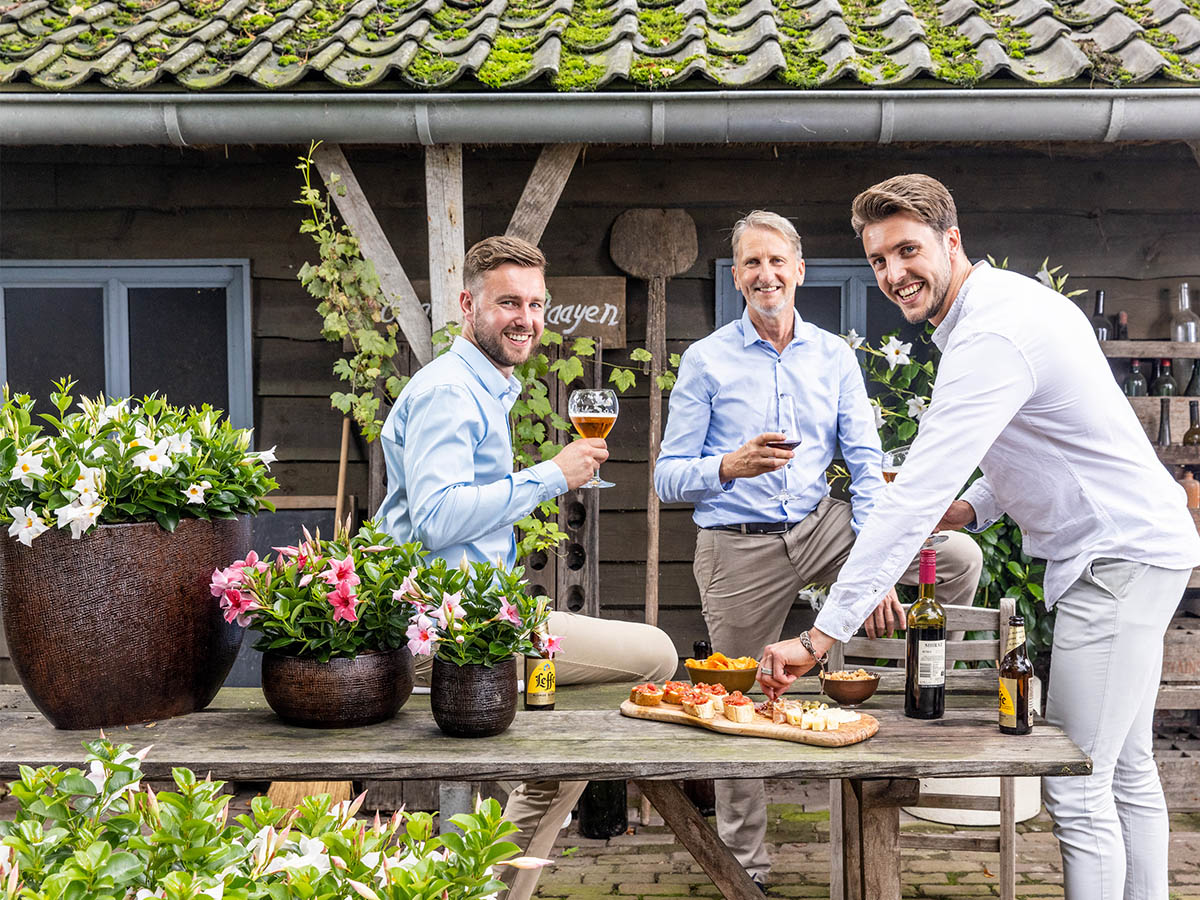 Johan Debrabandere, Category Manager at GRS Retail:
"As Category Manager at GRS Retail, I have a lot of insight into the needs of the Dutch and Belgian garden center market. We buy plants for 150 different garden centres and it is important that we always keep the consumer's wishes in mind. The consumer of today is often looking for a beautiful visual product but also looks at how the plant should be cared for. Sundaville® has the combination of both qualities and is, therefore, a very important spring product for GRS Retail.

In recent years, Sundaville has become an indispensable product for garden centers. Sundaville® is often used by garden centers as a promotional item to attract consumers to the shop. The Sundaville® brand has become a household name, both among retailers and consumers. They no longer ask for a mandevilla, but specifically Sundaville®. Through the many positive experiences and proven quality, the demand continues to grow every season. Sundaville® is a must-have for the shop floor!"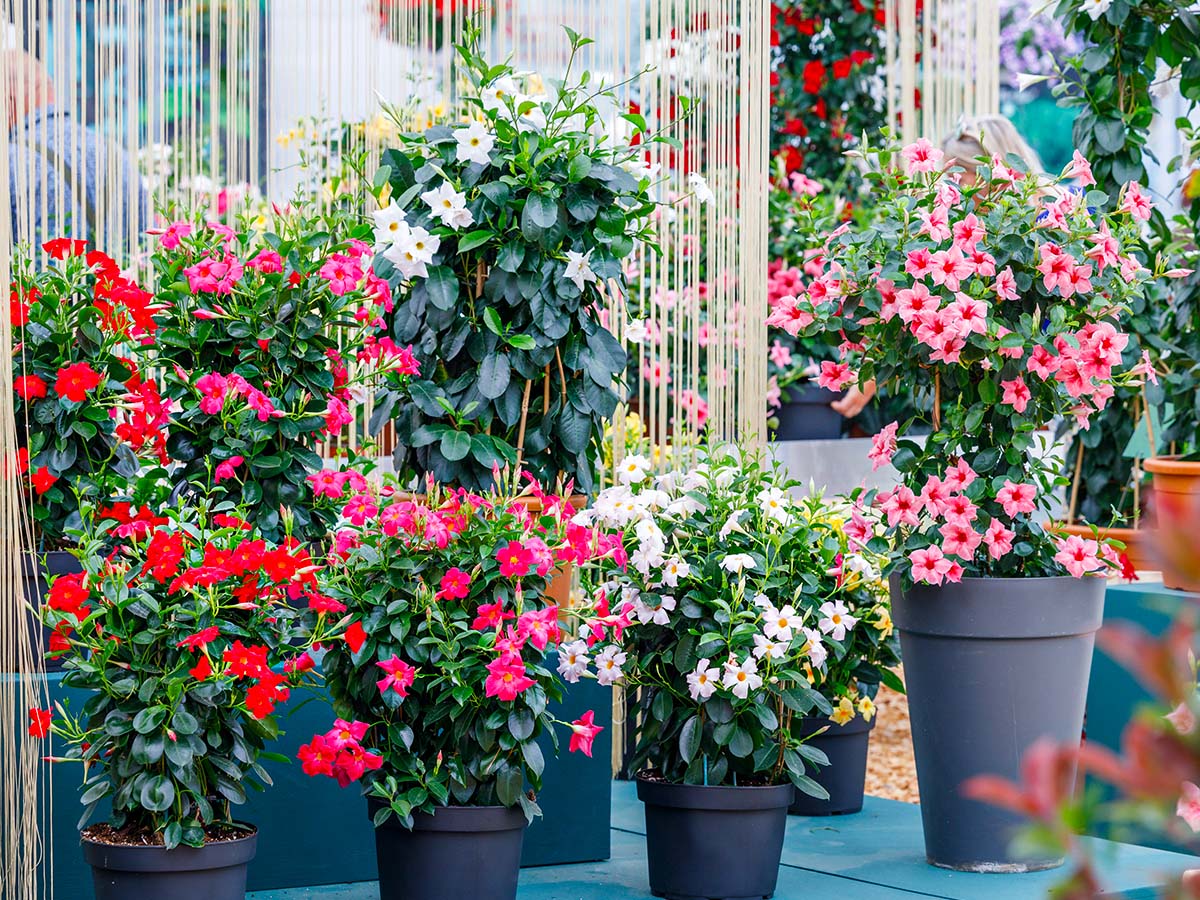 How to Become a Mandevilla Sundaville® Grower?
People can always reach out through Sundaville®'s official LinkedIn profile or MNP specialist Klaas Droog - aka Mr Mandevilla.
Be Inspired to Be a Bohemian
Long summer evenings, together with your loved ones. Days spent in the sun. Living your life in freedom. Live your life in full bloom and enjoy. The appearance of the Sundaville® brand is designed around the bohemian style. This style of life fits perfectly with what Sundaville® radiates: cheerful, warm, and full of happiness. Enjoy Sundaville® during unique moments with friends and family in a sunny garden, and make lasting memories!
All photos and video courtesy of MNP / Suntory.