Surfinia® is the world's no.1 trailing petunia. It has been a consumer favorite since 1991. There is so much to know about these spectacularly decorative plants that it is time to give you 3 x 6 good reasons, fun facts, and practical tips to consider this plant for your outdoors. And, you will get to know the latest popular varieties of gorgeous Surfinias.
About the Surfinia®
Surfinia® was the first trailing (hanging) petunia brand on the market. Surfinia® petunias are grown from cuttings and are perfectly trailing and rain-resistant. Back in the nineties, this was a real breakthrough. Therefore, these plants from MNP / Suntory are still at the top of the bill, and ever-growing in popularity.
The spectacular trailing habit of Surfinia® Petunia is unique and much bigger than the regular size of trailing plants. This is what makes Surfinia® still the best and most widely sold petunia in the world, for almost thirty years and counting. Another characteristic of Surfinia® is that it is resistant to rain, a major advantage over the more sensitive seed petunia.
The success of Surfinia® spread rapidly across the continents. In Europe, the best-specialized companies took on the task of producing Surfinia® material of the highest quality and guaranteeing the level. With this plant, you can be assured that your balcony, your flowerbed, or flower dish will become the shining star of the neighborhood.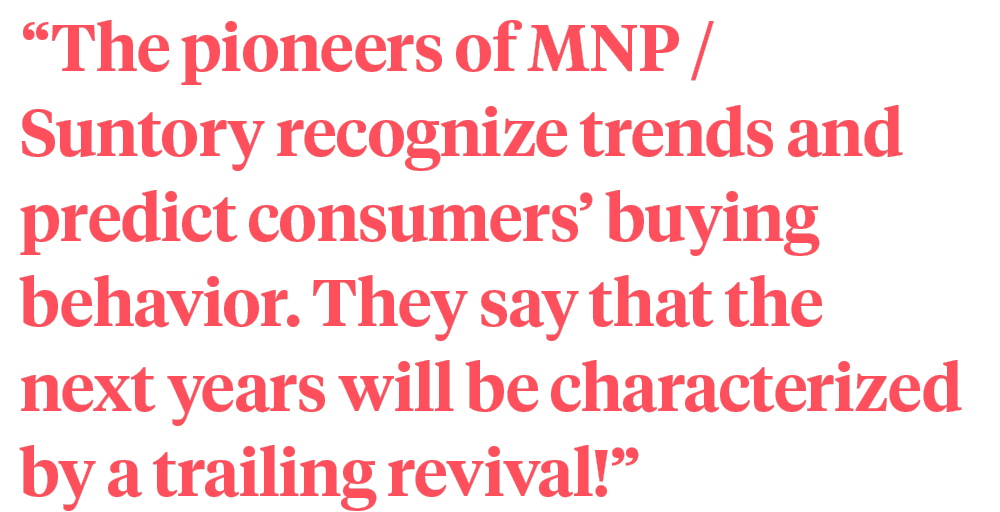 Creating Sexy Cities
In 2023 the Surfinia® brand reached an unparalleled milestone by selling its 1.5 billionth plant in Europe alone. If you would put all these plants in one big garden, it would have the size of four times the Netherlands! But Surfinia® is more than mere sales numbers. Surfinia® is the best and most effective way of city marketing. It creates instant color, ambiance, and an iconic street view. After all, the first impression is what counts when you enter a village or town.
Surfinia®, together with the geranium, has transformed how people of all ages perceive, experience, and remember Europe's gardens, streets, towns, and cities. Just picture the bridges in Amsterdam, the building facades in London and Dublin, the balconies in Rome and Paris, the mountain chalets in Bavaria, Tyrol, and Switzerland, and even the lampposts in Disneyland!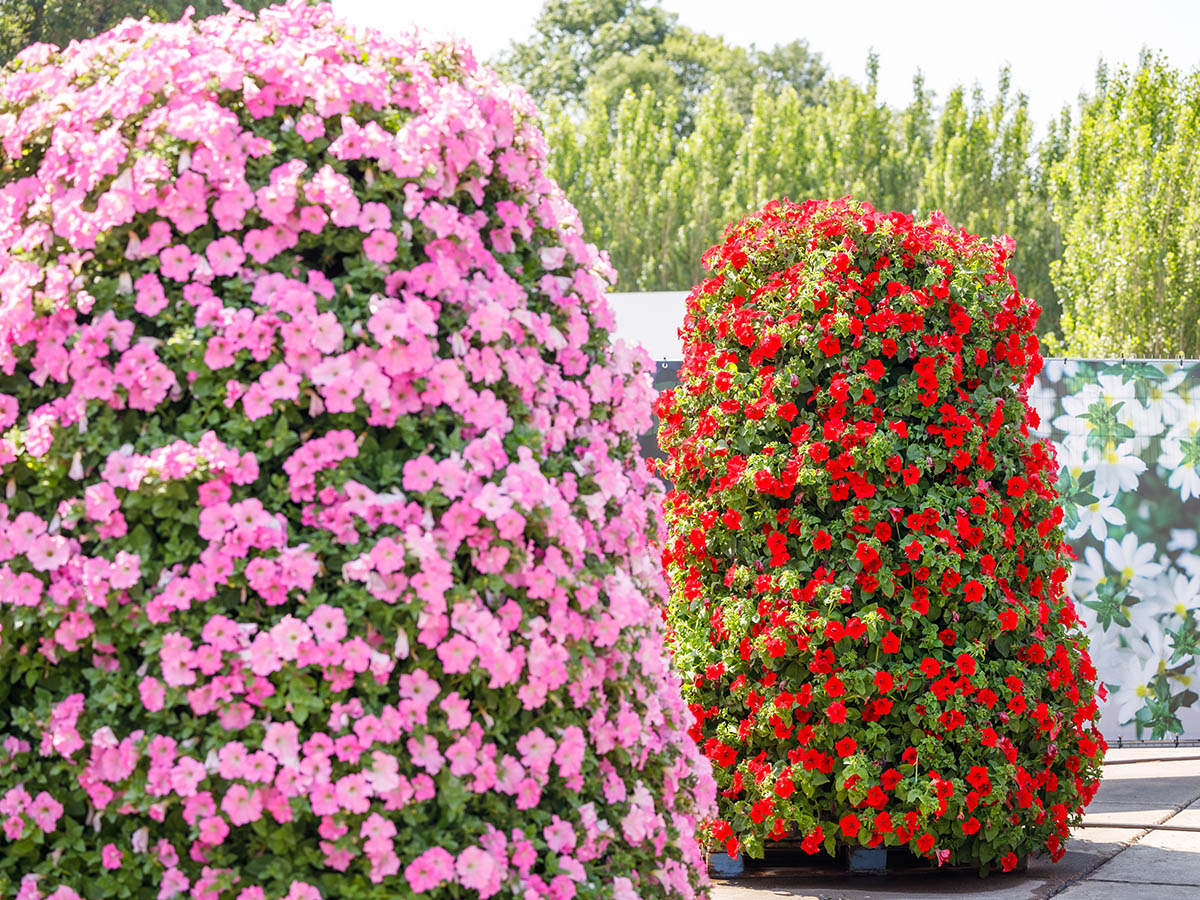 6 Reasons to Buy Surfinias
You have probably heard the brand name Surfinia® being mistakenly used as the general name for the (trailing) petunia. And even though every Surfinia® is a petunia, certainly not every petunia is a Surfinia®. You might wonder: does that really matter? Well, yes! Surfinias have some unique attributes that make them superior in quality.
1. Marvelous Moves
Nowadays, there are more petunia brands on the market, but still, no plant can beat the great trailing habit of the Surfinia®. She was especially bred to dance around flowerpots and amaze you with her mesmerizing shapes.
2. Non-Stop Flowering
Surfinia blooms all season long! We're always excited once the first flowers start showing in early spring. But don't be surprised if she's not in full bloom at your retailer, she needs some space to grow, so take her home and award her a nice spot. She'll transform into a glorious Surfinia® with all the regalia in no time at all, fully covered in flowers that won't disappear until the autumn. When all the other petunias are slowly dying, the Surfinia® is still peaking till the first frost sets in.
3. The Show Must Go On
Our trailing Surfinia® is one of the most resistant and weather-tolerant petunias on the market: from the hotter Mediterranean climates to the more chilly Austrian mountain villages or the drizzly London streets, Surfinia® flourishes in them all.
4. A Reliable Story
For the past thirty years, Surfinia's have been grown with care and love throughout Europe. We have been working with the best propagators and growers, so you can rely on us to continue delivering the best quality for many more years to come! Surfinia's are simply the best.
5. Pantone Petunia
Whether you're into romantic red or bright pink, Surfinia's are available in every shade of the rainbow. Get the best quality in the hue that suits you best!
6. Easy Breezy
Gardening is nothing but relaxing, but even we have to admit that not all tasks are fun. Not a fan of deadheading your plants? No worries, our trailing Surfinia's shed their perished flowers all by themselves. In other words, a self-cleaning carefree stunner.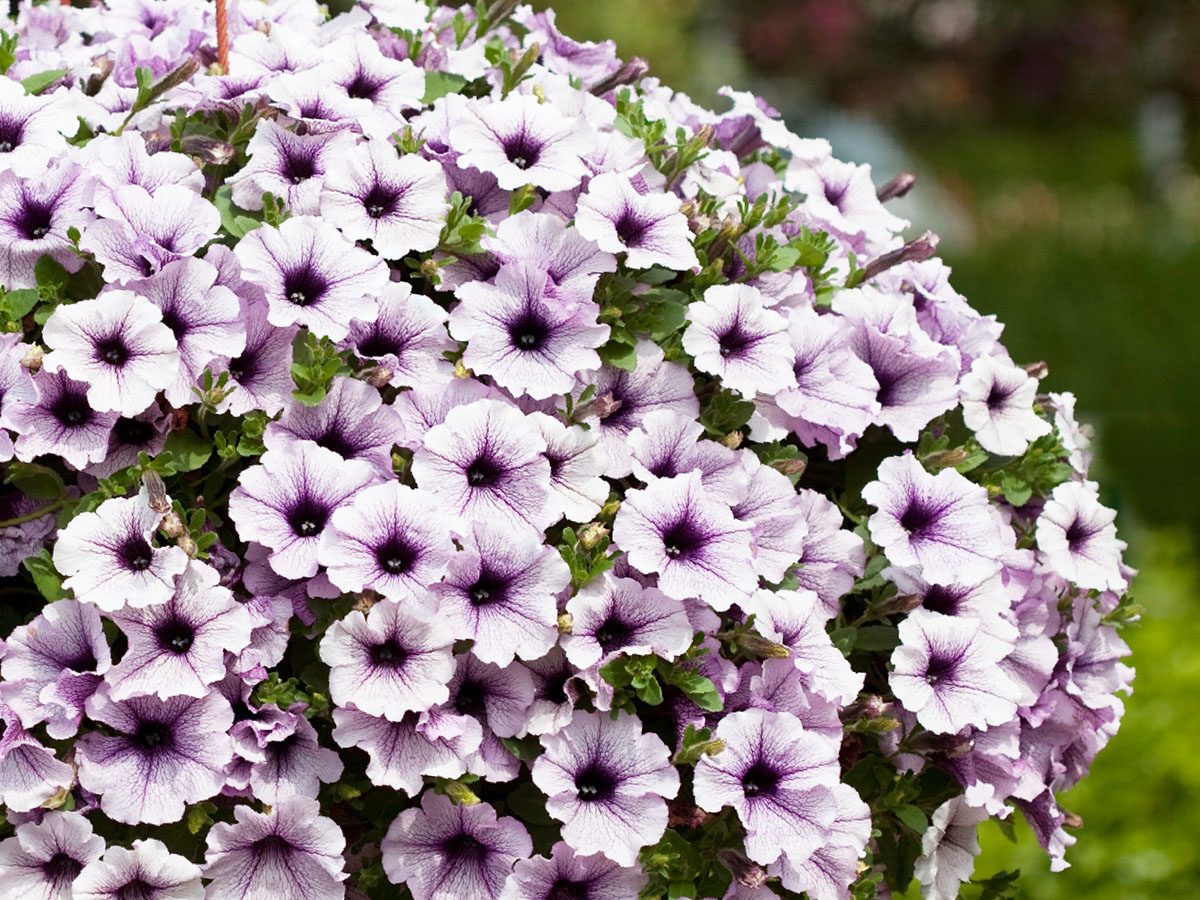 6 Fun Facts About Surfinias
1. Surfinia's are from the tomato, potato, and tobacco plant family. Listing those names leaves us wondering why this beloved plant isn't named 'Petunio'.
2. Oh wait. Of course! Petunias are called after the South American word 'petun', which is another name for tobacco.
3. But please don't try to smoke the flowers. That would be such a waste and rather unhealthy. If you insist on doing something different with your flowers: decorate your food with them! Petunia blooms are edible, provided they're not sprayed with pesticides. So, they're not only suited for your garden, they also go with salads (mmm!) and cocktails (yey!). The flowers supposedly taste somewhat sweet and even a little spicy!
4. We cannot imagine it now but back in the old days, it was a huge insult to gift petunias. They carried the message 'I don't like you'. Luckily, we forgot all about that meaning and you can happily gift petunias.
5. You might wonder why Surfinia® is called Surfinia®. This word is a combination of the word 'surfin' and 'petunia'. When they were first bred in Japan, they grew like waves on the flowerfield and this inspired the brand name.
6. The very first Surfinia® was purple, which is still the no. 1 selling petunia worldwide.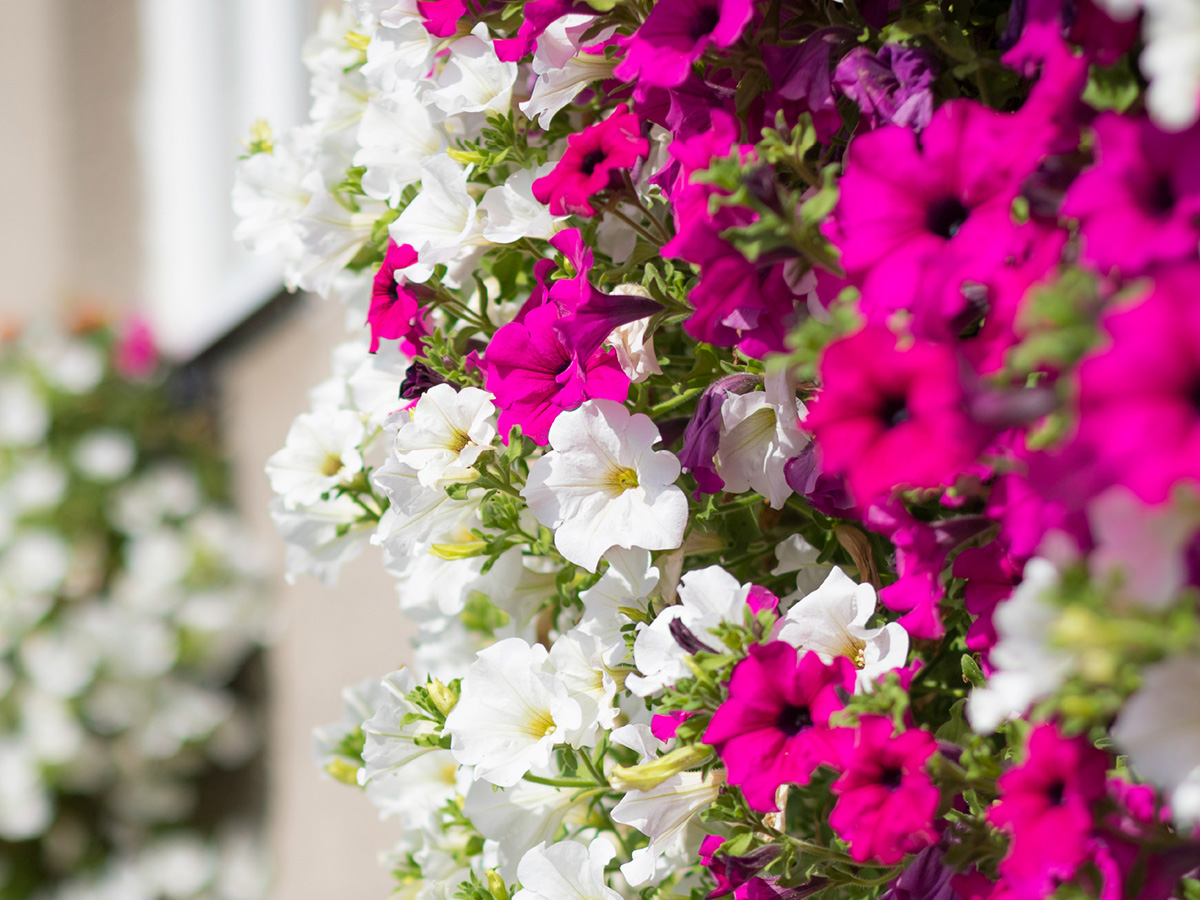 6 Tips & Tricks for a Happy Surfinia®
Most people adore greenery but aren't a fan of actually taking care of their plants. "I do not have green fingers," they say. Well, it's your lucky day because the trailing Surfinia® doesn't require any type of green body parts! She's an easy lady to satisfy and as long as you admire her once in a while. All she really needs is water and some flower food.
1. (S)potted
Go and get your Surfinia® from April to July at the garden center or florist in your neighborhood. As soon as the frost is gone, she is ready to be potted or planted. Spoil her by adding coco coir and fresh soil.
2. Location, Location, Location
Surfinia's are true sun worshipers. Hang, pot, or plant her in a sunny spot. Surfinia's love dancing and are at their best when hanging.
3. Thirsty Trailer
Surfinia® doesn't like wet roots but does prefer her soil to be moist. Put some hydro pebbles at the bottom of her pot, give her a splash of water every day and she'll be surely satisfied.
Pro tip: Do a finger test! Not sure whether your Surfinia® needs a drink? Put your finger in her soil to feel if it is still moist. If it is, she'll be fine. Is it all dry? Give her a splash of water!
4. Snacking Soil
When you feed your Surfinia® once a week with liquid fertilizer, she'll grow swiftly. When you purchase your Surfinia®, don't forget to grab some high-quality flower food on your way out. Did you know some fertilizers are especially for Surfinia®? But don't worry as any other bedding plant fertilizer will also do.
5. Deadheading
Surfinia® is carefree and easy to maintain. She'll drop her dead flowers all by herself, so deadheading is not a necessity. However, she will grow new flowers quicker once dead flowers are removed, so feel free to pick off some of
the sad flowers that she hasn't shed yet.
6. Plantastic!
Is your Surfinia® doing fantastic and becoming a bit too big? It is either time to shop for a new pot or to trim her back to your preferred size. She'll grow new stems with a fresh collection of flowers in no time. Job well done!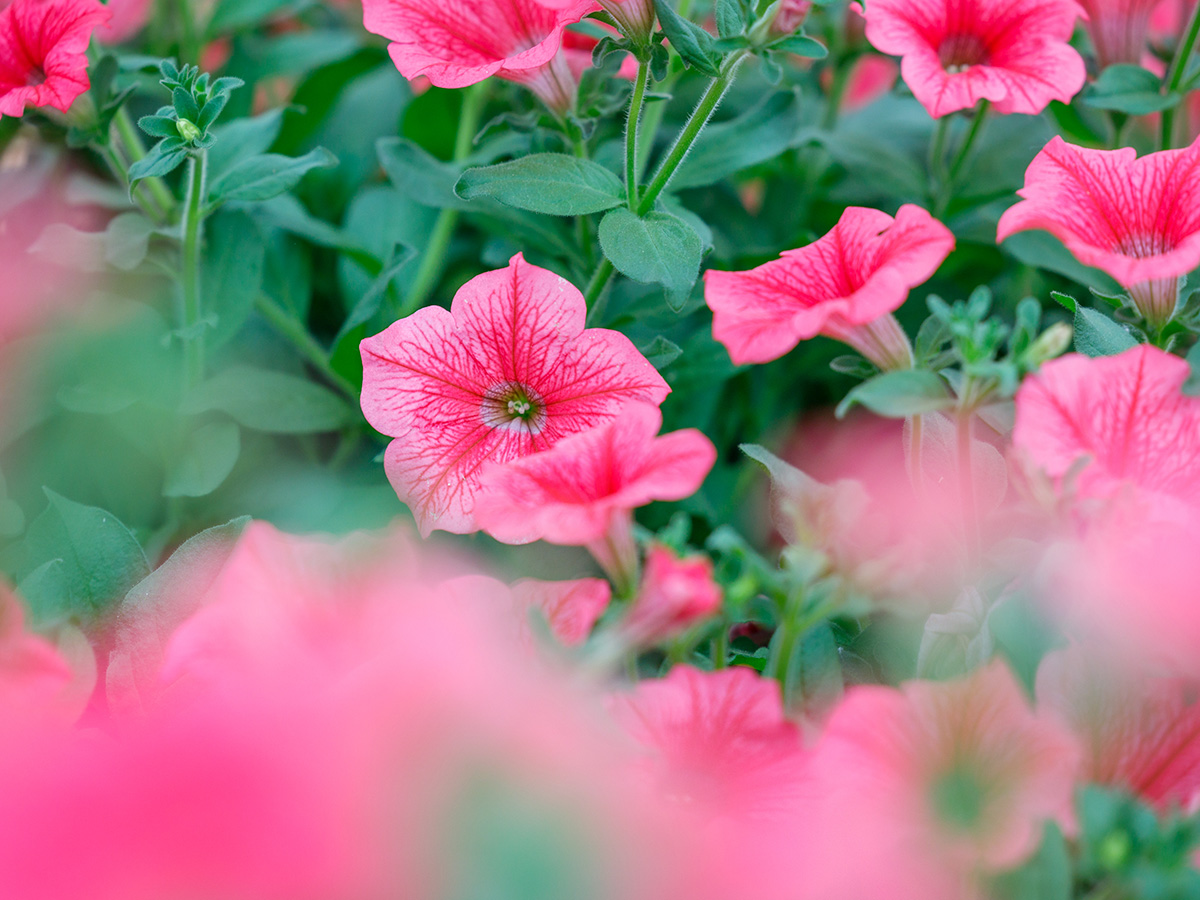 Variations in Surfinia®
The assortment of Surfinias has grown quite big over the span of 30+ years. What are the latest and most fashionable colors in the new and improved trailing series you should be looking at these days?
Surfinia® Trailing Hot Pink Cherry
Discover the Surfinia® Hot Pink Cherry, the new great addition to the Surfinia® range. Uniqueness is made by the abundance of flowers in very eye-catching and glossy pink cherry colors.
Surfinia® Trailing Lagoon Blue Star
The beauty of the Surfinia® Trailing Lagoon Blue Star is already well known by Surfinia® lovers. The drawing on the bicolor flowers creates space and a dazzling effect looking amazing on hanging baskets.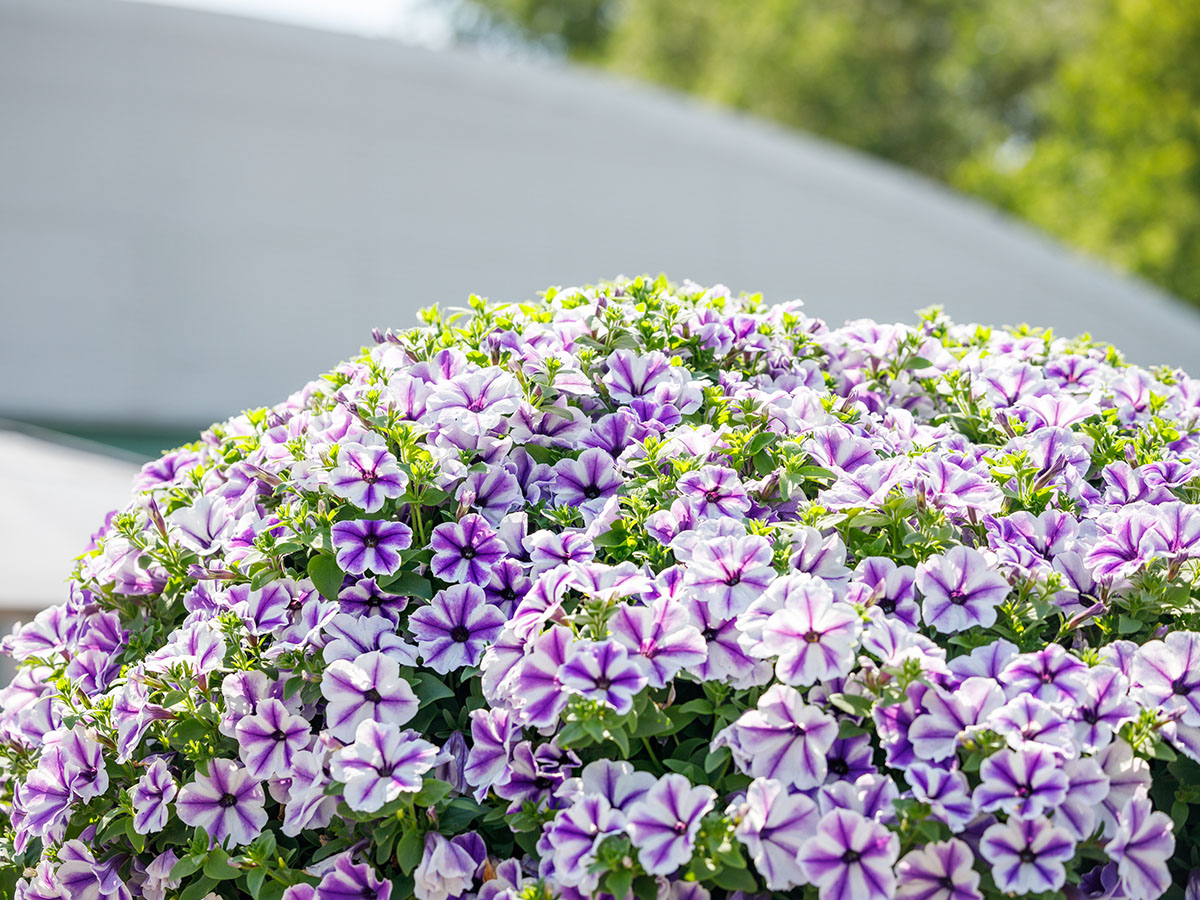 Surfinia® Trailing Big Pink
In this case, 'extra-large' is the keyword. These soft and delicate flowers are up to 8 cm large and super resistant to strong wind and hot sun during summer. Surfinia® Trailing Big Pink has mounding habits and is rich in flowering and blooming in early spring. Everything you can expect from a Surfinia® brand collection.
Get a 1-minute glimpse in this video:
Surfinia®Trailing Big Red
The extra effect is not finished with this unique Surfinia® Trailing Big Red that everyone was missing. The brightest of the reds with the largest of the flowers, even non-experts understand its unicity!
Surfinia® Trailing Burgundy Yellow Picotee
Trying not to stare at this color combination is practically impossible. The 100% unmissable variety for patios and hanging baskets Surfinia® Trailing Burgundy Yellow Picotee is ready to rock the 23-2024 season. Can you guess how many flowers bloom here? Bets are open; get your chance!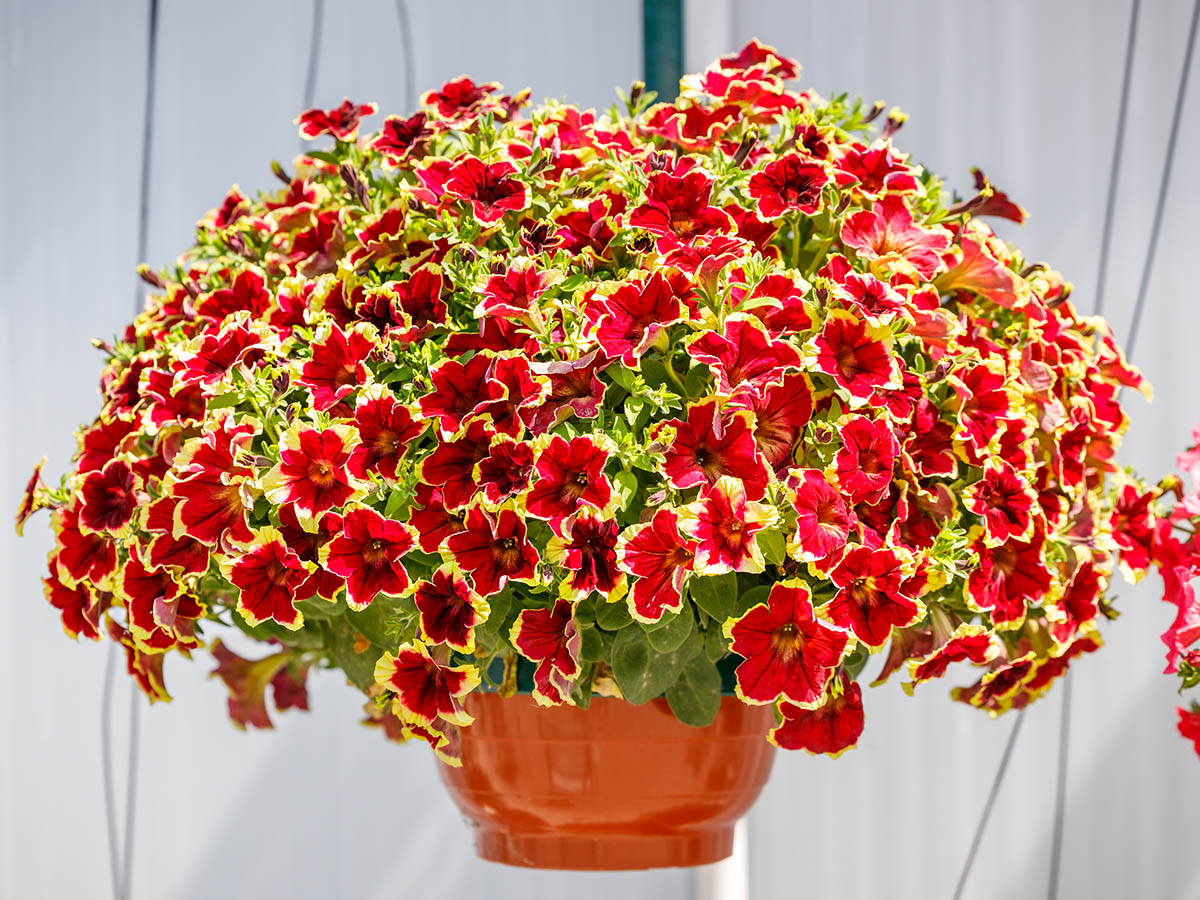 Also be sure to check the Surfinia® Trailing Blue Ocean, Surfinia® Trailing Violet, and Surfinia® Trailing Blue Vein Impr.
Pro tip: Mix & Match! Plant multiple colors of Surfinias in the same pot for an inspiring mix.
The Near Future Will Be a Training Revival
The pioneers of MNP / Suntory recognize trends and predict consumers' buying behavior. They say that the next years will be characterized by a trailing revival! The Surfinia has been a showstopper for over thirty years already, and it is destined to be for many more to come.

Therefore, their breeding program focuses on developing new trailing plants. This includes trailing petunias with bright colors, larger flowers, early flowering, disease resistance, and varieties with exceptional garden performance. They actively call out to growers to seize the opportunity and test them right now.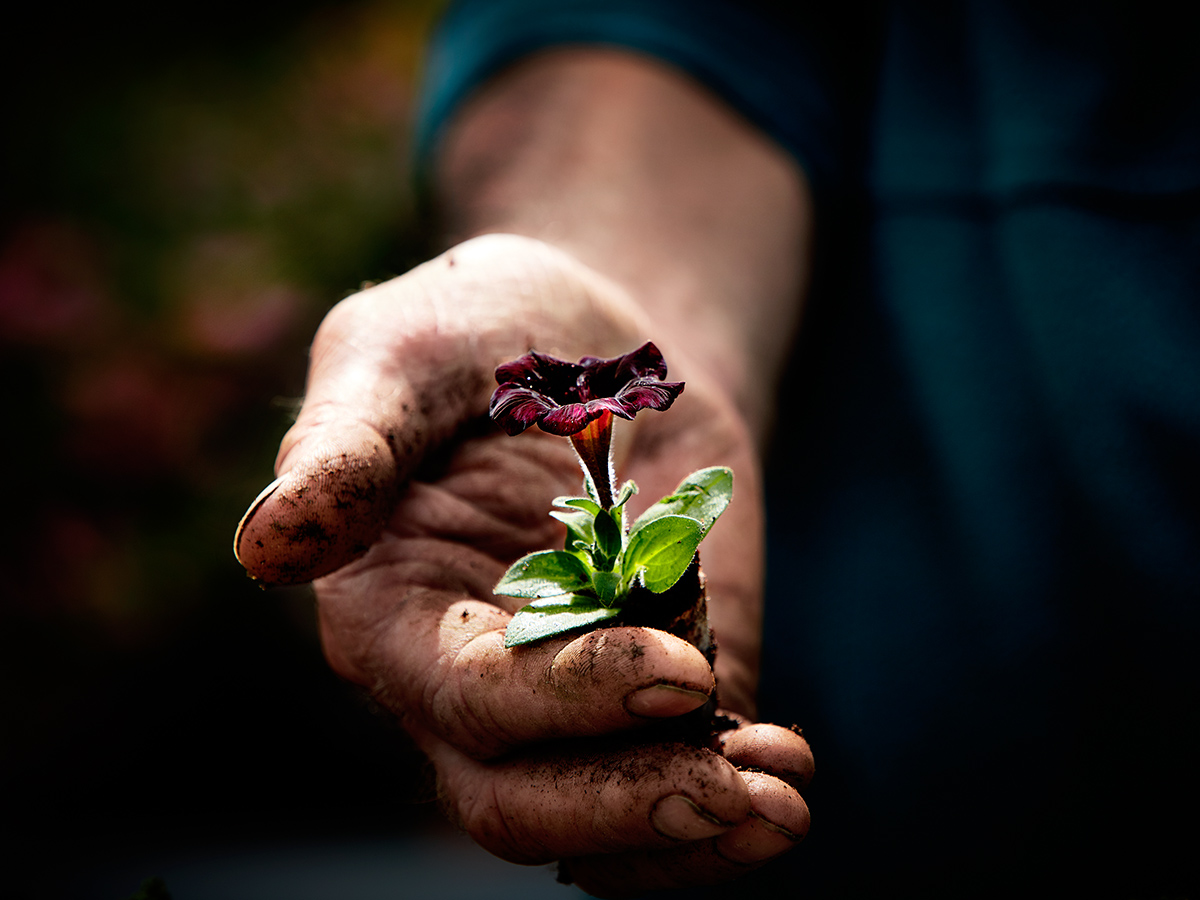 All photos and video courtesy of MNP / Suntory.