Phalaenopsis orchids are among the most popular plants in the world. They can be easily found in florist shops, garden centers, and supermarkets in a wide range of sizes and colors. Most popular are the white ones. White phalaenopsis are full of meaning and elegance and there are a plethora of varieties to choose from. This flower is not only a favorite to keep at home but has also stood the test of time as a focal flower in bouquets. Discover 5 of the best white phalaenopsis in the world and find your favorite variety.
White Phalaenopsis - Discover 5 of the Prettiest Varieties
Orchids are exotic beauties and they don't need too much attention, are easy to take care of to bloom consistently and for a long period of time. The genus phalaenopsis was first described in 1825 by the Dutch botanist Dr. C.L. Blume, who worked in the Royal Botanic Gardens in Buitenzorg (Bogor) on the island of Java, Indonesia. The story goes that during one of his trips he saw a group of butterflies swirling almost motionless near a tree. These turned out to be orchids, which he later called phalaenopsis amabilis.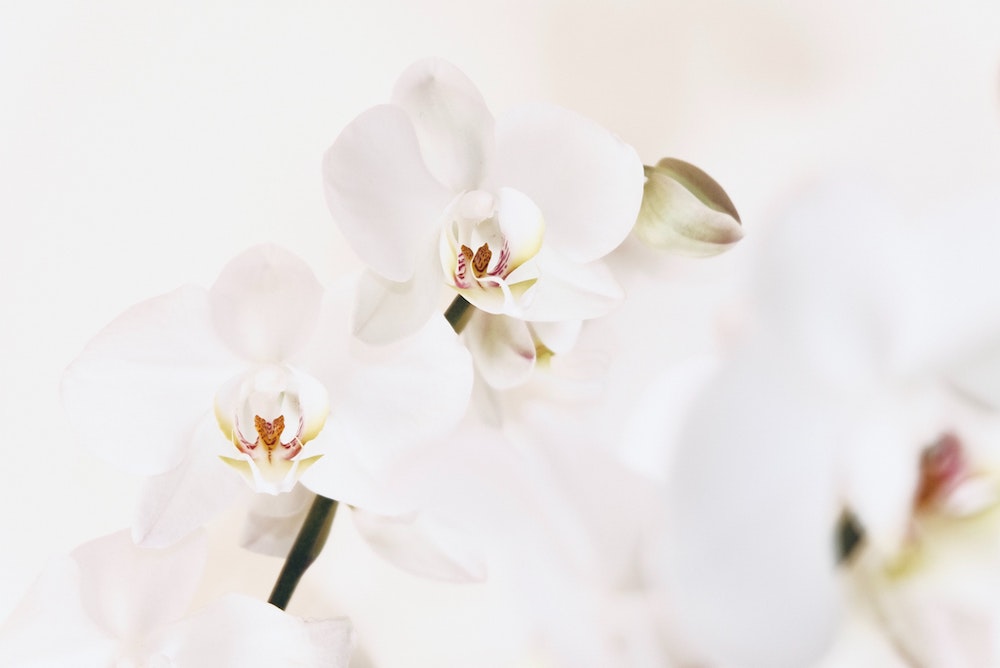 The Butterfly of Flowers
The family name phalaenopsis stands for 'as a (moth) butterfly' and is derived from the Greek 'Phalaina' (moth) and 'opsis' (similar to). Amabilis means 'lovely' and aptly describes these gorgeous flowers. Phalaenopsis orchids are available all year round at florist shops and garden centers. Besides a wide range of colors to choose from, you can also pick a desired flower size. There are small-flowered varieties called multiflora, large-flowered varieties of at least 10 cm in size called grandiflora, and everything in between.
Floricultura
, that task luckily becomes a little easier.
Pure Silk Phalaenopsis
Pure Silk is a variety from the Elastica series. This means you get a beautiful white phalaenopsis with flexible branches and a long comb of flowers. Good to know: Pure Silk knots well and regularly, resulting in a very consistent distance between individual flowers that gives you that great, continuous, and full image.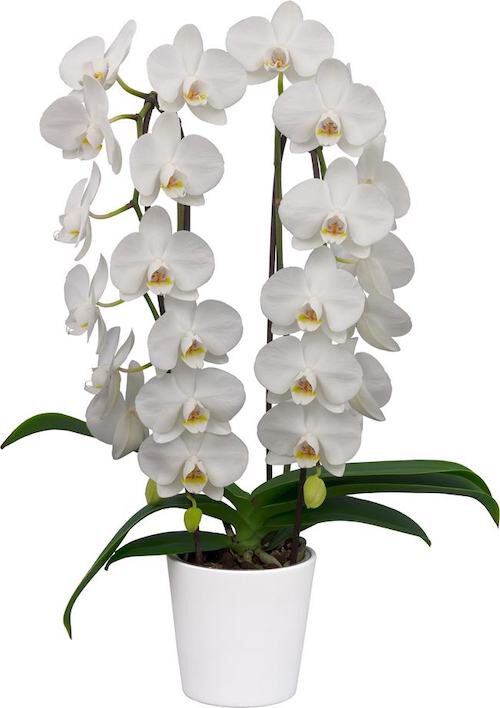 Grand Dessert Phalaenopsis
Grand Dessert is a very special multiflora variety. It has a very short branch with a low set of flowers. With its large flowers, it makes for a stunning table model orchid. It also does very well in pot size 9 (in addition to the usual 12). This is a different pot-plant ratio than that we are normally used to from a phalaenopsis.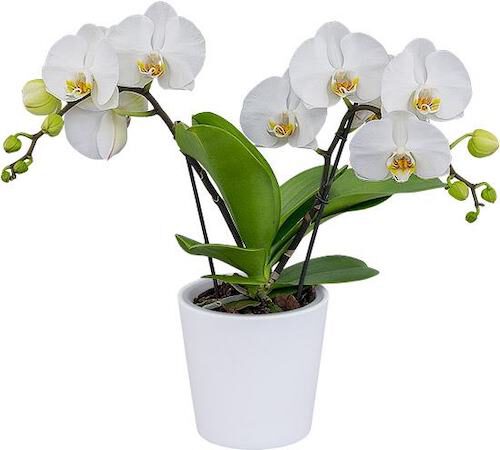 Ocean Boulevard Phalaenopsis
Ocean Boulevard is an unprecedented multiflora white phalaenopsis that produces an abundance of flowers on its many branches. In addition, it's a fairly compact orchid, resulting in a lusher mane of flowers. Ocean Boulevard is also suitable for pot 9, though it will of course be slightly less lush.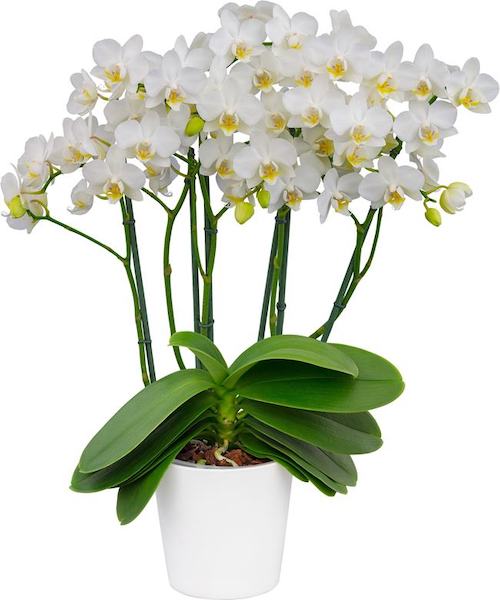 Snow Compass Phalaenopsis
Snow Compass is a true beauty with its classic and stately looks. It sports large flowers up to 10 cm in diameter and has a beautiful comb of flowers that definitely catches the eye.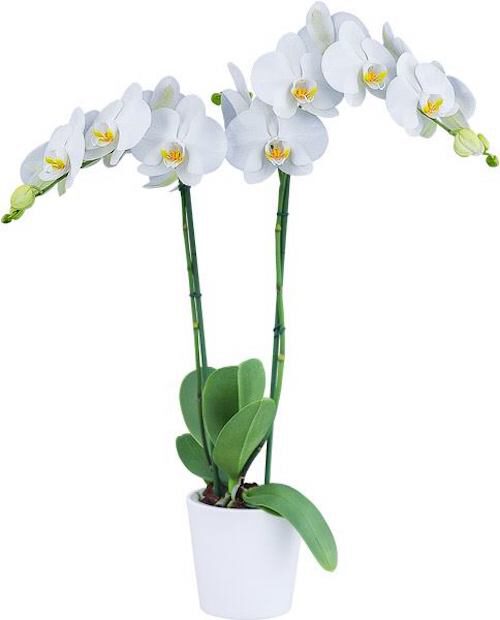 Tigerhill Phalaenopsis
Tigerhill is another phalaenopsis that produces those large, lovely flowers. For a standard phalaenopsis, Tigerhill produces many branches. This variety already sells very well in the US, which is not surprising, because Tigerhill is one of those all-round white phalaenopsis that you just can't get enough of.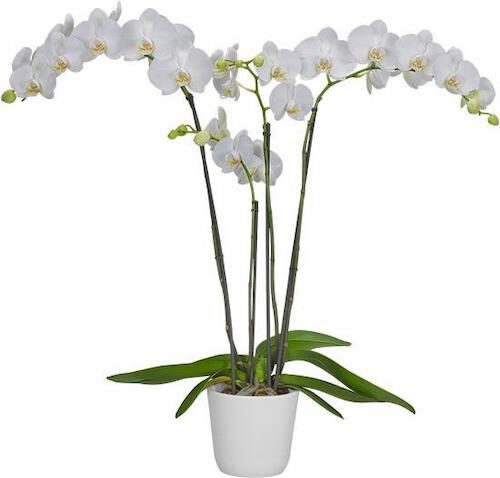 White Phalaenopsis From Floricultura
Floricultura
is a market leader in young orchid plants and supplies professional growers worldwide with tens of millions of plants each year for the production of several varieties. They have specialized in the propagation of orchids and other tropical plants since 1933. With a desire for perfection and the aim to develop strong, profitable, and distinctive varieties for their customers, Floricultura cultivates tropical plants on four different continents nowadays. For more information, visit
www.floricultura.com
.