The name of the rose Princess Charlene of Monaco is quite a mouthful, but it's definitely worth remembering. The scent and color of this rose are enough to melt your heart. With its pretty ruffled petals and exquisite scent, this variety is well-deserving of the title of a princess.
The Awarded rose Princess Charlene of Monaco
The rose Princess Charlene of Monaco is a stunning rose with surprisingly few petals; 68 on average, which is a fairly low petal count for a garden rose. It has ruffled petals that can go from apricot to shell pink and produces a delicious, sweet perfume that begs to be sniffed. Princess Charlene of Monaco is a remarkable rose, almost peony-shaped, that holds really pretty in a fully open form. The glossy, dark green foliage that frames these roses offers a great contrast with the pastel-tinted blooms.
Named After the Wife of Prince Albert II
Before this rose became known as Princess Charlene of Monaco, it was called 'Haiku Perfumella' and was already awarded three International Perfume Prices and a gold medal at the Geneva International trial of New Roses. Now it is dedicated to the wife of HSH Albert II of Monaco and has taken a worthy place among the roses dedicated to the princely house. The couple discovered this variety at the Monaco rose trial, and at the reopening of the Princess Grace rose garden in June 2014, the rose was renamed Princess Charlene of Monaco.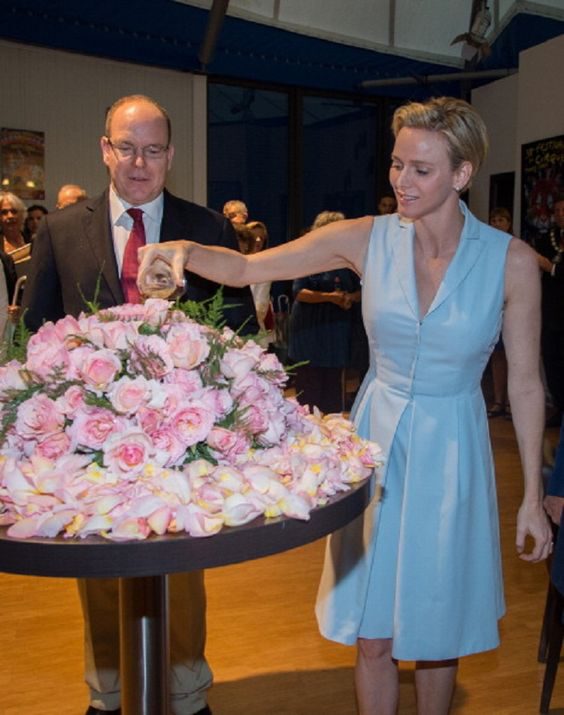 Princess Charlene of Monaco Rose Featured on a Postage Stamp
This pastel beauty even got featured on its own stamp, which was released by the Stamp Issuing Office of the Principality of Monaco in 2015. The €0.68 stamp displays a sketch of two flower heads and one closed bud of the Princess Charlene of Monaco rose in a typical garden rose fashion.
A Real Eye-catcher Loved by Florists
Princess Charlene of Monaco is a variety from international breeder Meilland and is a great performer with a medium-long vase life of 6 to 8 days. It is a wonderful option for flower arrangements and bridal bouquets, and looks great in the ever-popular blush color scheme. But even as a mono-floral bouquet, Princess Charlene of Monaco is a real eye-catcher. With its gentle, fruity fragrance and salmon-pink ruffled petals, it's just one of those roses that becomes magical in hands of floral designers.