If there was such a thing as beginner, intermediate, and expert levels of working with garden roses then the rose Peony Pink would definitely fall into the last category. This high-risk, high-reward rose that looks more like a peony than anything else can probably be classified as one of the most beautiful scented roses in the world.
The Rose Peony Pink is a Seamless Substitute For Peonies
The small, baby pink heads of the rose Peony Pink bloom into magnificent roses with many layers of cupped petals. And then that scent! A real English rose myrrh fragrance with hints of lemon and almond make up for a romantic, fruity scent. This is one of those roses that you can smell throughout the house for days. If you're looking for a peony but peonies are out of season, Peony Pink is a perfect replacement. It comes in a very light pink color, similar to one of the popular peony 'Sarah Bernhardt'. With Peony Pink, you get the best of both worlds.
Already Introduced in 1987
The rose Peony Pink used to be known as St. Cecilia. The name still exists but is only used for the rose bush of this flower, not for the cut roses. This beauty was already introduced in the UK in 1987 but it would take a long time before it became popular among florists. Garden roses weren't very popular in floristry at that time because of the cost and the generally shorter vase life of garden roses compared to regular roses.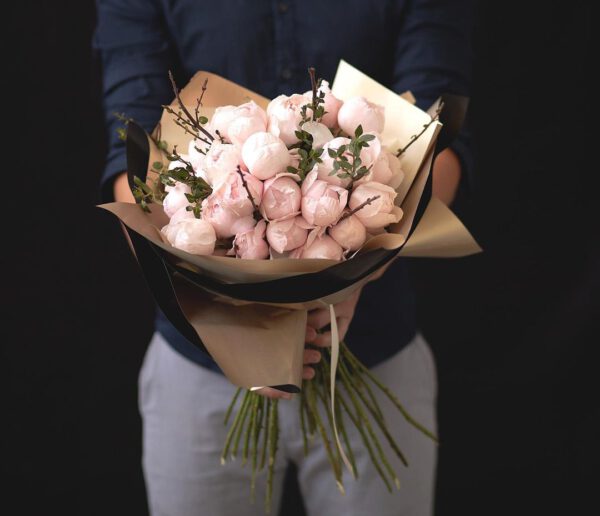 Peony Pink is Not For the Garden Rose 'Beginner'
Garden roses can be pretty difficult to transport. They generally travel with their blooms already slightly open, making them more fragile than standard cut rose varieties, which can be transported as tight buds. Garden roses also take longer to cool down before they can be shipped out and require additional, and sometimes special, packing techniques to ensure safe arrival. All of this adds to the price that you eventually pay per stem at a wholesaler or flower shop.
The Key to Getting the Best Out of This Rose
Because of its generally thin stems and heavy flower heads, Peony Pink is extra hard to ship. The key to getting the best out of this rose lies in two things: cutting stage and hydration. Garden roses have to be cut at the perfect time; if the buds are too closed they won't open and if they are too open they are extra susceptible to damage and will only bloom for a few days. These types of roses usually require 24 hours of rehydrating before they are ready to use and the same applies to Peony Pink. In the pictures below you can see what they look like upon arrival and what happens after giving them a good, long drink. Peony Pink is extra sensitive because of its fragile nature so it's important to let it regain some of its 'strength' - preferably with the protective packaging still wrapped around it - before you start working with it.
Do these things right and you have yourself a scented rose that is truly like no other. With many layers of baby pink petals and a heavenly scent people will keep trying to sniff, Peony Pink is sure to captivate many.