At Parfum Flower Company, nothing makes us happier than a beautiful, high-quality scented rose. Although we offer more beauties than only scented roses - just have a look at all the special garden varieties or seasonal, locally-grown roses in our assortment - sourcing and supplying the most stunning fragrant varieties in the world to wholesalers and florists remains our core business.
These Are the Scented Roses to Fall in Love With This Year
While 2020 was a difficult year in the middle of a pandemic for a company like ours that mainly specializes in catering scented roses for weddings and events, things are looking up again in 2021. Though many celebrations are still being held on a smaller scale to ensure people's safety, we've noticed that people tend to expand their floral budgets this year to make the most out of their inmate gatherings and to make sure they leave a lasting impact on their guests. And what adds that extra special touch to a wedding or event better than a scented rose? That's why we've rounded up all our data to compile a list for you with the best-scented roses for 2021.
Rose Prince Jardinier
Prince Jardinier garden roses are very light pink and ultra-romantic scented roses that can open up to an almost saucer-shaped bloom. These are very open, soft, and swirly roses and petals open wide enough to expose the center pollen. The rose Prince Jardinier has the swirled velvet petal structure typical of garden roses as well as a particularly romantic feel.
The Rose Prince Jardinier is named after Prince Louis Albert de Broglie, a member of one of France's top aristocratic families. Louis Albert is known for his love for gardening, especially growing tomatoes, hence the name Le Prince Jardinier (The Gardener Prince).
Rose White O'Hara
The premium scented garden Rose White O'Hara is a large, French, white rose, with a slight ivory tinge at the center, that opens up fully in a quartered way. While the name of this variety is called "White O'hara" the petals of this beautiful garden rose have a touch of pink that gives it a blush tone.
The scented garden rose white O'Hara has a more traditional rose shape but is filled with layers and layers of petals that give a wonderful rose scent. White O'Hara would be perfect to use in bouquets or centerpieces for a romantic garden wedding or mix with pinks for a charming bridal or baby shower.
Rose Leonora
Rose Leonora™ is the epitome of classic elegance and understated style, befitting a small intimate occasion or elevating a regal celebration. Her gentle ivory tones unfurl into a romantic ruffled bloom, unveiling a central cluster of golden stamens. Leonora's relaxed style exudes a sense of quiet beauty that is simply captivating. She has a medium, fresh scent with notes of citrus and cucumber. David Austin Leonora is the perfect wedding rose whose luminous quality needs nothing more than nature's freshly gathered foliage. Serene and incredibly beautiful.
Rose Cafe Latte
The Rose Cafe Latte is a very special rose with a unique ethereal color, opening fully with a sweet vanilla scent. The Rose Cafe Latte is famous for its unusual vintage antique petals and is grown exclusively on our farm in Kenya. A stunning rose for any occasion and a huge favorite for weddings!
Rose Scented Whisper
Scented Whisper is a mid-pink spray rose, with a wonderful petal color transformation that shows a changing play of colors from salmon pink to a soft orange. It has a fruity-sweet scent, with overtones of strawberry and watermelon, and is a great filler for delicate wedding bouquets and romantic centerpieces.
Rose Constance
All hail to Rose Constance™. The prettiest of pink roses, she's an enigmatic choice for a fairytale dream. Constance has a Cinderella ballgown shape thanks to her layers of delicate petals ombré from a heart of cream, mingling with ballet-slipper pinks and watercolor rose hues. Each rose is different, from the palest cream and pink to a deeper pink hue, each equally beautiful. This rose has an elegant fruity perfume with hints of apple and pear. Like an opulent ball, Constance has the magical allure to sweep you away with her sheer femininity. Adorn a faraway castle with lush greenery, a touch of sparkle, and some majestic pearls.
Rose English Miss
A true classic in our collection, a very dainty, pure pale pink scented spray rose. English Miss opens quickly and fully to display its golden heart, but it last well and evokes images of a Victorian garden. This delicate spray rose variety has a very low production, making it one of the most exclusive roses in our scented roses collection. English Miss exudes elegance and romance and her scent has you sniffing for days.
Rose Princess Charlene of Monaco
The Rose Princess Charlene of Monaco offers superb gradient pastels in delicate, salmon pink. It is a great rose with surprisingly few petals. It has a beautiful, sweet and fruity fragrance. Princess Charlene of Monaco is a remarkable rose and holds well in a fully open form. A great performer with medium-long vase life. This rose is wonderful for flower arrangements, bridal bouquets, and blush weddings. Or just as an eye-catching "mono-floral" bouquet of only Princess Charlene of Monaco roses in a nice vase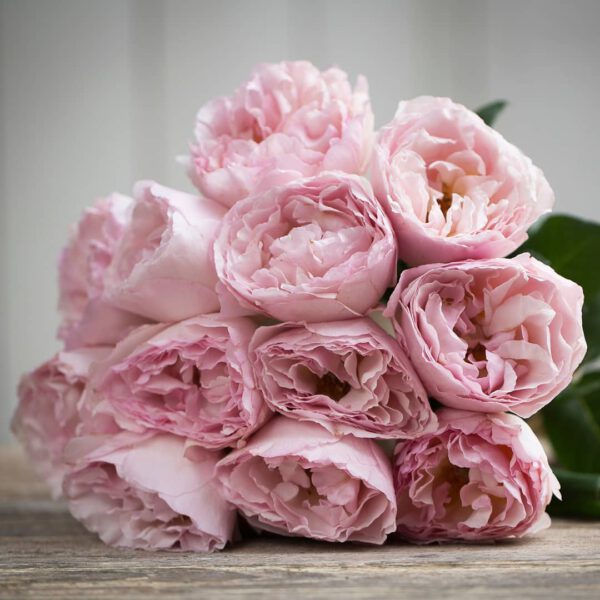 Rose Peony Pink
The heavenly Scented Premium Garden Rose Peony Pink is like no other. With a perfect peony-shaped flower and the most romantic fruity scent, it is one of our most beautiful roses. The color is very light pink. The fragrance is very strong; an English Rose myrrh fragrance with lemon and almond hints. The flowers have a medium, cupped bloom form. Its delicate shell pink petals open fully to resemble a peony.
Rose Yves Piaget
The diva of the Piaget family, the Yves Piaget rose, once seen is never forgotten. This gloriously strong scented rose with a hint of sunny citrus has an average of 80 layers of petals, with a bright to light pink color. Like an enormous scoop of strawberry ice cream, it's hard to resist.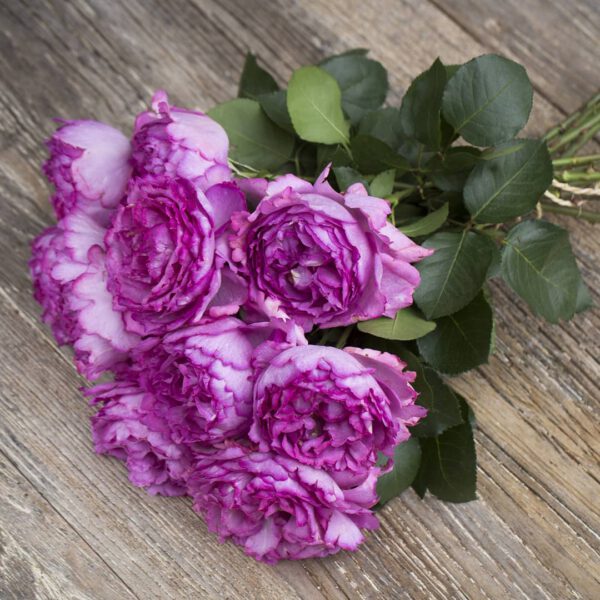 The Yves Piaget Rose is bred in France and introduced in 1985. The large-flowered Yves Piaget Rose is sometimes known as 'Queen Adelaide.' This award-winner is known for its sweet scent and large, full-petaled, pink blossoms reminiscent of the old garden roses grown during English Queen Adelaide's reign in the nineteenth century.

Do you also want to stay up-to-date on which scented roses and garden roses are currently available? Download this catalog! The catalog gets updated four times a year – every quarter – so you always have an up-to-date version of our collections. If you have signed up for our newsletter, you will automatically receive PFC's quarterly update.