In the world of interior design, designers are not waiting to be commissioned by brands or abide by their briefings. They just bring their designs to the market, so brands are forced to step up. Moooi, a Dutch design brand mass-produces now the hortensia chair, designed by Andrés Reisinger.
The Hortensia Chair and Moooi
Moooi and 3D artist Andrés Reisinger decided to collaborate to mass-produce his Hortensia chair. This chair went viral on Instagram as a rendering and become known as "the chair that could not be made". Moooi, a Dutch design brand believes that this is the start of a new dialogue between designers and brands. It's an opportunity for the designers to step up and bring their work out there. Brands will be forced to step up, more power will go to the artists and designers, and the world will become a more beautiful place.
First Design From the Hortensia Chair
The Hortensia Chair is initially designed in 2018 as a purely digital piece of furniture. The armchair with its plump, hyper-tactile exterior now is made into a physical chair covered in 30,000 fabric petals. It is available from Moooi in the original soft pink color as well as a light grey. This is the first time that a product designed for the digital world has gone into mass production.
When Reisinger first shared the Hortensia chair on social media three years ago, the viral image prompted several order requests for a chair that did not exist. To meet this demand, he released a limited edition of the armchair in 2019 in collaboration with textile designer Júlia Esqué. After being told by different production teams and manufacturing partners that its unique texture can't be replicated in real life, Reisinger and Esqué realized the design by working closely with a small carpentry workshop in Barcelona.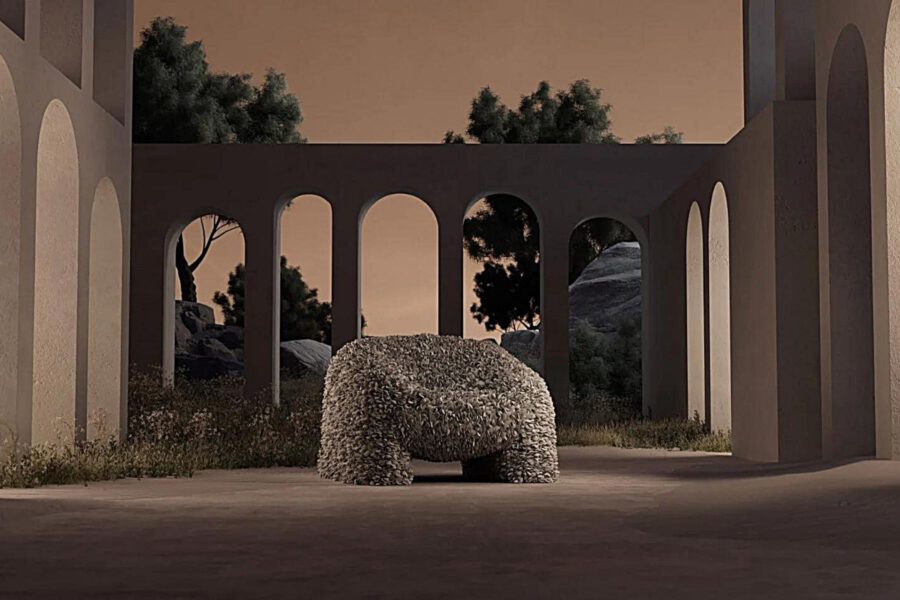 Reisinger
"The limited-edition Hortensia was created entirely by local craftsmen under Júlia's and my supervision – we were guiding the artisans from the prototype phase till the very final result. The structure of the piece was made from wood, which was covered with sculpted foam. And finally, we came up with a specific textile system that was upholstered all by hand."
Building Bridges, Genuine Pink
Today Thursd.com launches its Trend Color of the year 2022, 'Genuine Pink' with the theme 'Building Bridges'. A bridge was built between the designer and the brand company Moooi to mass-produce the hortensia armchair in the beautiful genuine pink color.