For some fun to the eye plus a round of very colored spots to get inspiration if you need it, this lookbook with eight colorful bathrooms all the way from sanitary gear, to a green Portuguese 'shower tower', and a space with pink marble washbasin that will impress you.
Eight Colorful Bathrooms You'll Love
Despite the fact that white toilets and sinks are still the default or most common choice for many, interior designers are increasingly experimenting with introducing colorful sanitary goods to bathrooms to make these spaces a little more interesting. This lookbook features a variety of designs, including chic black toilets that give the bathroom a graphic touch and basins in a variety of pastel colors, like pale blue and avocado green. Although if you're looking not only for bathroom inspo but interior decoration tips in general, here's a great article to read 'How to Add the Thursd Floral Trend Color 2023 - Passion Red - To Your Interiors'.
Here they go! These eight colorful bathrooms will capture every corner of your eye with their shades and essence.
1. Les Deux Gares in France by Luke Edward Hall
For this hotel in Paris, British designer Luke Edward Hall used a lot of patterns, vibrant colors, and printed furnishings. This is also evident in the bathroom, where the zigzag floor tiles and mustard-yellow wall contrast with a green toilet and matching green sink. A darker green mirror over the sink completes the room's design.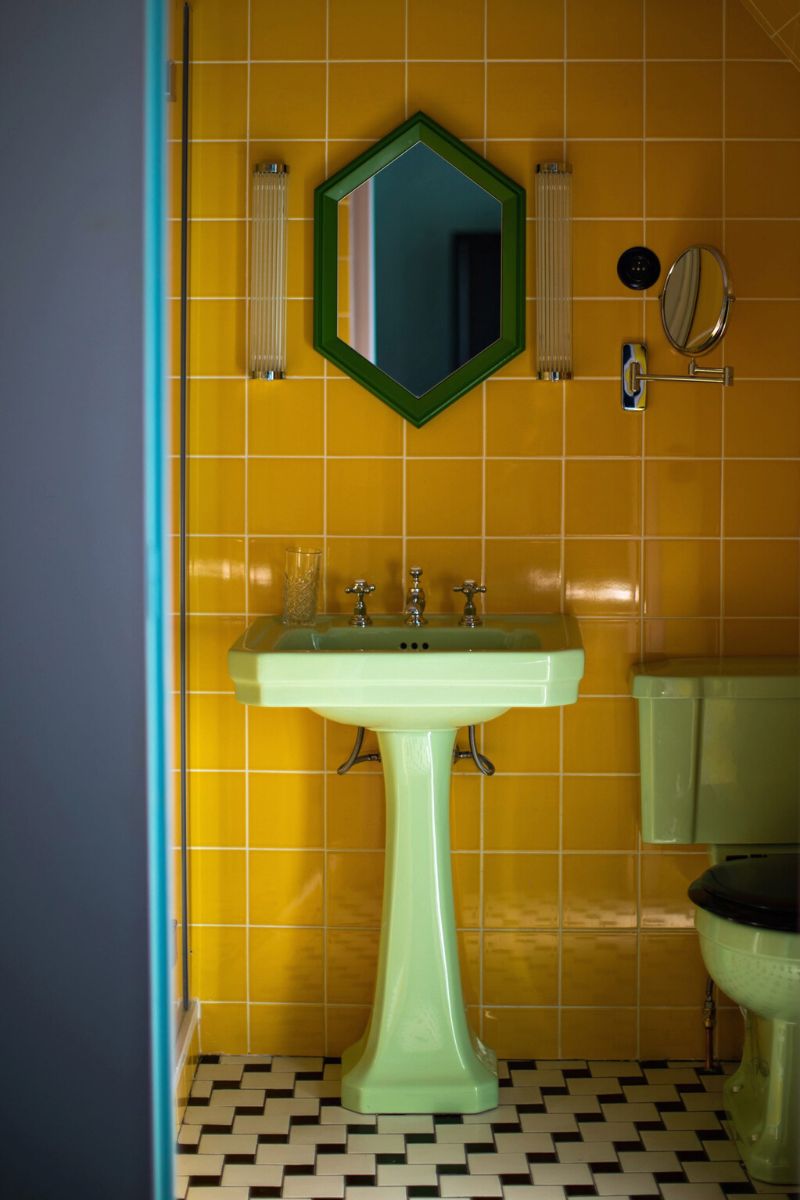 2. Annabel's in the UK by Martin Brudnizki
The bathroom at London members' club Annabel's is awash in pink, from the pale-pink flowers lining the ceiling to the pink marble sinks. Martin Brudnizki, the creator insightfully shared how decorating bathrooms is truly about imagination while adding how this is a club and people don't come here for reality, but rather come in bathrooms like these to be taken somewhere else.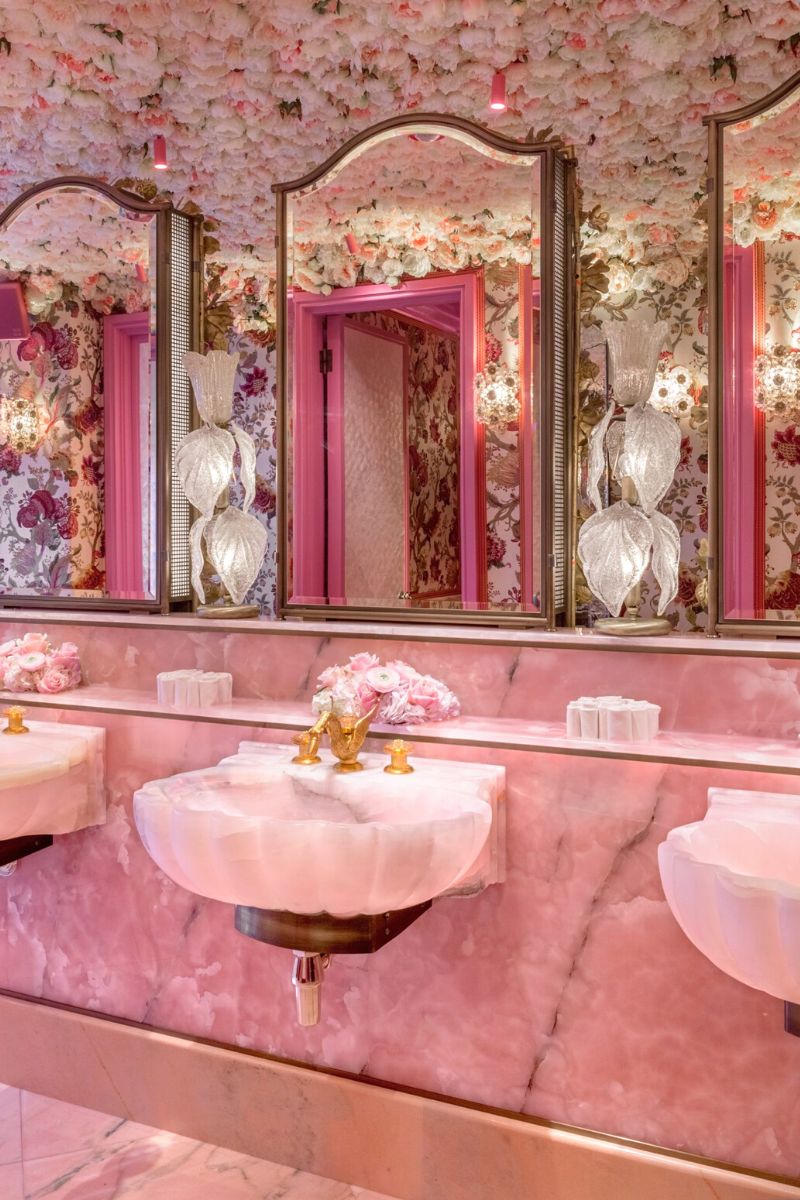 3. Hygge Studio in Brazil by Melina Romano
Another one of the eight colorful bathrooms can be found in this stunning project by Brazilian interior designer Melina Romano. In addition to red bricks that were fashioned into a vanity, terracotta tiles were used in the bathroom decoration of this property in Brazil. The forest-green wall next to it is dramatically contrasted by a black toilet, and the interior is coordinated with tan towels and green plants.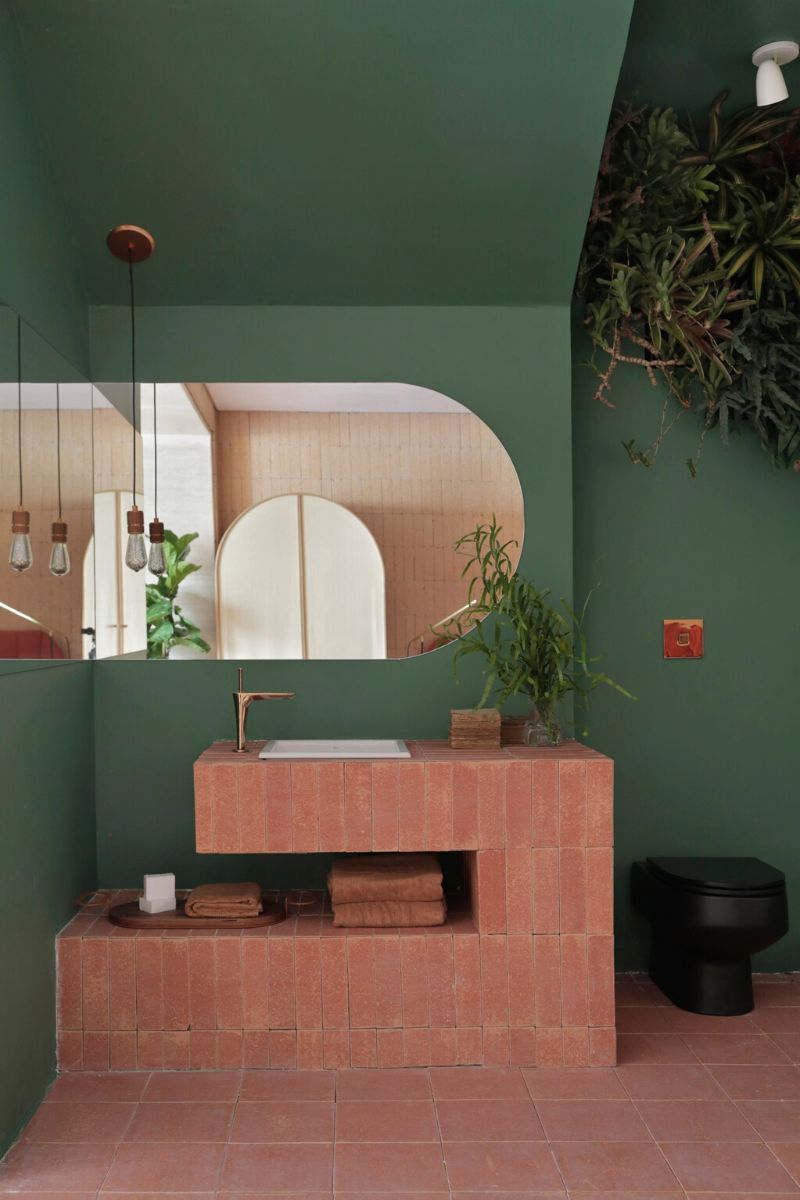 4. House Recast in the UK by Studio Ben Allen
A renovated Victorian terraced house in north London called House Recast was completely completed with colored concrete and is part of the eight most colorful bathrooms all around. Brass accents, such as the tap and temperature controls by the small, round basin, in the bright green bathroom contrast the color. What do you think of this one?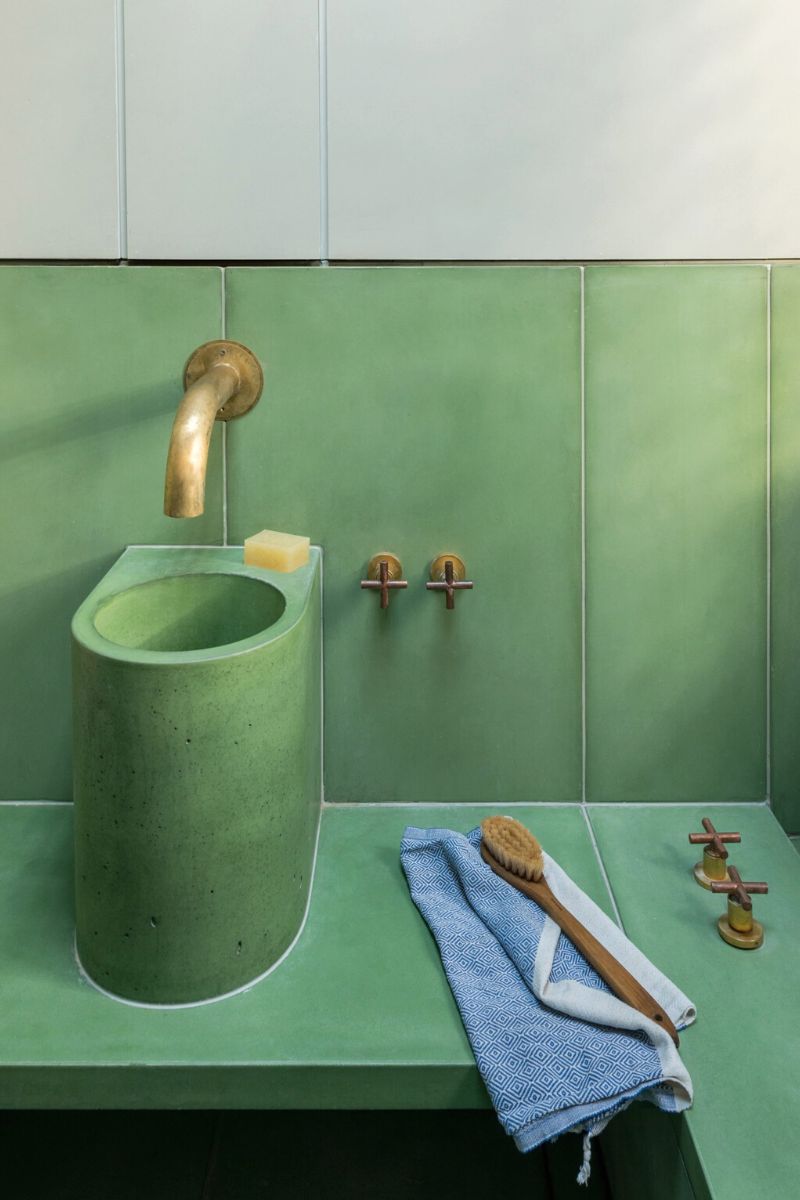 5. VS House in India by Sārānsh Is One of the Eight Most Colorful Bathrooms
The bathroom of the VS House in India, which was created to emphasize the nature of the materials used to finish the insides, has a black toilet that almost merges with the veiny green marble backdrop. The floor and walls were constructed out of grey Kota stone, a type of limestone that is produced in Rajasthan, in northern India. Definitely, a combination of materials and colors that'll hype up any environment.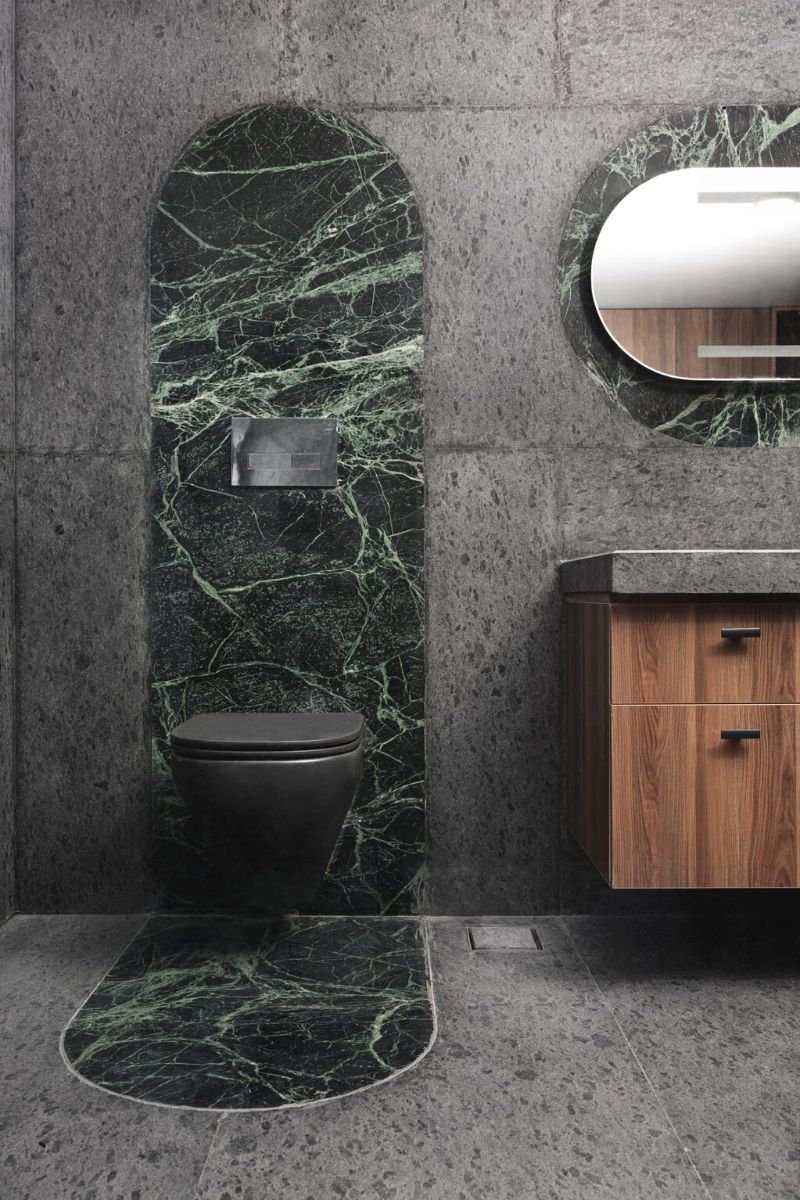 6. Nagatachō Apartment in Japan by Adam Nathaniel Furman
The Nagatachō Apartment, designed by Adam Nathaniel Furman and located in Tokyo, is awash in color and features a lovely pastel bathtub. A baby blue sink unit with a bright, cheery yellow tap contrasts with a pink toilet in the bathroom. The question comes to be: who wouldn't love a colorful bathroom like this one?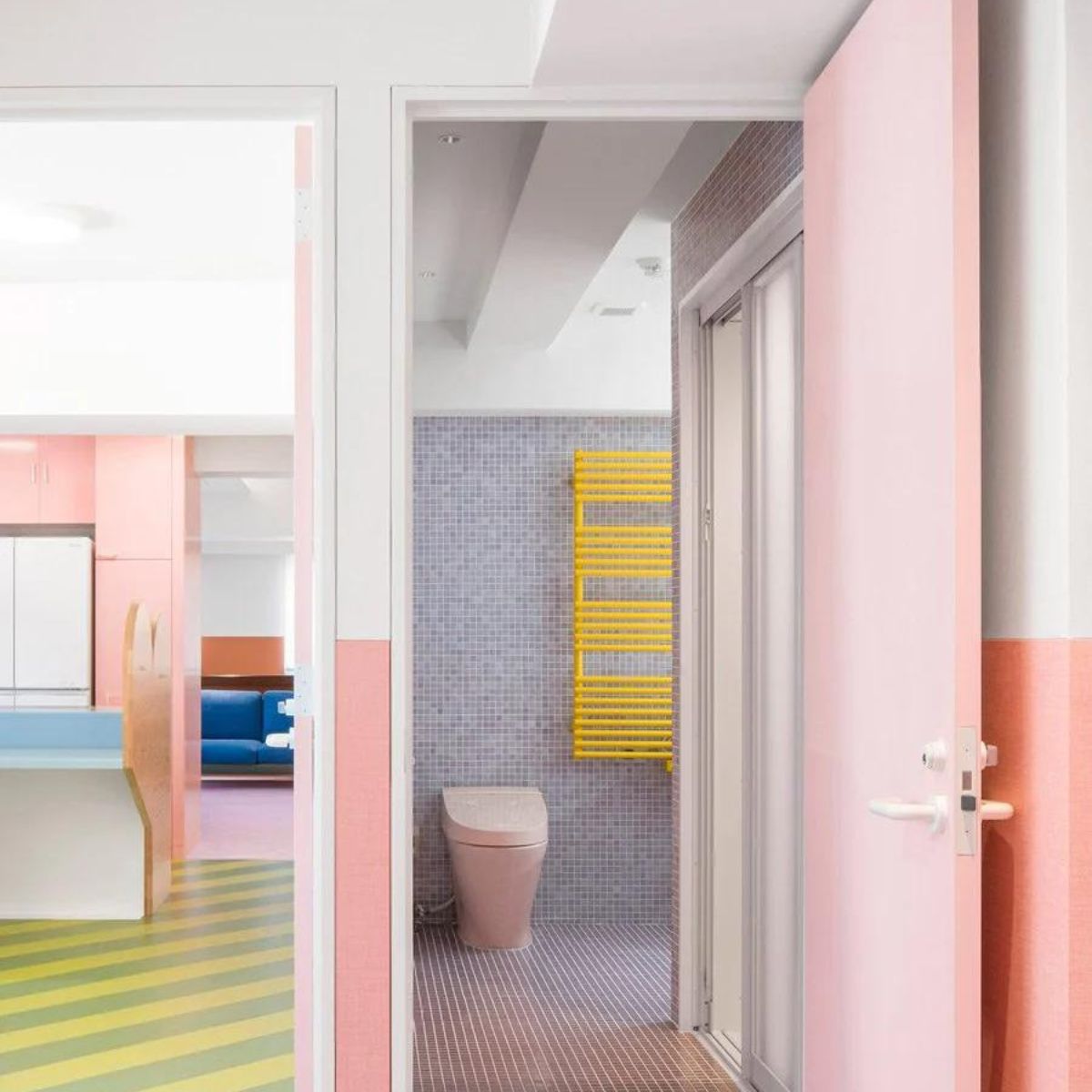 7. Small House With a Monumental Shower in Portugal by Fala Atelier
In this property in Amarante, Portugal, the bathroom and shower are housed in a 'shower tower' designed by the architecture Portuguese firm Fala Atelier. Mint green tiles cover the walls within the tower, and a matching sink surrounded with a light green marble finish provides visual interest, making it one of the most colorful bathrooms yet again.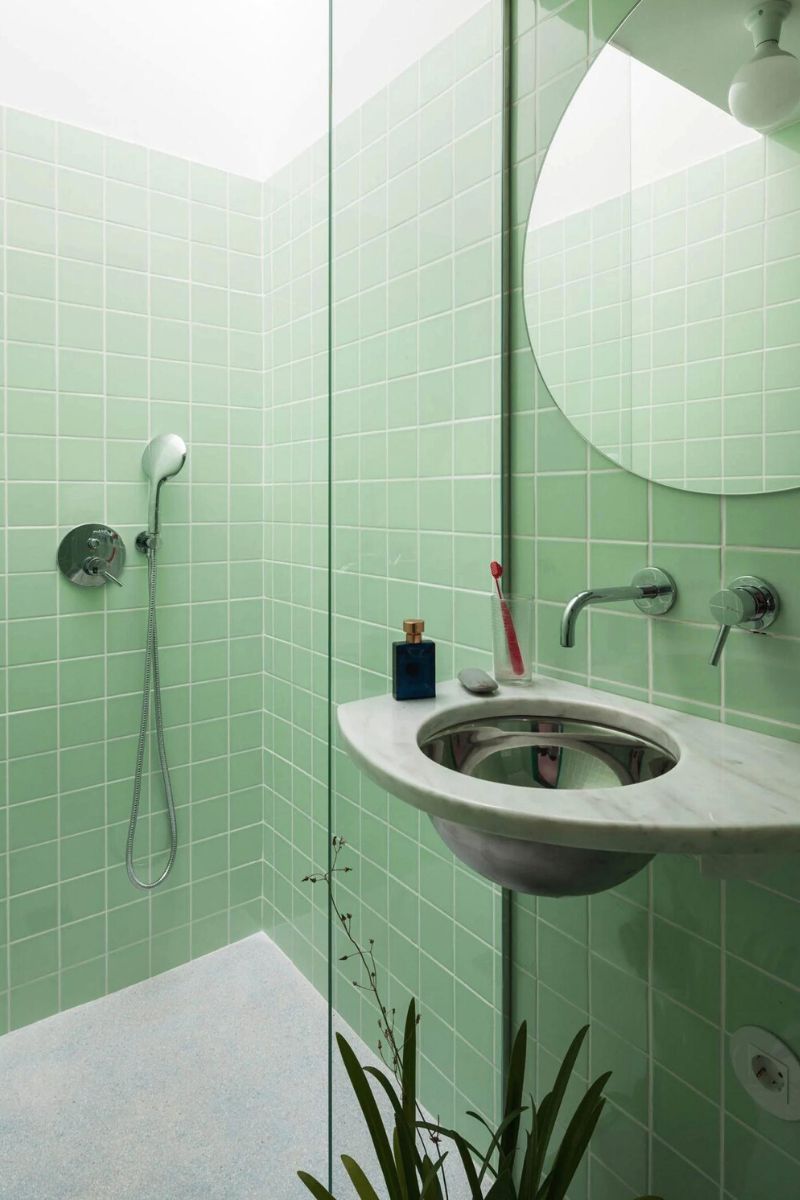 8. Unit 622 in Habitat 67 Canada by Rainville Sangaré
The brutalist 'Habitat 67' building's apartment design by Rainville Sangaré is primarily discretely colored, but the bathroom's colorful basins and matching mirror break up the space's otherwise monochromatic surroundings. The smaller of the two washbasins is used to wash calligraphy brushes and has a black Corian surface.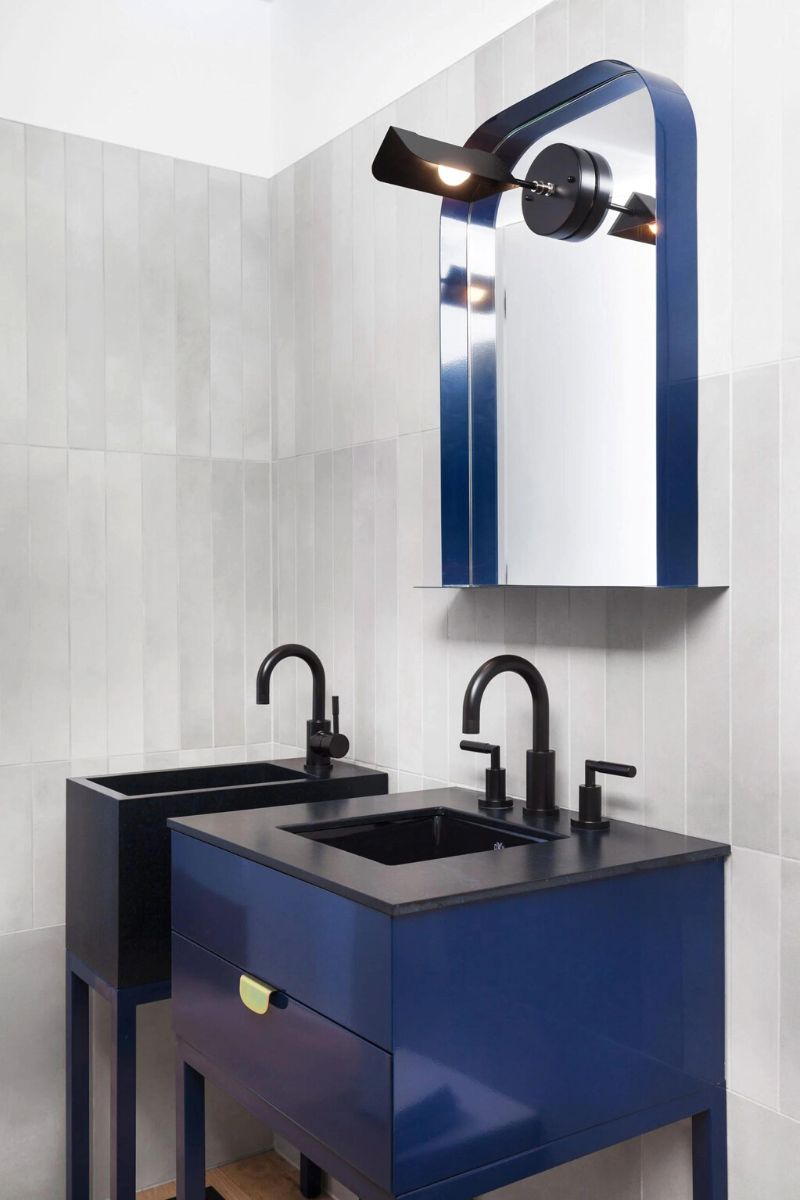 With that, the list of eight of the most colorful bathrooms comes to an end but how cool is it to feature so many colors and tones in a space? Color is what definitely gives life more life!