HydrangeaWorld presents Hanneke Frankema, one of the best floral designers in the Netherlands. Let her bedazzle you with her sometimes outrageous, sometimes very subtle, always beautiful designs with classic hydrangeas. This is the time for classic hydrangeas. And this is Hanneke Frankema with classic hydrangeas at her best. Enjoy these three designs with the comments and compliments from Hanneke.
Master Florist
Since Hanneke Frankema was awarded the title of 'Master Florist' – at the time the youngest florist ever to do so – her floral life has been a rollercoaster of activity. With numerous prizes to her name, recently winning the National Dutch Championship of floristry 2018, and a wealth of international experience, Hanneke Frankema is a highly sought-after guest arranger, regularly traveling around the world to perform demonstrations, teach, and inspire. Thanks to her rich experience in creating special flower arrangements – be that for trade fairs, shows, schools, colleagues, or private customers – Hanneke is able to bring her own, very personal creations to life, characterized by her use of color, avant-garde techniques, and an unfailing eye for detail.

Three Designs for HydrangeaWorld
Hanneke made three wonderful designs for
HydrangeaWorld
to show the beauty of this grand flower at its finest. Just sit back, enjoy, and get inspired by these wonderful displays of Hanneke's work.
Design #1
Hanneke Frankema: "This fan contains many beautiful hydrangea balls! The base is made of brown thick aluminum wire. The stems of the hydrangeas are very beautiful in this fan. It also gives this bouquet a lot of firmness! The flowers are deliberately only found at the top for a nice contrast. Beautiful
talinum Long John
stems can be found between the stems. Furthermore - to create depth - tendrils, caladium leaves, and phalaenopsis flowers have been incorporated. A nice detail is the wooden flowers that grow around the bouquet, as it were. These also give a lot of depth and character to the bouquet."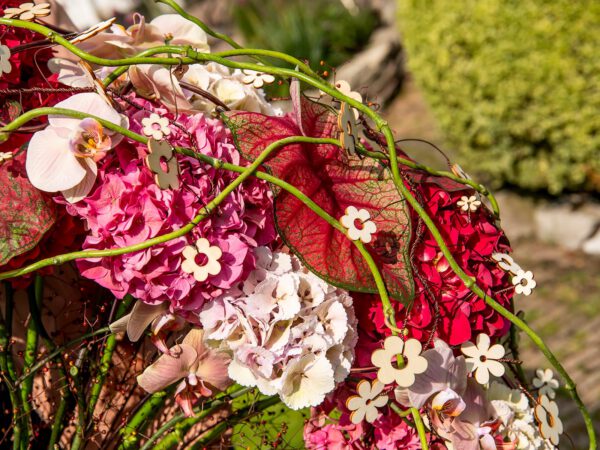 Design #2
Hanneke Frankema: "This is a disc bouquet with a frame underneath too! Fresh green with white! Also with beautiful tendrils and caladium leaf for depth and contrast next to the hydrangea! As a detail, I have processed beautiful curls of flat green aluminum wire! I found the quality of the hydrangeas especially striking! They were all super long! Nice full compact balls and sturdy stems! Lots of diversity, so it was a real joy to work with!"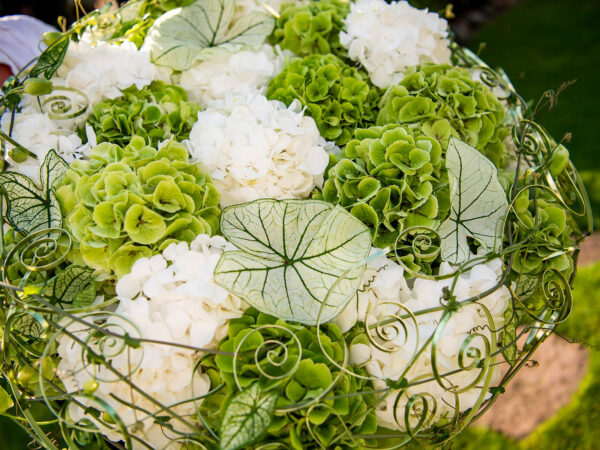 Design #3
Comment from Hanneke on her
Instagram
page: This one I totally LOVE! Not only the Flowers but also the light in the 📸🙏. A few weeks ago we were asked to make a series of designs with Hydrangea!!!🌸💪😍 You can see some of them in the latest edition of
DPK floral magazine
and later in other florist magazines!💪🌸.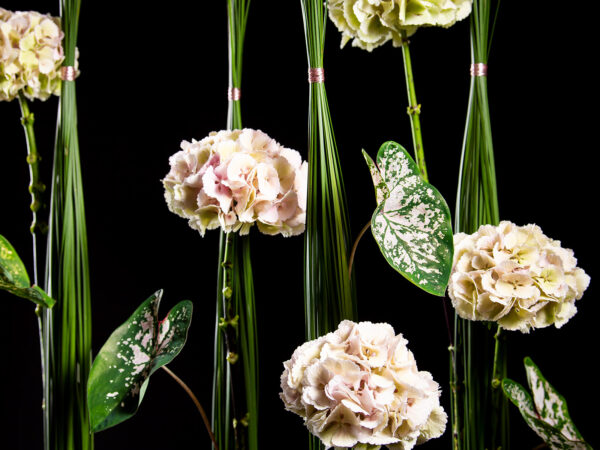 All images by Nico Alsemgeest, courtesy of HydrangeaWorld.