At
Uhuru Flowers
in Kenya, they have been wanting to reduce the amount of plastic they use in their packaging for some time now. They are happy that they have found a great alternative, paper flower sleeves. However, finding paper that is fully recyclable and still looks presentable after being packed in a box, was quite a challenge, explains Ivan Freeman, owner of the farm, in an interview with
Floral Daily
. Right now they are packing around 80% of their flowers in paper sleeves, but soon they will make the complete shift. "First we use up the last of our stock of plastic sleeves."
Recyclable Paper Labels
The paper they have found has no lamination or additives and is, therefore, 100% recyclable. For branding purposes, they even sourced recyclable kraft paper labels to apply to the sleeves.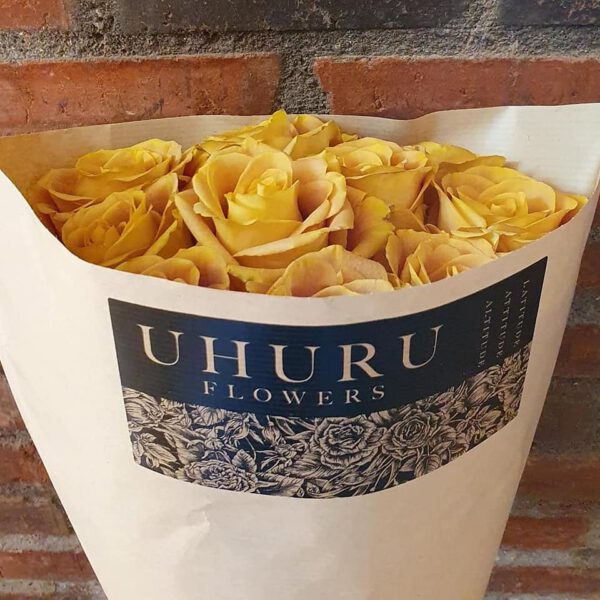 Expecting the Industry to Welcome This Change With Open Arms
There is, however, a cost implication when using paper instead of plastic, says Freeman. "The paper sleeves are a little more expensive, but we feel it is worth it." And he expects the industry and the consumers to welcome this change with open arms. "In an article published on Forbes last year, it was stated that consumers widely view paper as a more environmentally friendly alternative to plastic. In this article, they refer to a study conducted by Tow Sides in 2020, which revealed that 62% of consumers see paper and cardboard packaging as better for the environment. Additionally, 70% of consumers surveyed said they were actively taking steps to reduce their use of plastic packaging."
A Small but Perfect Farm Found in Timau, Kenya
Uhuru, which means "freedom" in the Kiswahili language, is situated on the northern slopes of Mt. Kenya near the town of Timau. The farm is at an altitude of 2,600 meters above sea level, making it one of the highest rose farms in Kenya.
Local Production by July This Year
At the moment, the paper sleeves are being imported, but later this year, they may be available locally. "Our supplier is hoping to install the equipment necessary to manufacture them in Kenya by July." For more information, visit
www.uhuruflowers.com
(copy via
Floral Daily
)