Named after Britain's coronation church, the Westminster Abbey rose shares the same color as the building's exterior. This is one of the most exclusive roses of our time. A favorite amongst brides for its large blooms and pleasing fragrance. Westminster Abbey is a spectacular addition to all kinds of flower arrangements.
Your New Favorite Wedding Rose
Westminster Abbey is a great rose for any wedding and bridal bouquet with its moderate size flowerhead. It has a spectacular color of brown-beige that slowly changes to an almost sandy-gray as it continues to bloom. Bred by Schreurs, the stunning variety promises to be a timeless classic with many possibilities. The garden rose has an average vase life of 10-12 days, making the sky the limit for Westminster Abbey.
Grower of the Westminster Abbey Rose
The grower of this striking variety is Vip Roses. 100% of Vip Roses' production occurs between April and November, meaning they offer a truly seasonal product. By shifting their focus to their topped roses and choosing not to grow during the coldest months, Vip Roses significantly reduce their energy usage. These conscious efforts result in an extremely small ecological footprint. Sustainability has become a passion of Vip Roses' and their results are certainly worthy of pride.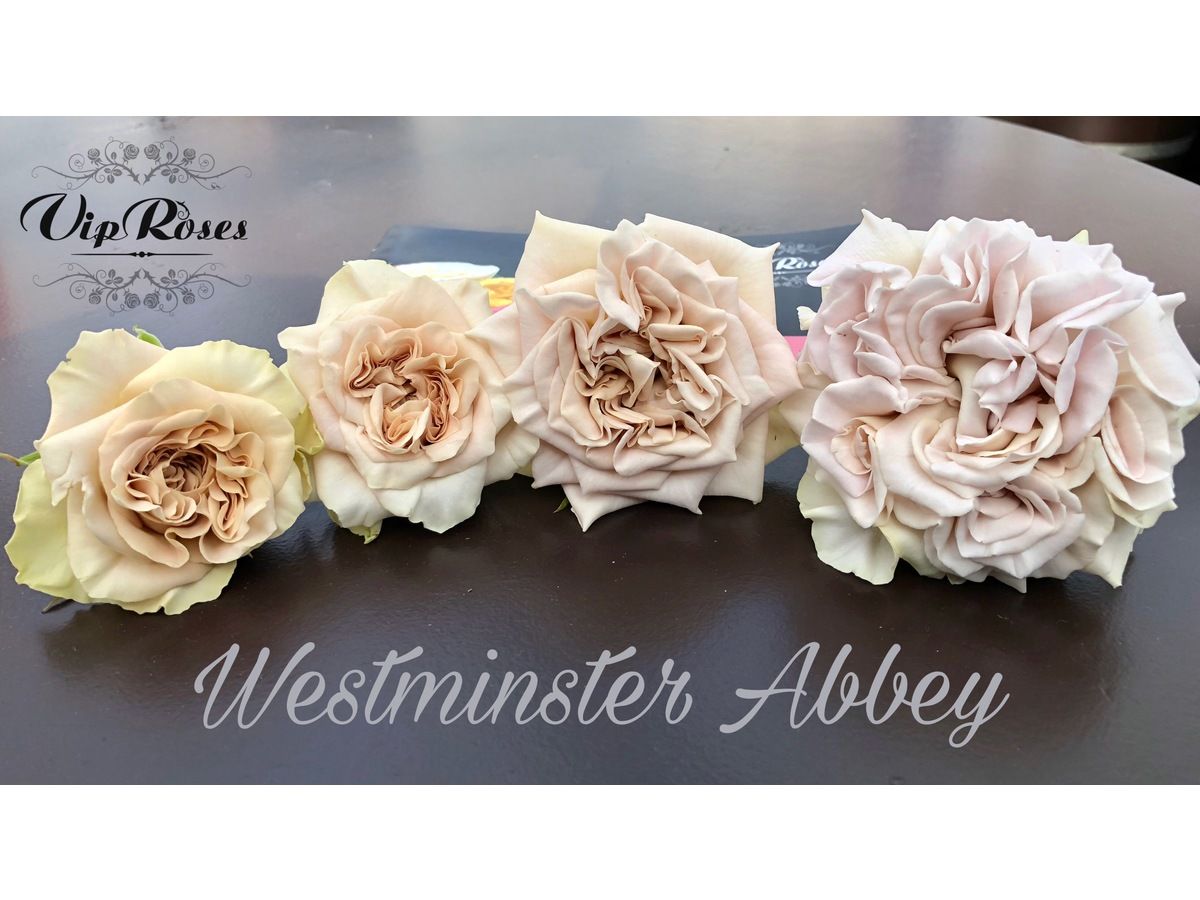 Vip Roses about the Westminster Abbey Rose: "We saw this rose in early 2017 at breeder Schreurs and it was love at first sight. Now almost four years later, it is one of the most beautiful roses in the flower world."
A Pleasure to Look at
Westminster Abbey is not an easy rose because it grows slowly, does not give many stems per plant, and is sometimes difficult to transport. But once you have this beauty in your hands, all of that is quickly forgotten as it remains a pleasure to look at, smell, and to work with. Available from April to November, Westminster Abbey is likely going to be on your wishlist for the coming season. Rose Westminster Abbey is easy to source at wholesalers and traders like Anton Spaargaren.