If there is one rose that comes to my mind for every kind of event, it is the Avalanche+ rose.
Strong, Versatile, and Absolutely Beautiful
I've been working in the flower and wedding industries for the last fifteen years and by now, I know exactly what flower to pick for each type of event. And Avalanche roses are always a part of my weekly flower order. Because they are really strong, versatile, and absolutely beautiful. They open beautifully, and for me, this is a very important feature of a rose to me.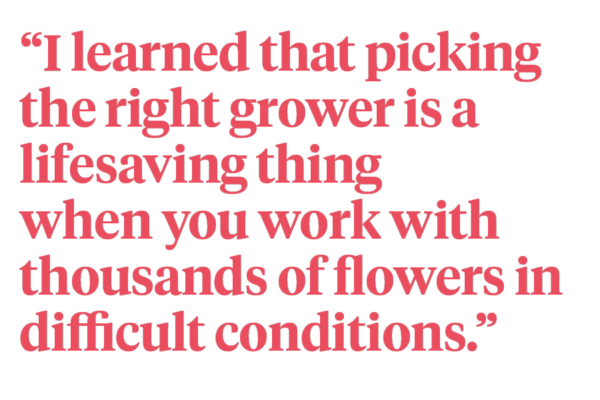 My personal favorite
I don't recall any major event that I had and not having Avalanche roses. My personal favorite is Sweet Avalanche+ because of its gorgeous color. Back to my favorite thing, I learned that picking the right grower is a lifesaving thing when you work with thousands of flowers in difficult conditions. I always pick Meijer because I can always rely on the quality. Also, the opening stage suits me best. They are a bit more open, and I think because of this, they stay longer and better.
Flori cu Fitze Academy
I also have a school for florists, "Flori cu Fitze Academy'' here in Romania and I use lots of flowers, and again, Avalanche is always a standing choice. Everyone who knows me, knows that I am a garden rose lover, and that's 1000 % true but I won't deny the fact that I use lots of Avalanche+ roses as well.
Visiting Holland
I stand for quality, I always have, and I teach other florists about the importance of good quality flowers. Two years ago, I start doing trips to Holland with my students, showing them the flower nurseries. Meijer was (of course) one of the growers that I always visit and I saw that, since then, my students have weekly ordered from this grower and that is amazing. So, whether it is a wedding, a class, a corporate event, or just an outstanding flower bouquet, Avalanche is always a very good choice. On one of my visits to the Meijer nursery, I noticed a big display with trophies and medals, and John Meijer said: "That's our hobby." #priceless! If they have a hobby in winning competitions with their roses, why not use this perfect rose in your everyday business ;) Oh, yeah, quick thank you to my supplier Flowering Direct for delivering the roses!
Question
PS: what's your favorite design? The urn with Avalanche+, what you can use as a Masterpiece, the flower bouquet with Peach Avalanche+, or the bridal bouquet with sweet avalanche?
Scented greetings from Romania- Alina Perfumella!