Monika Bębenek has many roles. She is a Master of floristry, the vice Polish Champion in floristry, and an international judge of floristic art. She is the owner of a floristic school and a flower shop. Teaching people gives Monika great pleasure and joy. She really likes looking at the growth and development of her students and how they are gaining the world acquiring new skills. Here is her story about how flowers helped her getting closer to nature.
Philosophy
Flowers became part of my life because of the need to be closer to nature, the need for beauty, and sensual discovery. After years of working with this unique material, I express my emotions using flowers, and I based my life and floral business on this principle. To be closer to nature, to view it more frequently, I introduce flowers into interiors, I surround myself with them and observe the cycle of life and the passing of beauty in each of its phases. Sometimes I just put flowers into a vase, other times I go deeper and create a floral composition or performance and I often respond to the clients' needs and create a floral design. I am amazed by their imperfection, fleetingness, and gentleness. I am from Poland, I love roses... I have a thing for them. They are a symbol to me. They are unique and universal at the same time.
Analysis
Open minds using flowers
Find your creativity with flowers and technique
Work in a team
Sensual use of plant material
Provide people (clients) with emotions
Make people happy
Think ecological, in an environmentally-friendly way
Make beauty and show it through flowers
These are some of the points that define my strategy. Opening the mind to organic material, especially flowers. Opening oneself to creativity in using and picking flowers, plants, and discovering new techniques, exceeding boundaries; the freedom of creation! Working in a team, connecting, and supporting one another. For me, it's power and strength. A team is a uniquely beautiful thing, full of freedom and respect, co-operation based on passion and love for nature, on a creative perception of flowers and plants. To many people, it gives happiness... a measurable joy, getting closer to nature. Dealing with nature and beauty... is there anything more wonderful?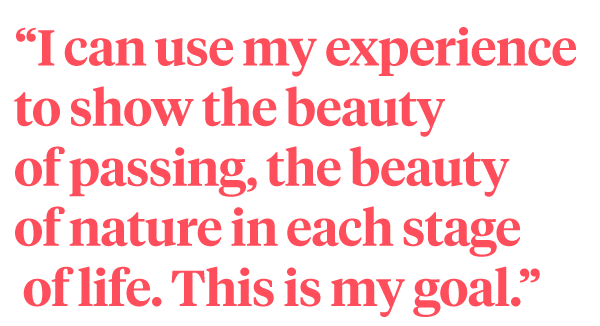 When we find it in a simple bouquet, that is power! It turns out that it is something more, that we don't need much to make it fun, that our creativity helps us take care of the environment, that we limit the use of plastic... that we see the passing and have time to reflect. We see the problems of the natural environment because we are a part of it. We create beauty, we show the beauty of flowers, we pay attention to what is important to us... we study beauty canons and we derive from nature all that we can! This is how I live and how I teach my students to convey emotions through flowers. This is how I help my clients to convey emotions through flowers, add more than words when it is difficult to express a feeling with words...
What is the purpose of this shoot?
This shoot is a step of my bravery. I used myself in the beauty of imperfection. It is to show that you don't need special occasions to spot the beauty of flowers, the beauty around you, and within you. You don't need any special occasions to spot beauty. It is another time when I grow by working in a team. We bestow watchfulness and talent to one another. We reinforce passion in ourselves, it is a beautiful and good time. Each of us gives something different, one gives time, the other gives talent, others give watchfulness and provides material support... At that time, I can slow down, take a look, ask questions... and then sit down together and talk. This is meaningful. Then, someone will see it, maybe feel it? I know that it comes around.
What happened during the shoot and preparations? How does it convey my philosophy?
The project includes four weeks of work, designing, analysis, sorting out, and logistics. It is a combination of various cells of the floral business, each in its own section. Only the result is visible, but there is much more... there is the gardener's heart, the manufacturer's vision, the logistics specialist's mind as well as the talent and coherent vision of the florist, make-up artist, and photographer. There is someone who combines this as well as people who provide help at various stages.
What's next? Opening the way onwards...
What is the result of the project? What does the theory of relativity have to do with flowers? It confirms the correlation between flowers and emotions. It showed me how much a shoot can give to a woman. It showed me tangibly how it allows feeling inner peace and acceptance and getting closer to nature. It showed me how it affects the surroundings and what is the joy of creation. How many women would like to feel that? How much-hidden beauty is there in women? How do flowers help in extracting the beauty? It showed the power of flowers! I know that this way I can help other women to find their beauty, their peace. This way, I can use my experience to show the beauty of passing, the beauty of nature in each stage of life. Human beauty in each stage of life... This is my goal. Featured products by
Interplant Roses
:
Silver Lace®
,
Ivory Flow®
,
Charming Flow®
,
Antigua®
,
Royal Porcelina®
,
Summerrose®
,
Chococcino®
,
Red Lace®
,
Apricot Lace®
,
Sweet Flow®