What a year it's been. I don't know about you but for me, 2022 was a special year. Despite all the worrying and heartbreaking news from the outside world, this year for me professionally was filled with unforgettable experiences, exciting assignments, and collaborations. The cherry on the cake was this Christmas project, a workshop filmed for Homo Faber Guide, a great platform that promotes the work of European artisans and designers. I'm proud to be a part of their community of European craftsmen.
Homo Faber
It was a hot mid-July afternoon when I received a call from Milan, from Andrea Tomasi, the editor-in-chief of Homo Faber. Coincidentally, at the time I was in Italy, working on wedding flowers in Tuscany. It felt magical when he told me that I had been selected by the Guide, as one of four other prominent European floral designers, for their special Christmas project: a video workshop with step-by-step instructions.
Andrea asked if I would like to create a Christmas centerpiece for the film intended to inspire their readers and members of the community. Emily Avenson from Fleuropean was asked to make a fireplace garland, Gabor Nagy was asked to create a sculptural winter bouquet, and Italian sisters Laura and Teresa Cugisi of Puscina Flowers were asked to work on an enchanting winter wreath. My task was to create a lush table arrangement. Andrea said they selected me specifically because of my signature lush style. I was over the moon and said "YES! please!"

An Inspiring Christmas Tablescape
People who know me would tell you that I am quite ambitious. So I told Andrea that instead of making one centerpiece, I would rather create an inspiring Christmas tablescape and offered to film the workshop in my home studio in a 17th-century canal house in the heart of Amsterdam and to use my almost 4-meter-long dining table for the tablescape setup. After a few weeks of preparation, the team was assembled and the date set. We were lucky enough to work with some of the best Dutch suppliers and a leading rose grower Rosaprima. I selected several varieties of their roses and created an exciting contemporary color scheme for a very special, lavish Christmas design.
When Andrea Tomasi arrived on the film set and saw our table decorations, he immediately expressed his concern about using roses in a Christmas design. I told him that roses were certainly used very often by American floral designers in their stylish Christmas decors and that I had been inspired by some beautiful English Christmas floral designs with fragrant garden roses. Roses were my superheroes and they must stay!
To me, Christmas is a rich, lavish celebration traditionally decorated with accents of gold, red, and winter foliage. I consciously decided to keep the traditional colors - red, green, and gold - in my design. Impressive red Explorer roses were my first choice for this holiday arrangement. To make the arrangement look more sophisticated and contemporary, I added trendy nude novelty Moab roses, unusual lilac roses Govinda, and flamboyant magenta roses Mamy Blue.
We filmed in September, a few months in advance, to have enough time to edit the film and the images. Naturally, the supply of winter foliage was scarce. To create a clear Christmas design, I needed some traditional winter materials, so I pruned our pine tree that grows on our roof terrace as well as some hydrangeas, painted them with metallic spray paint, and mixed this winter-looking base with an exciting mix of top quality roses, ranunculus, and sweet peas.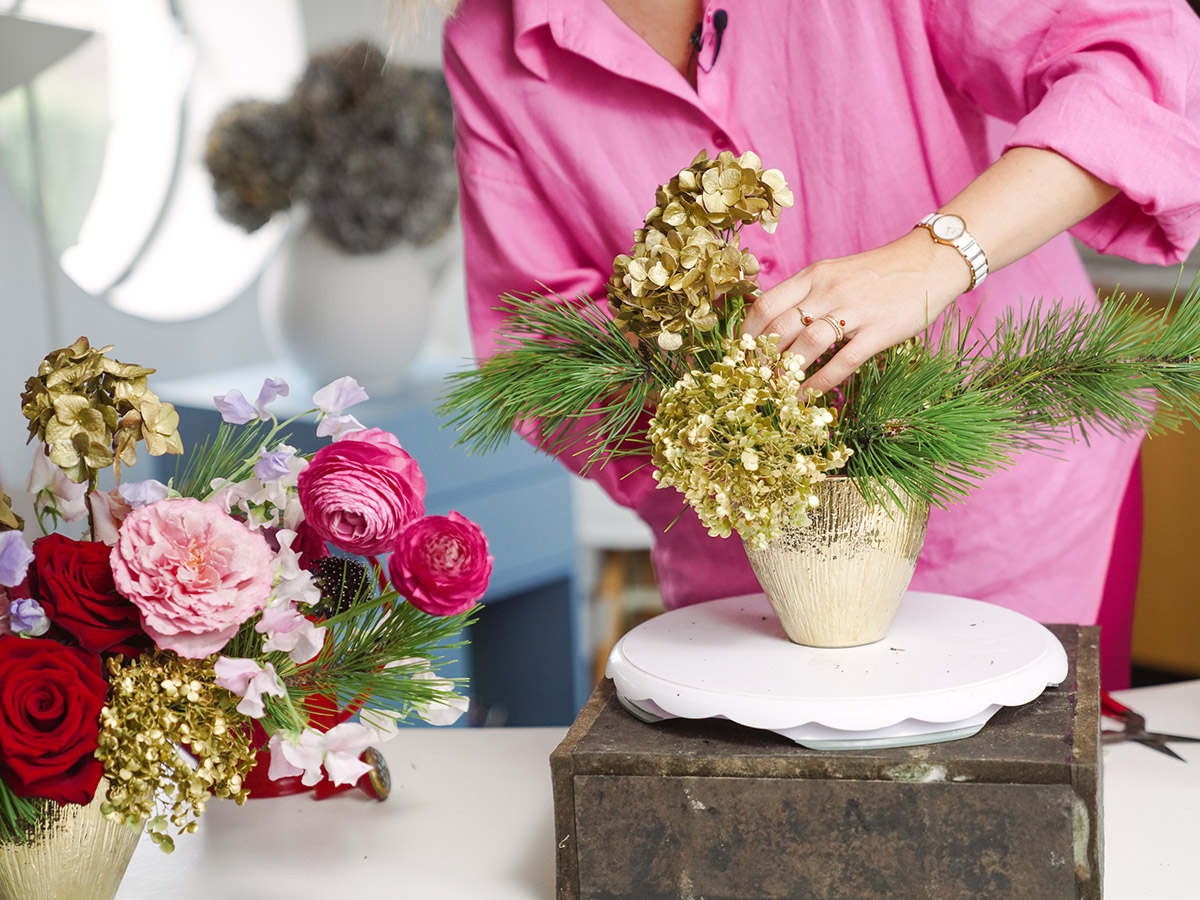 To make the arrangement look in my signature Katya Hutter Floral Design style, I added luscious, fully open soft pink garden roses Mayra's Pink, as well as my favorite sweet peas in soft pink, lilac and champagne shades.
In my event and wedding designs, roses are often fully open, at the peak of their beauty. I believe this consideration makes my designs look more impressive and attractive to my clients. Roses shine bright in my designs.
Here in the Netherlands, we are blessed to be able to work with sweet peas almost all year round. Thanks to a leading Dutch grower Lathyrus.nl I can get these delicate and unmissable romantic flowers also in winter. Though out of season the production is limited, there is always a bunch or two of these beautiful flowers available to add to my creations. I am often amazed at the quality, range of colors, and length of the stems of their flowers. They ship abroad, so I hope this little flower with great presence and wonderful fragrance can be enjoyed by many abroad also during the winter period.
The Team of Homo Faber
Few words about the team. The team of Homo Faber, Andrea, producers Naike and Giorgia, were great and organized the shoot in the best possible way. They hired the brilliant Krab Agency in Amsterdam. Their Dutch producer Alex (who reminded me of Vincent Van Gogh) and their film crew were extremely professional. I was obviously nervous and expected myself to perform as a hot mix of Oprah & Martha Stewart, which was rather impossible. Alex couldn't have been more helpful and nice to me. He gave me useful tips and guided me through the whole process. After watching the film an encouraging follower on Instagram commented: "Whaa! Sexy voice + hot accent! + Camera loves you! = Def. worth repeating!" Well, thank you! Special thanks to my MUAH Olga, she made me look prettier. I love the hairstyle!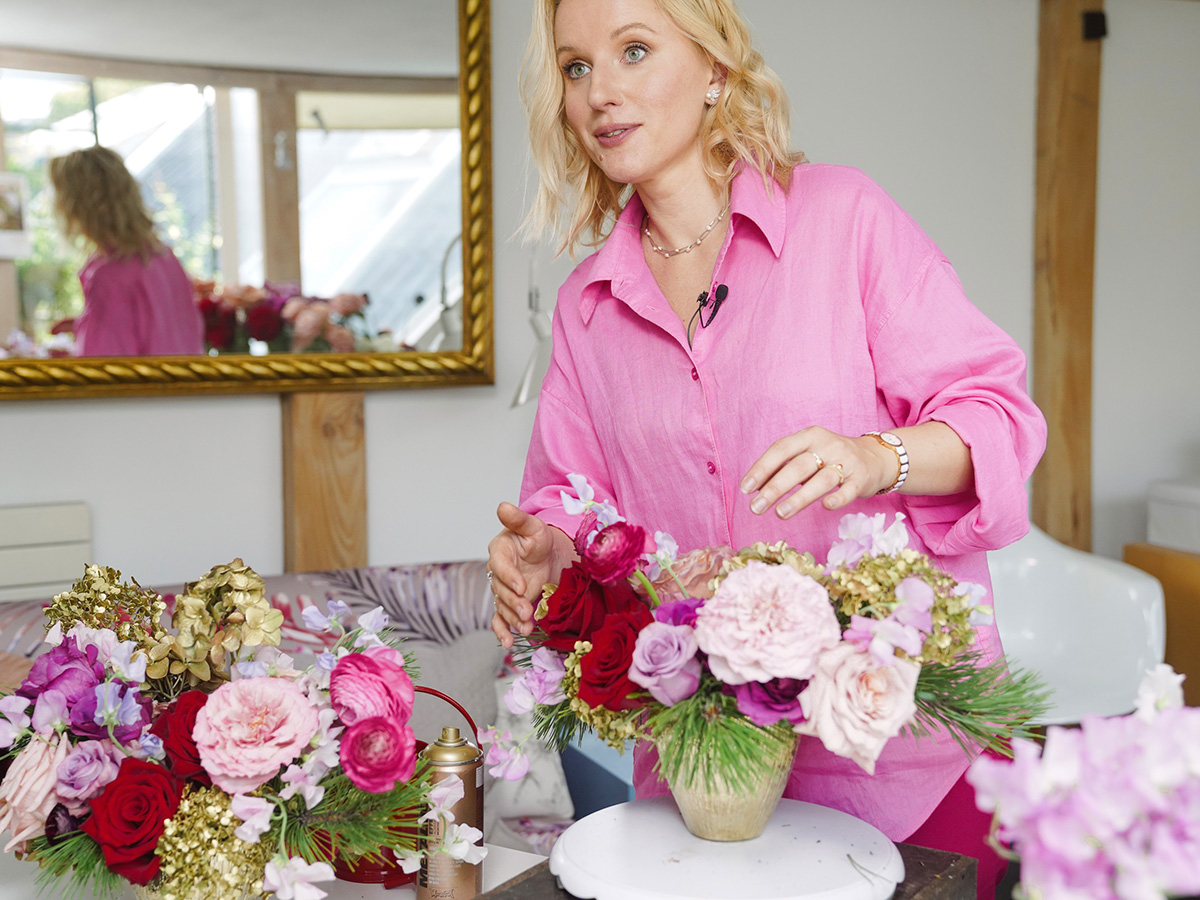 The beautiful pictures were taken by brilliant photographers Buusra and Erdinc Catras from Germany. I often work with them and recommended them to Homo Faber as I am always very happy with their work. I love their style, they create absolutely beautiful images. I am a big fan of their talent. Quite remarkable that as a real couple they are both such gifted photographers.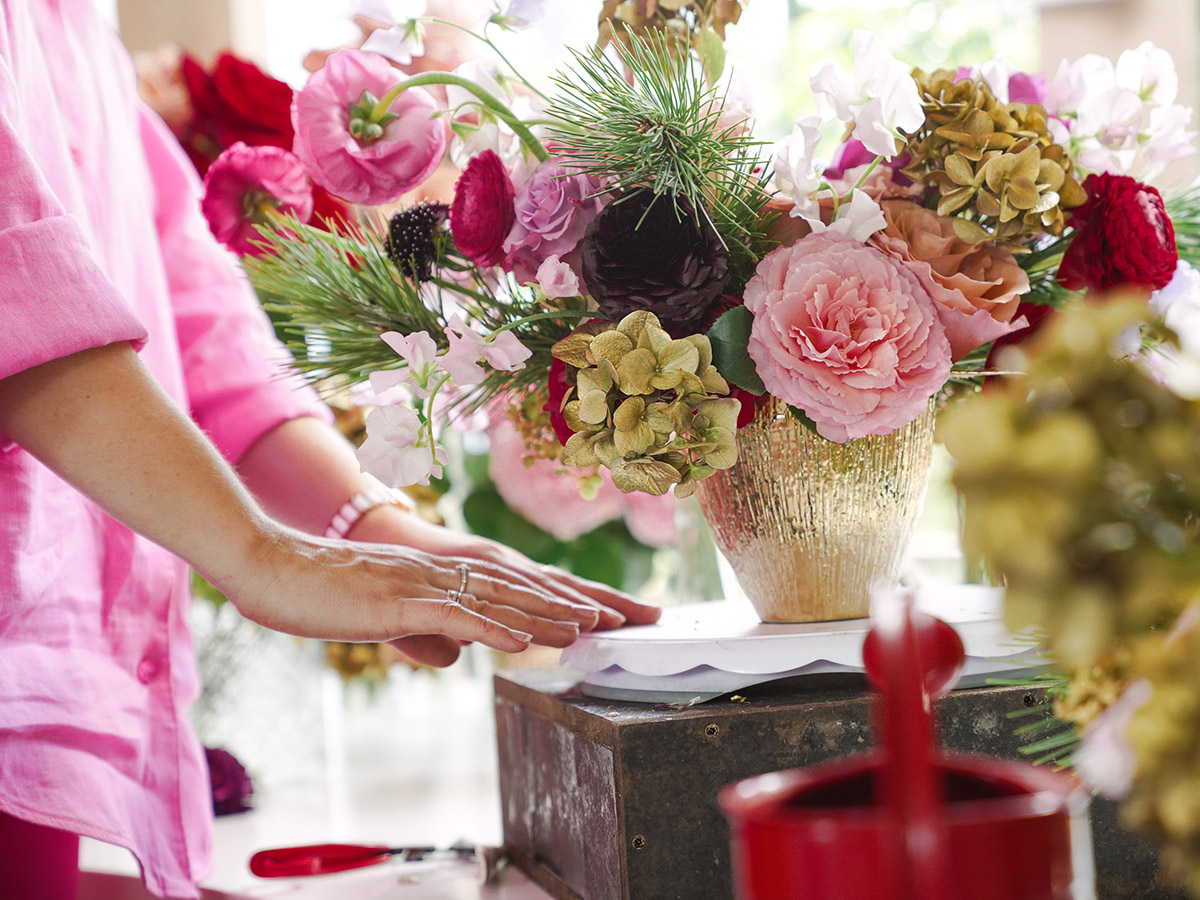 I am also thankful for my assistant, a talented floral artist Jamie from Los Angeles. Coincidentally, she was in Amsterdam and helped me to make the other centerpieces for the tablescape. It's so nice to be surrounded by very talented people.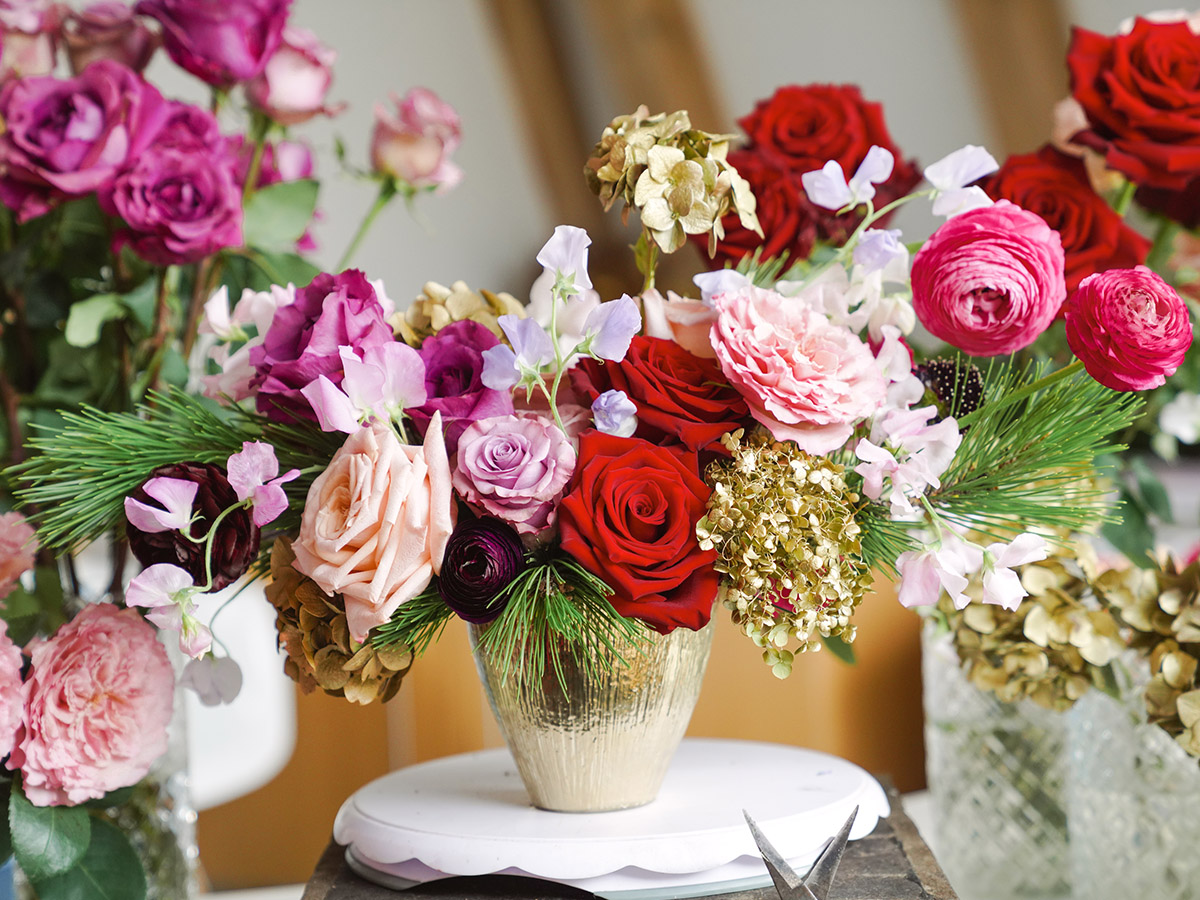 The setting would not be complete without beautiful styling. Together with my colleague, Amsterdam-based stylist Emilva from Sante Weddings & Events, we came up with a rather surprising color scheme for our Christmas table decoration. Emilva suggested adding black accents, striking ornaments, and highlighting soft pink hues by using chairs in this feminine color.
I love complex and unusual color combinations and for my part, I added a beautiful original kimono obi tie table runner that I got from my good friend Toshi from Tokyo, as well as some black ranunculus, a hint of lavender, just for fun. We even had a cake with an amazing lavender and golden decoration made by a gifted baker Remya!
I hope this festive tablescape has inspired you to create your own unique and lush decor. Visit Homo Faber's website to watch the film with the full step-by-step description and the recipe.
I wish you a Merry Christmas and a Happy New Year!
Love, Katya xxx
Credits
Idea and Production: ©Michelangelo Foundation (https://www.michelangelofoundation.org), Homo Faber Guide @HomoFaber (www.homofaber.com)
Floral Design: Katya Hutter, @katyahutterfloraldesign (https://www.instagram.com/katyahutterfloraldesign/?hl=en)
Photography: Büsra Catras / Buushiigraphy, @buushiigraphy (https://buushiigraphy.com), Erdinc Catras @olive.wedding (https://olivewedding.de)
Film: Krab Agency, @krab.amsterdam (https://krab.nl/en/)
Styling: Emilva Tervoort, Santé Weddings, @sante_weddings (www.santeweddings.com)
Make-up & hair: Olga Stasevich, @olasevich
Assistant: Jamie Shin, @mango.gurl (www.mango-made.com)
Premium roses and ranunculus: Rosaprima @rosaprimaroses (https://rosaprima.com)
Roses supplier: Parfum Flower Company, @parfum_flower_company (https://www.parfumflowercompany.com)
Sweet peas: @lathyrus.nl (www.lathyrus.nl)
Cake: Remya's Cake Studio, @remyascakestudio (https://remyascakestudio.nl)