My name is Trijntje van den Reek and I am 16 years I am now in the second year of my level 3 training Flower, Green & Styling at Yuverta MBO Den Bosch. I was given the opportunity to make a flower arrangement with the chrysanthemum Ilonka and I grabbed it with both hands. I think it's an honor because not everyone gets the chance to make a flower arrangement for the Thursd platform. This is my stack of Ilonkas.
Challenging Myself
I have been working in my parents' flower shop for almost four years. This is Miranda's Bloemensalon in Heeswijk-Dinther, Netherlands. I have also done internships in three different Dutch companies: Bloemmarlou (Waalwijk), Bloemboetiek Helianthus, and Oogenlust (both in Uden).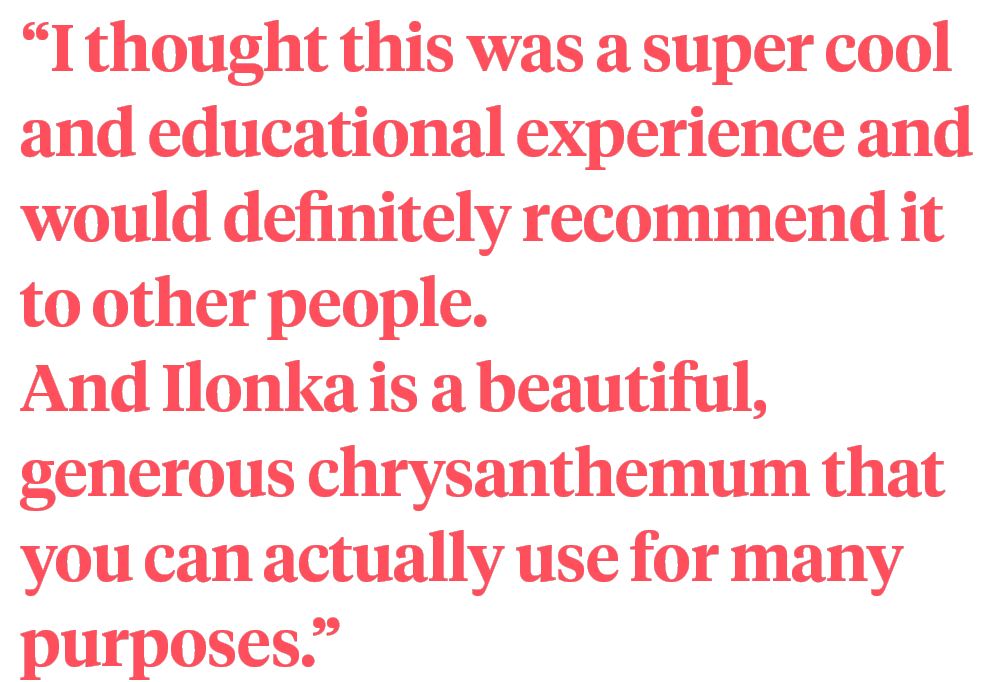 I like to challenge myself. Thursd lets us really try something new and different than in the practical lessons at school. In this assignment, we needed to look at flowers in a different way and think differently. Thinking about a narrative that fits my flower arrangement was also a challenge for me. That way it really becomes a work of its own.
Beautiful and Full Branches
When I saw the chrysanthemum Ilonka from breeder Dümmen Orange and grower Ed van Paassen (VannoVa) I didn't immediately get a certain feeling about it until I started working with it. My first thought was that the branches were very beautiful and they were also fully filled with flowers. Full branches always ensure good filling and generous bouquets.

I like the color! The snow-white chrysanthemum gives a calm feeling. Many people often think of mourning when they think of white flowers. I wanted to remove that image because it can for sure give you a completely different feeling. I enjoyed working with this chrysanthemum because - although I don't work much with these kinds of flowers myself - I have seen that you can do quite a lot with them and that made it interesting for me!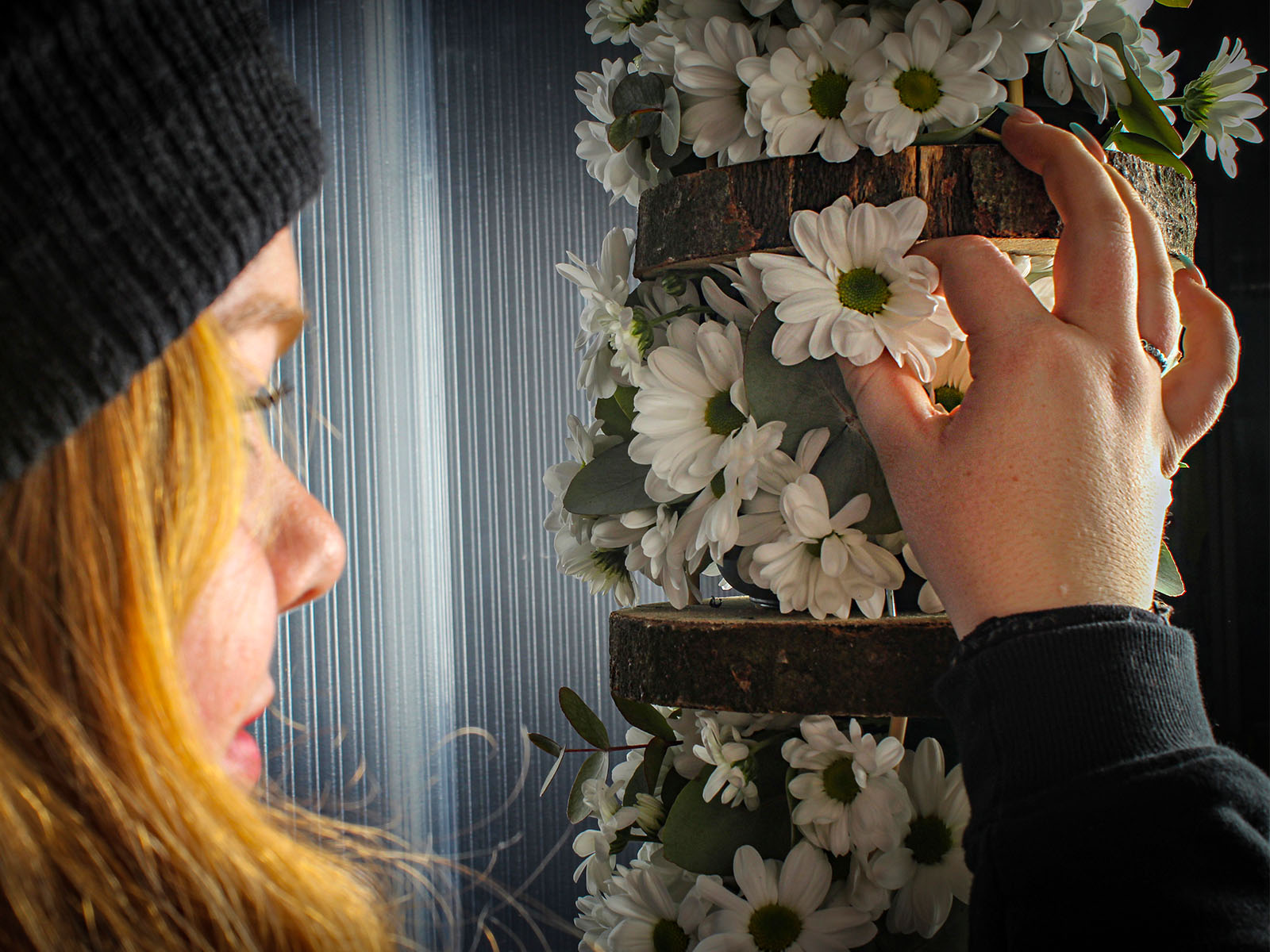 A Stack of Ilonkas
The idea of my design arose in a conversation with my sister. She inspired me because she said: "Can't you make a kind of present with floral foam in between?", but I thought the idea of ​​a present from chrysanthemums was a bit too sweet. I was thinking more of a tight, massive shape in which the chrysanthemums are placed tightly against each other. But the 'in between' part of my sister's remark grew on me.

Then I came up with the idea to make a stack with wooden discs, also because I have never worked with wooden discs before. Once I have an idea, I really go for it. So I wanted to continue this design with a stack with the Ilonkas in between the discs.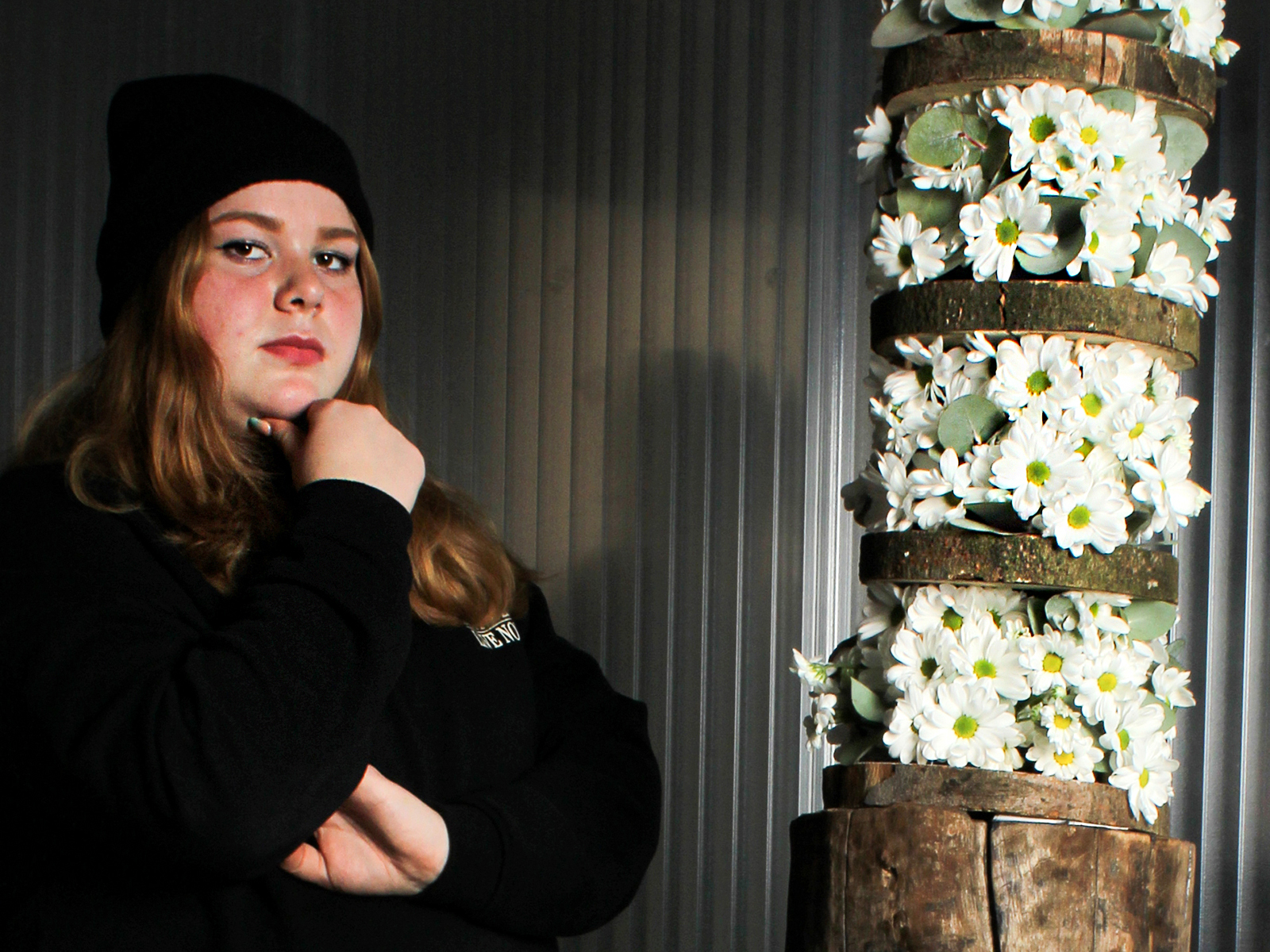 A Sturdy and Powerful Image
Wood is a rough and tough material. I wanted to create a sturdy and powerful image with my work. The chrysanthemum Ilonka fits in well with this image. A strong and powerful flower. In terms of the environment, I am thinking of an industrial space.

I have used other materials besides the chrysanthemum, namely eucalyptus. Because eucalyptus also has a calm color, it fits well in an industrial environment. The eucalyptus has a beautiful fresh color between the white Ilonka chrysanthemum and the rough wood.

I thought this was a super cool and educational experience and would definitely recommend it to other people. And Ilonka is a beautiful, generous chrysanthemum that you can actually use for many purposes.
Follow Me on Instagram
Do you want to see more from me? Then take a look at my Instagram account @trijntjes_flowers.

Practical support/advice: Coby van Otterdijk. Styling & photography: Elfi Voermans. Textual guidance/editing: Ruud Teutelink