You probably want to know why lilies are one of my favorite flowers. The varieties, colors, longevity, and diversity these blossoms bring have always intrigued me. I have been asked for the last couple of years to help with the EU Lily promotion and couldn't be more ecstatic to be a part of the flower promotion.
Lilies Are My Favorite Flowers for This Cinderella Pumpkin Design
This year we were focused on a group of compositions that everyone could be inspired by and feel comfortable creating on their own. I looked at building onto a table collection that was described in three different posts with a complete focus on Asiatic lilies. New exciting varieties are always intriguing and I would love to see more bi-colored options in the future. Asiatics don't have a strong fragrance so I love those for party decor.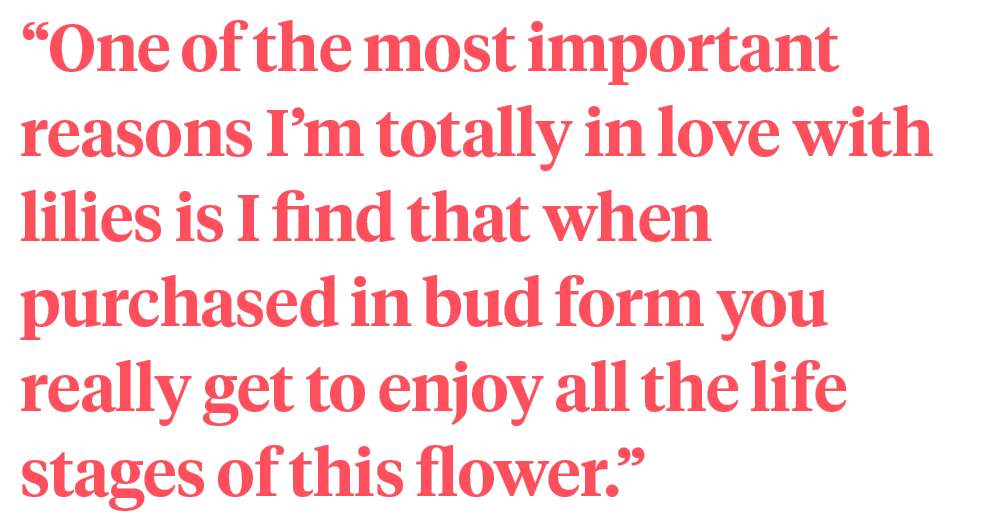 Creation for Halloween
In this Instagram video I showed how to take a large fresh Cinderella Pumpkin, and utilize new floral foam and lilies to create a fun design without having to carve out the fruit. Gluing the foam onto the top when it is dry to make sure it adheres and adequately slowing adding water so it is saturated. Then cutting the Lily buds apart and adding the flower in all stages of its blooming process.
Second, use an alternative to the standard floral foam and show a natural Floral Pouch placed inside multiple containers for a less condensed look and use these lengthwise down the table.
Check all my three Fall Fantasy videos here: @jennyt.floristry.
A Lush Table of Lilies
Fun embellishments of mini succulent tops, sheet moss, yellow rose hips, and copper beech made the pairing with the orange and yellow lilies perfect for the Halloween season.
The last pairing is both of these previous designs together with a couple of alternative glass vases to really show an eclectic mix of textures and colors down the decorated tablescape. A final touch of mini pumpkins, moss, and rose hips on the table showcases the lush table of lilies.
Autumn and Especially the Holidays
Since I love to use burgundy, whites, and oranges in a natural way utilizing many textures and color tints, tones, and shades, I believe these Asiatic lilies are perfect to combine in autumn. And for Christmas? Who wouldn't want to have his house decorated with bolder and stronger Oriental lilies? Bold and demanding in all means of shape, form, fragrance, and longevity.
The Vase Life of These Beauties
One of the most important reasons I'm totally in love with lilies is I find that when purchased in bud form you really get to enjoy all the life stages of this flower. An awesome experience!