It's Green Friday. I get more and more inspired by a sustainable lifestyle, both as a person and as a florist. My designs also show this more and more. So, when I received these wonderful, sustainably grown(!) alstroemerias from Dutch forward grower
Tesselaar Alstroemeria
I feel like designing something that will leave memories.
My Green Friday
Have you heard it's Black Friday again? You probably have, because you can't miss it in the commercials and ads everywhere. But did you know there is a growing movement that opposes all that mass consumption? Many businesses and people just say "No" to this money madness, and spend their day either buying something that helps the preservation of nature or simply buying nothing at all. No contribution to pollution today, that's the message.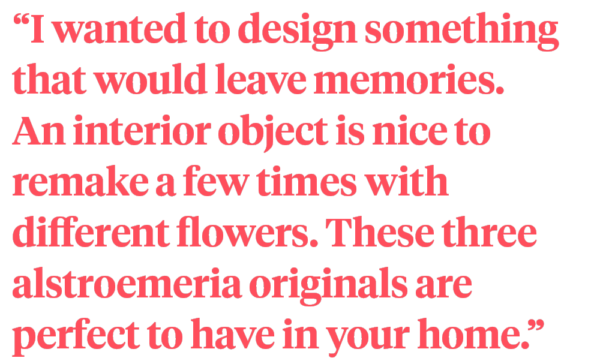 Refreshing Home Decoration
Flowers are home decoration, we all know that of course. But what if the flower itself would have an enhanced and refreshing role to play as home deco, like in being a lamp. It's not necessary to buy a new lamp, it's Black Friday after all, but you just make one yourself with these stunning and strong alstros. I have used the red
alstroemeria Noize
and the white
alstroemeria Mistral
, two colors that can be used as a mono decoration, but they also fit together very well in a design, and they match with pretty much every floral arrangement with other types of flowers. I wanted to design something that would leave memories. An interior object is nice to remake a few times with different flowers. These three alstroemeria originals are perfect to have in your home.
The Lamps
If it looks like a lamp, if it shines like a lamp, then it must be a lamp! With the help of
alstroemeria Noize
and some Icelandic moss, I decorated a set of two lamps and a standing lamp. The blooms of this alstro are so big and open! I loved working with these flowers.
The Y
'Why' (Y) is one of the biggest questions people can ask. And there often are no simple answers to that question. My Y is not a question, it's an answer, a sign of equality: why we are all equal. in spite of differences in gender, race, and religion. White is the color of innocence, open-mindedness, and being free of prejudices and bias. That's why I used this bright white
alstroemeria Mistral
in this design.