Didn't We All Miss Alden Biesen this Year?
Every year Fleur Creatif, the popular inspirational floral design magazine, organizes Fleuramour in September. It is the biggest Floral Event in Europe. This year would be the 25th edition; a true celebration! As Art Director, I had so many great ideas. But already early in march, we could tell it was not going to be possible to organize this year.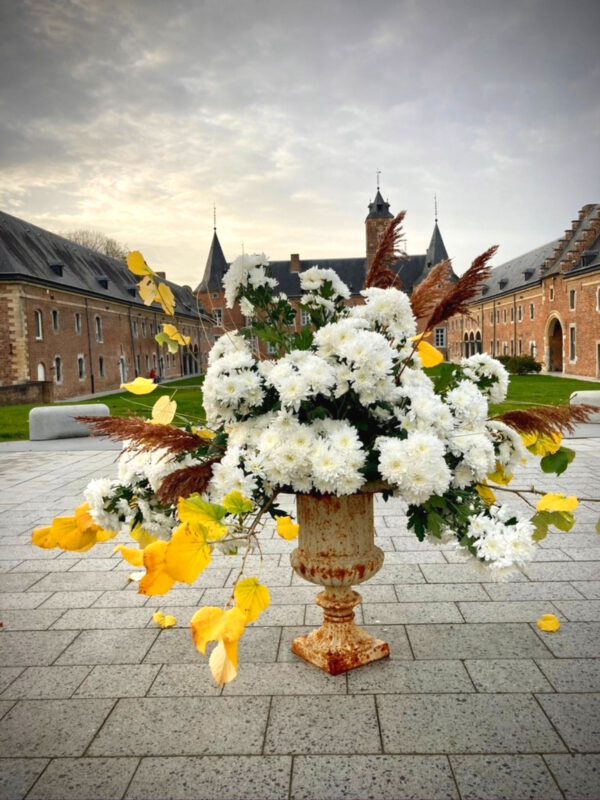 Pina Colada
With the beautiful Pina Colada chrysanthemum from Fred van Paassen, VannoVa, I made this floral celebration, a tribute to the beautiful castle of Alden Biesen, to Fleuramour, and on the other side memory to the best Pina Colada cocktails in history. Dümmen Orange, the breeder of these magnificent flowers likes to choose sturdy names and with Pina Colada, they speak to our imagination. Dümmen Orange represents a legacy of floricultural excellence for more than a century in the making, providing the largest selection of superior flowers and plants on earth. So that's exactly what the whole family of floral designers often did at Fleuramour:
"Enjoying each other's work and being together. Learning from each other and working side by side. Having a drink, listen to music while having the best barbecue."
Contemporary Atmosphere
This design is a classic one, but by creating some dept with the chrysanthemums and using brown natural materials in between, it creates a contemporary atmosphere. The yellow autumn leaves from the trees standing there gave me a joyful feeling, so I used them to give it a finishing touch.
Let's Hope
From the reactions of people walking there, I could feel it was the right juice to bring taste! Let's hope we can celebrate again in 2021!