Like many other florists and floral designers, I face some challenging choices in my professional daily work as an event floral designer. I am aware of many existential ecological problems, such as climate change, microplastic pollution of our aquatic environment, huge amounts of waste from non-biodegradable products.
To Use, or Not to Use Regular Floral Foam
I have to say that I often feel bad about using regular floral foam because I realize it doesn't help to solve these ecological problems. On the other hand, I have to use floral foam for efficiency and safe transport when working with a larger number of arrangements for events. There are of course many foam-free techniques, which I also use, but for bigger jobs, I prefer to use floral foam as it saves time and allows me to build an arrangement that is 100% the way I want it.
Sideau Floral Blocks
Recently I came across a very promising new product called Sideau created by AgraWool, a worldwide known Dutch company specializing in natural environmentally friendly cutting edge soil solutions for agriculture, growers, and gardeners. They have created a unique floral foam alternative, 100% biodegradable, made of basalt and sucrose. It sounds almost too good to be true, so I decided to test it.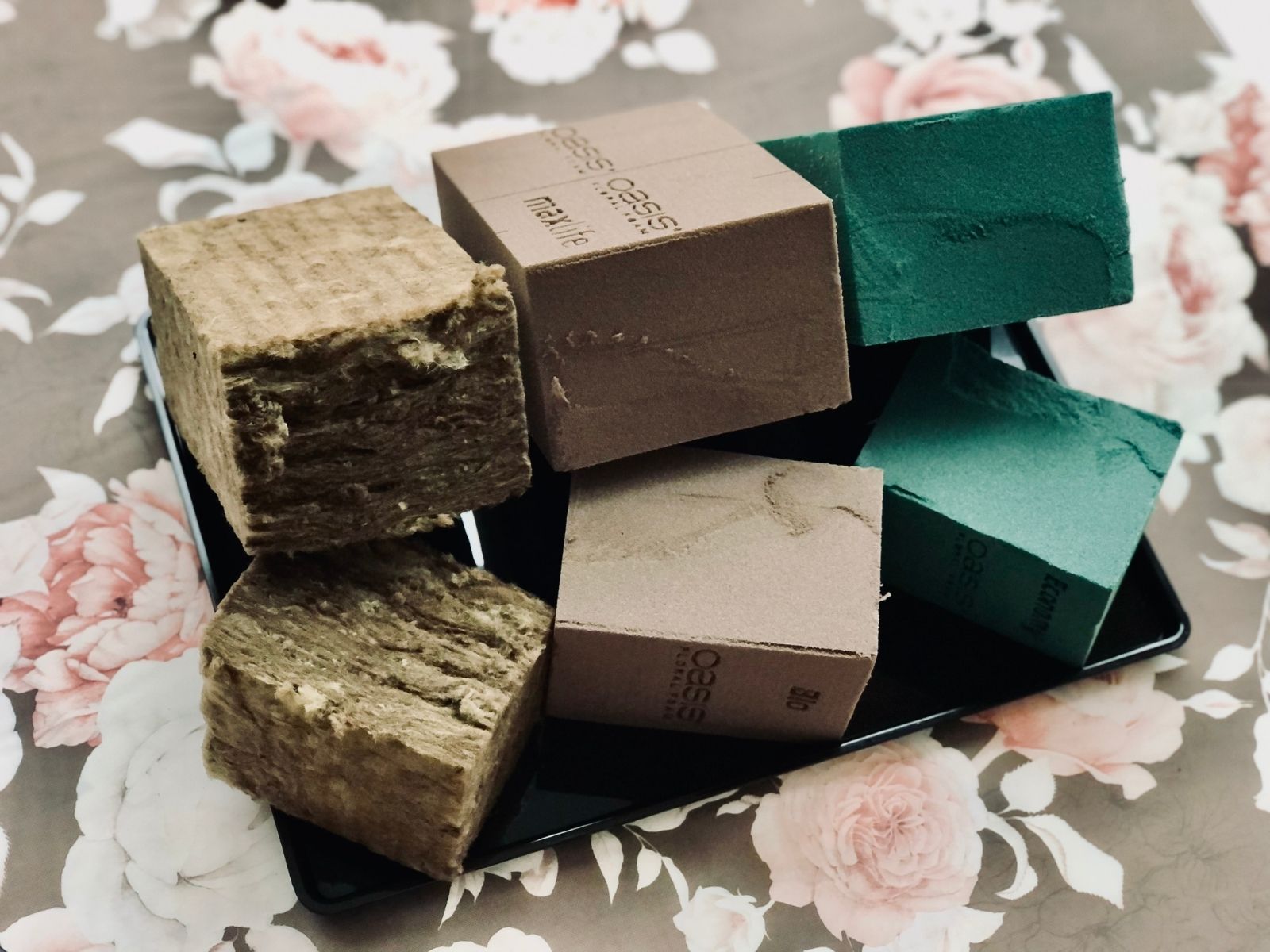 Important Is That the Quality of My Work Remains
I can assure you that this blog is objective and not a commercial partnership between me and any of the manufacturers of the products I tested. My goal was to find out which product can be safely used in my floral atelier so that the quality of my work remains at a high level and my ecological concerns are addressed.
And... I Put It to the Test
I tested overall performance, the time efficiency, how easy it is to work with the product, whether fragile stems can be easily pierced without braking, reliability - is it strong enough to keep an arrangement intact, the vase life of arrangements, and of course the question that bothers me is most - ecological qualities: what is it made of, biodegradable or not, the degree of pollution.
Romantic Arrangements for Valentine's Day
Since it's almost Valentine's Day, I decided to test it during this busy time of the year on my sweet romantic arrangements made with delicate materials like garden roses with thin stems, lisianthus, fragile grasses, and some dry material with easily breaking stems. I used a regular green Oasis floral foam, a brown Bio version of Oasis, and a Sideau block made by Agra-Wool.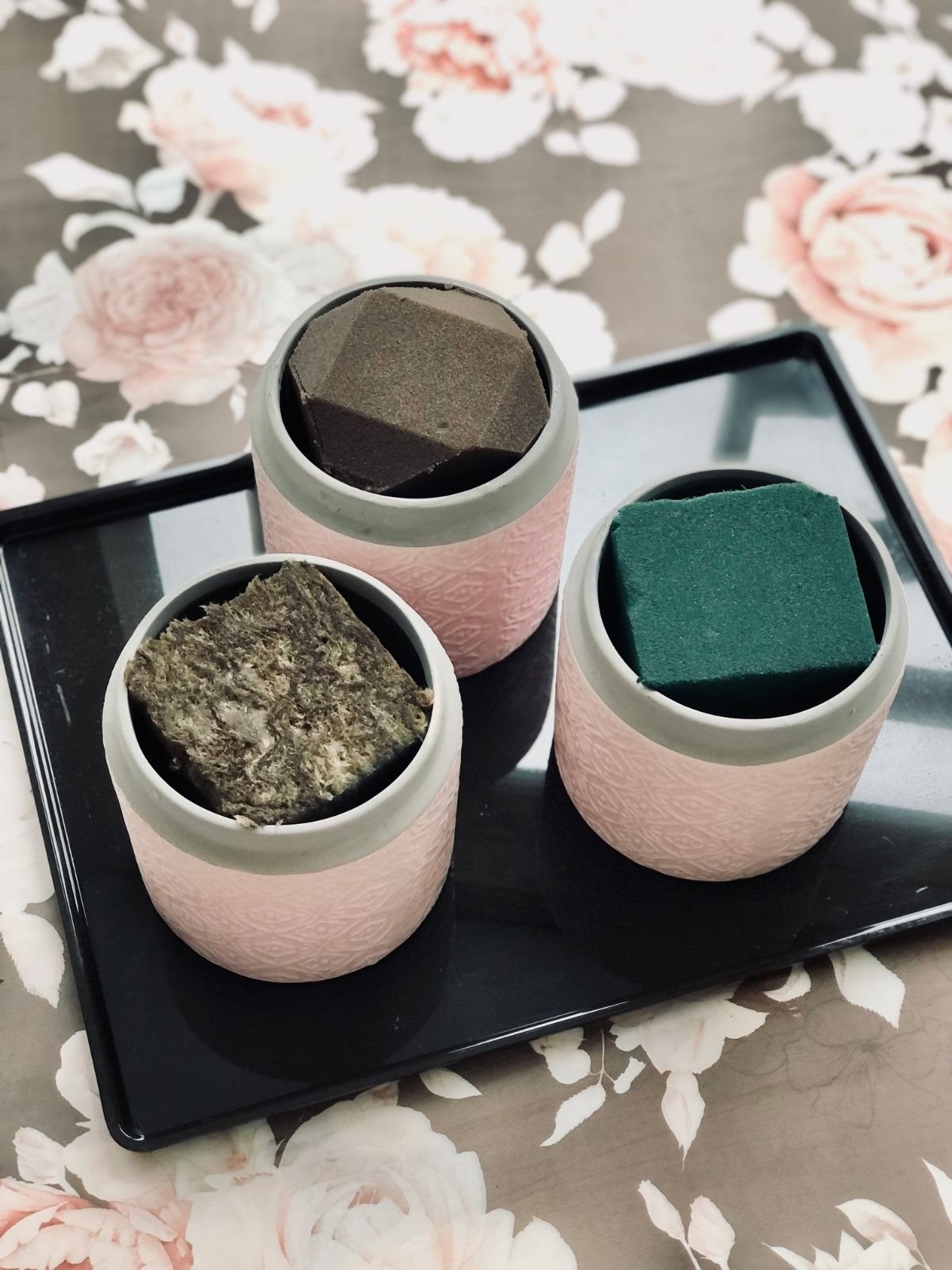 Microplastics
First of all, it's good to know what it's made of. An official website of Oasis states that their universal green floral foam is made from phenolic resin inert, if you google you will find a lot of scientific information about this material. From what I understood, it may contain some unwanted substances. A study by researchers at RMIT University found that floral foam contributes to microplastic pollution according to phys.org: https://phys.org/news/2019-12-floral-foam-microplastic-pollution-problem.html.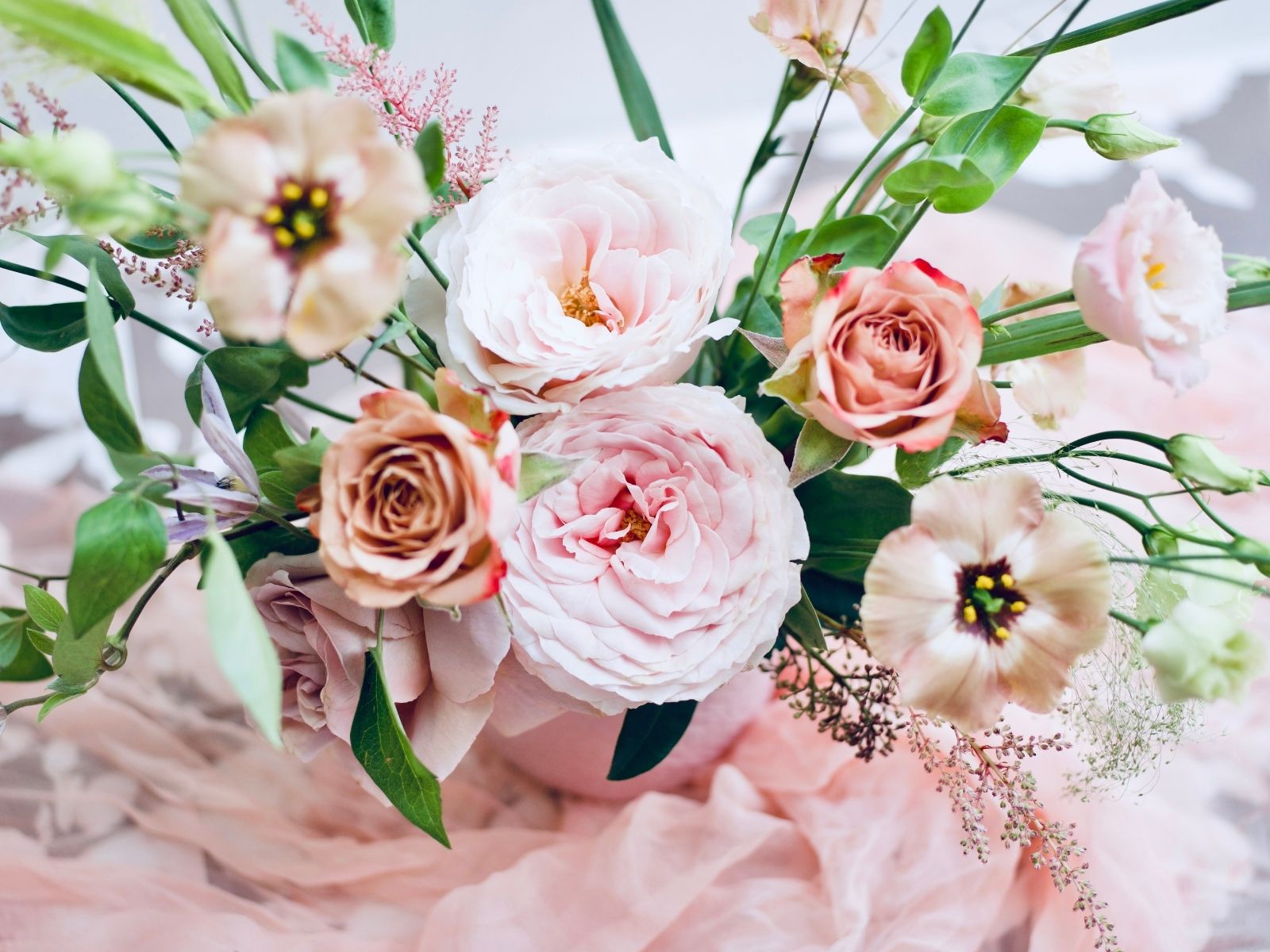 Oasis Bio Floral Foam
Oasis created another alternative product called Oasis Bio Floral Foam, which according to their website is 51.5% biodegradable in 365 days and 91% in three years. I couldn't find any info on what it's made of. It does feel like the regular green block: it is very dusty and crumbles easily. Is it also microplastic? The water absorption of the Bio version was slightly faster in my test compared to the regular green block, it took a few minutes for both types of Oasis floral foams to absorb water. As usual, I did it with extra care, because a floral foam is prone to the formation of air bubbles if handled incorrectly.
Sideau, a Dense Block of Pressed Wool, a Very Unusual Thing
Ok, let's have a look at the third candidate Sideau, an alternative for a conventional floral foam. It does look like a dense block of pressed wool, a very unusual thing. On the website of the manufacturer Agra-Wool, I found detailed information about its components: basalt and an organic binder of sucrose. No petrochemicals, acetylates, formaldehyde, and microplastic. It doesn't irritate skin and it's 100% biodegradable. It can be cut into small pieces after use and deposited in a compost heap or even can be reused as potting soil. Anything with roots can grow on it, says the producer. Basalt is full of nutritious minerals and is used to upgrade heavy clay soil. What remains when degraded is a basalt meal (salt) that is harmless to nature.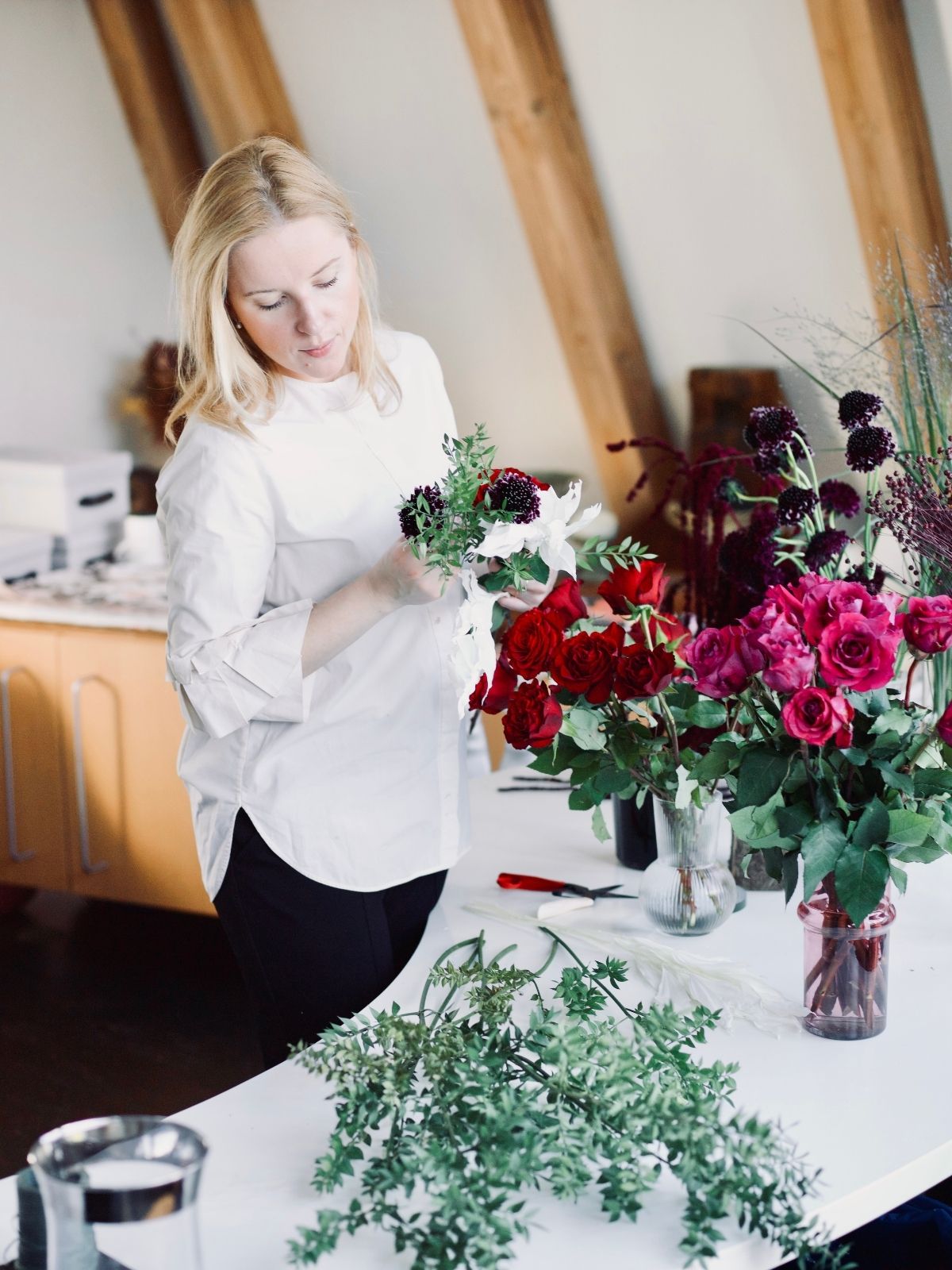 I Liked the Feeling
I was surprised by how quickly Sideau absorbed water and how easy it was to handle it. I almost couldn't believe that I just could place it in a vessel, pour water over it and it was through wet. I did remove it from the vessel and cut to check if there were dry spots or air bubbles and there weren't! It was just wet, spongy, there was no feeling of any dust covering my hands. I liked the feeling.
With Sideau I Had to Adjust My Technique
To test the different floral blocks I made three small flower arrangements using soft pink Japanese Wabara roses, lovely Cafe Latte and Cappuccino roses, unusual Bohemian Mocha lisianthus, astilbe, clematis, delicate grasses, and some dry materials. All the stems were different and specific - thin, easy to bend, soft or fragile. My conclusion: both Oasis blocks have one big plus: you can work with almost any stem: soft, hard, woody, delicate - Oasis lets it through without breaking, if handled correctly, and moisturizes your flowers well.
With Sideau I had to adjust my technique and prick a bit more often (sometimes using my knife) to get a stem through its denser texture. But it did work. Just a little patience and awareness during work. What I also liked about Sideau is that I didn't have to worry so much about replacing a stem, as its woolly texture didn't break so easily and could recover at least for one correction. Of course, just as with Oasis, you need to work carefully and use supporting materials like tape, foil, or chicken wire to support floral arrangements.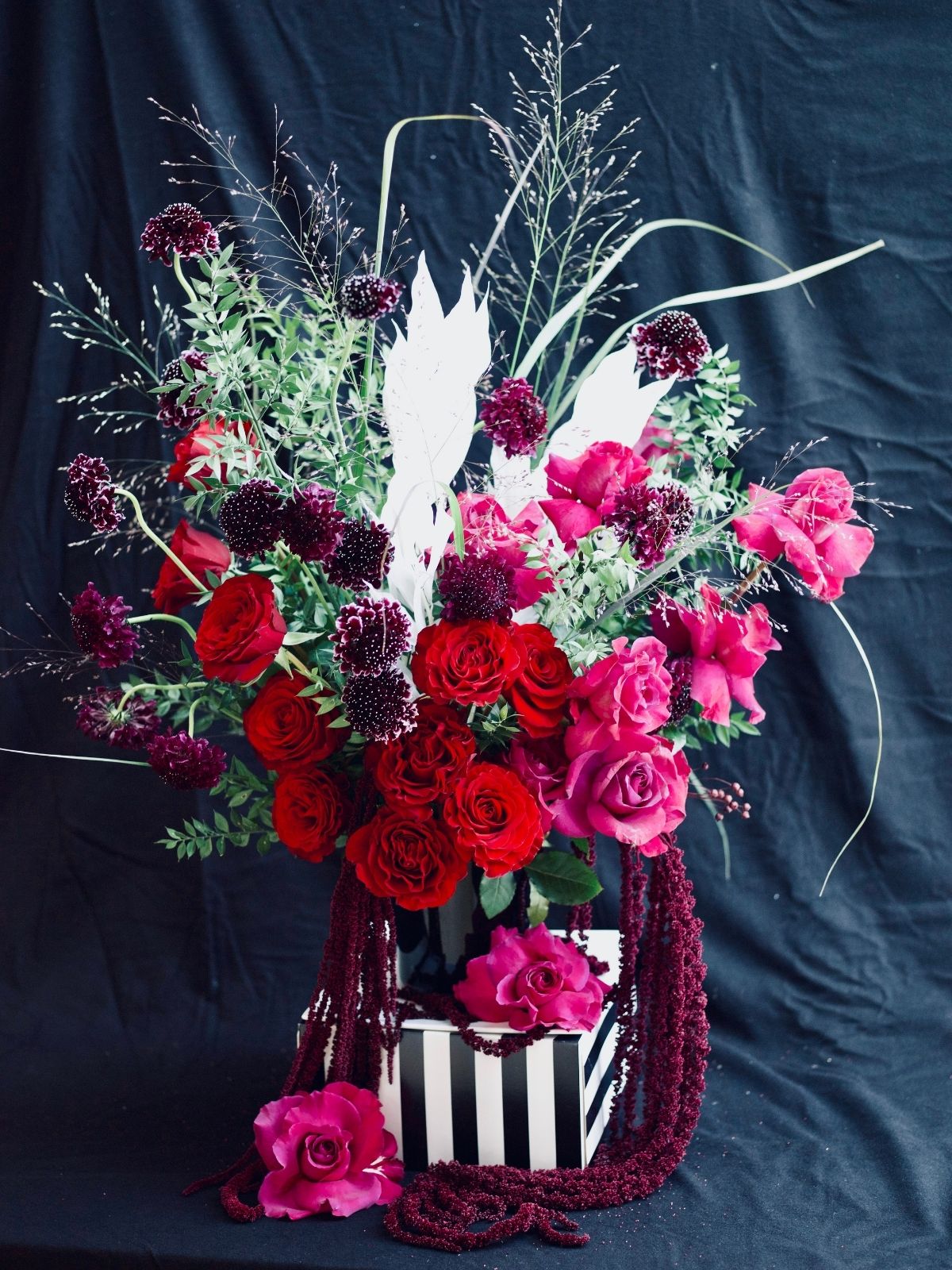 Arrangements in Any Floral Foam Have a Shorter Vase Life Anyway
Another important test is vase life. To test it properly, I also made a larger arrangement with two types of roses: beautiful red Wanted roses and heavenly scented Mamy Blue, as well as scabiosa, ruscus, amaranth, grasses, and some dry flowers. I found that fragile flowers like clematis and scabiosa held up a little better in Oasis, although overall all 3 floral blocks performed equally well. Arrangements in any floral foam have a shorter vase life anyway. This technique is, in my opinion, more useful for event floristry. For occasions, I prefer to make hand-tied bouquets or use another grid such as tape or chicken wire, so flowers can drink water directly from a vase and last longer.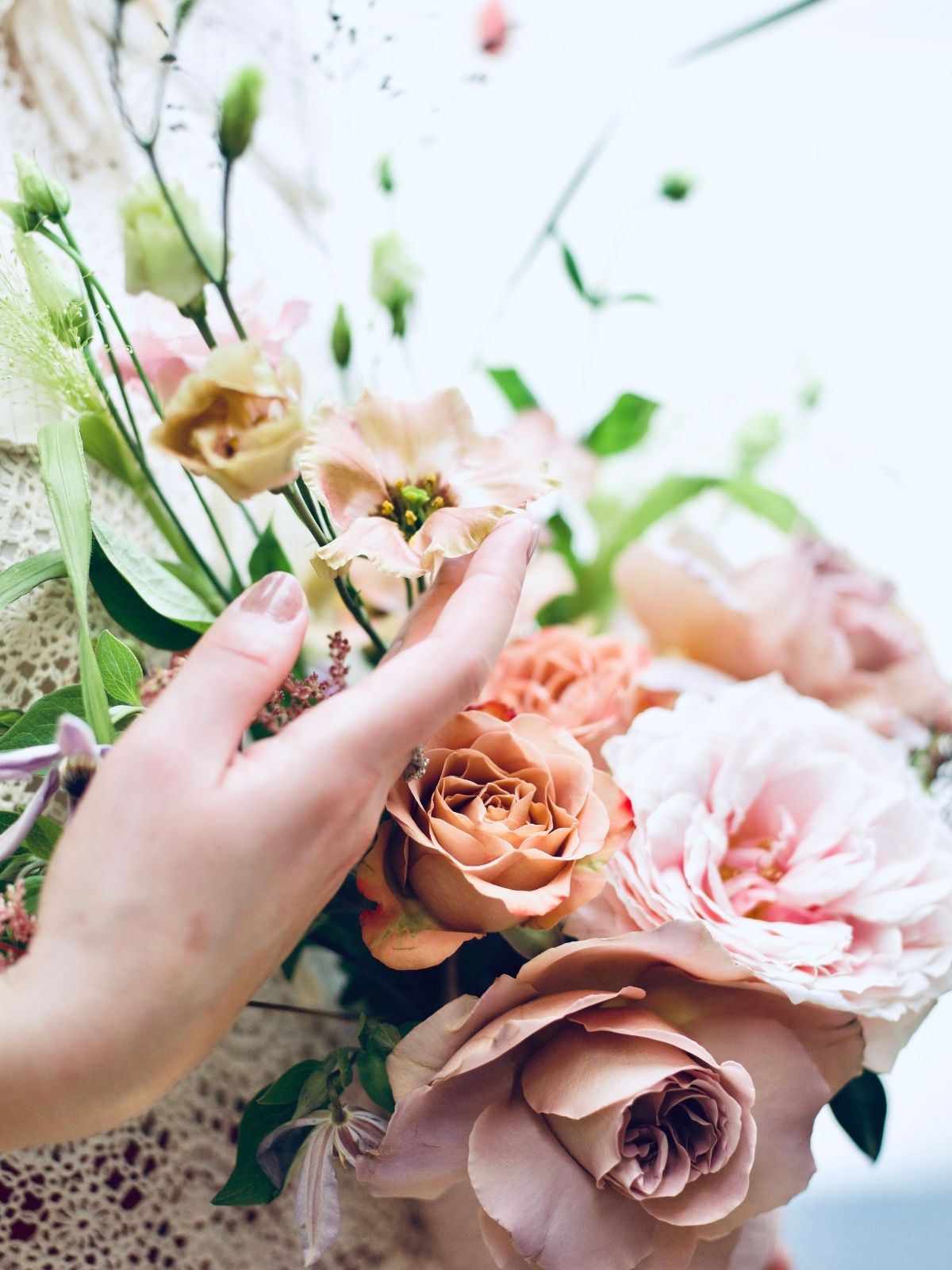 Luckily, Now We Have a Choice
After learning so much about different floral foams and alternative products during this test, about their qualities, performance, and reliability, I think it is now a turning point for me to think well about it, as my goal is to create floral designs beautiful inside and out: good for my clients, myself and our planet. Luckily now we have a choice.
Happy Valentine's Day everyone!
Katya xxx
Credits: