As soon as Italy reopened their regional and international borders on June 3, we called our friends in Tuscany and checked if their small guest house was available for a short break. Fortunately, it was available, although our friends were surprised that we wanted to come so quickly and tried to discourage us.
My Italian Vacation in Tuscany with Summer Flowers
I Entered a Dream Garden
After four months of lockdown, although it wasn't as bad in Amsterdam, as it was in other parts of the world, we couldn't resist the temptation to travel again, responsibly and carefully. It seemed like a dream to take a long drive in post-Corona Europe, to take this unique opportunity to see Europe with minimum traffic as it was before I was born. Very exciting and a bit scary at the same time. We checked the situation with the border controls, packed suitcases with plenty of face masks, gloves and disinfectants, lots of summer clothes, and my tool bag. The trip went well, we weren't stopped anywhere and were able to freely enjoy our drive through Germany, Austria, and Northern Italy. The Alps looked green and lush. I thought they were much more vivid than usual. Nature flourished without human activity, perhaps it is an example of wishful thinking, but I clearly saw the difference. The green slopes of the Alps, beautiful Dolomites, Po valley, they all looked like a paradise garden, the promised land. When we arrived at our destination in Tuscany, I entered another dream garden, a well-kept and well-loved, beautiful Tuscan garden by Nicoletta, nestled on one of the picturesque hills of the Chianti area between Florence and Sienna. What a place!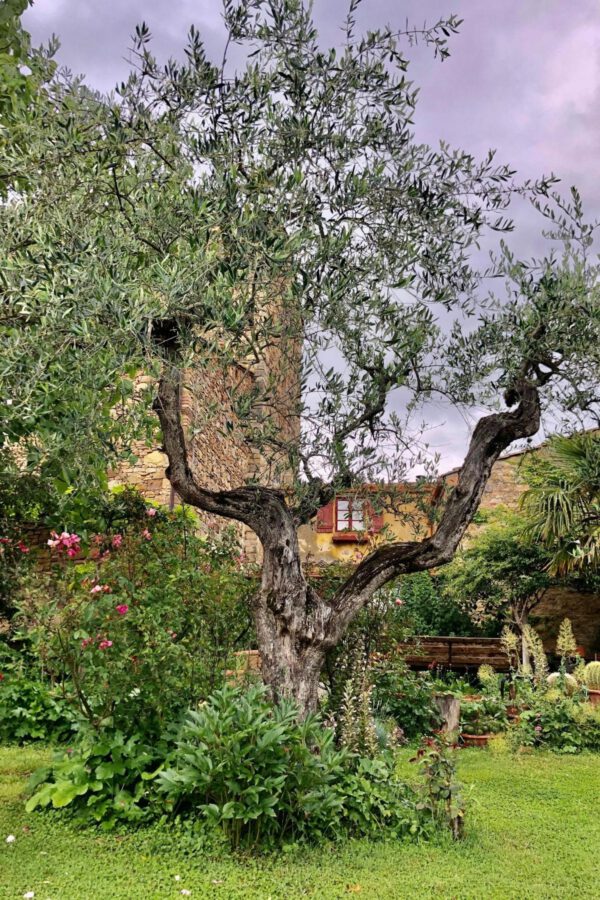 Taken Away by the Power and Beauty of Summer Flowers in Tuscany
When you think of Italy, especially Tuscany, your imagination portrays idealistic Renaissance hills, beautifully designed since the late Middle Ages with perfect proportions of olive groves, cypress alleys, stripes of fertile vineyards, and old farmhouses or castles on top. At the beginning of summer, there are plenty of beautiful bright yellow broom bushes along the way, cheerful red poppies, wild pea vine, sage. The gardens feature irises, garden roses, hydrangeas, snapdragons, honeysuckle, and, of course, Italian jasmine, gardenia, lemon, and orange trees. Nicoletta has a few large pomegranate trees that were in bloom at the time with beautiful bright red flowers and sturdy shiny buds. Nature and people created a grand symphony of colorful floral displays and unforgettable perfumes and you, the spectator, are taken away by its power and beauty.
Sylvia Bösigner
Within a few days since we arrived, I had an appointment for an interview with Sylvia Bösigner, the owner and the flower designer of the well-known South African flower import and event company "
Yes! Exclusive flowers
". She kindly invited me to join her Lockdown series on YouTube called "Piece of a puzzle". I told Sylvia that I was already 'released' from my Amsterdam lockdown and that I would talk to her from a Tuscan garden filled with summer flowers. For the interview, I went to nearby fields and picked flowers and foliage along the country road, my catch of the day included beautiful wild pea vines, young oak, and broom branches.
An Improvised Flower Display
Nicoletta was very kind and generous allowing me to cut her beautiful yellow apricot garden roses, magenta dahlias, and lemon & orange-purple snapdragons. I improvised a flower display and made a few arrangements for the interview directly on the terrace of the cottage we rented. Click here for the
full Interview
with Sylvia Bösigner. The interview was nice, it was a pleasure to talk to Sylvia and her lovely daughter Elfi. I had the privilege to stay at Sylvia's guest beach house in South Africa during my winter vacation and went together with her to a protea farm located in the Garden Route area, where we met really nice people. Sylvia is an inspiring lady, very passionate about her work and floral industry, and a sweet person too. I'm grateful to know her. And thanks to the interview, my portfolio got a new garden-style arrangement which I absolutely love! Made with garden flowers and some wild material. What we often try to imitate in The Netherlands working with garden style, sometimes desperately searching for the right material, here is made with ease.
A Romantic Wedding Setting
Well, as we all know appetite comes with eating, and desire increases as an activity proceeds... When I tasted the sweetness of working with Italian garden flowers in a unique Tuscan garden, got the green light from Nicoletta, I could hardly stop! Fortunately, the weather was not so good with lots of heavy rain showers, so I could spoil myself with sweet work. I usually don't say "Oh, My God!" cliché, but in this case, it's the only way to express my excitement! These garden roses, jasmine, honeysuckle, nigella, aconitum, rosemary, sage, lavender, hydrangea, oh, and ah!
Katya Hutter Floral Design
specializes in floral designs for weddings and events. My portfolio features garden-style arrangements and I have a quite big body of work. In any case, I had no intention of doing large portfolio work during my vacation. The opportunity to work with all these beautiful plants and flowers, the abundance of the garden, and the remarkable generosity of Nicoletta have changed my plans considerably. As a result, this romantic wedding setting: chandeliers decorated with jasmine vines, a freestyle decoration, a centerpiece, and a garden-style bridal bouquet. There you go!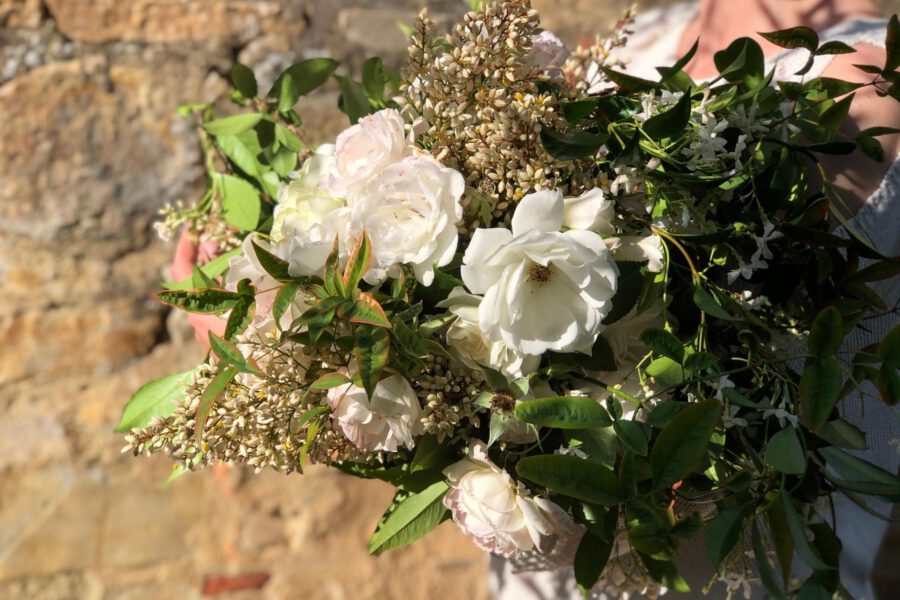 This is Only Possible in Magical Tuscany
Wedding bouquets in garden-style are my favorite. Made from genuine garden summer flowers from Tuscany, foliage, and vines, they are utterly romantic, radiating sensuality and sophisticated beauty. You simply cannot get the same look & feel with another material. Of course, many high-quality garden roses and other flowers and plants are grown in greenhouses. Fortunately, we florists can recreate this natural beauty with professionally grown material. Although we cannot completely substitute the Italian sun and the beautiful shades and textures of old stone and wooden surfaces, which can only be found here. Ancient buildings, picturesque hills, unique nature, light, and famous Italian culture make this country and Tuscany in particular one of the most popular wedding destinations in the world. It's clear why. I was amazed to see these images, how beautifully shades and light interact in them, and how the Soul of Nature shines through them. This is only possible in magical Tuscany.
A Foam-free Centerpiece
Italian cuisine, unlike French, is known for its brilliant simplicity. The quality of the ingredients is so high that even the simplest recipe turns out to be a delicious dish. We bought excellent quality ingredients at a supermarket and prepared a nice al fresco dinner for our friends to thank them for the hospitality. I made a foam-free centerpiece in a yellow-green color scheme with beautiful wild five-petal roses, jasmine and honeysuckle vines, apple branches, broom, lemon snapdragons, and orange pansies. It was a bit big for the narrow table from our terrace, which we placed under an old olive tree, although it helped us to keep our distance. It was one of the first dinners with friends after the lockdown. I enjoyed these dreamy surroundings and the company of good friends.
Bello! Belissimo!
Well, as I mentioned my passion burned in the fire of ambition. Nicoletta received new flower arrangements daily and continued encouraging me, saying: "Bello! Belissimo!" I borrowed a few beautiful and varied vases from her and tried to work carefully and use different materials so as not to cut too much of each bush or plant. Respect for nature and for the generosity of the hosts were my principles. I experimented with color, texture, and shape combinations and got good results that I am proud of. Some of the arrangements and the pictures turned out so beautifully that I did not expect this. Sometimes the light was truly magical, soft, it perfectly accentuated each petal. I often photograph myself. This is my hobby that helps me with my portfolio. Another creative part of my work that I like. After a week with Vanni and Nicoletta, we went on and were invited to another friend's summer house on the island of Elba. But this is a completely different story.
Credits
Floral design, Styling, and Photography: Katya Hutter Floral Design @katyahutterfloraldesign All flowers come from Nicoletta's garden in Tuscany. Thank you