My name is Sam van der Cruijsen and I am 18 years I am following the Flower, Green & Styling education at Helicon in 's-Hertogenbosch, Netherlands, and I am now in year 2. With great pleasure, I have already completed an internship with a number of different florists. And I have already gained a lot of experience with that. You also see that every company has its own specialty. To design 'The Door to the Flower World' with Decofresh Roses gave me great pleasure.
My Design for Decofresh Roses
At Helicon Floral Education we were asked to make flower arrangements with their beautiful roses. As the entrance of the flower world. I was so touched that I had this opportunity.
My Own Business One Day
Being creative is something I like to do and I really enjoy being able to make something beautiful with many different flowers and materials. I may want to start my own business in the future and then I would love to combine floral art with styling. Flowers are indispensable in any stylish interior.
Decofresh Roses
I see the opportunity that Decofresh has offered me as a very nice experience because you can't quickly make something beautiful with so many roses. And won't forget this project easily and the beautiful rose neither and will definitely take this with me in the future. When we were told what the assignment was, I immediately got a 'wow' feeling and quickly had different ideas.
Buttercup Rose from Decofresh
The rose I was allowed to work with is the 'Buttercup'. The rose has a very soft appearance and I really like that. The rose is cream-colored on the outside and yellow on the inside. You can combine this rose with many different colors, such as salmon pink, rust-brown and different shades of green.
I Love Vintage
The work I wanted to make, had to have a Vintage look, a nice living trend at the moment. Authentic and atmospheric with many old and lived materials. We have an old door at home and I thought it matched the rose nicely. That's how I came to the idea behind my work 'The door to the flower world'. The idea is that behind this door is a field full of flowers, which makes you completely happy. The old door I have decorated with a pillar of flowers with the rose Buttercup in it.
Invitation to Enter
The flower arrangements should invite people to look behind the door. I lightly raised the pillar so that the rose really pops out. That is why I have chosen to use soft and warm colors, such as light pink, cream white, and rust-brown. I chose these colors so that you quickly see the Vintage style in them. The rose is combined with spray chrysanthemums in the piece, these have a beautiful pink color and I have placed them in the background. I also chose ranunculus in a pastel color. For filling I chose different types of eucalyptus and different types of plumes. In nature, I picked grasses and found branches that fit my theme well. Finally, I added a number of dried flowers, they are completely in at the moment. In my view, this has resulted in a playful and inviting flower arrangement.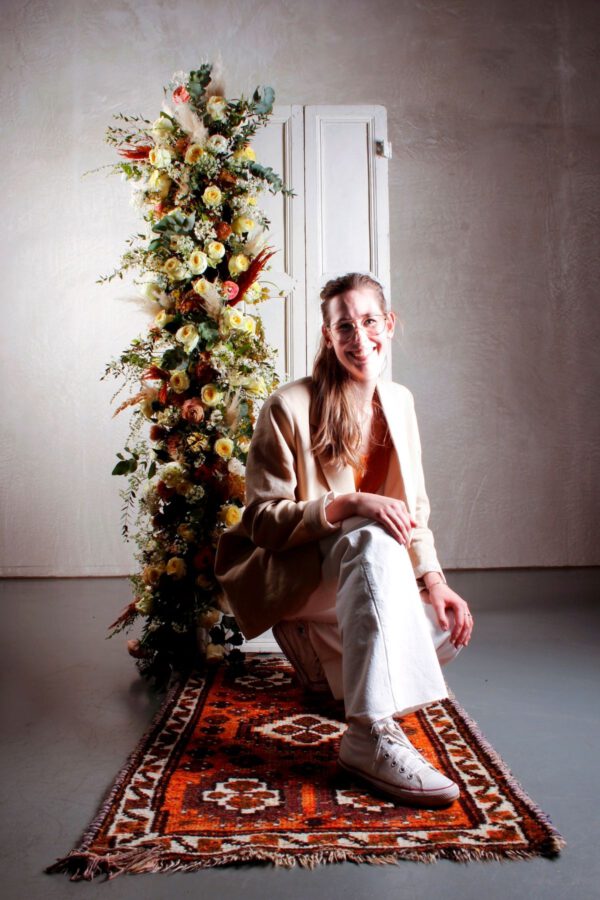 Vintage Wedding
I personally think this flower arrangement also fits very well with a vintage wedding in an old wooden shed. And I am very happy that I got this chance to make a large flower arrangement for Decofresh on the Thursd platform! Sam van der Cruijsen Instagram: dream.flowers.by.sam Practical support/ advice: Coby van Otterdijk. Styling & photography: Elfi Voermans. Textual guidance/editing: Ruud Teutelink