As I walked through the vibrant fields of Monarch Flowers, I had the pleasure of meeting Gert-Jan Jungerius, a sales and relationship manager for the company. Monarch Flowers is part of the Green Works breeding company, which specializes in peonies, canna, and agapanthus. Gert-Jan showed me the stunning Butterfly and Romance series of Ranunculus, which is grown and distributed by Monarch Flowers.
The Butterfly and Romance Series
The Butterfly series of Ranunculus is characterized by its delicate appearance, with branching stems featuring 7-12 buds, a long vase life, and impressive stem length. Despite its fragile appearance, it is remarkably resilient. Meanwhile, the Romance series is similar in appearance to traditional Ranunculus, but with longer stems of up to 70cm and a sturdy, solid stem that is less prone to disease. This series boasts larger buds and comes in a range of colors and shapes, including poodles and crowns.
Both series use cutting material sourced from Japan, which is multiplied in India. And the names of the varieties are inspired by Greek gods and French cities, respectively.
The History of Monarch Flowers
Monarch Flowers began five years ago with the Butterfly series, starting with the propagation of bulbs for the cut flower trade. Since then, it has grown to become a leading supplier of Ranunculus bulbs in Europe, primarily to Italian and Portuguese growers for production from January to April. The company also operates its own nursery in Portugal and supplies the Dutch market from February to April. In Kenya, production runs from May to January.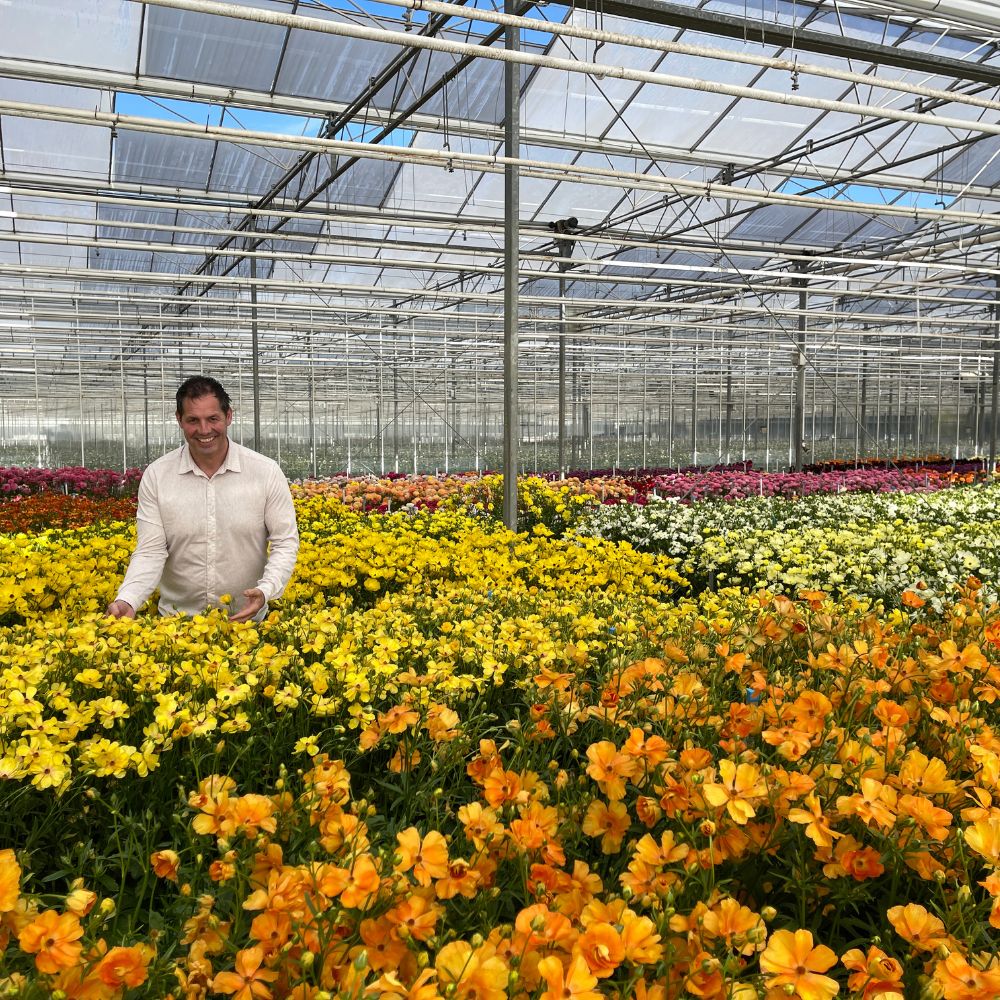 Monarch Flowers works exclusively with Japanese breeder Aya for their special Ranunculus varieties, and their breeding program prioritizes the slow, careful development of new varieties.
The Reception of Monarch Flowers' Products
The Butterfly and Romance series of Ranunculus have become wildly popular among florists and flower traders. They are especially sought-after in shades of salmon and soft tones, with many florists coming to see them in person and expressing their excitement about these varieties.
Gert-Jan's favorite flower is the Romance Maritime variety, a stunning light salmon-pink shade that is sure to make any arrangement stand out.
Looking to the Future
Monarch Flowers is always looking to expand its range of products, with new varieties such as Pericallis, a Senecio species, currently being tested in Italy and Kenya. The Bridal series of Oxypetalum is another exciting development, with plans to add a red variety to Green Works' existing range of white, pink, and double-pink options.
Overall, my visit to Monarch Flowers was a wonderful experience, and I left with a newfound appreciation for the beauty and versatility of Ranunculus.