British designer Thomas Heatherwick has unveiled a plant-covered shopping center in Shanghai that incorporates over 1,000 trees and 250,000 (!) plants. Named 1,000 Trees building to reference its planting, the nine-story building was designed to resemble a greenery-covered mountain.
1,000 Trees Building Has Each of the Columns Topped With a Planter
Located alongside the M50 art district and the Suzhou Creek, the block officially opened to the public last month. The latest images released by Heatherwick Studio show the exterior of the project for developer Tian An at day and night, as well as inside the building.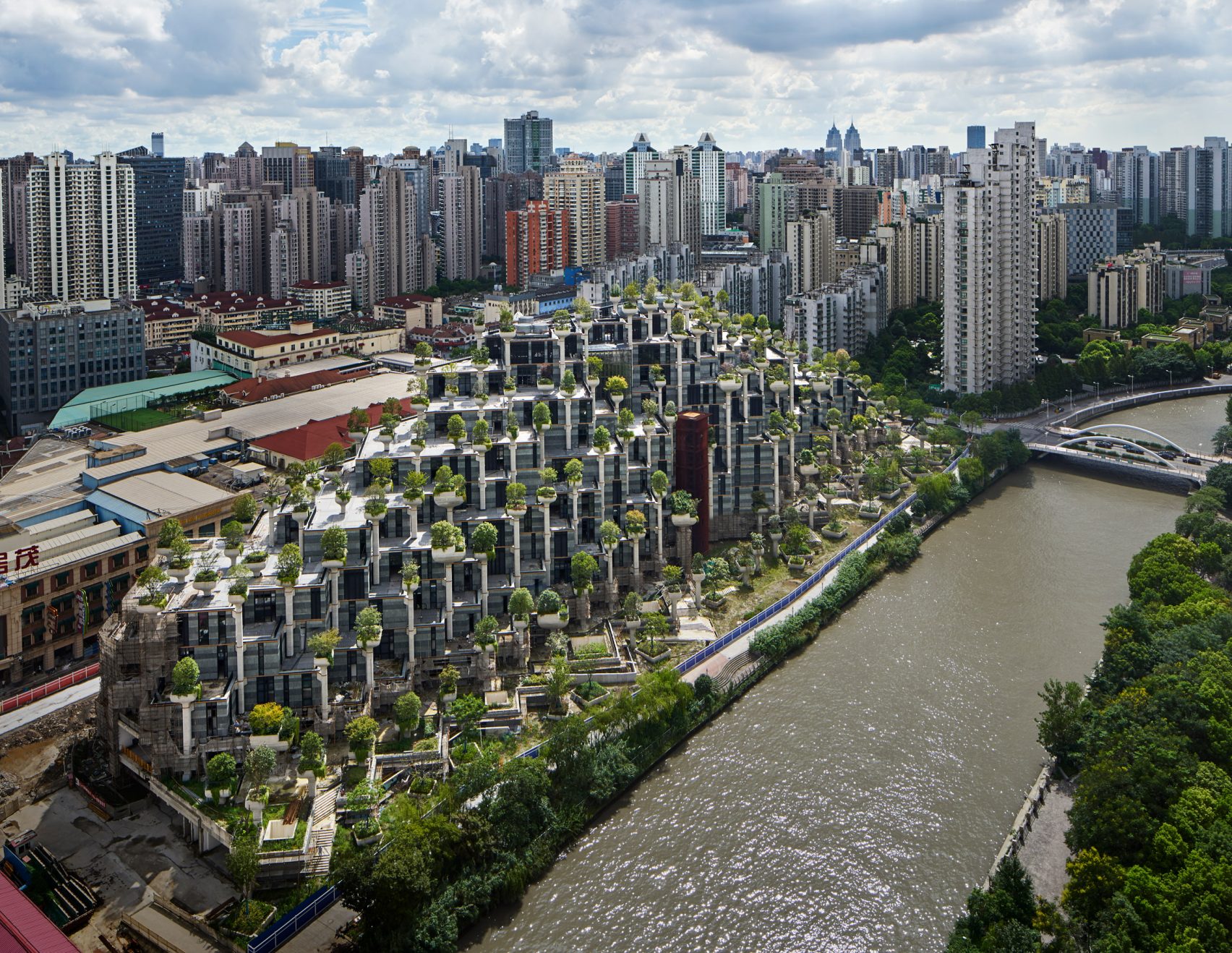 The structure of the retail development was built with a grid of concrete columns arranged at a 45-degree angle to the river. Each of the columns is topped with a planter that contains a mix of deciduous and evergreen trees, as well as shrubs and hanging plants.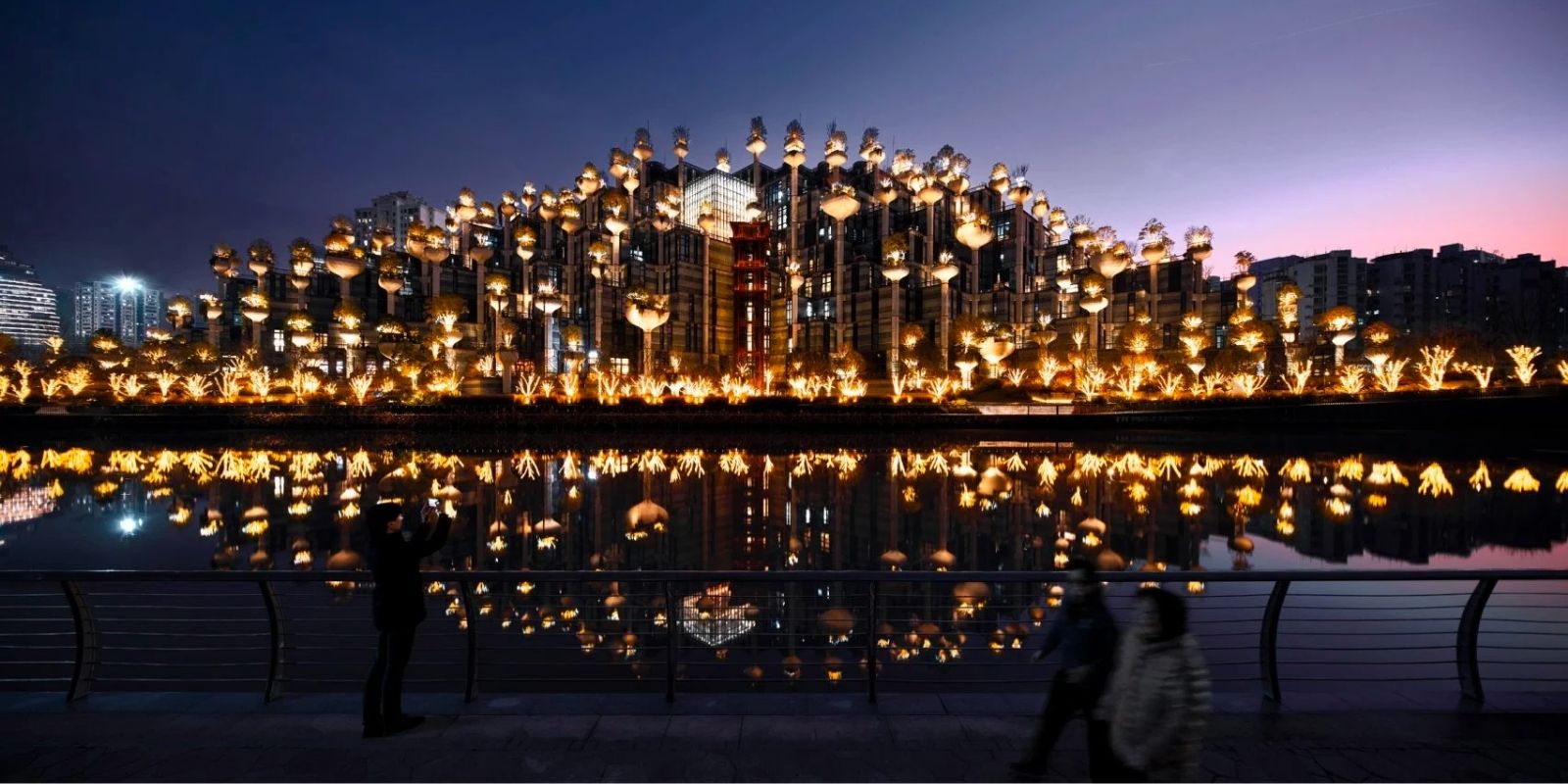 Over 1,000 Trees and 250,000 Plants
Over 1,000 trees and 250,000 plants have been placed on the building in total. Heatherwick hopes that the grid and numerous planters will help to break down the mass of the development that contains 166 retail units. The building contains 62,706-square-metres of retail space across 12 flagship stores, 91 shops, and 63 food and beverage outlets.
A food court and supermarket are located in the basement, with shops on the five floors above and restaurants on the building's upper four stories.
1,000 Trees, previously called Moganshan, is split across two sites, connected by a narrow strip of land containing a number of government offices and a historic building.
Heatherwick Studio:
"1,000 Trees is conceived not only as a building but as a piece of topography and takes the form of two tree-covered mountains, populated by hundreds of columns. Rather than hiding the columns which provide structural support, the columns emerge at the top of the building as large planters, each holding a handful of trees."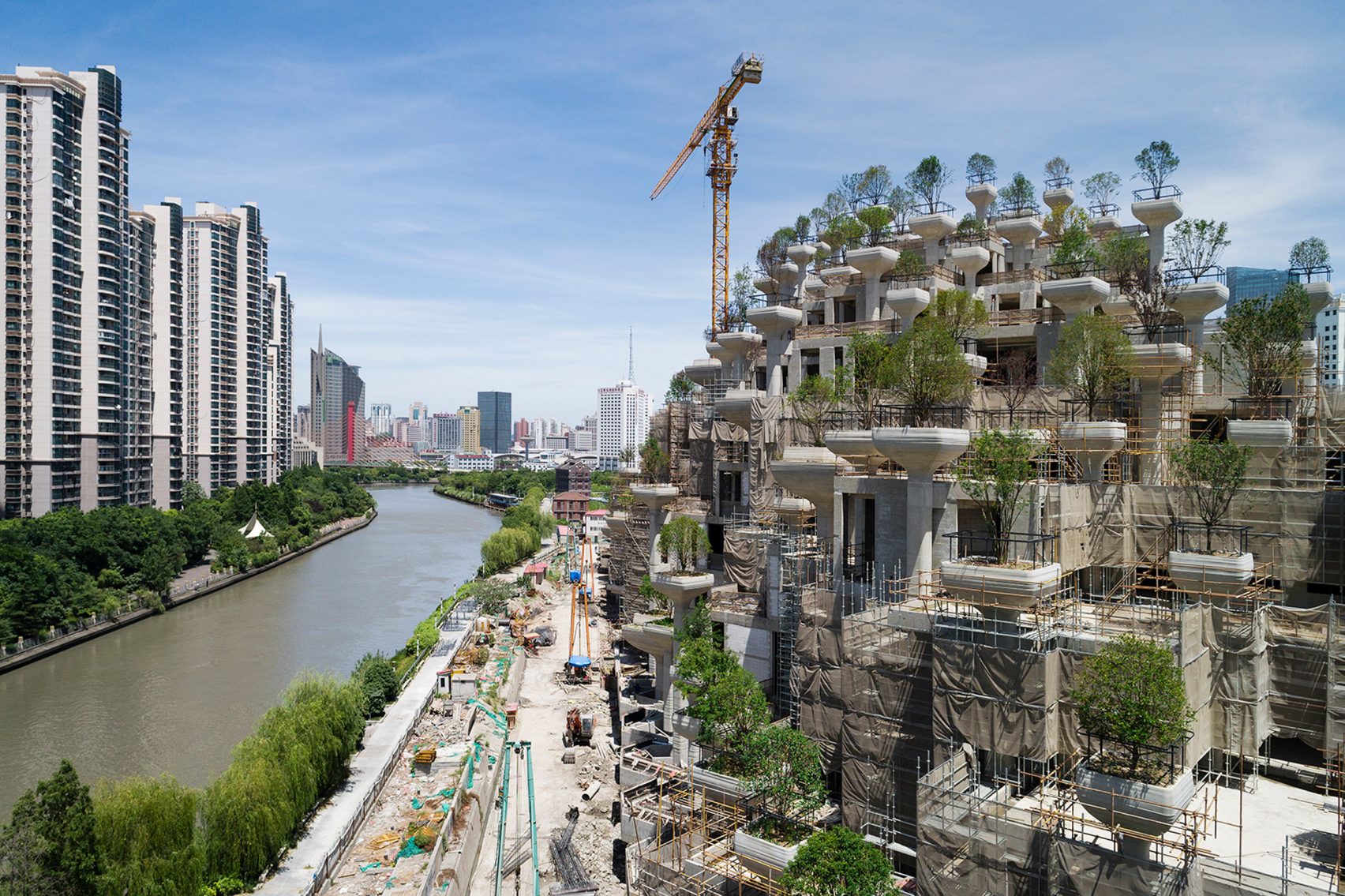 Development of 1,000 Trees Building
Heatherwick studio first unveiled a proposal for the project back in December 2015. Covering an area of 300,000 square meters, the mixed-use complex is backed by Chinese developer Tian An China.
Split across two sites beside the city's M50 art district, 1,000 Trees fills two mountain-like peaks that contain a mix of retail, offices, eateries, event venues, and galleries. The website of Heatherwick Studio shows the development and construction from start to completion.
As its name suggests, 1,000 Trees is distinguished by hundreds of plants that emerge from its staggered, pixellated surface. The trees are housed in giant planters that sit on top of structural concrete columns placed across the mountain. The photos show that there are three different-sized plant pots.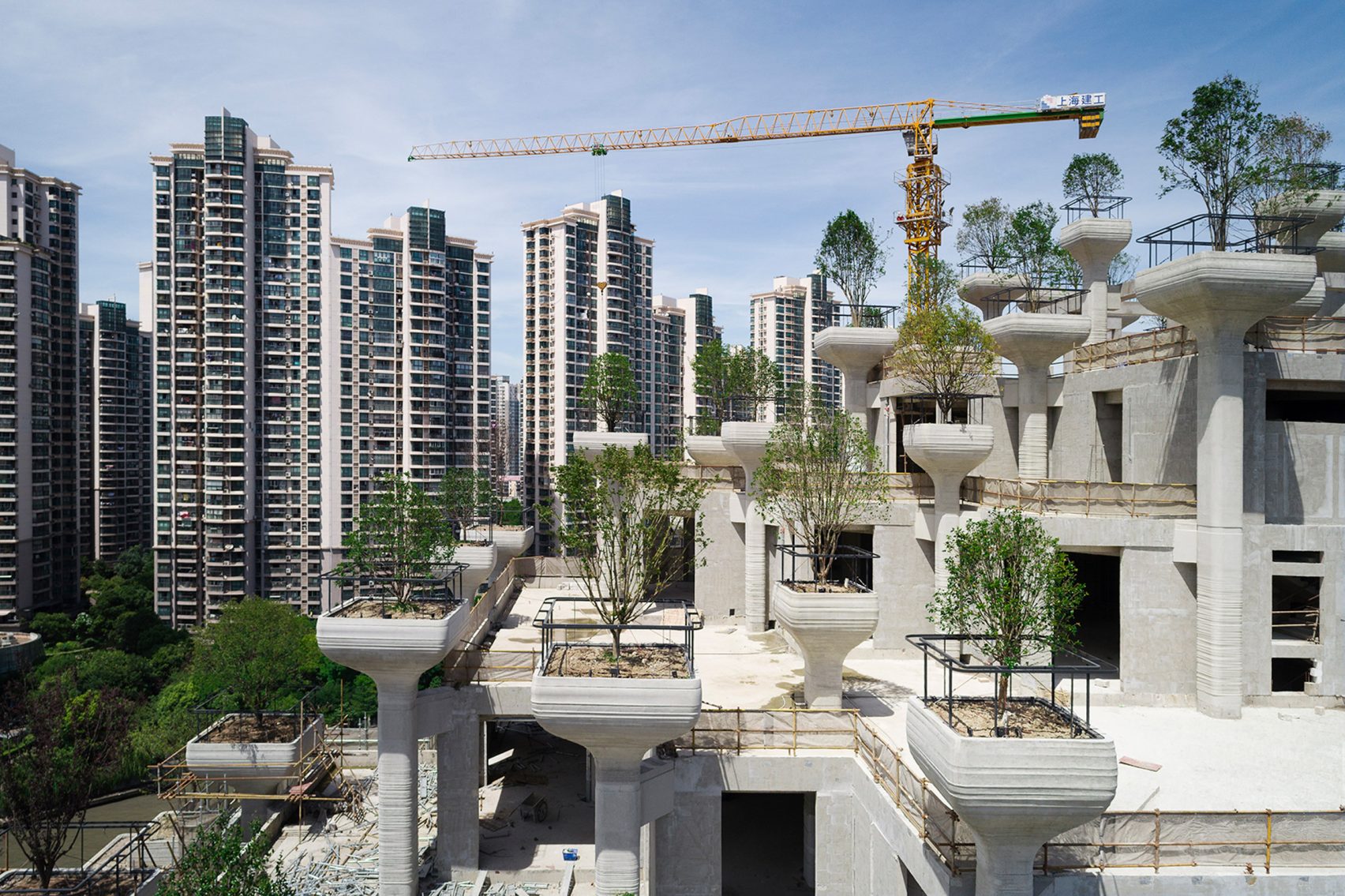 A Strong Identity
Heatherwick Studio's partner Lisa Finlay told in Dezeen:
"We chose to express the structure and develop a strong identity to the columns as we knew they would be present in all the programmatic uses of the building. We see the planters as natural extensions of the columns, almost like a shoot that has worked its way through three levels of car park, eight levels of retail, and then up and out to the roofscape to blossom.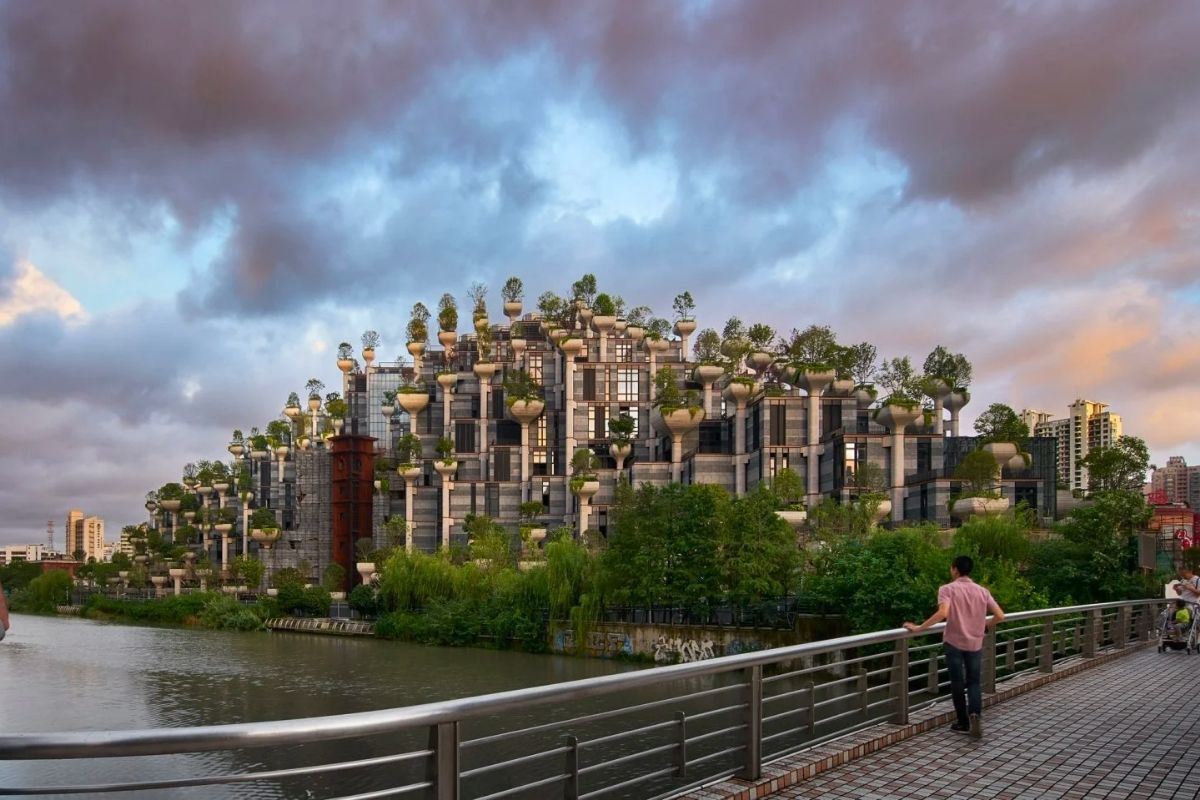 Collectively, the planters contain approximately 25,000 individual plants and 46 different plant species including shrubs, perennials, climbers. Each planter has a unique combination of plants sourced from Shanghai's Chongming Island, a fertile strip of land within the Yangtze River delta, and more than half of them are evergreen to ensure a lush green building throughout the year.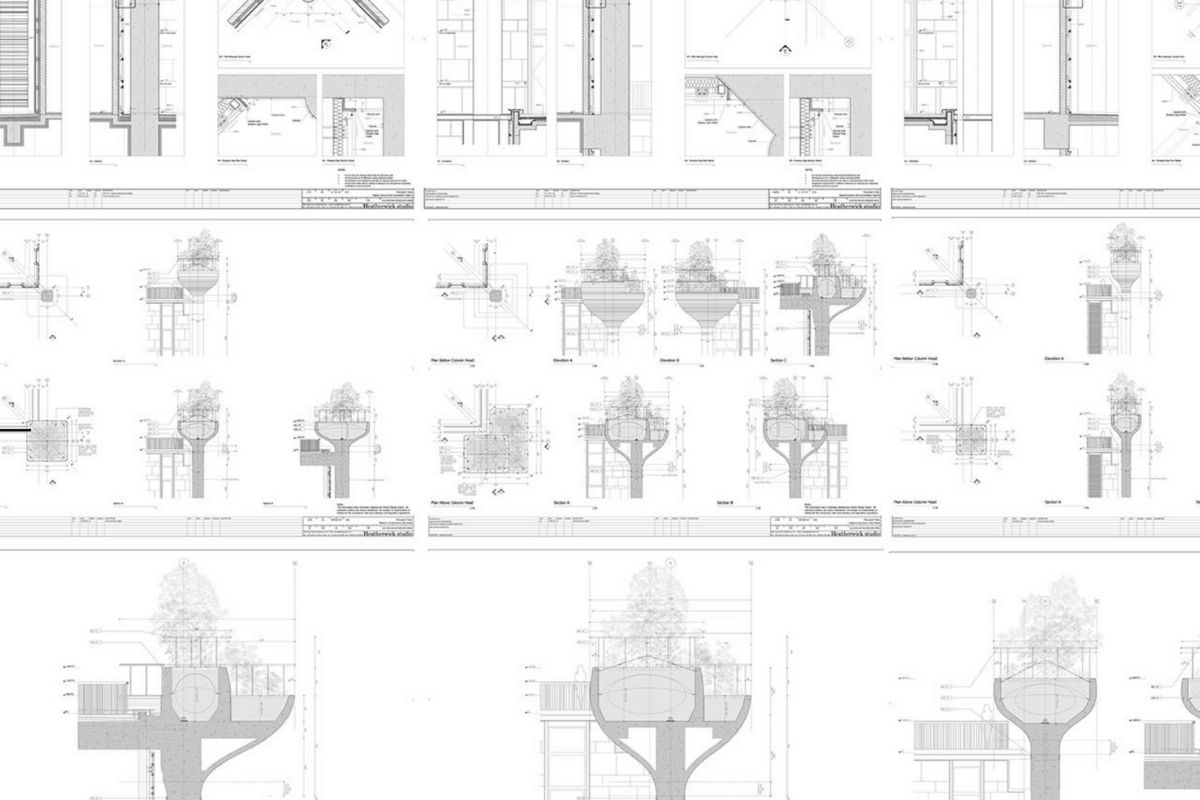 Where the 1,000 Trees Building Now Stands Used to Be a Long Graffiti Wall
At the building site, there used to be a long graffiti wall where people would travel from all over to paint there so they wanted to retain this aspect somehow. Graffiti artists, both local and international, including some who used to paint there, were commissioned to create original artworks for the facade. Heatherwick Studio also collaborated with these artists and others from the M50 for aspects of the interior as well, including giant murals within the lift shafts.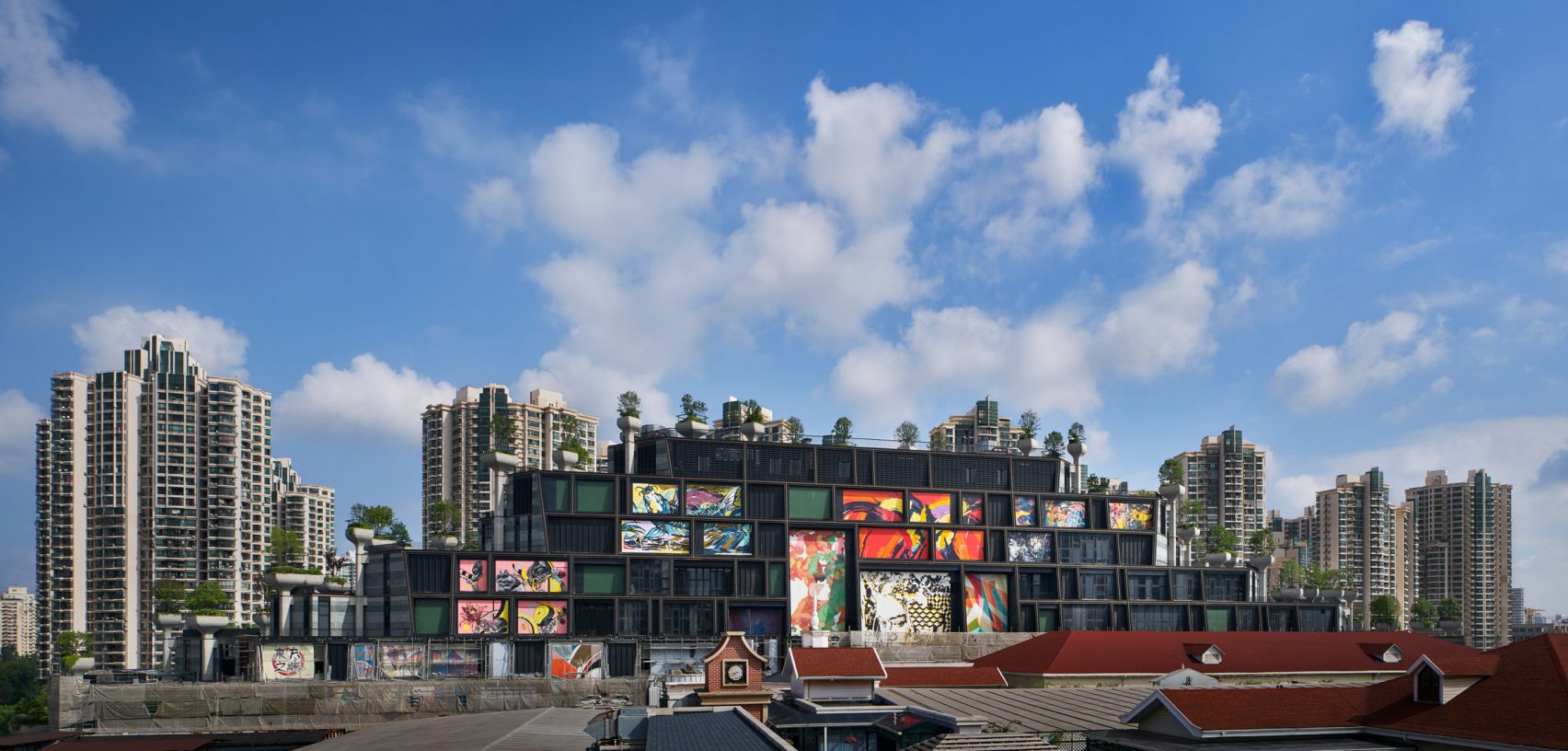 Construction Photography and video by Noah Sheldon. All other photography is by Qingyan Zhu.