Dreaming of becoming a florist? Well, we have good news: today, there are many engaging programs, so you will definitely find something for yourself! Some choose this area to realize their creative potential, as there is plenty of room to express their taste. In addition, floristry is in high demand. Today, specialists work not only in flower shops but also in wedding agencies, design and photo studios, etc. Sounds exciting? Read on to know what's in store for you in the future!
What To Look For When Choosing A Program?
There are four levels of certification in floristry. In fact, each of them implies your future range of activities, so it is important to understand your plans in advance.
Certificate I is issued to those who comprehend the basics of floristry;
Certificate II is issued to those who are ready to work as a florist's assistant;
Certificate III is given to those who can work as a florist designer;
Certificate IV means you can be a senior florist, manager, or owner of a floristic business.
Most foreign floristry courses train specialists of all qualifications. But before we move on to some of the most well-known centers you can consider, here's a little tip. Picking up the school takes time, so you'd better free your busy schedule to manage it all. And that's when outsourcing comes to the rescue! These days, one can easily order coursework writing help by professional writers at EssayPro when there's too much stress around. With an experienced author by your side, your academic performance will be great, just as your energy level.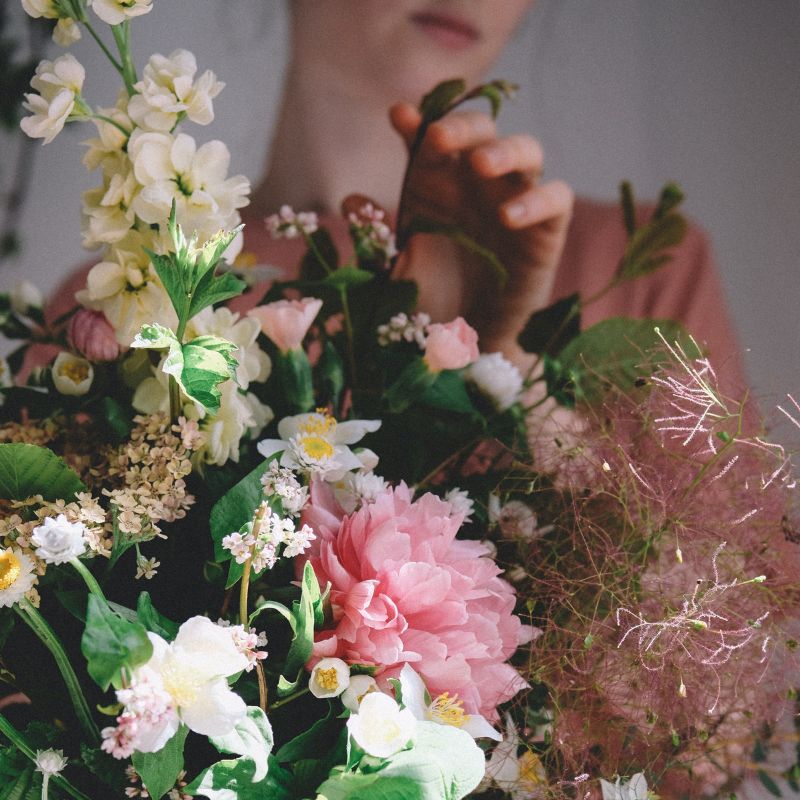 Sydney Institute Colleges TAFE NSW (Certificate IV in Floristry)
One of the biggest schools in Australia offers floristry courses at all levels. Here, you will focus not only on the creative part of the process but also on learning sales techniques and how to run a floristic business. You will be aware of the latest trends and the most advanced know-how. Later, you can build a career as a freelance designer or entrepreneur.
Need any essay writing help?
Here's the list of what the learners concentrate on:
Creating table arrangements, headpieces, and complex bouquets;
Managing the floristry stock;
Organizing teams and planning events;
Using marketing and business strategies.
By the way, if you don't want to postpone the foundation of your business for the future, why not start promoting your services on TikTok or other platforms? With the right approach, you will give a strong boost to your brand, putting sales strategies into practice.
Judith Blacklock Flower School In London (Accredited Online Floral Design Diploma)
The London School provides students with long-term and short-term floristry courses, as well as online programs. At the school, you can not only study fundamentals to get the necessary certificate but also improve your skills in specific areas of floristry. They include banquet and party decoration, wedding floristry, modern floral design, etc.
McQueens Flowers School In London (Four Week Career Course)
Founded in 1991, the school remains an example of floral quality, style, and elegance. What do you need to know about it first? This flower service has been creating decorations for Vanity Fair's Oscars After Party for over 25 years. It also cooperates with the Wimbledon tennis tournament. Imagine what top specialists you will learn from!
If you are interested in other destinations, the school also has offices in Seoul and New York, as well as traveling seminars around the world. Who knows, maybe one day you will go where you most dreamed of, be it Japan, France, or Belgium? In floristry, observation is essential, so travel will surely expand your horizons.
Boerma Instituut International Floral Design School In The Netherlands (International Master Florist Education with Gregor Lersch)
Boerma Floral Design Institute is located in the Netherlands, a country that is famous for the dynamic and successful growth of floristry. Thus, studying here gives you the opportunity to get in touch with the long-term traditions of Dutch design. By the way, the Netherlands remains the absolute world leader in the sale of flowers. Thus, the local atmosphere will motivate you to study, as if all the air here is saturated with love for beauty and nature.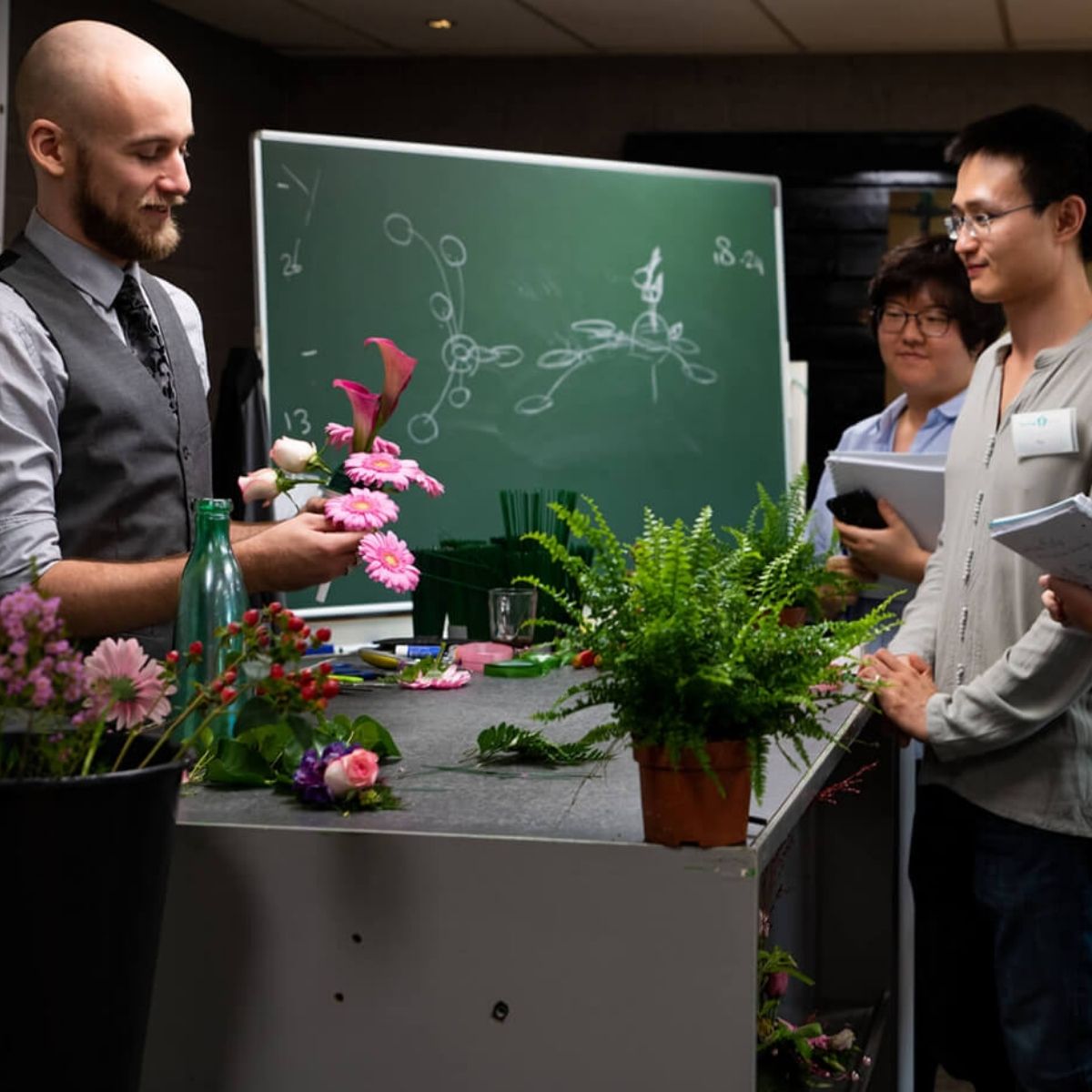 In addition to short-term and long-term courses for international students, the institute offers individual floristry classes fully tailored to your needs. In addition, it provides all the necessary supplies for practical and theoretical studies, as well as accommodation and transfers for foreign students.
Berlin Flowers School (Wedding Table Setting & Ceremony Flowers)
In Berlin Flowers School, creativity comes first - here, both beginners and professionals feel fully comfortable. Experienced tutors rely on classical floristry methods, but they don't limit students to them only. Here, you will learn how to create bridal bouquets and table settings and create compositions for events and seasonal wreaths, not to mention big floral installations for photo sessions.
According to the school, they don't believe in using a single approach. Instead, educators cover various styles, as they value freedom and passion for creativity. So, what makes the school stand out? Best quality flowers and slower flower movement. Plus, all courses are held in English and German – teachers come from Germany, US, and the UK.
New York Flowers School (Floral Design Program)
What can be better than studying floristry in the Big Apple? This city certainly has everything for you to achieve success in the industry - from plenty of inspiring specialists to career growth both in companies and freelance.
The mission of New York Flowers School is to popularize floral design and the people who are in it. It also has a goal of providing us with a richer and more beautiful life thanks to flowers.
Founded in 2003, the school is a prestigious flower arts center in New York City. Offering a wide range of floral design classes, it invites the most sought-after professionals from around the world to teach their unique programs. You can also take part in traveling seminars in Amsterdam, London, Mexico City, and Tokyo.
There's a huge number of things to choose from: seminars and master classes, including online ones, workshops, private lessons, as well as internships. Are you interested in event planning and design? Good news, as New York Flowers School has got your back!
What Do Future Florists Need To Know?
As an industry, floristry seems to be appealing and magical, but there are still features of this craft that should be kept in mind:
A professional florist must be well-versed in botany, agronomy, agrochemistry, soil science, composition, design, and interior decoration. Plus, to avoid mistakes student entrepreneurs make, one has to study economy and business;
A florist must enjoy interacting with nature. This implies not being afraid of dirt and painstaking work;
Talented florists have creative vision, predict design trends and constantly improve their skills;
A florist must also understand sales techniques. What for? To develop their own business or to become an indispensable employee in an existing organization;
Since plants transmit the energy of those working with them, your passion and love should fill each bouquet and composition.
Having all those five qualities, you will certainly become a real sought-after florist!