Summer flowers are beautiful, somewhat "forgotten", flowers. The rose, for example, a year-round available flower, is their well-known sister in the fields. But some of the summer flowers have less fame than others but are still of unrecognizable beauty. In this line-up of summer flowers, you are taken along the flourishing flower fields of international flower farmers. The Flower Hat, La Musa de las Flores, Flourish Flower Farm, Floret Flower Farm, Fam Flower Farm and Kwaity & Miut are just a few to start with.
Renowned Flower Farmers and their Summer Flower Fields
Which of these flowers are proudly grown by these international florists? And how can they be added to the summer flower portfolio of a starting flower farmer? A list of summer flowers found at 6 global flower farmers in their beautiful fields.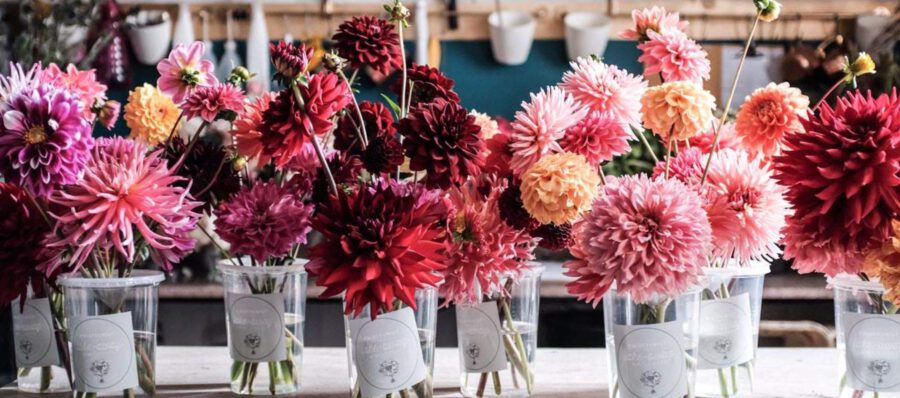 The Flower Hat
Off the charts Yarrow crops
The Flower Hat is a floral design studio and flower farm in the beautiful mountains of Gallatin Valley in Bozeman, Montana. In his designs, Julio Freitas embraces the seasons to create a loose, natural aesthetic. The Flower Hat is a thriving company that stays busy during the summer with weddings, selling flowers to florists and a retail option of Flower Bars. Learn more about the colorful collection of "armful" snapshots by Julio in this previous article. This year's off the charts crop of yarrow is worth mentioning as one of the stunning farm flowers grown by Julio.
La Musa de las Flores
Cosmos, a cut-and-come-again flower
Of all the annual flowering plants you can grow in your cutting garden, none is more productive than cosmos. They truly are a cut-and-come-again flower: The more you harvest them, the more they bloom. A single planting will produce buckets of airy, delicate, daisy-like blossoms for many months. You can arrange them on their own or weave them into mixed bouquets. The possibilities are endless. This Cosmos Apricot is home-grown on the farm of La Musa de las Flores. Fun fact: the flowers are provided by Erin from Floret Flower! The header photo of this article also features the beautiful garden of Gabriela which we hopefully can feature soon more about!
Flourish Flower Farm
The most cheerful zinnias are part of Niki Irving's morning harvest at Flourish Flower Farm.
"There are so many beautiful flowers blooming right now and so many good things happening still. I just have to remind myself to stop, look around and take it all in. I'm very grateful!" - Niki Irving of Flourish Flower Farm.
Niki and her husband William balance a love of nature, hard work, creating beauty and spreading joy at their farm. They believe that flowers make the world a more beautiful, enjoyable place and are inspired by the way a fresh bouquet of flowers lights up someone's entire face. Watch the short video of how they grow their mountain fresh flowers.
Floret Flower Farm
Family is at the heart of Floret Flower Farm. Floret Flower Farm cares deeply about the environment and is committed to conducting the business in harmony with nature. Read more about how to grow, harvest and sell stunning seasonal blooms. On their farm, they only use organic growing practices and sustainability is integrated into every decision they make. Erin loves growing giant flowers such as delphiniums! If you too want giant flowers, here's one of her secrets: "Lot's of high-quality compost! We top dress with 3-4″ in the spring and again in the fall. A healthy dose of organic granular fertilizer at planting time. I love Nature's Intent 9-3-4. And if you can make or score some compost tea, apply it every week either as a foliar spray or a root drench. That and lots of love is all you need to grow giant, 10ft tall delphinium and any other monster flowers your heart desires!"
Fam Flower Farm
The ladies of Fam Flower Farm, love sharing their farming stories with the world.
"Through social media, we give consumers a romantic insight into our colorful flower world every day. The dahlia is a very hip flower these days".
Besides their colorful Instagram feed, their Love For Dahlias book is a wonderful lifestyle book with many inspiring interviews, tips, slides, and especially with many seductive dahlia images, making readers even bigger flower fans. Marlies and Linda share with us your daily dose of floral happiness, best featured in their amazing fields filled with dahlias.
Kwiaty & Miut
For a bouquet in summer colors, choose the beautiful and soft Sweet Peas. This delicate beauty has a soft natural fragrance and is just one of the many flowers grown by Kwiaty & Miut on their ecological flower farm in Poland. The gents of Kwiaty & Miut are changing the general approach to flowers in their country and show that there can be natural garden flowers in their country.