From champagne hues to sandy beiges and gorgeous nude, earthy tones, these 7 nude-colored roses are what floral designers like to refer to as perfection. This earthy-toned palette can also become your new favorite summer ally to achieve the most aesthetic looking-like decoration for any space you desire. Here are the 7 rose varieties your spaces need to create a harmonious and cool.
Meet the Nude Rose Varieties
Today we share some of the most popular roses when it comes to nude shades and combinations. These varieties are ready to get the best of you and at the same time make the most out of any ambiance. It's worth saying that nude-toned roses are not only perfect to make a space more aesthetic but are great, if not the most perfect options to use for summer weddings as well. Know that all these roses are easily available at trader Anton Spaargaren.
Take a look at them below and choose your all-time fave!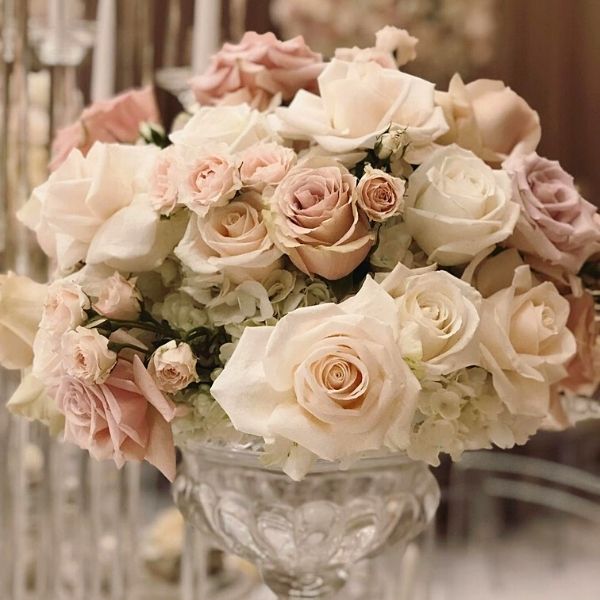 1. Rose Spoiler
Uh-oh! Here's the greatest spoiler of the day but shhh because this rose will make anyone fall in love with its glorious golden color on the outside with a soft beige inner tone. Fact: the Spoiler variety is highly referred to as one of the most used flowers to decorate interiors. One great benefit of getting this type of variety for your home or for any event is that their filled blooms remain strong and full until the end.
Any guesses on the number of petals on this stunner? Ranging from about 60-70 petals and a stem size of about 50-80 cm, this charming rose will keep you company for as long as 12-14 days if you give it loads of love and good care. A healthier soil undoubtedly produces a healthier, heartier rose which can thus be enjoyed longer.
2. Rose Camel
You get the best of both worlds with the Camel variety, a splash of nude rose with brown warm tones makes this a great option both for home decor as well as for weddings. Event planners usually opt for a palette that mixes nude-tone roses with undertones of honey, light beige, and light browns to create a tuneful and perfect venue decoration.
For best decor purposes, you could combine this variety with light beige or white rose varieties to make them stand out even more. This variety fits perfectly into the nude-colored roses palette but also pairs beautifully with toffee roses, golden mustard roses, and dried ones as well.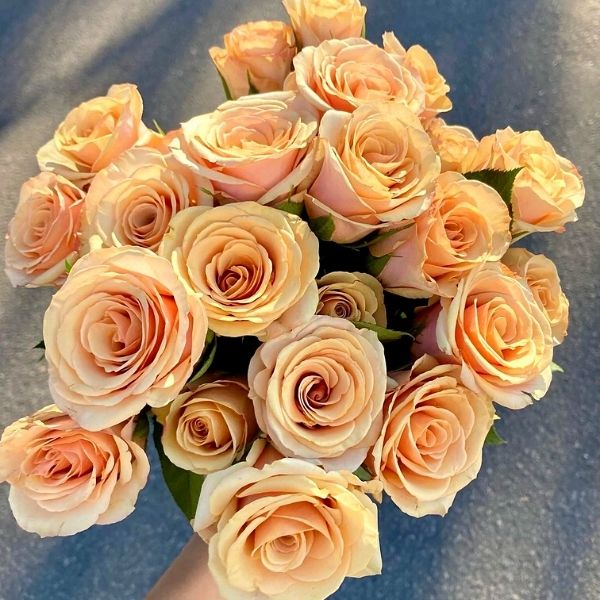 3. Rose Quicksand
A spiral form gives this nude-colored rose its main feature and special characteristic. With a trendy neutral color palette that gives it romanticism and sophistication, Rose Quicksand features dreamy nude and neutral petals that will have you jaw-opened. Creamy and dreamy petals are the best description of her immense beauty. Looking for your wedding bouquet? Quicksand has got your back for every single wedding bouquet. You'll have a magical secret for a successful floral arrangement.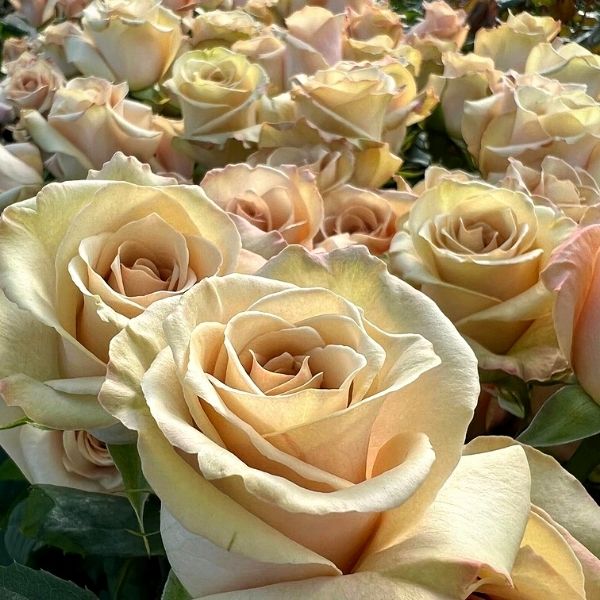 4. Rose La Perla
Blushing in tones of neutral nudes and peachy cream colors with La Perla variety! Considered to be one of the most spectacular of the 7 stunning nude-colored roses, they are grown in South America and present stem sizes of about 50 cm. Their beautiful peachy cream color is accented nicely by their light green guard petals.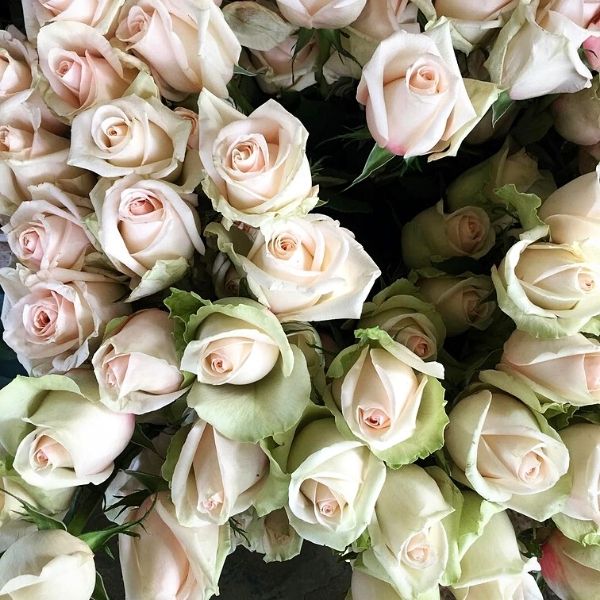 5. Rose Early Grey
Early Grey — unique, delicate, and idiosyncratic. Highlighting a distinctive unique light silver color, with a hint of nude-lavender in the center, this special rose is part of the 7 stunning nude-colored roses although it does have a splash of silver hues. When combined with other colors, Early Grey gives any floral arrangement an even more romantic and sophisticated look. Preferred by floral designers, this stunner is also a great choice for wedding bouquet creations.
6. Rose Westminster Abbey
Exclusivity at its finest seen in one rose. Rose Westminster Abbey variety takes part as one of the 7 stunning nude-colored roses. Coronated as one of the all-time favorites for weddings, the Westminster Abbey was named after Britain's church. This is one of the 7 amazing nude-colored roses that will be the protagonist of any floral arrangement. The brown-beige color slowly changes to grey as it continues to bloom. Pleasant fragrance plus stunning nude-colored rose is surely the key to great success. You can read more about this rose in this article: 'The Spectacular Westminster Abbey Rose'.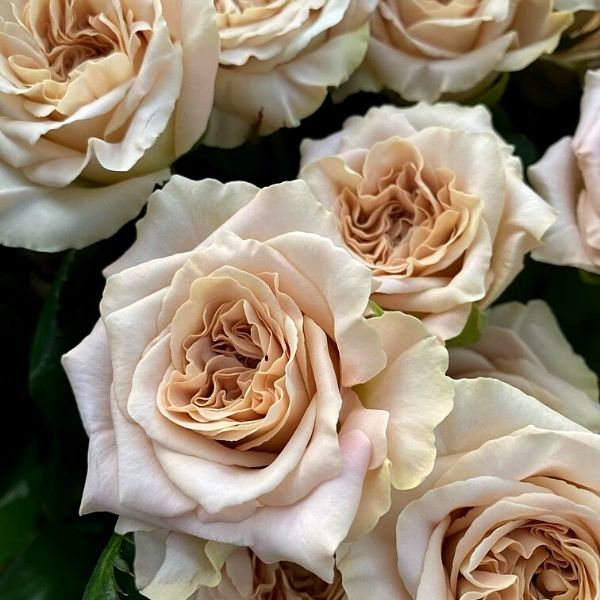 7. Cafe Latte
Rose Cafe Latte is also a very special nude-colored rose. Rose Cafe latte has a unique ethereal color, opening fully with a sweet vanilla scent. This variety is famous for its unusual antique petals and copper bronze color with a very slight pink undertone. A stunning rose for any occasion and a huge favorite for weddings.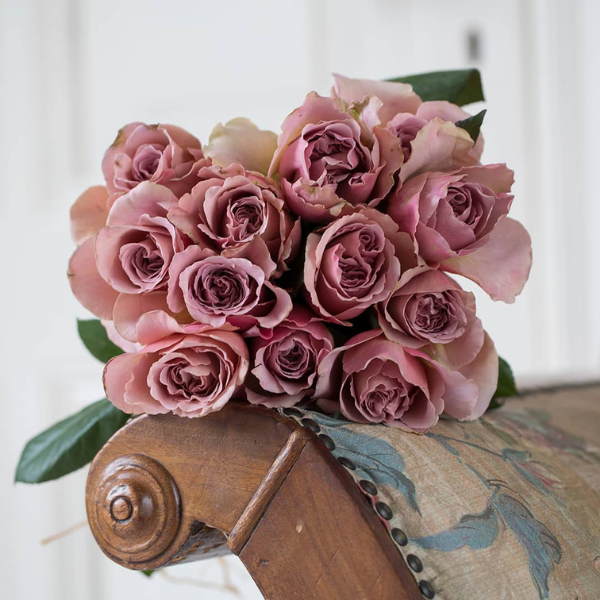 All nude-colored roses are available at: