An Eden's Echo experience is for anyone. Whether you're looking for something romantic and whimsical or bold and modern. When you choose Erin McLarty as your florist you choose someone who cares. Designing since 2006, Erin combines her background in fine art with floral design and the desire to connect with her clients. In this interview you get to know Erin and what sets her and her floral design studio apart from others!
A Floral Interview With Erin McLarty
"I'm a Texas girl, raised in San Marcos, which is located between Austin and San Antonio. Since I was a little girl, I've always loved both art and nature and was either sketching in a notebook, playing with clothes and makeup, or sneaking into the woods down to the river near my house.

I was a teen mother and faced a lot of challenges with that, but I went to school for Fine Art at Texas State University with a focus on Studio Art: Drawing.

For the past two and a half years I've had a fabulous partner, that has supported me better than my previous husbands. I don't see us officially marrying-but we live as if we are, and we are business partners as well. He helps me manage Eden's Echo and we have two new startups we are working on together."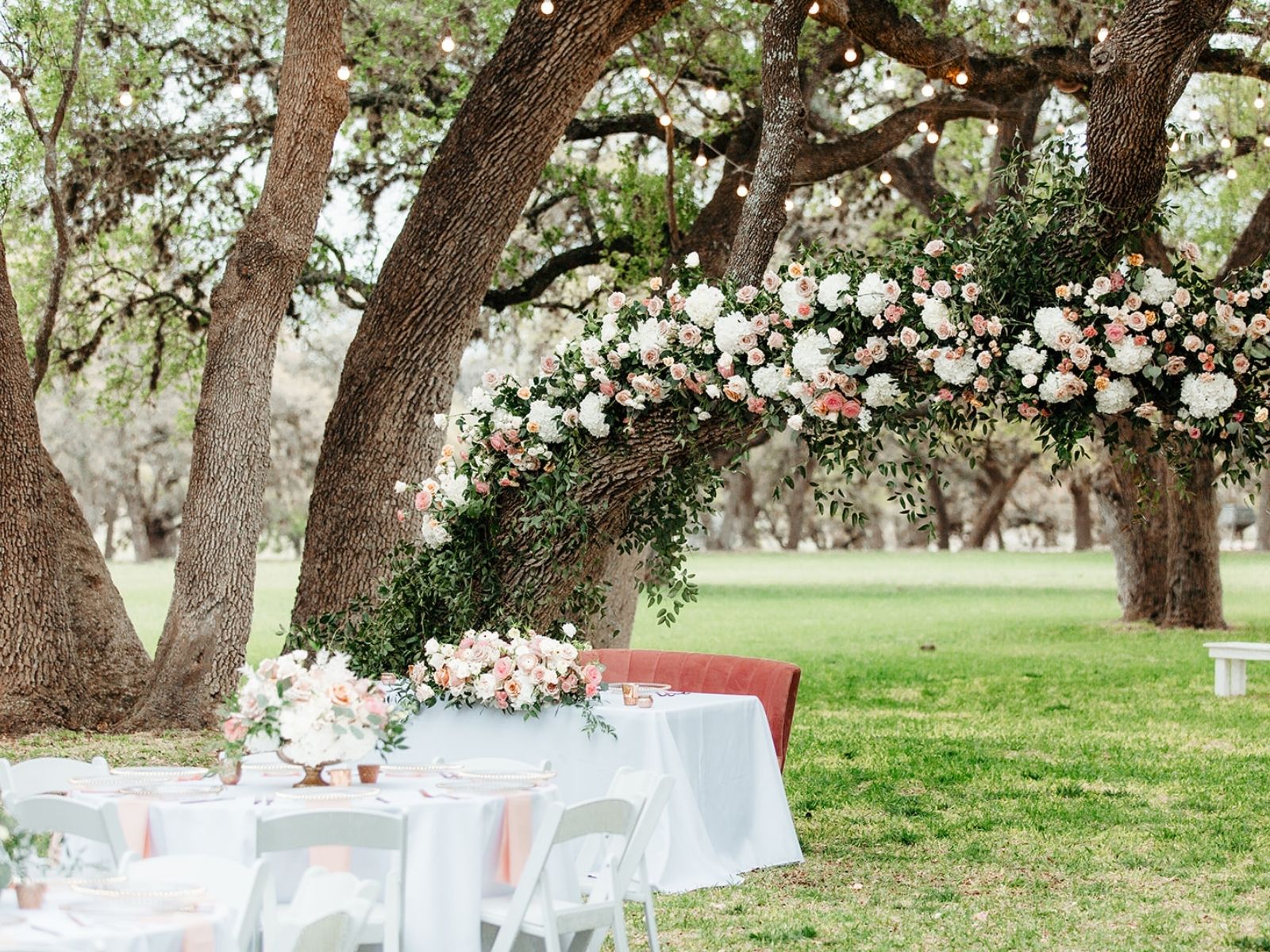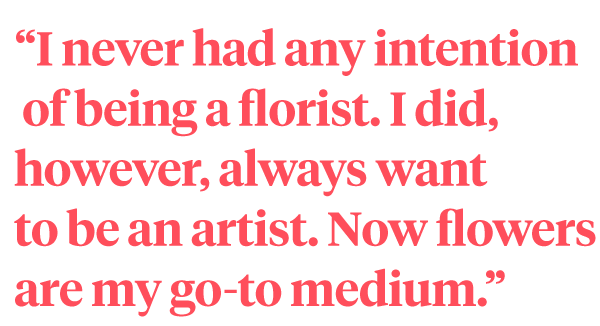 When did you know you wanted to be a florist?
"Growing up, I never had any intention of being a florist or floral artist. I did, however, always want to be an artist. Now flowers are my go-to medium. In 2006 my sister got married, and I helped her plan, was the maid of honor, coordinator, and decorator, and designed some silk flowers for her.

The venue asked if I would be interested in a job with them as their event sales and coordination contact, so I quit my full-time boring insurance job to do that. We had a lot of couples who chose to go the DIY route because it was a destination bed and breakfast venue."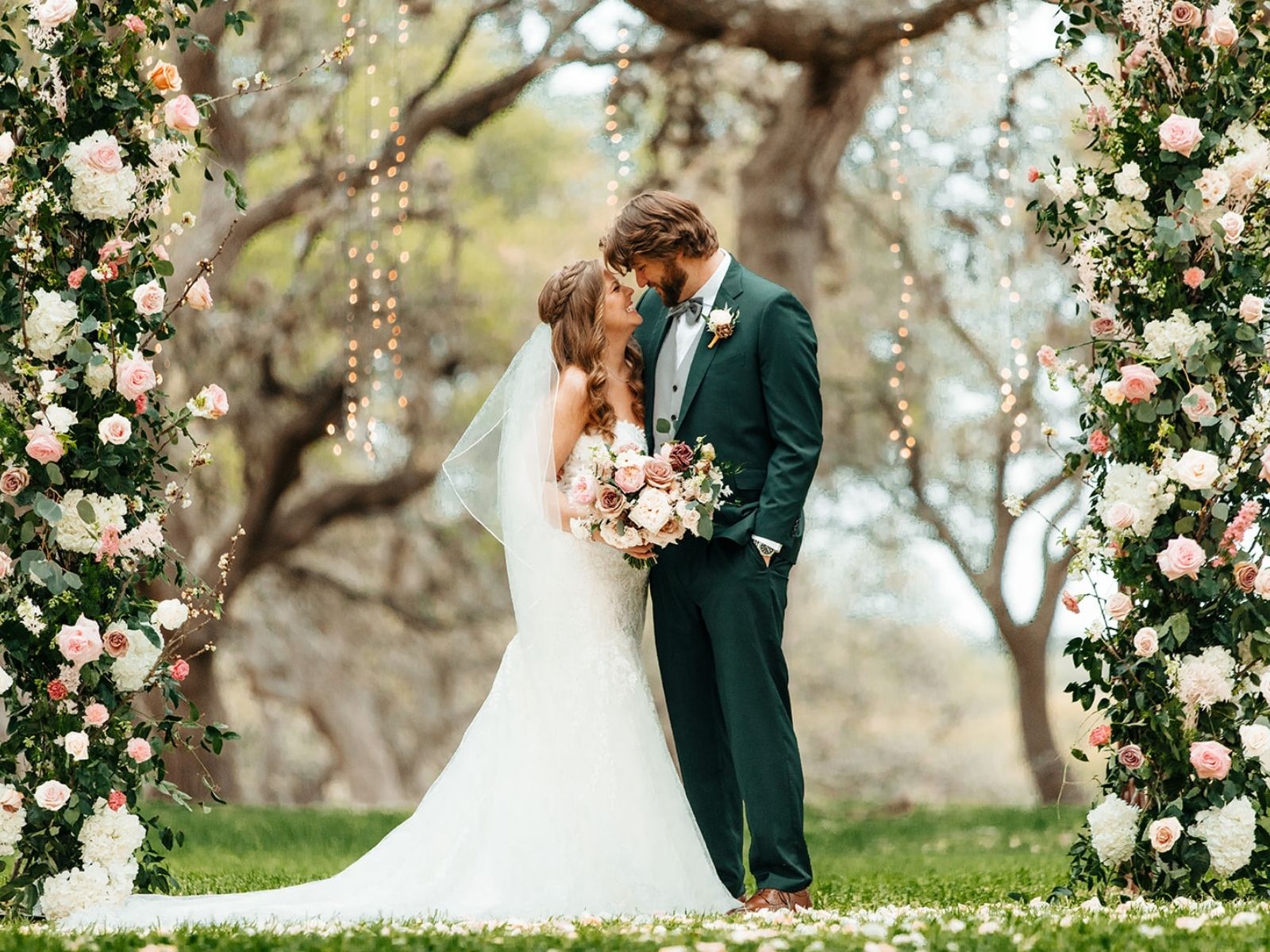 "They would come to me asking for help once they figured out how much work putting together a few bouquets and centerpieces could be when they're supposed to be entertaining out-of-town guests the day before the wedding. I quickly decided I would much rather be working with flowers than working for the venue, and decided to get a day job closer to home and learn more about the flowers in the meantime.

I took a semester of floral design at a local community college here in San Antonio, taught by the fabulous Julie Beck Rogers AIFD CFD TMFA. It was a brief introduction to floral design, and it was helpful to learn how to make a bow and wire flowers for corsages, and how to make a casket spray (but for the most part I am self-taught). From there I began moonlighting as a freelance designer, but after just a year and a half, I went full-time with Eden's Echo Floral Design."
What is your main business?
"Eden's Echo has always primarily been a wedding studio, but we also do corporate and private events and parties as well. Here and there over the years, I would get requests to do a one-off arrangement for a birthday, new baby, funeral, etc, which is always challenging if you don't have a retail space with a constant floral inventory. During the pandemic, we had so many requests come in for that, and we began dipping our toes into deliveries as well."
How do you keep yourself motivated during these challenging times?
"Knowing that the flowers I'm designing bring people happiness or comfort is my biggest motivator. Making other people happy is the biggest reward of this profession."
How would you describe your own style, your signature?
"Because I'm primarily a wedding designer, my style is what the client wants, but with my hands. I love lush, romantic designs, asymmetry, a wide variety of varieties, sizes, and textures, and a bit of whimsy. If I'm designing an everyday arrangement for a birthday or other happy occasion, 99% of the time it will be asymmetrical and a little funky. I just can't help myself! Also, keeping up with trends is extremely important, especially with our changing product market, and even more so with wedding clients. What's even better is when you can take a trend and put your own spin on it to better reflect the personality or aesthetic a client is going for with their event."
Which impact did - or still does - COVID have on your business?
"COVID and the lockdown affected us all. While I had some postponements and cancellations, and months without events, it gave me the time to focus on working toward one of my new business ventures, one that I've been wanting to do for the past two years. We also got a lot of requests during this time for deliveries, and are now looking into opening a floral boutique."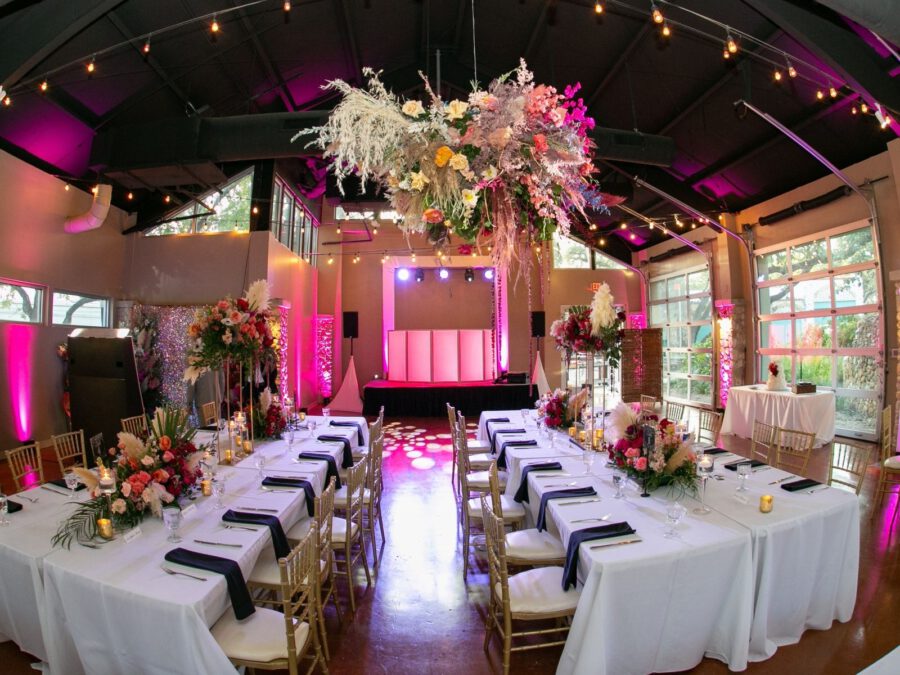 "Despite never having had an interest in offering daily arrangements, it seems like that's what the universe is encouraging me to do, and now I'm actually a little excited at the idea! So in a way, COVID has helped us shift into a new exciting direction."
Which flowers are specific to your region? What's your favorite?
"The Texas state flower is the Bluebonnet, which is a type of lupine. However, they're not grown commercially. Here in central Texas, you can find all sorts of wildflowers, and there are a few farms that grow ranunculus, delphinium, larkspur, sunflowers, zinnias, and other blooms that do well in warmer climates. Most of these farms are outside the area where I can readily get them because unfortunately, they do not deliver as far as I'm aware."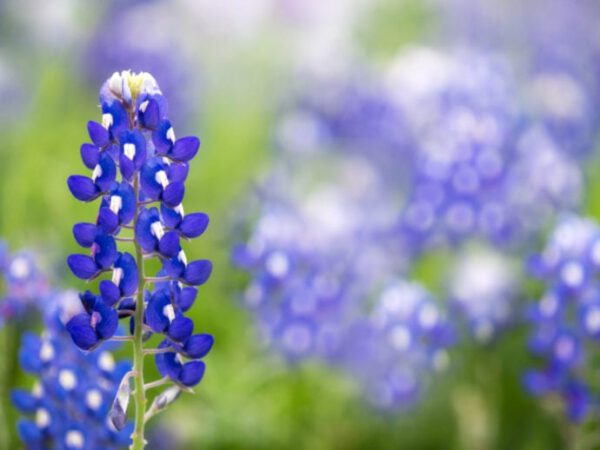 "My all-time favorite flower is the Coral Charm Peony. Its ruffly, color-changing petals are simply magical. My favorite flowers to design with are peonies, ranunculus, anemone, orchids, hydrangea, roses and garden roses, and lots of pretty greenery."
There are quite a few awesome inspirational shoots from your hand. Why do you organize these shoots? What do they bring you?
"Participating in styled shoots with other vendors is somewhat like creating florals for a wedding or any other event client. Most shoots are done to get the editorial images, but I've done one shoot where I was the creative director. Designing for other people definitely brings joy, but this was pure creative freedom and personal expression."
"I wanted to create something absolutely dreamy, feminine, and delicate with fairy-tale charm, but with a modern twist. At the time I had been enamored of the holographic anthurium VIP Roses was producing (this was before Kristen Alpaugh launched Haus of Stems), and I just knew I wanted to design with them. I've never been a fan of dyed roses, but the two-toned 'Whisper' variety from Jet Fresh paired perfectly with the anthurium, along with some pastel rainbow gyp, peegee hydrangea, and some fun preserved goods - plus whatever I painted myself.

I had so much fun putting it all together...my hands were just covered in paint! The end results were beautiful photos and a great little promotional video clip to use for marketing, that really showed my creativity and love for design."
What's your favorite work?
"Weddings, always. I'm always happy to design for any special occasion, but weddings have my heart as it's where I got my start and grew my skills."
Let's get to know Erin more on a personal level. Can you share with us your all-time favorites in the category of music, food, movie, and travels?
"I love a wide variety of music, from classical to classic rock, reggae, a touch of country, to anything the 1990s/early 2000s, and most recently lo-fi beats-which is incredibly relaxing to design to.

As for food, I'm 95% a plant-based eater. I will eat eggs and honey from local small producers, but that's it. I think I'm still a big kid, I love pizza, ice cream, and comfort foods as long as they're plant-based.

My all-time favorite movie is definitely Amelie (French), closely followed by a tie between Labyrinth, The Dark Crystal, and Princess Bride. I love to travel, so much. Flying to a nice beach resort to snorkel and enjoy fruity drinks, road trips to national parks and camping along the way, or visiting another country and taking in historical sites and museums are all equally appealing to me."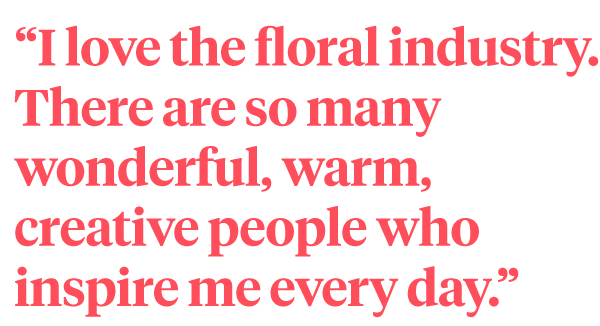 How do you like working with plants or foliage?
"I love plants and foliage. The range of depth and textures you can get from the foliage is just limitless. During COVID, I started doing a lot of planted succulent gardens as 'just because' or sympathy gifts, and while I've never been a plant mom, these were fun to design."
Where do you purchase your flowers?
"I purchase from a multitude of locations. I like Jet Fresh, Allure, and Mayesh along with local wholesalers in the San Antonio area. I have fallen to picking up flowers from Trader Joe's, Whole Foods, or other local stores that have good sources in a pinch."
Which one of your floral achievements are you most proud of?
"Overall, I would say the reputation of Eden's Echo and the quality work we do is what I'm most proud of. For fifteen years I've been honing my craft and doing whatever it takes to bring couples' visions to life. Customer satisfaction and a fantastic experience are my biggest priority."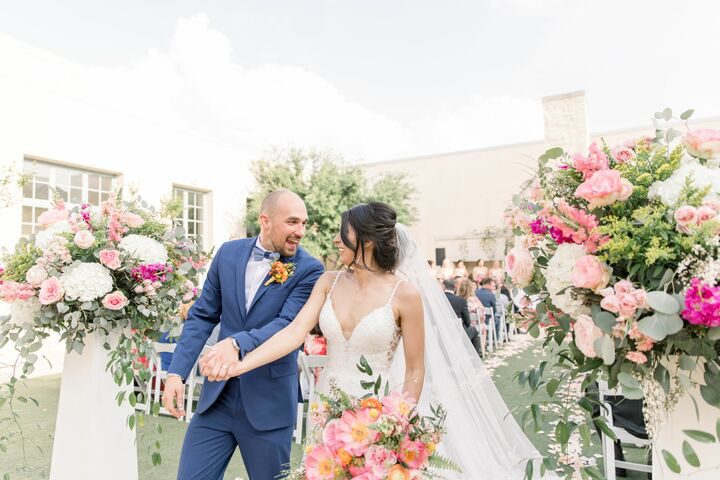 Is there a specific goal or a big dream you're going for?
"Our next big step will be to open a boutique shop for Eden's Echo. We also have a newly budding business, which has had to take a backseat due to Covid's flower shortage. I'll be helping couples who want to DIY their wedding flowers streamline that process, and teaching them how to design and assist them with sourcing flowers and hard goods."
Where do you see yourself in twenty years?
"Hopefully retired, surrounded by lots of cats, a few goats, a lot of land where I can grow my own flowers, and my partner by my side."
Is there anything else you would like to share with the floral industry on Thursd?
"I love the floral industry. There are so many wonderful, warm, creative people who inspire me every day."