Nancy Zimmerman, the winner of
Florists' Review Picture Perfect
, started her own wedding florist business just 10 years ago. She loves the challenge of creating something different and unique. Nancy has been a hobby florist most of her life while working in banking and raising her family together with her husband Wayne on the farm.
There she had her garden and it nurtured her creative spirit and stimulated a passion to learn everything she could about the floral industry. She had a love affair with flowers from the time she was a young girl, and eventually decided to retrain and opened her studio -
Fancy Florals By Nancy
.
Fancy Florals By Nancy
Because Nancy had been creating bouquets from her garden all her life, she had the desire to learn to design professionally. She was able to take Floral Design I & II training through the local Jr College, but because she was already in her 50's by that time, she decided to open her studio doing weddings which allowed her control of their calendar, rather than opening a flower shop.
Wayne and Nancy downsized and moved to town already before she started her business. He is still helping on the farm, and besides that, helping as much as he can with her wedding studio Fancy Florals By Nancy.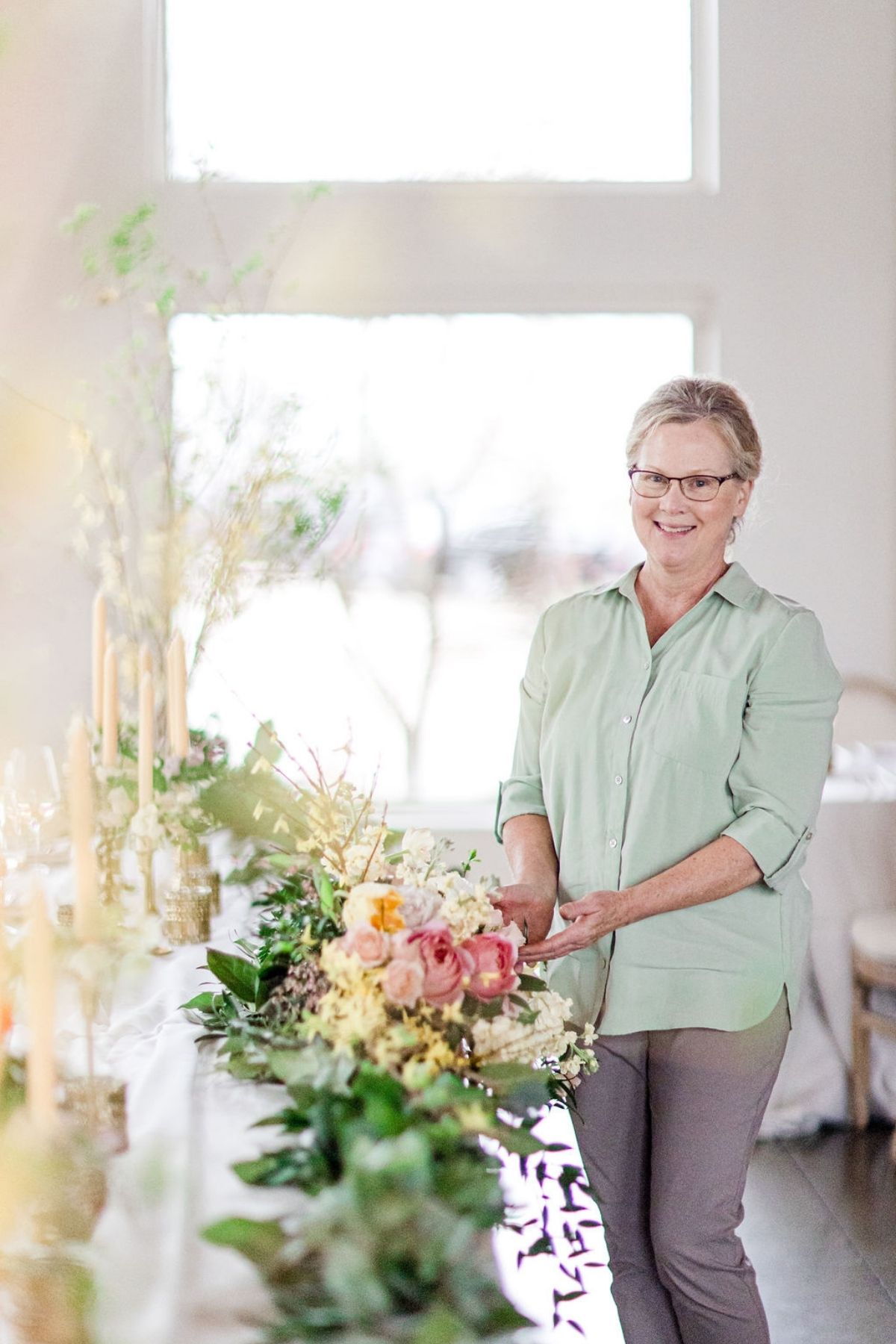 Nancy Zimmerman
Me in Short
"I am a gal who has had a love affair with flowers from the time I was a young girl and admired my grandmother's flower beds, from her spring tulips to her summer larkspur and sweetpeas in central Illinois. When I married my husband Wayne (we just celebrated our 44th anniversary), he didn't know he would get dragged into this flower journey we've been on. Every vacation we took, I wanted to seek out all the local flower gardens to visit. One that stands out is Longwood Gardens in Pennsylvania. Eventually, I was able to take a trip to England with my floral design instructor Trish Locke AIFD from Parkland College and visited many gardens around London in a tour called "Gardens of England". My goal and hope are to be able to continue to travel and visit flower gardens all over the world (if COVID ever allows that again!)"
Q: What made you decide to go into floristry?
Nancy:
"I am 62 years old and just started my own wedding florist business ten years ago after being a hobby florist most of my life while working in banking and raising my family. My husband is a farmer and I had room on the farm to create extensive flower beds. Back in the days before we had Japanese beetles, I had over fifty rose bushes which were old garden types, plus many David Austin varieties until the beetles arrived and decimated my cherished roses. I will never forget the first rose I planted was Madame Isacc Peirre and when it bloomed it completely charmed and captured my heart. I can still smell the powerful scent!!"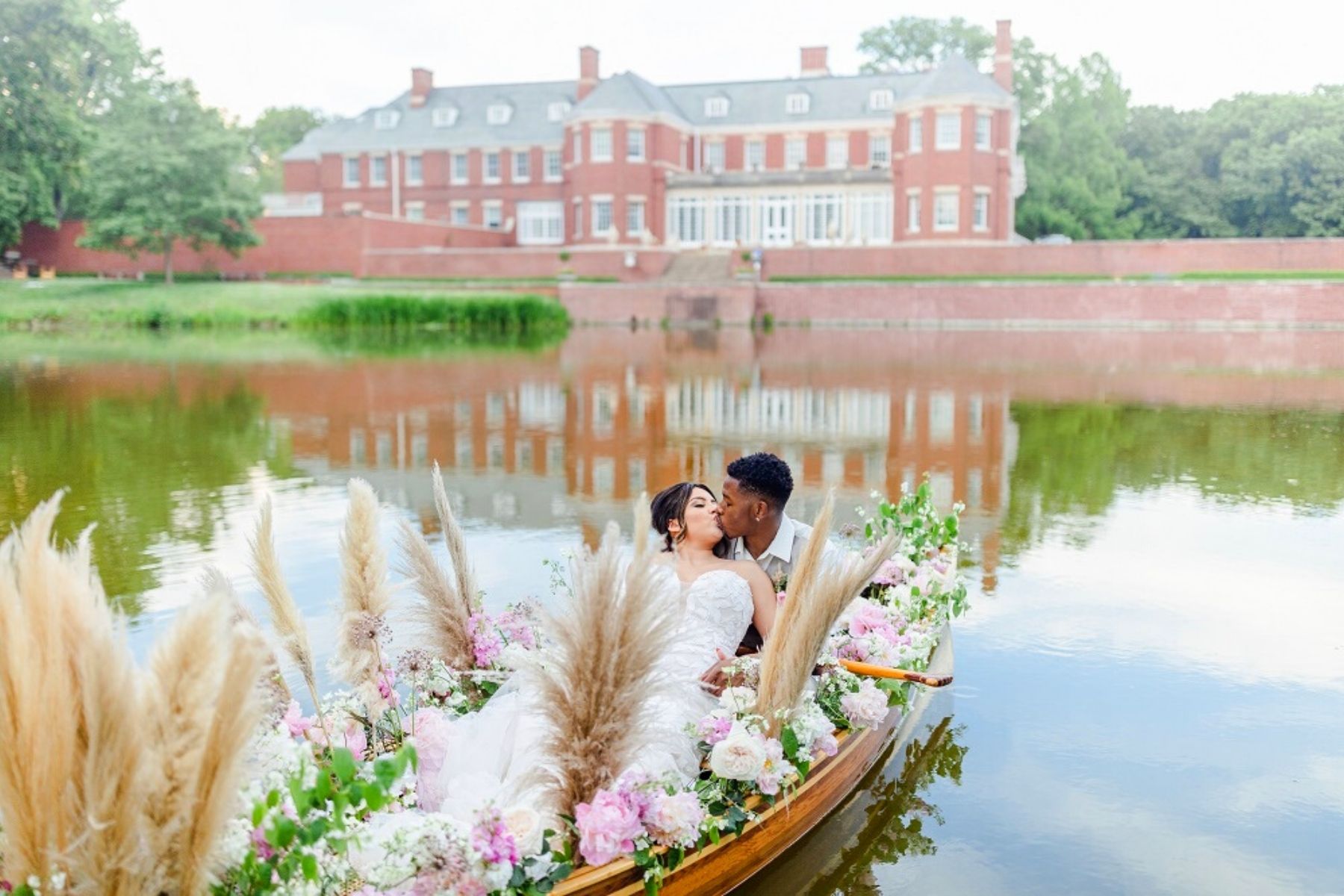 The Family Farm
Her son and his family now live on the family farm where her husband is still actively farming but he helps in Nancy's business as much as possible, since they have a controlled but packed agenda with weddings all postponed from previous years.
Nancy, smiling when she talks about her husband:
"He likes to tell everyone that I am Fancy Nancy and he is Plain Wayne!"
Q: Can you tell us what were the highlights in your career?
Nancy:
"Winning Alexandra's Garden Rose Contest 2

nd

place in 2019 and again in 2021 is certainly one of the highlights of my young floral career! And being Best Overall Winner in

Florists' Review Picture Perfect

again is. My prize is free garden roses from

Alexandra Farms

which soothes my heart after giving up all my garden roses to those nasty beetles!"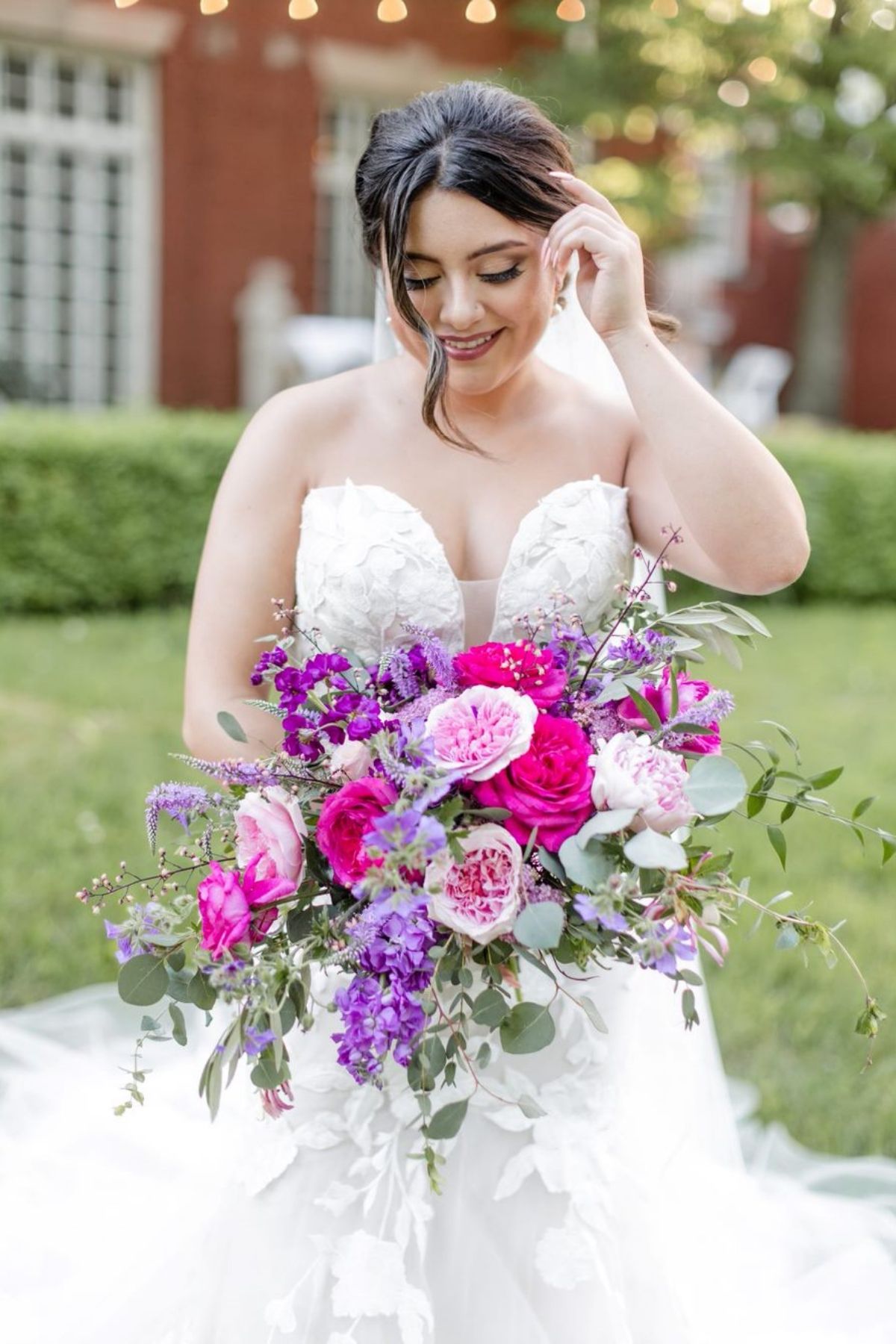 The Wedding Industry Is Booming
Wedding Season 2021 turned out to be pretty crazy for the floral industry and for florists doing wedding flowers. For so many couples who had to postpone their 2020 wedding, it was a happy and long-awaited day to finally have their celebration in 2021. At Fancy Florals By Nancy, it helped them to set some boundaries going forward. They raised their minimum to book but still, they tried to stick to one wedding per weekend. So it may be said, business is booming.
Q: Is there something that makes you different from other wedding florists?
Nancy:
"Because we only book around thirty weddings per year, I am able to give a lot of attention to my couples. I would say that the client experience is what sets us apart as we have time to be highly responsive and available to our clients. We love creating for couples who desire a lush, romantic, whimsical vibe and who say that flowers are an important part of the overall ambiance and experience for them and their guests to enjoy."
Q: Can you point a finger at the thing you love most about being a wedding florist?
Nancy:
"Ah yes, I do. The overwhelmed look on the bride's face when we present the bride's bouquet. The fulfillment you receive when you feel you brought her vision to life. The joy on the bride's face of realizing their dream came true, that's what I love most."

Inspirational Shoots
How important inspirational shoots can be is proven again for Nancy Zimmerman. She had a nice collaboration with
Rebekah Albaugh
, with her gorgeous photography. Turning out one of the most romantic scenes in floristry the past year, with perfect pictures for her Instagram that she is building:
@fancyfloralsbynancy
Q: The contest Picture Perfect showed us a wedding couple in a canoe full of flowers. Exceptional and soooooo beautiful, can you tell us about it?
Nancy:
"The shoot with the canoe was a collaboration between a photographer friend,

Rebekah Albaugh

and me! She had a friend, Rory Schweighart, who hand built this incredible canoe and it was her dream to do a photo shoot including the canoe. I always jump at the chance to corroborate with Rebekah because I love her photography style and I know that I will be getting gorgeous photos. It also gives me a chance to be creative and not restricted by a bride's vision! The shoot took place at the historic

Allerton Mansion

in Monticello, IL. We had a time getting the boat launches and even though we got wet, we managed to keep the models dry! The mosquitos were horrible but our efforts were well worth it!"

Flower Supply
To be understood from Nancy, it's not always easy to have the right flowers for her weddings. From the farm directly when she needs a lot, is the best way, but not always are these weddings huge and opulent. Sometimes, they are intimate and romantic and the right touch with the right flowers is very important. So as a wedding florist, Nancy believes the trendy and muddy colors that are often in short supply is something that growers and breeders have to continue to work on producing more.
Q: What would you say is the biggest global issue right now in floristry?
Nancy:
"I think the biggest global issue right now is the shipping price increases and delays. Because I am located in a rural area in the midwest and not near any flower markets, I am limited in what I can get because of shipping costs. My wholesaler increasingly will not be able to get what varieties I ask for, so I am finding it is better for me to be able to order farm direct when I have a large enough order. I don't always need a whole box of one product so that does limit me with farm ordering. It is a big advantage to be able to order from the Holland Auction through my wholesaler. It opens up availability to a greater choice."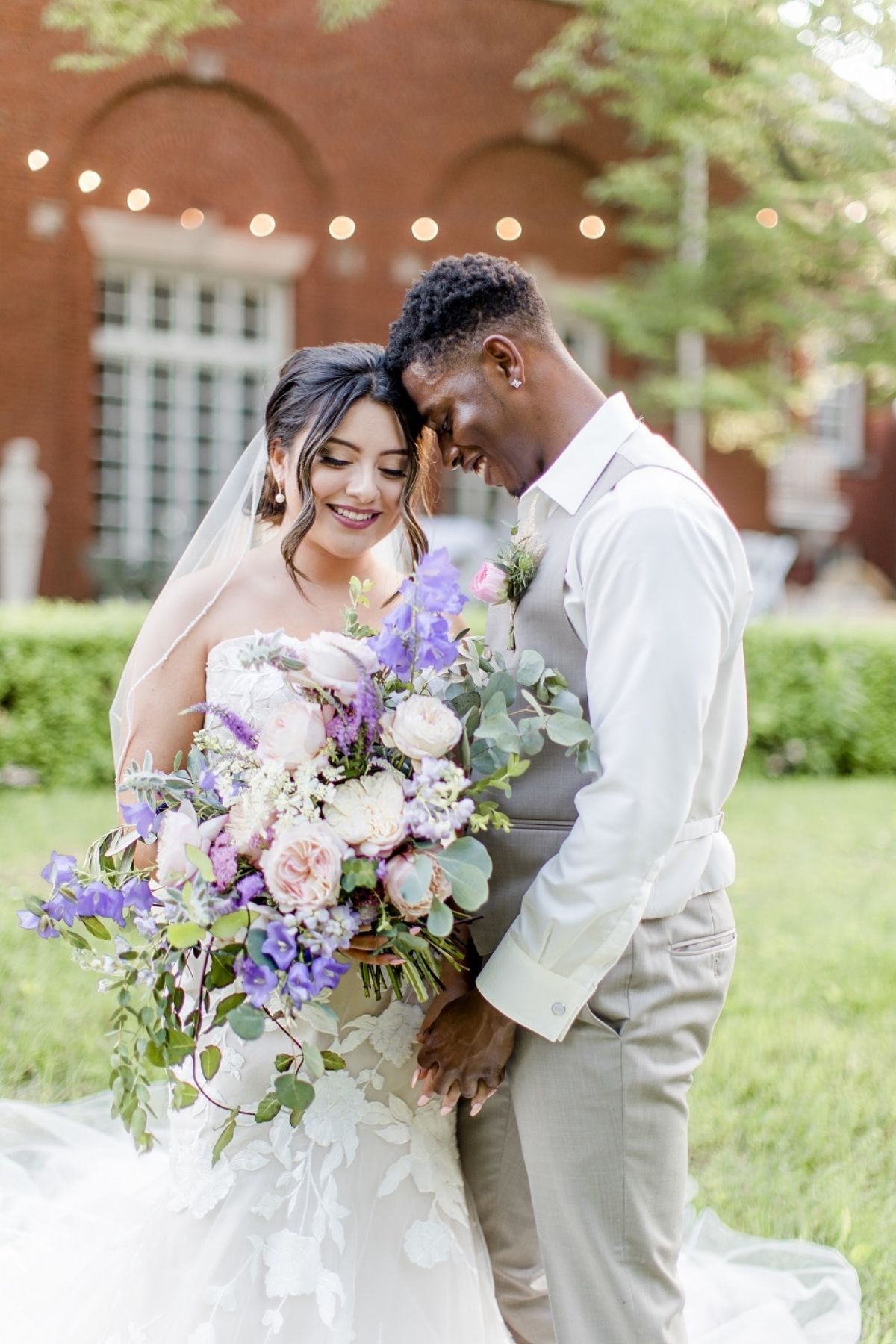 Q: If you could reach out to someone in the floral industry, who would that be?
An excited Nancy says:
"If I could speak to someone at

Decofresh

, I would love to find out how to order direct from them. They send out emails with all the beautiful varieties of roses I need. I hope when I send a request for an account, they will grant me one quickly and tell me how to get these beauties to my door."
Ending on a responsible note Nancy also would like to let growers know not to use plastic when packing the flowers. Some farms are sending out bundles in a netting-like fabric - is this more sustainable than plastic?