For the spring wedding of Matt and Cara, where the bridesmaids were dressed in several tones of jade blue, we designed our flowers with blush romantic colors. It turned out to be one of the more striking color combinations we have designed so far this year, gorgeous, this jade blue and blush combination. Over the past several years we have done a lot of blush wedding flowers, but not with many shades of jade blue. So a big yes to jade blue bridesmaid dresses. This jade blue also appeared in the Thursd Color Palette of the Year.
Jade Blue for Bridesmaid's Dresses and Blush for the Flowers
Jade blue is an elegant color inspired by the gemstone jade, known for its rich blue-green hue. It beautifully blends the tranquility of blue with the vibrant energy of green, making it an excellent choice for bridesmaid dresses.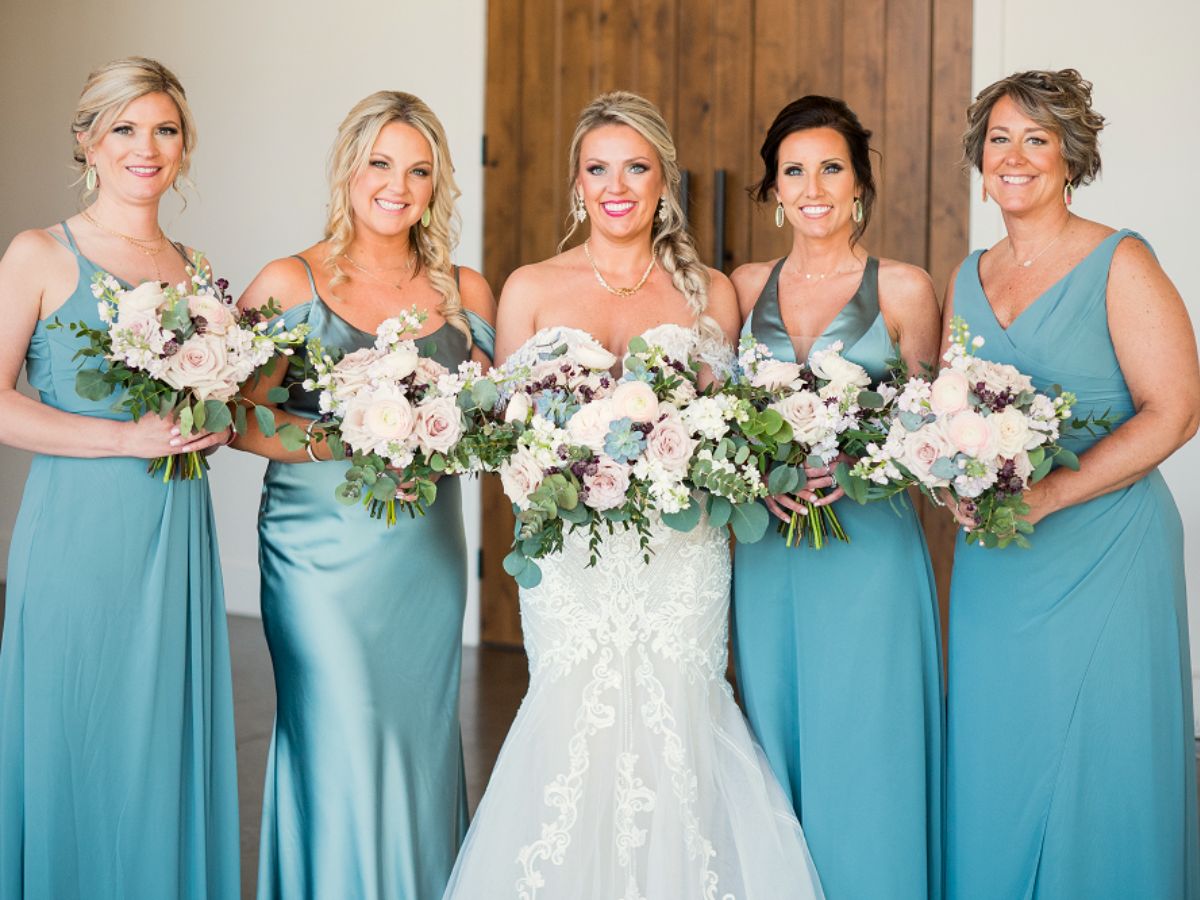 This color suits a wide range of skin tones and can be incorporated into various wedding themes, from beach ceremonies to garden weddings or formal events. Jade blue is a timeless choice that ensures your wedding photos will remain classic and stylish over time. Coordinating jade blue bridesmaid dresses with other wedding elements is simple due to its versatility. You can effortlessly pair this color with complementary hues such as ivory, gold, blush pink, or other shades of blue and green.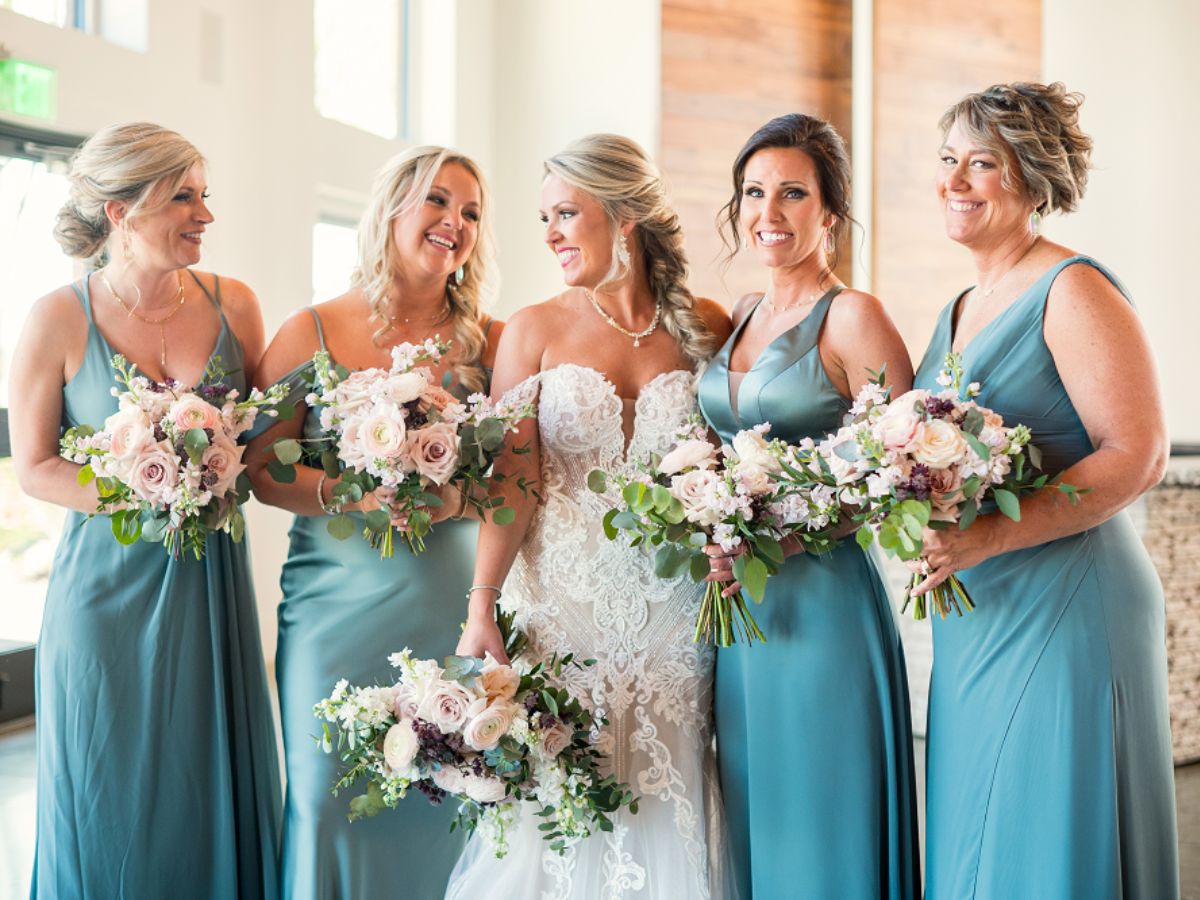 Romantic Roses and Ranunculus in Blush
We loved how the blush roses and ranunculus stood out against the jade blue of the bridesmaid dresses. Carra requested some succulents to be added to her bouquet. We found the perfect jade blue-colored succulents to use along with the gray-green shades of eucalyptus. Just a touch of burgundy Astrantia flower added some depth to the designs to balance out the look.

Matt chose light beige suits for the guys which was a perfect complement to the jade blue bridesmaid dresses and the blush flowers in the bridal bouquets. Just look at how that tie and pocket square matches Carra's eyes and looks so beautiful with the blush boutonniere flower.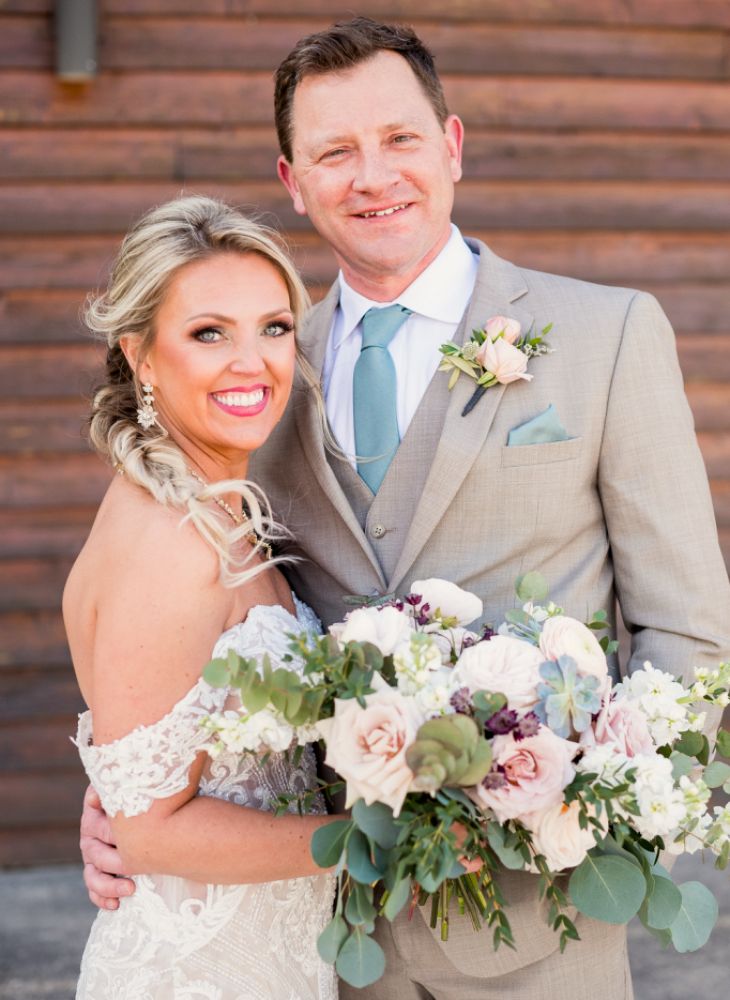 Harlow Flower Stands for Entrance and Tables
The entryway held a hand-lettered scroll with the seating chart where guests could find their table number. We created two heights of Harlow stand designs to frame the seating chart and add a focal point in the entryway.
The blush flowered theme carried over to the altar area decoration with a tabletop pergola artfully embellished with shades of blush flowers and lush greenery.
The ceremony decor was easily transferred to the head table since the reception took place in the same space as the wedding.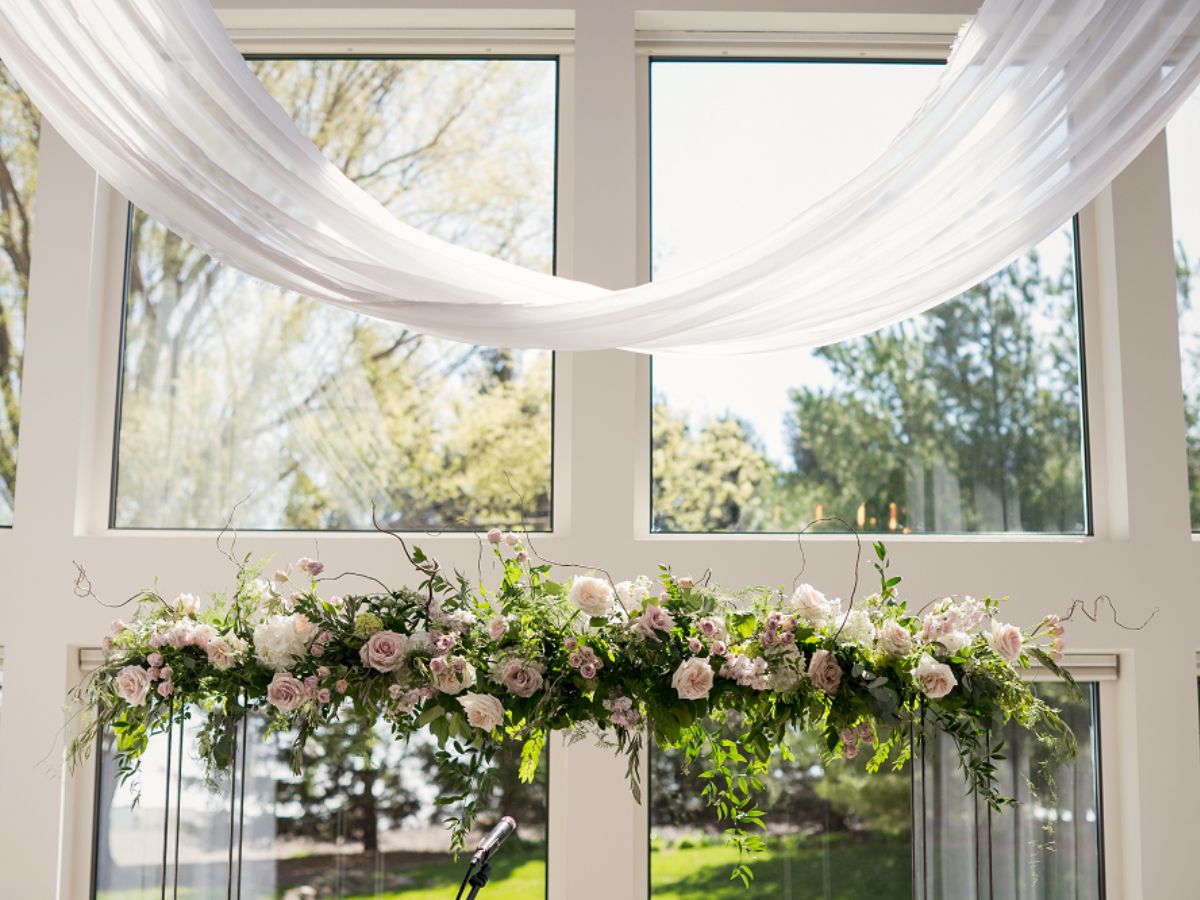 The rule of thumb for reception decor is to keep the centerpieces either above or below eye level. Because the venue has high ceilings we used tall harlow stand arrangements for part of the tables. The rest of the tables had low compote bowl arrangements with blush flowers including these gorgeous Clooney Hanoi ranunculus.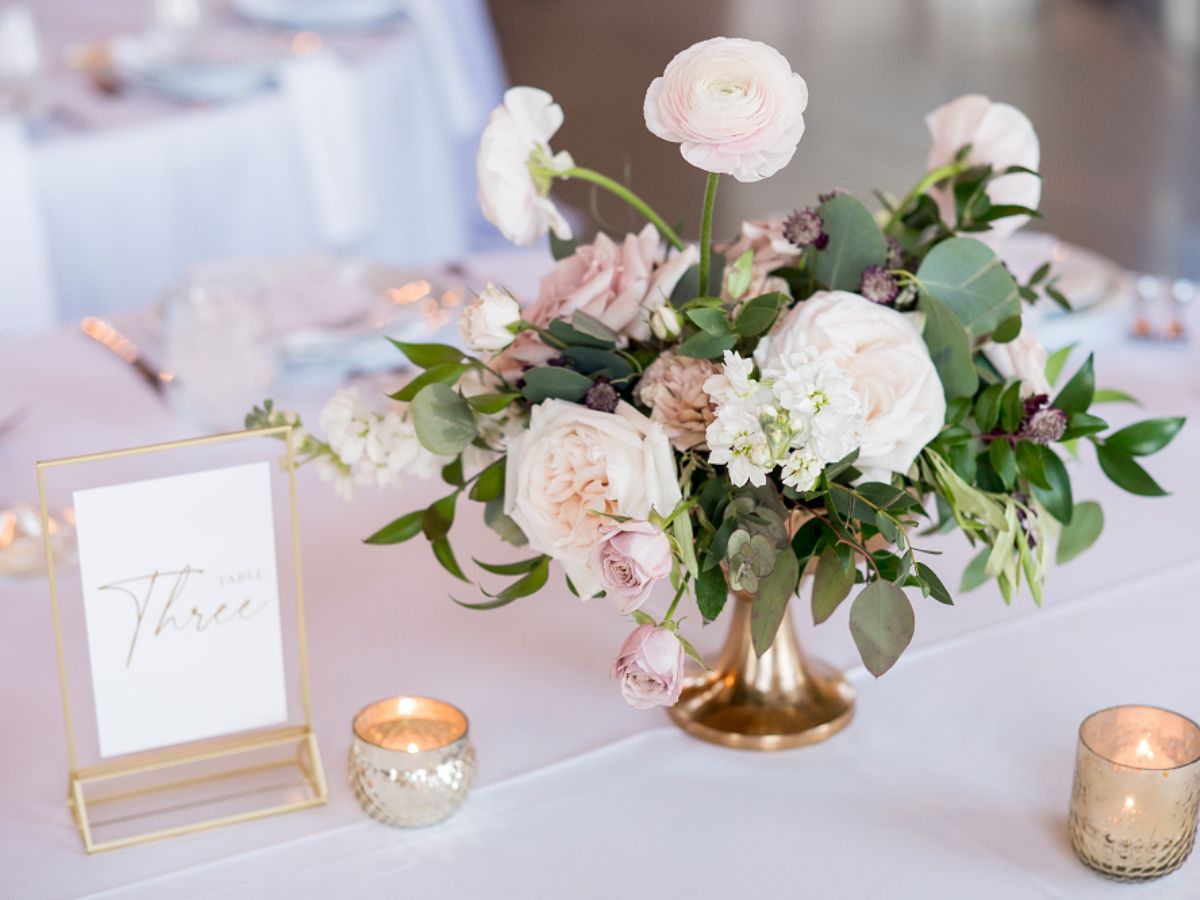 More About Me? I already had the honor of being in a floral interview on Thursd. Check it out, it was a gorgeous design too.
Natural. garden style. lush. romantic.
Photo credit - Holly Birch Photo, Venue credit - Pear Tree Estate in Champaign, IL.