The first hectare of the Snowstorm+ rose is there, and the first flowers will be available in the third week of January. Gordon and Stuart Miller, the owners of Rift Valley Roses are adding another top variety to their long list of successful roses.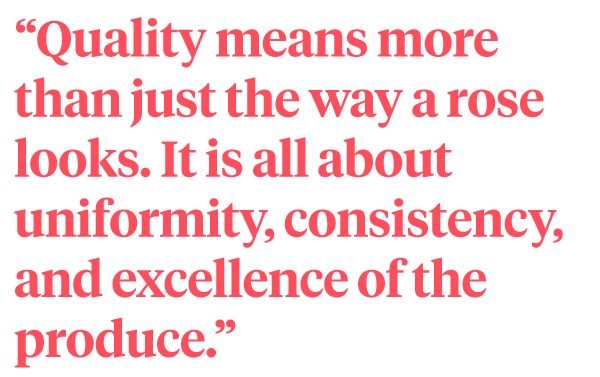 The Great Rift Valley of Kenya
Kenyan rose grower Rift Valley Roses grows 17 varieties on their 30 hectares of greenhouses. They owe their name to the location; the Great Rift Valley of Kenya, near the oasis of Lake Naivasha. This is the perfect spot for growing roses. The soil is full of volcanic nutrients, the altitude is just right at 2,300 meters, and so close to the equator the sun shines regularly and in abundance. Combine these forces of nature with the latest technologies, and there you have it: roses that have grown full of energy with strong stems and intensely colored big heads.
The Novelty Snowstorm+
All this nature, technology, and a lot of love for growing roses resulted in another great novelty from Rift Valley Roses: rose Snowstorm+. Gordon and Stuart are proud to present this pure white stunner. Snowstorm+ is a result of a triangle collaboration with breeder Dümmen Orange and their longtime handling agent Fresco Flowers from the Netherlands. This means that on all ends quality and availability are guaranteed. Quality for Rift Valley means more than just the way a rose looks. It is all about uniformity, consistency, and excellence of their produce. By offering this, buyers from all over the world know exactly what they get when buying products from Rift Valley Roses.
An Ideal Rose for Growers
Why is Snowstorm+ called an 'ideal rose for growers'? That has to do with yield. Rose plants are used for about four years, in which the first year is usually the weakest. Every flower buyer knows what the marking 'young crop' means as an indication that the flower is not at its strongest yet. So, basically, a grower has three years of full-powered roses. But during these years, the stem size decreases gradually. African roses go down from 60cms in the first years to 40, even 35cms. The Snowstorm+ rose keeps its size of 60 to 70cms and produces well over the years, making it an ideal rose to work with.
Constant Assessment
Rift Valley Roses is committed to the Kaizen principle of 'constant assessment', allowing all employees to share in the company's issues, knowing that their opinions and ideas matter and are considered within the mission and vision of the farm. That works well with core corporate values such as loyalty, commitment, teamwork, human development, and environmental sustainability. It starts with one hectare. And that's just the beginning...