With a true florist instinct for great design and insight about what each stem can bring to a floral arrangement, TJ McGrath is making show-stopping designs. His designs are a playful approach to the classic designs in floral design. Exclusive on Thursd. an interview with the lead designer of Blue Jasmine.
Get to know TJ McGrath, the designer behind the sunny palettes of flower arrangements.
An interview with TJ McGrath
TJ who is that lovely English Setter (dog) we see in each Instagram photo?
"That beautiful English setter is my dog, Chaucer and he has just celebrated his 1st birthday on December 3rd. While he does show up on mine and the @bluejasminefloral feed often, you can find more of him on his own account @chaucer_the_english_setter. He is lovely, isn't he? He is a big mushy, loving, floppy, gentle giant who I get to take to work with me when it's not so crazy busy with weddings and events. He's extremely friendly, loves everyone, loves his siblings and other dogs, so if you ever get the opportunity to meet him, be warned, he likes to jump up and hug visitors!

I get asked a lot how I get him to model so nicely and the truth is he's been in front of the camera since my partner Andrew and I brought him home, so that may have something to do with it. When we are in the studio, you can't get flowers to the "photo wall" without him beating you to the punch and arriving there first, ready for his close-up. I guess you'd say he's a bit of a ham. I can get him to model without even really asking; but "Sit" can take quite a lot of coaxing sometimes and we're not always successful."
You are the lead designer at Blue Jasmine, an amazing studio in New Jersey US. What's the story behind the studio?
"The studio is led by the owner Paulina Nieliwocki and she opened the business about 5 years ago. She is an incredibly talented, warm, kind, and generous young lady, who I simply fell in love with when we met. Her energy is so genuinely contagious that everyone falls in love with her when they meet her. She was a teacher, prior to opening the business, but craved something more creative. Her parents are entrepreneurs, so Paulina had the innate drive and courage to take a risk, believe in herself, and leave a great job to pursue her passion. When she opened the shop, it was a floral and gift boutique. It didn't take long for our customers to realize her talent and the floral design part of the business quickly became what our clients knew and sought.
The studio offers, daily, weekly and subscription flowers & we offer an A La Carte service for brides who simply want Blue Jasmine bridal and bride's maid bouquets as well as other bridal party blooms. We also do workshops, whether it's a 1:1 with Paulina in the studio or full-day large group workshop event. These are kind of a big undertaking, but Paulina will always be a teacher at heart, and the workshops enable us to share what we know and our design approach with other flower enthusiasts. I'm incredibly lucky she did have the courage to open Blue Jasmine, otherwise, I might still be in a career that was unfulfilling. The very first time I visited the shop, Paulina wasn't there, but that didn't stop me from going to work the next day and handing in my resignation -- I had had a gut feeling that Blue Jasmine was where I was supposed to be and all these years later, I can confidently say, trust your gut instincts!"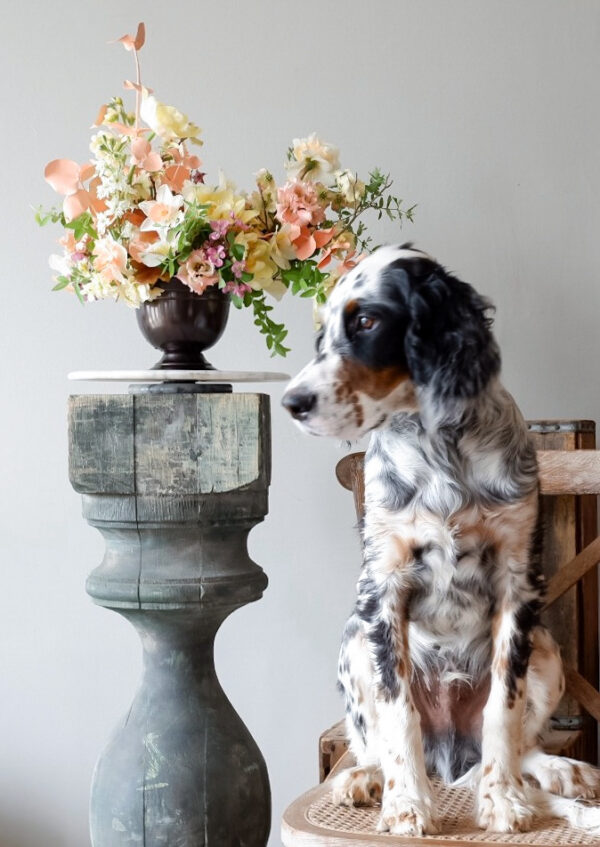 How is the floral business in New Jersey in terms of creativity, access to flowers, interesting projects, etc?
"New Jersey is the Garden State, which if you're simply seeing it from the airplane window at Newark Liberty, you wouldn't know that to be true. During the field farming season, we have access to amazing local products and we try to support our local farmers as much as we can. In 2019 we had the great fortune of having access to some amazing flower farmers via Garden State Flower Co-op and we're really excited to support this group of growers for our 2020 events. We also have access to the NYC 28th street market with Manhattan being only a 30-minute car ride (without traffic, but there is always traffic-- our best "clocked" time during the morning rush is 49 minutes, however, it's best to allow at least an hour and ten). Overall I think our access to flowers is pretty stellar and I try not to be jealous of what others can get their hands on; we certainly subscribe to the philosophy "the grass isn't always greener" and embrace what we can get.
In general, I would say the flower business in NJ is great. It can be a bit competitive, but we're in a densely populated region and the client base seems to understand that flowers are a luxury and that you get what you pay for. Social Media has really helped us to grow the business and get us in front of a clientele that appreciates and sees beauty in our design approach. All of us at Blue Jasmine are incredibly appreciative of the fact that most of our clients, whether they're working with us for their wedding, or sending a thank you bouquet, reach out to us for our creativity; so we get to put our creativity to use every day, with every wedding or event. Paulina really feels that every bride deserves a wedding that truly reflects her, so each wedding is custom designed to our bride's vision, we don't have a "package" to offer, so every wedding is different, unique & interesting."
You're the man behind Blue Jasmine's most show-stopping designs. Can you tell us which designs really make you proud?
"I would like to go on record -- I did not write that website copy and I hardly had a say in whether it was published or not on the website. (insert self-deprecating emoji) I do actually have a little bit of a difficult time with accolades like that though because I've never worked anywhere else where everyone was so creative and invested in the success of the business. With that said, I'm sending along an image of a floral foam-free installation I recently did in the studio that I would say is a design I'm pretty proud of. It's a monochromatic yellow installation of solidago and tulips, with a tiny hint of euphorbia. I did an arrangement last year, it was a play flowers arrangement that consisted of about four, maybe five varieties of flowers that I had picked up at our local flower market and some weed bits I had foraged at the back of an abandoned grocery store. I love the way the color palette and textures came together in that arrangement.
This past spring we had the opportunity to adorn a fireplace mantle using bramble, dried foraged bits, and flowers. Our bride trusted us with her vision and gave us full creative license, I think it's one of the fireplaces I'm most proud of for sure; not just because I think it turned out beautiful, but also because the mechanics were always going to be a challenge and we rose to meet and exceed the challenge and expectation. I also seem to find myself proud of some of the designs I have done for family and friends…I don't really give them much choice in what they're going to get and yet somehow I haven't disappointed anyone, so I think you can always pat yourself a little on your own back (if you can reach) when you don't disappoint your large opinionated family."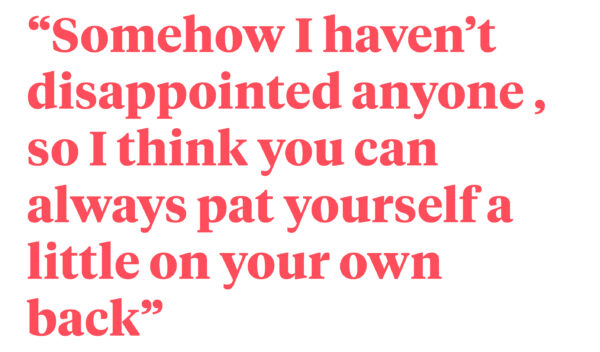 You're using flowers from your own summer garden to a lot to create your designs. Have you grown up with flower gardens, or what brought you to have this passion for flowering?
"I didn't really grow up with a lot of flowers or a garden in the yard. My mother did plant tulips and hyacinth bulbs and I remember hearing her say "I like the bulb plants best, some of the other flowers can look messy". Not a surprising thing to hear from a woman who dusted her way from her bed to the tea kettle every morning. I'm one of 9 kids, so I'm pretty sure my parents had their hands full and when it came to gardening, really concerned themselves mostly with making sure the yard was tidy. It wasn't really until I had a place of my own, a small apartment with a small terrace that I started to take notice of flowers, hanging baskets and potted flowers.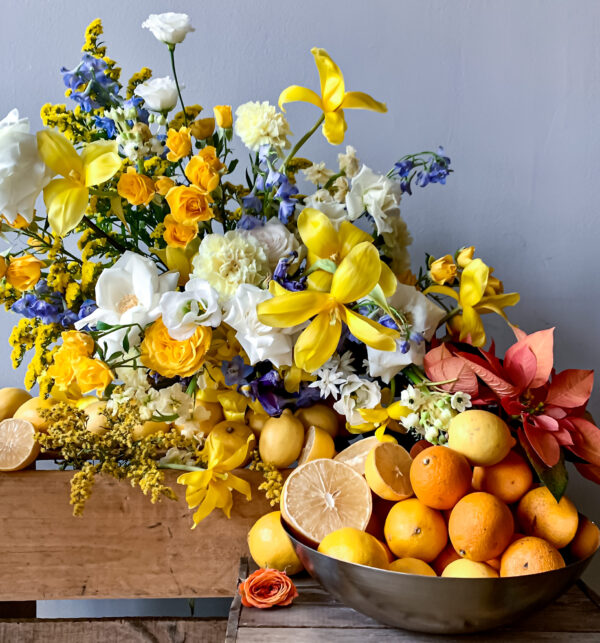 My father retired around that same time and he did take to gardening and soon thereafter there was a pond and garden beds in the yard where we used to have pool. I would spend time helping him with his garden and at 29, when I bought my first house, I had what I would say was heathy interest in gardening, but I was, nor am I now, a master gardener of any kind. While in that house, I had an artist neighbour who was in my opinion, a master gardener. She would often say she felt that she was a frustrated botanist in a painter's body. We became great friends and through our friendship, my passion for gardening grew much stronger, and art, because let me tell you, her paintings are amazing. I'm not a master gardener by any stretch, I would say I am an impatient gardener, with no knack for growing anything from seeds (though I buy tons of them!). I love visiting the garden-centre in the spring and almost always find myself overspending my gardening budget in the first few visits. I think my failures as a gardener are what push me to be a better floral designer. I feel like with each arrangement I have an opportunity to create a harmony with the flowers that I feel lacks in my garden."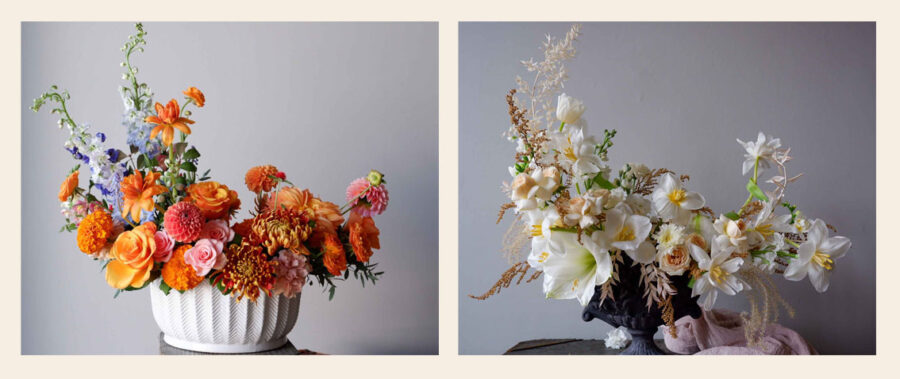 We read that you're highly caffeinated most of the time, is this a way for you to get the creative juices flowing and start your design process?
"That's a great question and the answer is easy…No. I just love coffee and a by-product of that, is that I am sometimes so overly caffeinated that I can easily stumble over my own words and thoughts. Recently, I've actually cut back on my coffee, I'm down to just 2 cups to get me out the door, 1 that I pick up for the car ride to work and 1 mid to late afternoon with a nice piece of cake. I used to have more than 12 cups a day, so needless to say, I'm less jittery than I once was!"
How do you challenge yourself both technically and creatively?
"Paulina is always dreaming up things for our brides that we've not yet done, so we're challenged often with figuring out the mechanics of how these designs will come to life. I enjoy that part of the job a lot. I feel a great sense of accomplishment when we nail the mechanics.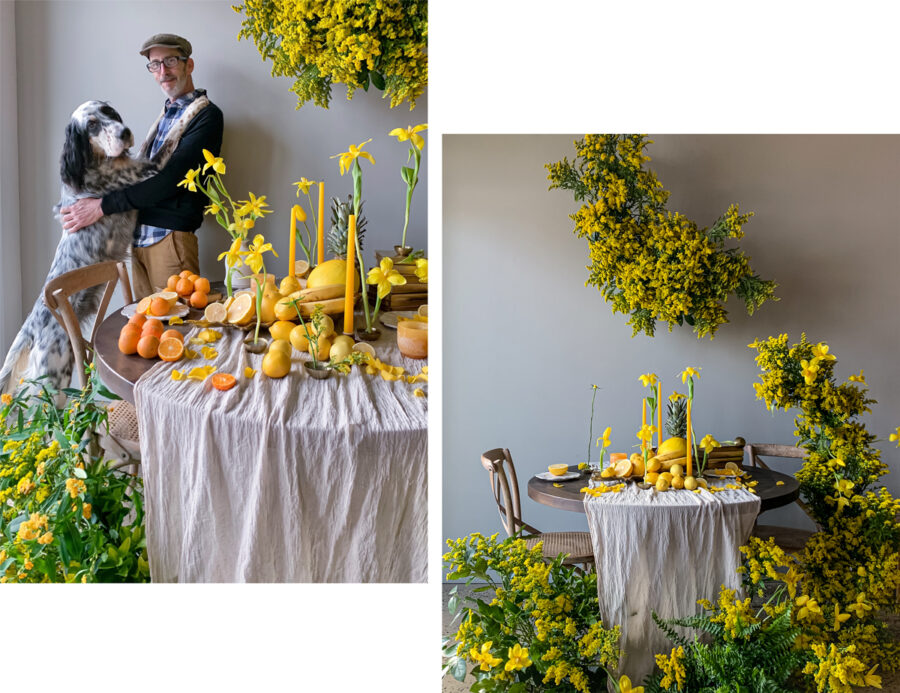 Creatively, for just about the last year, I have been challenging myself with putting a limit on the ingredients in an arrangement. I try to keep myself to 3 varieties of flowers and then add whatever I can forage to create a design that has both depths of color and texture. I also try to push my color pallet choices and occasionally find myself buying things where my rep at the wholesaler says, "I don't know how you're going to make that work". I love hearing that because it fuels my drive to make it work and sometimes it does and sometimes it doesn't. I don't have official training in the art of floral design, so I'm not sure that I can challenge myself technically, to achieve what certified florists might consider technical practices. I do challenge myself to refuse to adhere to rules I may have learned or picked up over years. That's not to say I don't employ some learned 'best practices', I just try not to rely on them. I don't want to be or become stagnant in my designs or my approach. I am using a pin frog as much as possible lately and the more I use it the harder I find it is to design comfortably without one. To keep me from becoming reliant on it, I should probably push myself to forget it from time to time and just use chicken wire as my base structure. The issue here is the first few stems inserted always spin around, but that's certainly manageable."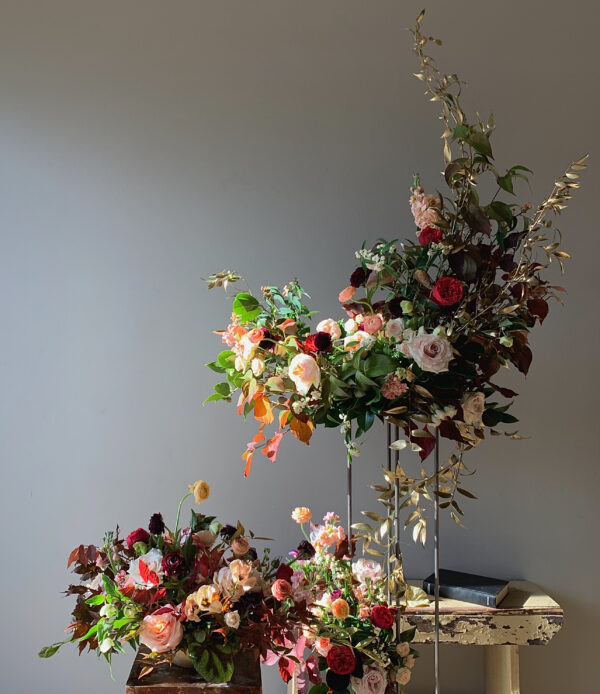 With your innate sense of shape and composition, what are things you do to keep an innovative mind and achieve your best creative outcomes?
"I keep myself open to possibilities and remind myself all the time that I am relatively new to floral design and therefore don't have a long history of laurels I can rest on. I really do learn something every day; it's one of the best things about this job. If you're open-minded you can and probably will learn something new every day. You then incorporate your experience in the next design and it's thrilling to see yourself put into practice a fix to something you stumbled over the day before. I also look for inspiration in places beyond the floral industry. I look at architecture, photography, art, dance, nature and music. As far as music goes, I'm completely tone deaf; I couldn't hold a note to save my life, but I love music— more than hearing the notes, I also see colours and shapes in the melodies. I find music definitely influences my design so much so that some of my favourite designs were definitely created while I had a great playlist happening in the background."
Do you ever feel overwhelmed or pressured to create your best work and if so, how do you deal with that?
"All of us at Blue Jasmine feel a little pressure to consistently create our best work. I think the core success of the business is Paulina's commitment to customer service and her attention to detail — it doesn't matter if we're working on a huge, high budget event or sending out a daily bouquet, we offer each client the absolute best we can create, without compromise. As for dealing with that pressure, we have each other to lean on. While there is a hierarchy, there aren't any competing egos and I think that helps us to not crack under the pressure. If I am struggling with a design I can turn to Paulina or the team for feedback and vice versa, without a feeling of inadequacy. I'm also a big fan of "checking the weather", stepping away from the design (or pressure) for a moment or two, breathing in some fresh air and revisiting the design with a refreshed perspective.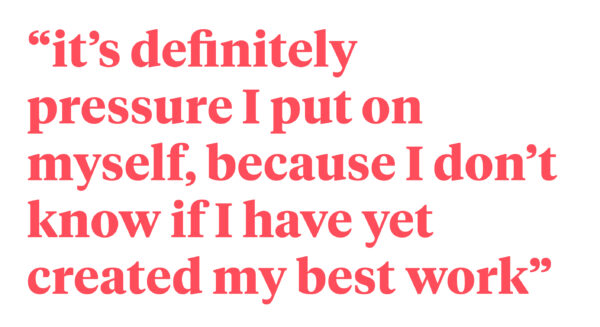 When I think about myself feeling pressure to create my best work, it's definitely pressure I put on myself, because I don't know if I have yet created my best work, I think I'm always striving to do so. Without the pressure to do better, I'm not sure I would love this work as much as I do. For me, I believe that I have one critic whose opinion matters most, and she, Paulina, operates much the same way as I do, always pushing us outside of our comfort zone. Since her stamp of approval is the one that matters most to me, I don't think I'll ever hang my hat on any one design and say, there, the pressure is off, that's the absolute best I can ever achieve, because she'll be there to push me to go further."
We see a lot of so-called C-shaped arrangements from you. How do you get the shape to look natural and what is it about this shape you love so much?
"I see a lot of those from me as well….I wish I could say that I set out to do it each time, but that's just not the case. Sometimes the C shape is the last thing I'm thinking about when I am looking at my flower recipe and yet somehow they seem to lend themselves to the shape and so they find themselves that way in the vase. Other times, when I actually do set out to achieve that specific shape the flowers fight me and I have to rely on my greens or branches to really crystalize the shape. I think the C for me was an evolution from a challenge set forth by Paulina to achieve an Asymmetrical V shape in our designs. I study the stems to see if there is a natural curve that lends itself to achieving the C shape. If there isn't, I look to see if I can edit/prune the branch to help create the shape.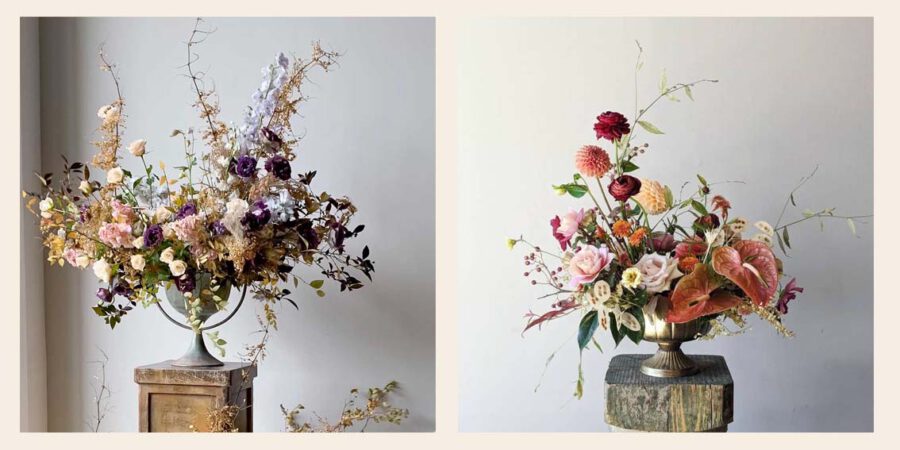 I'm also very aware of how I insert the stem, not all my stems hit the bottom of the vessel, and some need to go in practically horizontally to achieve the shape. In those instances I may or may not have to shave the stem to ensure its getting some water. Tulips help me a lot creating this shape because you can so easily get their stems to bend in the direction you want them to go, but my favourite is finding a ranunculus or two with just the right curve. I layer the flowers, both vertically and through the arrangement to help build the crescendo. I do love the shape — I think its soft, pretty and it's engaging."
Your bio on the Blue Jasmine website tells us you're a goofball and are extremely funny. We'd love to hear one of your favorite moments that has cracked you up.
"I think that's because I'm lucky to work with folks who 'get' my dry sarcastic sense of humor. I'm probably a goofball because I don't take myself very seriously and I often laugh at myself or my own jokes before, or while the others are laughing at me. We laugh a lot here, all the time. A lot of the funnies probably fall into that category of 'you probably had to be there', but if you were to be a fly on the wall (and who wouldn't love that opportunity), you could on any given day hear things like:
TJ -"Does anyone know where my glasses are?" Holly -"Do you mean the ones on your head or do have another pair you're looking for?" Liz -"Ugh, there has to be stinky water in one of these buckets, it smells terrible in here." TJ -"Ummmm, that's probably me, I had pizza for lunch and I'm kind of feeling gassy." Paulina -"TJ, can you grab the garden roses I pulled for the bridal bouquet from the cooler?" TJ -"Do you mean, Can I grab those garden roses in your hand?" TJ- "Can we get a leaf blower?". Holly -"Why, we have a vacuum." Paulina -"I can see this conversation heading to HR very quickly." Paulina, putting the fishing touches on the escort card arrangement at one of our last weddings; " I wish I had just a few dainty white blooms, I feel like its missing something." TJ, quietly exits and returns moments later with 10 stems of white salvia. Paulina -"That's so pretty!, Where did you get that?" TJ -"Outside, there is a whole garden bed full, it's our new thing, a touch of your venue's garden in your design." Paulina -"I love that!" Lauren -"You two are ridiculous."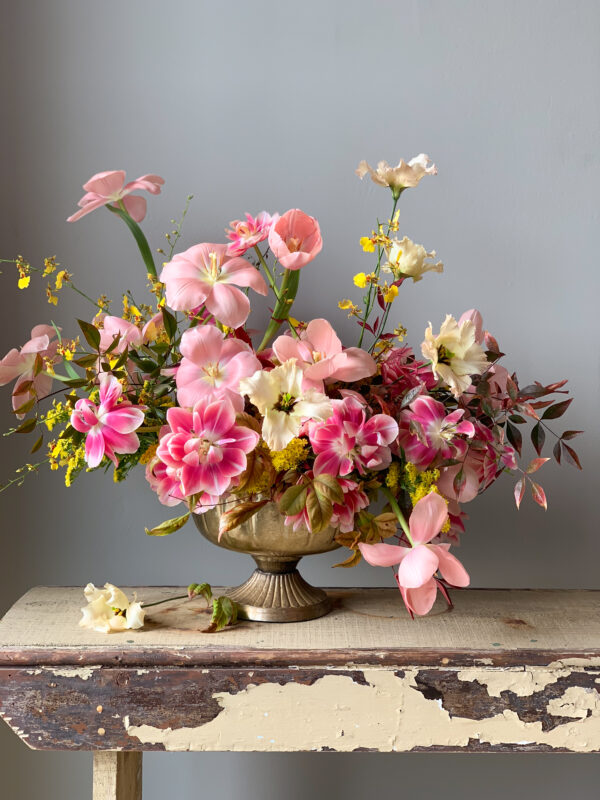 Final question: where do you buy your flowers?
"As I mentioned earlier, during our local growing season, we support or local farmers as much as we can…In addition, Hilverda De Boer is our largest supplier of imported Dutch flowers. We also use DVflora, NYC market on 28 th street, and Ferris Brothers locally. We're fortunate to have access to several wholesalers because it's hard when you only have one to rely on."