First of all, it's important to get into specific topics like what is interior decoration and what can be used for interior decoration? Why is interior decoration so important in your homes and any spaces? Today, learn about the importance of interior decor and the benefits and uses of preserved roses for interiors.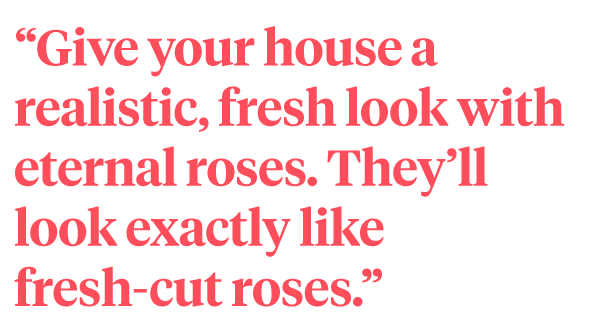 Preserved Roses for Interior Decoration
What is interior decoration? Interior decorating is simply transforming and changing space with items you like. For some, the aesthetic of their home is so important to them that they enlist a professional interior designer to choose furniture, wall-coverings, accessories, rugs, and more. An interior designer is someone who is hired to design a space. While this job may seem like simply choosing paint and placing furniture there's much more to it in order to have a stunning result and get exactly what you are looking for!
Interior Decoration With Eternal Flowers
Likewise, interior decoration with eternal flowers has become very popular and trendy nowadays, making this type of decoration one of the most beautiful and versatile for any space you'd like! One of our favorite Ecuadorian Floral Designers is known as a flower magician because she can literally transform any space you want with the use of flowers! This time, she used our LULU Eternal Roses for an amazing interior decoration project in Ecuador. Check out the work of Natalia Landaluce from Atix Home, to get inspired and know everything about her floral design projects and style, in this Thursd article about the LULU rose wall for the Casas Project 2021.
Now let's get talking and straight to the point: what are the benefits and uses of preserved roses for interior decoration?
The Benefits and Uses of Preserved Roses
Among some of the benefits, the most important one is the life cycle of our roses. Preserved Roses can last up to one year without the necessity of constantly changing them in your house! Your house can be stunningly decorated with the roses you love the most and will make you save time and reduce environmental waste. All of this by having them permanently decorate your spaces for a minimum of one year. Give your house a realistic, fresh look with eternal roses! They´ll look exactly like fresh-cut roses. Forget about constantly watering your roses. Once again, the benefit of using preserved roses is that they involve minimum care handles. This makes them so much easier to have around.
Make your spaces look luxurious and elegant with our preserved roses. Roses can actually transform any dull, boring space into a bright, bold, powerful environment. Dare to try our eternal roses for your house decor. You´ll love the results!
DIY Floral Arrangements For Interior Decoration
We are preparing a special surprise for this month, using the best eternal roses in the world: LULU Roses. One hint: it might have something to do with DIY floral arrangements for interior decoration using our preserved roses. If you´re looking for more information on the best-preserved roses, check out our Thursd profile or the LULU Roses website to order your favorite, or just… you know, take a look around! Get ready to be stunned by the eternal luxurious beauty of our roses.