Within an era of global pause, there are still places blossoming with vivid life. The export of flowers and unique orchids remain a vital component of Colombia's economy, with nearly 75 percent of flowers sold in the U.S. coming from the South American country, according to Colombia's trade and tourism agency. And each year, Colombia dedicates an entire week to these bright delights on its home turf, with flowers on full display throughout the Antioquian capital of Medellín. The festival Feria de las Flores in Medellin is a tribute to the farmers and their flowers and an experience not to miss
Feria de las Flores in Medellin
Tatiana Jervis, a teacher at Medellín's Colegiatura Colombiana talks about the raison why this festival takes place:
"It's a time of the year that all of our citizens really look forward to, we remember our farmers' roots and honor flowers as one of the best icons that represent who we are."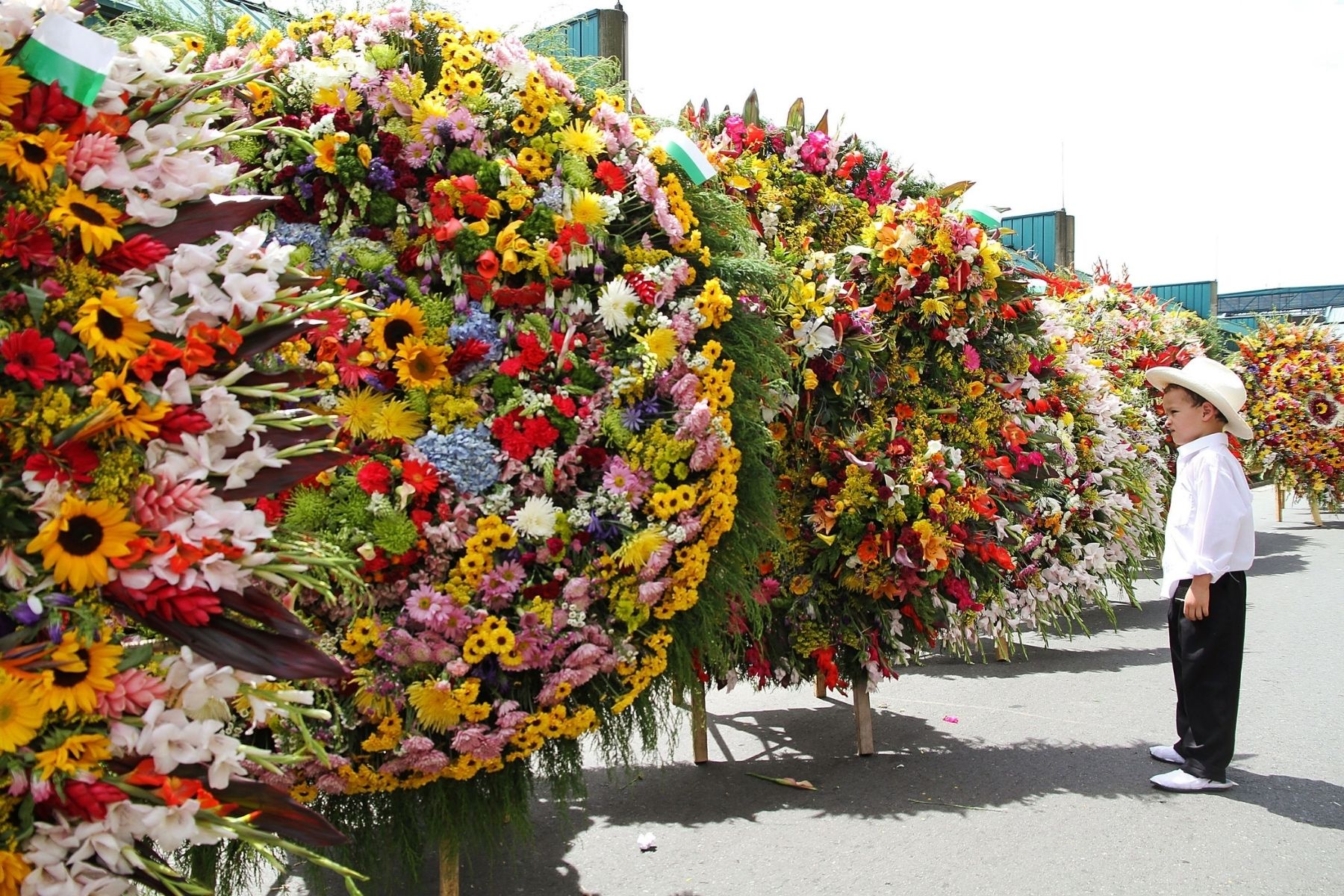 The first edition of the Feria de las Flores was held in May 1957, born as an initiative by the local development and tourism department. The flower festival lasted five days and consisted of open booths clad with flower presentations, private parties, and the Desfile de Silleteros, or flower parade. In the parade, flower workers from the neighboring town of Santa Elena, a Colombian hotspot for flower production, marched through the streets of Antioquia with meticulously crafted flower displays strapped on their backs. That tourism department was onto something, as the festival is now one of the most popular events in Colombia, with more than 26,000 visitors flying into Medellin to enjoy the jaw-dropping floral arrangements. Medellin-based author and influencer Libanier Vargas is very happy with the festival.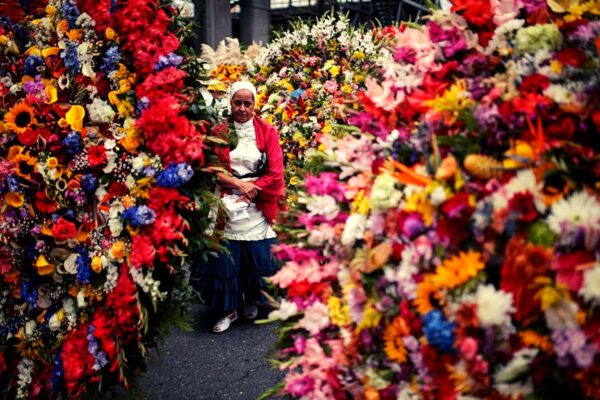 Libanier Vargas:
"Medellín is shining at this time of the year, the weather is warm and sunny, the whole city breathes happiness, and, through our flowers, we show who we are as a city. If you want to experience the true Medellín, come to the Feria de las Flores."
Heavy Weight
While Medellín has evolved in the past 63 years, the original festival's core components remain. The Desfile de Silleteros is the admired anchor to the now 10-day festival. Where dozens of locals once partook, the parade has grown to more than 500 participants carrying floats through town. The floats themselves are no joke, as they're built on up to six-foot-wide circular wooden platforms and weigh up to 150 pounds, between the wood and flower-comprised art. Over the years, even more, events have been added on, including a lively bicycle tour of the city known as Ritmo de Bicicleta. Thousands gather—many garbed in Colombia's signature Sombrero Vueltiao hats—and bike through the city with music blasting and, yes, flowers tucked into their bike baskets.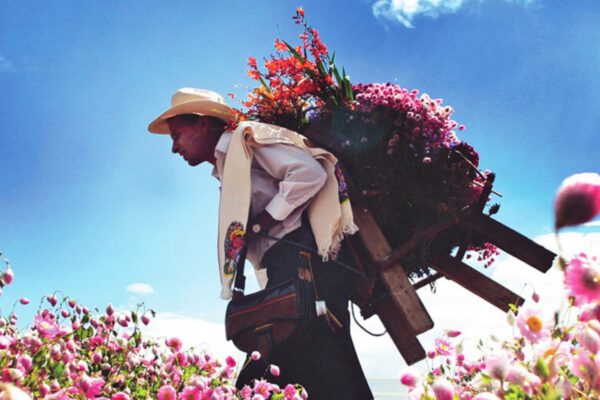 Medellin and Its Musicals for Feria de las Flores
Medellín has also risen in the musical ranks in recent years, becoming an international hotspot for fresh and pioneering beats. (World-renowned artists Juanes, J. Balvin, and Maluma, among others, are all from the city.) As such, the festival would be incomplete without accompanying pop-up concerts throughout Medellín, as well as the Festival Nacional de la Trova, where hundreds of Colombians gather for a competition, celebrating the improvised musical style. There are even more flowers to see, too. Medellín's botanical garden is a visual spectacle during the Feria de las Flores. On any given day, the Jardín Botánico is a tranquil retreat for Medellín's nearly 2.5 million residents, clad with activities and exhibits to explore the region's diverse plant life forms. For the Flower Festival, though, the space zeros in on one of Colombia's most popular exports, with displays of breathtaking and dazzling orchids.
The Festival Feria de las Flores in Medellin
The festival is more than just stunning floral bouquets: "For us at the botanical garden, it reflects an opportunity to—in addition to making ourselves known as a city space—project ourselves as a science center where research and work is done for the conservation of Colombian biodiversity," says Claudia Lucía García Orjuela, executive director of the Jardín Botánico. Beyond its multisensory beauty, the Feria de las Flores presents an opportunity to absorb Medellín locals' genuine warmth and pride. "These have been some of the best parties I have ever been to in my life," said Brent Grigsby, a New Jersey native who, five years ago, married his wife, Monica, who grew up in Medellín. Since the Grigsbys have made several pilgrimages to the Flower Festival. "The people are very special in Medellín and, when they know that you are a tourist, they invite you to dance and drink aguardiente, and eat empanadas, arepas, and chicharrón to celebrate with them," he says. "They make you feel that these parties are for you, too."