Vibrant Colored Flowers
Fiore is a well-known name in the anthurium world. But did you know the company also has great helleborus? Fiore grows its vibrant colored flowers with passion and an eye for design. No wonder they are an appreciated member of Decorum. Jeroen Ammerlaan is the all-round manager at Fiore, so he's the right person to talk about how lovely an anthurium is, why florists and designers should use more of this stylish flower, and to comment on his close relationship with Decorum.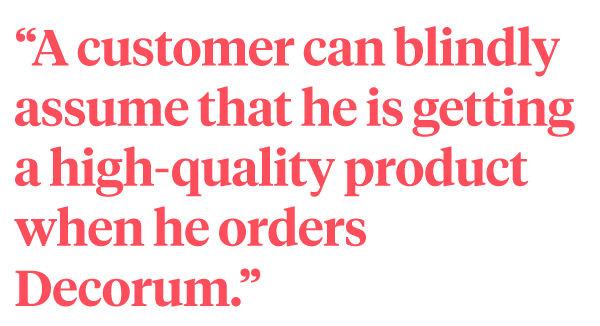 First, what's so great about anthuriums, yours in particular?
"We grow six varieties of anthurium, with six different colors This color palette makes a nice mix box with a high attention value. Nevertheless, the anthurium really needs an image boost. I think people should realize that one single anthurium stem is great for modern, sophisticated, and chic designs, like ikebana. This apparent simple style is gaining popularity with today's designers, so try some of the anthuriums in your work. There's always a size or color that fits your design. And, mind you, anthurium is a very strong flower with the longest vase life of all cut flowers."
What do you think of the Decorum brand?
"I think of quality first. A customer can blindly assume that he is getting a high-quality product when he orders Decorum. He can also be assured that he is buying from one of the better growers in the product range. In general Decorum, growers manage their business properly in the field of organization, sustainability, and use of energy."
Since when has your company been a member of Decorum?
"We have been a member for just over one year now. Not very long perhaps to be able to sum up all the benefits yet, but we are very happy with being active under the umbrella of Decorum."
What does your assortment look like?
"Like I said before, Fiore grows grow six varieties of anthurium, that are all available under the Decorum label: Moments, Tropical, Terrasol, Sonate Royal, Pistache, and Choco. We sell them in boxes with a single color, but also as a great mix box with six colors. The presentation of the flowers within this box is really nice. And three years ago we started to grow helleborus Magnificent Bells. Helleborus is really a niche product for us. What makes it unique is that we are able to offer this helleborus year-round. We sell the full width of our assortment as Decorum, but only a selection of the highest quality. Bend stems and irregular sized flowers are left out of the offer."
What are the advantages of Decorum for your company?
"Decorum's office is dedicated to us. They do everything when it comes to market visits abroad, visibility of our products in our markets, activities on social media, exhibitions, and marketing. Many things that a grower has no time for. This leaves us time to do what we're best at, producing nice products. We profit from the collective purchase possibilities for things like packaging materials, promotional campaigns, and energy. As a group, we have the benefit of our scale. And we profit from the brand name Decorum, who has the possibilities to lift the public image of anthurium, that has been under pressure for some time now, upwards.
The group of Decorum growers is a wonderful team of enthusiast people with a passion for their products. As a grower, you get a lot out of Decorum, but you need to put your own effort into it as well. I am a member of the Workgroup for Italy since Italy is an important market for our anthuriums. We are currently working on a new brochure for Italy, so I am often in contact with other members of this Workgroup. And we have WhatsApp groups to inform each other on several matters, like cultivation and disease control, customers, and other important things to know and share. All in all, I am very satisfied as a Decorum grower, being part of their network. They help their customers with a fitting product and us as a grower getting this product to fit the customers' needs. With their work, they open doors for us."