For over 50 years, Clayrton's designs and produces a wide range of packaging for all the actors of the flowers and plants industry worldwide.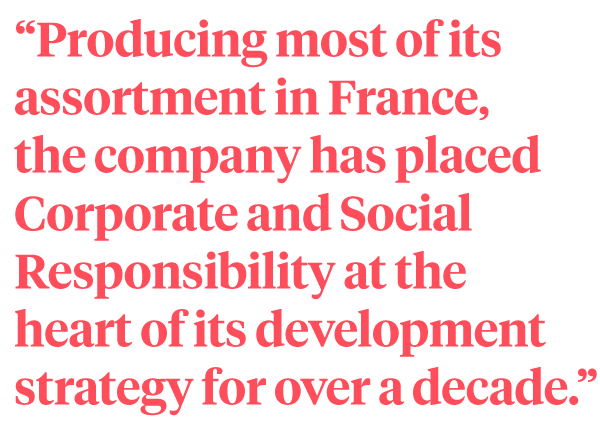 Discover the Coming Trends for the Autumn & Winter Period
Combining Creativity and Ecology
At Clayrton's we like to serve all types of customers, from growers to exporters, floral sundries wholesalers, or bouquet-makers. Our international background, as well as expertise in various markets, allow us to have the right approach when it comes to offering packaging solutions adapted to a specific taste, usage, or sales channels. This autumn will see the launch of new designs of kraft paper sleeves, 100% eco as produced from PEFC® certified paper and printed with water-based inks. Available in size 50x35x10cm, Elegance and Hortense will give a great look to mono-bouquets but also to small volume mixed bouquets.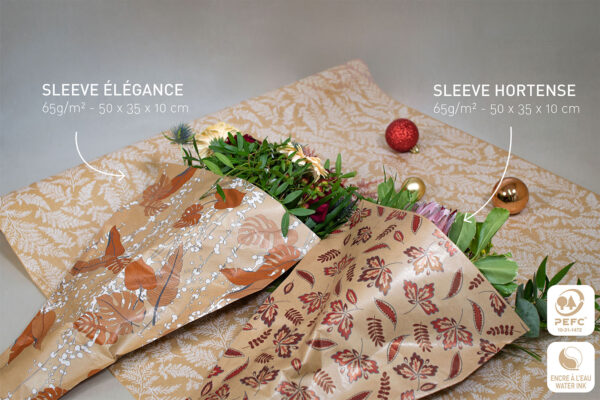 Following the successful launch of the extensive range of Quadro sleeves, Clayrton's offers new metallic colors to bouquet-makers supplying several mass retailers. Preferably used for short bouquets, five additional colors will come to complete a range of one-side and two-sides printed sleeves that are already available in over fifteen colors - from traditional to trendy pastel shades.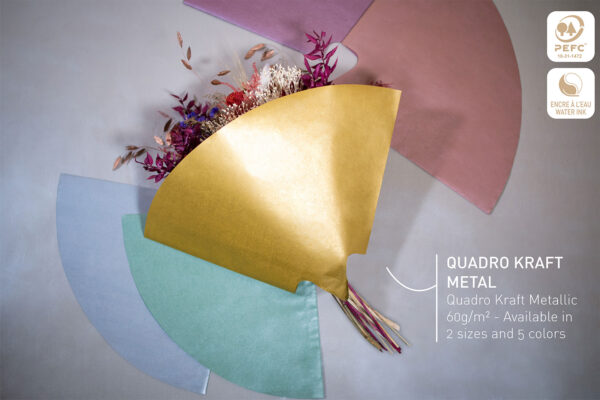 Providing Trendy Packaging to Florists
Clayrton's core business being serving florists through floral sundries wholesalers, the company has always put great efforts in offering innovative solutions such as the Diabol'o vase (anti-water-spilling) that is now largely used by flower shops to sell bouquets and for shipping to the end-consumers.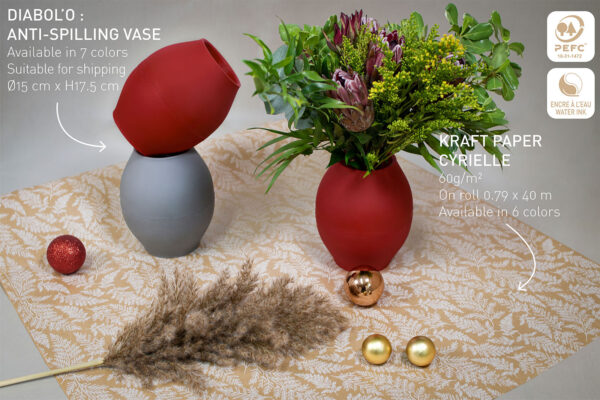 Each season comes with its novelties, allowing florists to enjoy continuously a variety of designs throughout the year. Among them, we introduce this fall "Cyrielle" our kraft paper highlight, and "Mina", a décor available on duo mat polypro.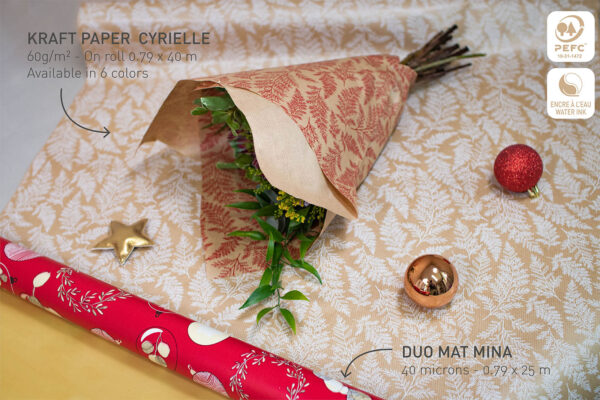 Adding Value to Pot Plants
At Clayrton's, a team of three designers trained in eco-design is continuously brainstorming for the next packaging solutions. An important focus is given to the improvement of the products that have already set foot in the market, aiming for the limited use of fossil materials. Another challenge is to facilitate their re-using or recycling abilities and to reduce their carbon footprint. This end of the year will welcome unique trendy designs of pot plant bags, made from paper and waterproof thanks to the use of polylactic acid (PLA), a bio-sourced plastic made from corn starch that is industrially compostable and biodegradable.

Customizing Packaging
In addition to our standard collection, Clayrton's is specialized in Custom Design packaging. Thanks to our dedicated design team and production facilities located in France, we can offer a tailor-made packaging range of rolls, sleeves, sheets, gift bags, or silk paper of the highest quality with short lead times. In line with our CSR strategy, we are conscious that sourcing in Europe is an important advantage to offer short supply chains. It is our pride to provide our clients with high-quality packaging, to enhance and transform their products into real gifts for the final consumers' joy.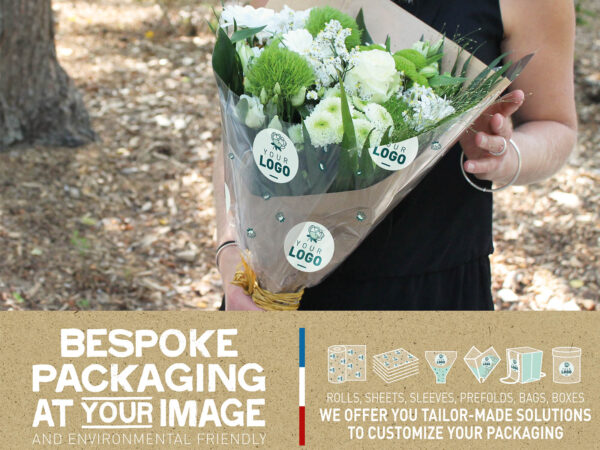 The Clayrton's CSR Bible
As we are passionate about nature, we wish to preserve it. This commitment leads us to change our lifestyle habits, behavior patterns, and methodologies. Every day we invest in our employees and in providing consumers with more ecological products. Today, consumers define their identities through their purchase decisions: they tend to prefer goods produced locally, are looking for manufacturers with high standards of Corporate and Social Responsibility (CSR). Clayrton's puts global environmental concerns and the needs of its customers at the heart of its company strategy, taking clear actions and finding innovative solutions. The report enclosed below will give you all the understandings related to our actions to grow towards a greener future.
Corporate social responsibility report - Clayrton's, leader français de l'emballage floral et festif (clayrtons.com).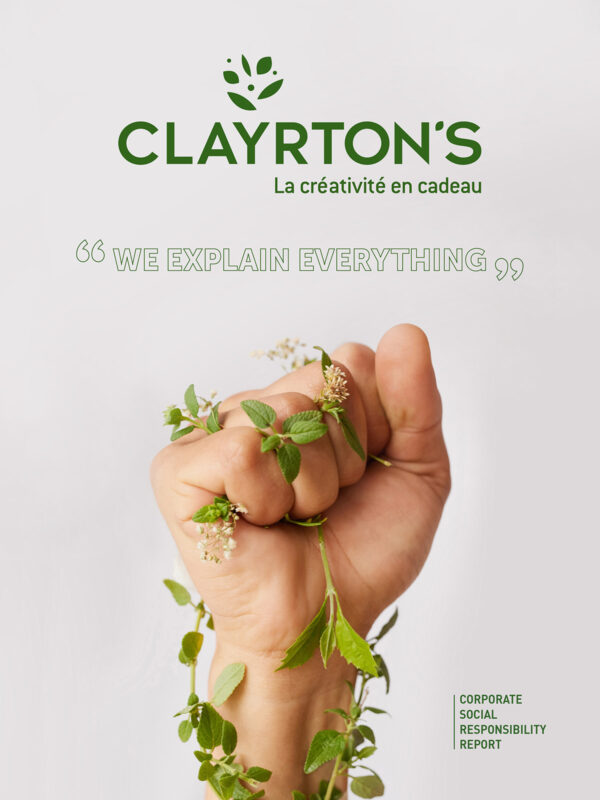 About Clayrton's
Since 1968, Clayrton's is providing flowers and plants professionals a wide range of high-quality packaging, from wrapping papers, cellophane or bouquets sleeves to floral sundries and decorative items. With creativity at its heart, the company continuously innovates through a Corporate and Social Responsibility strategy. Pioneering the usage of water-based inks for printings in Europe, the company emphasizes the need to source locally and promote biodiversity protection.
Get in Touch with our Export Team!

Clayrton's 41 Rue Saint-Antoine 59100 Roubaix France Phone: +33 (0)3 20 20 77 57 Email: [email protected] Dutch office Westlandseweg 16 2291 PG Wateringen Netherlands • View catalog 2021