Being surrounded by millions of flowers is everyone's dream, right? There's exactly a place for it, and it's called the Dubai Miracle Garden. With different shapes made out of gorgeously colored flowers, along with gardens filled with nature's gifts, you're encircled to have a great blooming time.
Dubai Miracle Garden - A Must-Visit Place to Add to Your Bucket List
The Dubai Miracle Garden's gates always reopen as the weather turns chilly at the start of winter. Since its first opening nearly nine years ago - appropriately on Valentine's Day - this 72,000 m² paradise has blossomed into one of the region's most gorgeous, sweet-smelling destinations with more than 150 million flowers in full bloom. It has turned into one of the most recured tourist destinations in Dubai and no wonder why! This is what a real flower paradise looks like.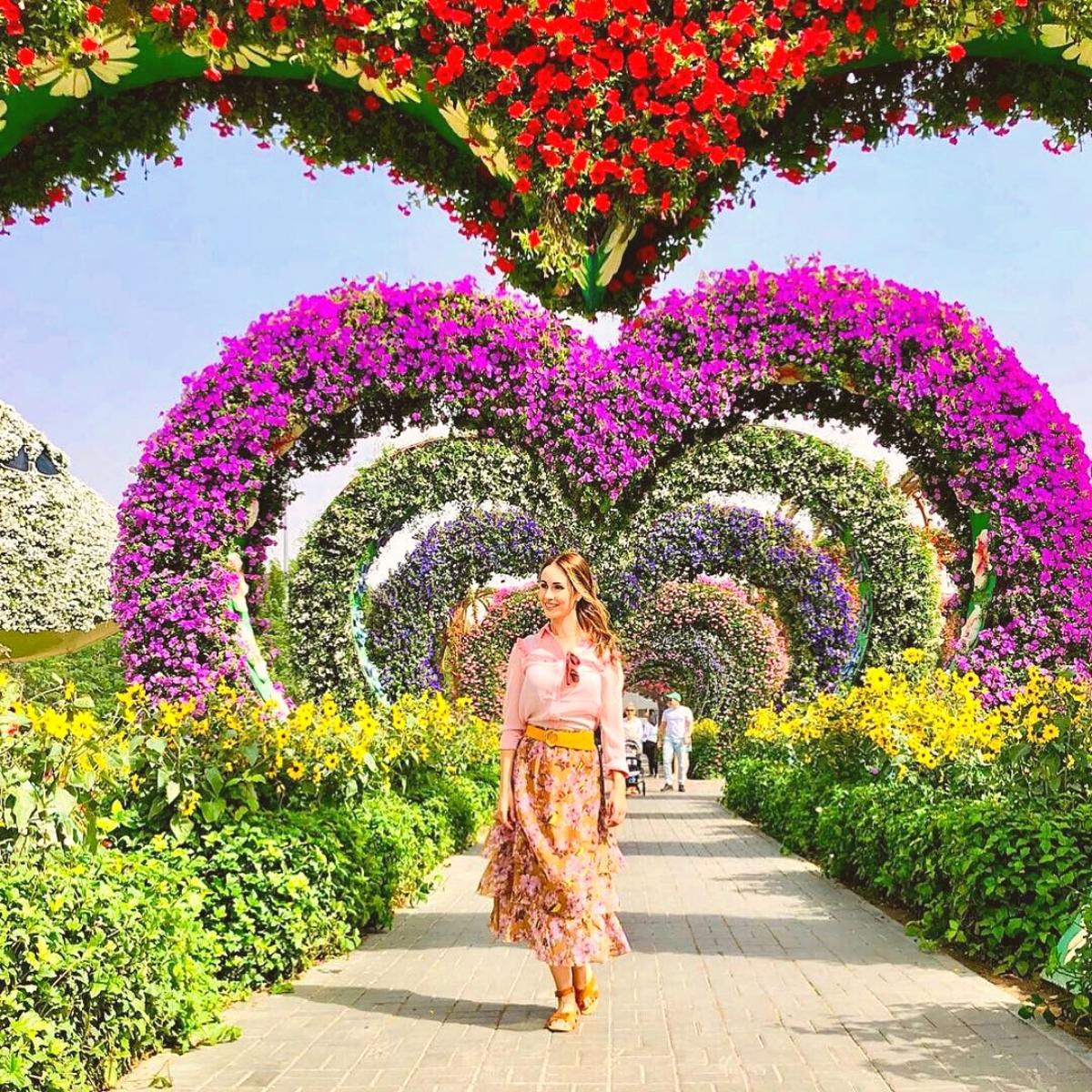 What Will You Find in the Dubai Miracle Garden?
Well, besides the lush visual experience of seeing millions of different flowers around you, you'll also find there are interesting shapes and monuments made out of flowers. One of the most popular and praised flower figures is one of an Emirates A380 plane.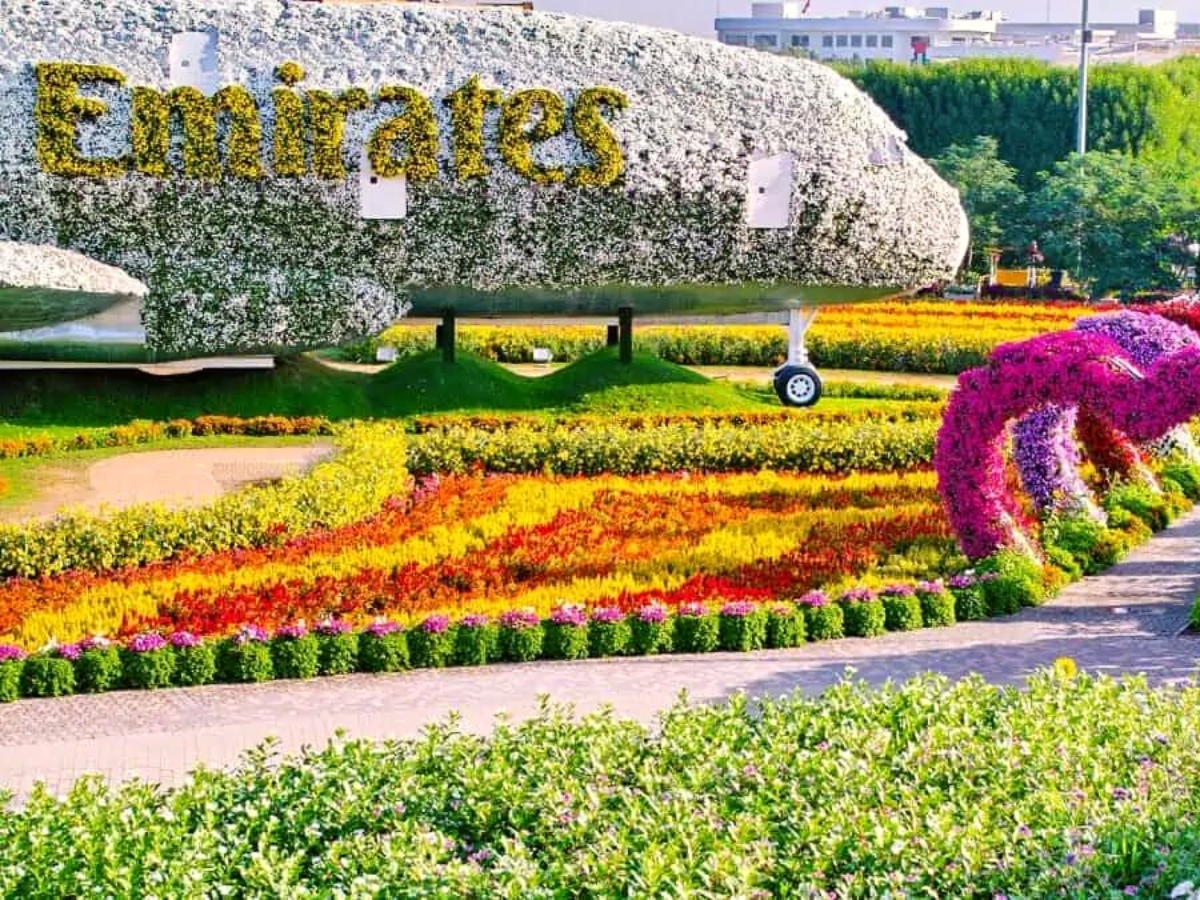 With its unique, larger-than-life double-decker design, the Airbus A380 is one of the most loved super jumbo jets in the world – and no airline has more of them than Emirates, Dubai's flagship carrier. Dubai Miracle Garden decided to honor the skies' most impressive passenger vehicle in the most natural way they could: botanically. The A380 is covered in more than 500,000 fresh flowers and living plants. Built four years ago, it's the biggest structure ever built in the garden and even holds a Guinness World Record.
Floral Clock
We know how our minds work sometimes, and time can be a very worrying aspect of life, ticking and ticking very quickly. While we frequently check it by looking at our phones or wrists, there are instances when it's beneficial to view it from a different angle. One is available at Dubai Miracle Garden in the shape of a stunning 15-meter floral clock.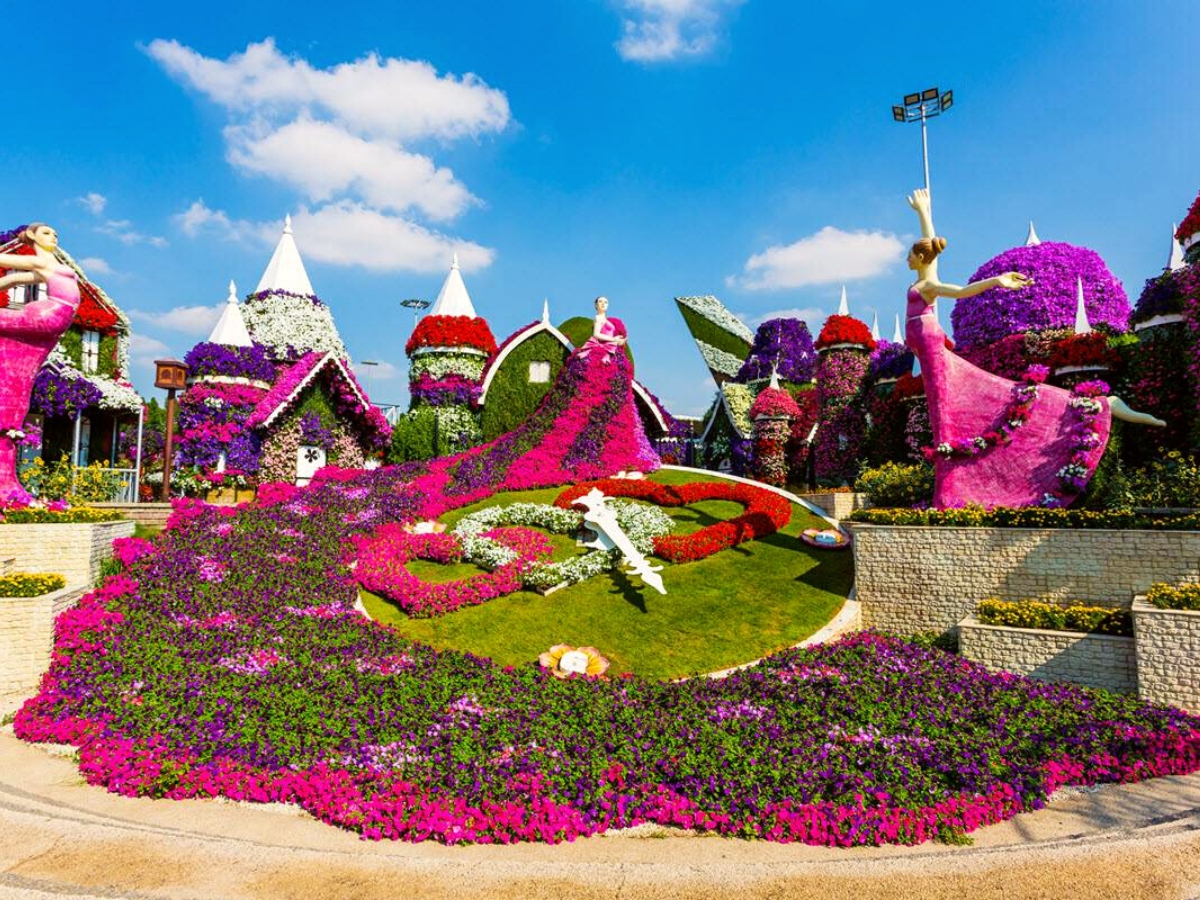 It is created of actual plants and flowers, the designs of which we alter based on the season, which is especially pertinent given how time, the length of the day, and the weather fluctuate. The mechanical components of the floral clock were imported from the US, and its gorgeous design was conceptualized by Miracle Garden Landscaping, one of our own in-house landscaping geniuses.
Floating Lady Made Out of Thousands of Flowers
The Floating Lady, the newest feature of Dubai Miracle Garden, is a statue that floats in the air with her arms outstretched and her long hair hanging down.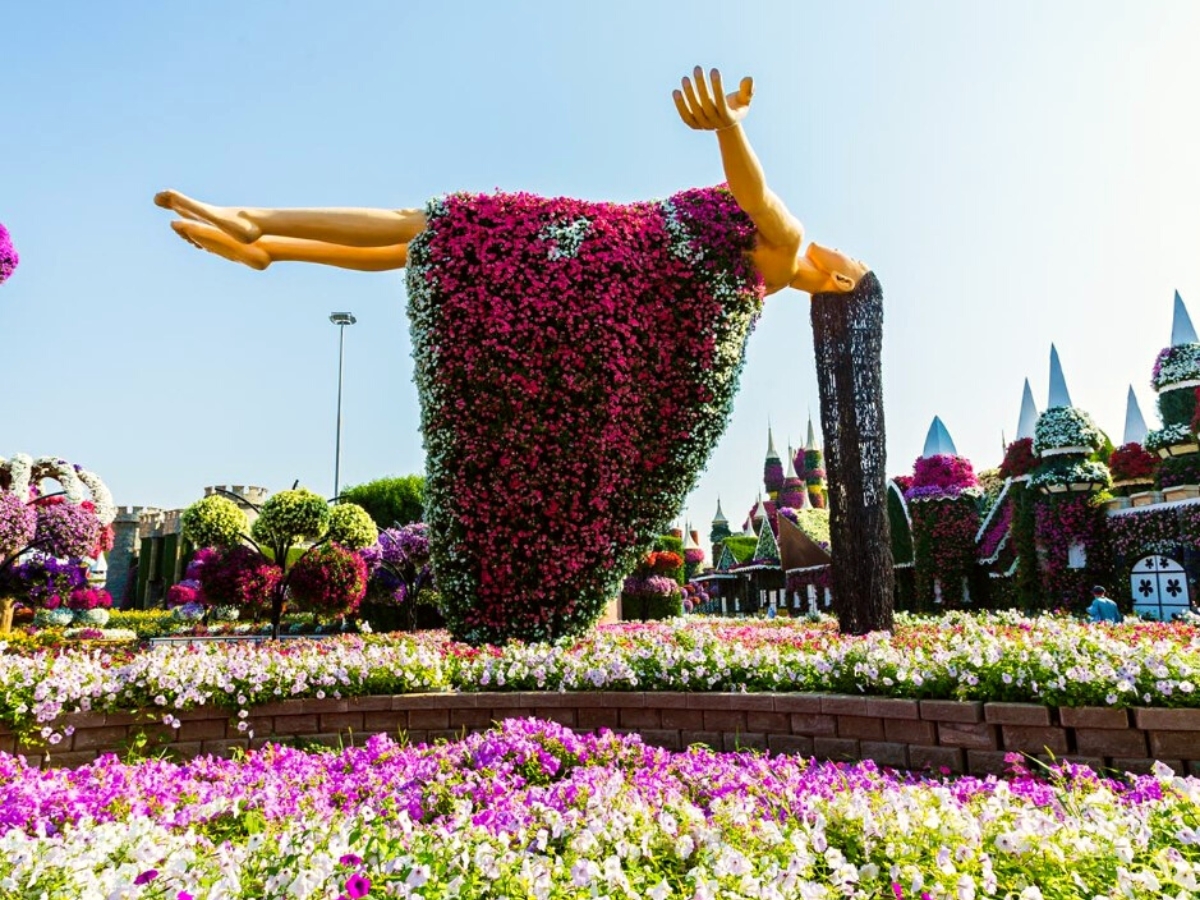 The show-stealing item is her clothing. It gives the ethereal impression that she has been slowly called to the sky by some enigmatic old force as her red and white petunias flow down from her horizontal stance far up above a field of flowers. The spires of the Floral Castle can be seen in the background in the middle distance. One thing is for sure, at the Dubai Miracle Garden you'll get to see out-of-this-world shapes and ideas overflowed with one of nature's greatest pleasures: flowers.
Get Your Tickets in Advance
During the winter, Dubai can get very busy, as it is one of the most popular times of the year to visit the city given the perfect weather for many. As for any other attraction you plan on visiting, it is recommended to get your tickets for the Dubai Miracle garden in advance. Get your tickets here to enjoy the full flower experience all the way in the most magical Arab city.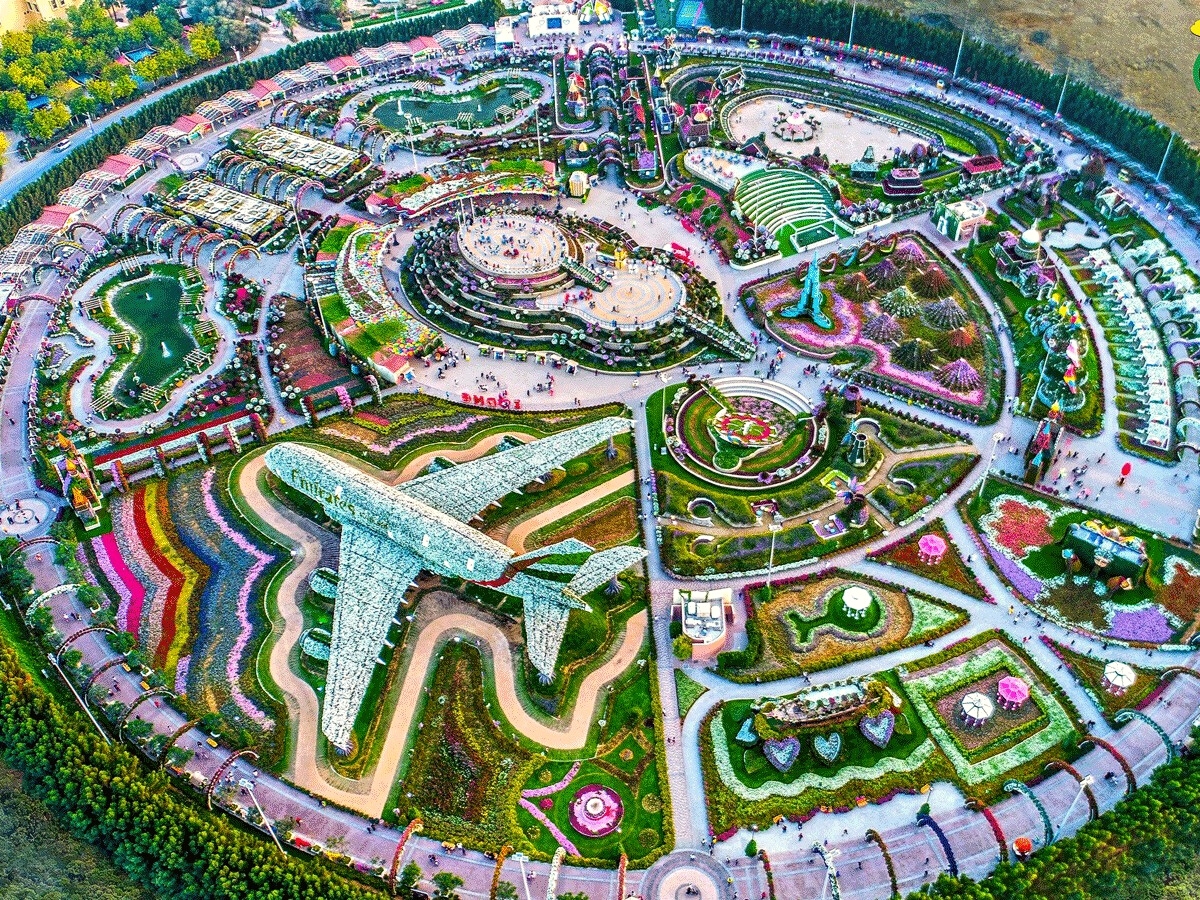 Photos: Dubai Miracle Garden